By Rob Endsley
As you may have noticed I've had the opportunity to use and in the case of the 300 WSM, abuse, a couple of Browning X Bolts this fall. Both are Pro Tungsten's and one is calibered in 300 WSM and the other in 6.5 PRC. The 300 WSM was in the field with me for the entire hunting season and the 6.5 PRC only just got scoped and thru final range testing the last week, or so.
The 300 WSM is no stranger to big game hunts here in the West and I'm glad it shipped early so I could get it fitted with a Vortex Razor HD Lightweight Hunter series scope and in the field immediately. Browning doesn't guarantee sub-MOA accuracy with the Pro Tungsten but both of these guns achieved it quite easily. And while I'm fairly proficient with a rifle I'm no match shooter. Even during break-in the 300 WSM was punching tight groups on the paper.
Hornady ammunition was used in both rifles and performed exceptionally well as always. I wanted something fast for the 300 WSM so I chose Hornady Superformance 165 grain ammunition with a muzzle velocity of 3,220 feet per second. This burnt-bronze-finished Pro Tungsten was a tack driver both on the range and in the field. The photo below highlights its last group of the season with a fouling shot just to the right and three consecutive shots after that within .75 inches of one another.
For shots under 500 yards you can't go wrong with Hornady GMX ammunition. These are gilded copper alloy bullets that maintain 95% of their weight retention, expand 1.5 times the original bullet diameter, and have a boat tail for optimum accuracy. Both the GMX and the ELDX line of bullets from Hornady have been deadly for me in the field.
Due to a delay in shipping the 6.5 PRC unfortunately didn't arrive at Sportco Sporting Goods in Fife, Washington until late in the season. Set up with a Vortex Viper HD Long Range scope this sweet-shooting rifle is an absolute tack driver at the range. Relatively light recoil and a factory installed muzzle break make it a dream to shoot.
With a relatively thin fluted barrel this 6.5 PRC was definitely subject to heating at the range. After a three shot group the barrel would warm up and the shots would drift an inch or more in all directions which isn't unusual for a lightweight rifle. When allowed to fully cool, however, this Browning 6.5 PRC routinely shot sub-MOA groups off the sled and I'm certain I could get these groups to less than half an inch after a little more time on the trigger.
The trigger on this rifle is still set at the factory setting of 4 pounds and can be adjusted down to three pounds. At the factory setting the trigger is crisp and breaks cleanly with no creep at all.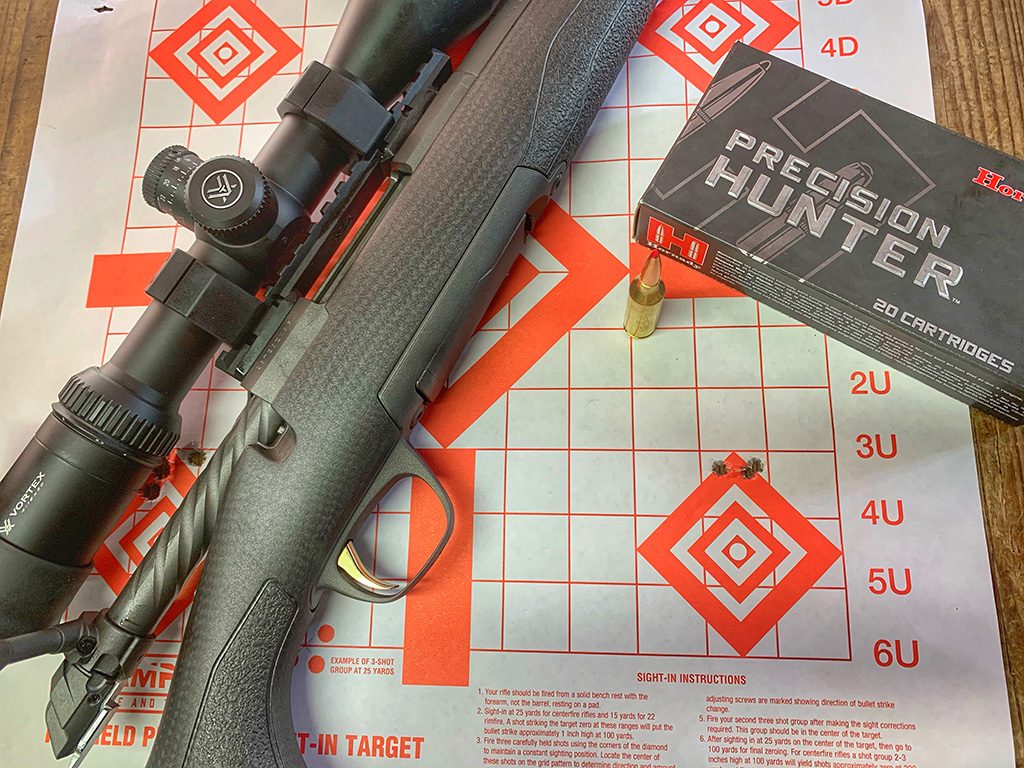 Hornady Precision Hunter 6.5 PRC 143 grain ELDX is the ammunition of choice for this X Bolt. With a muzzle velocity of 2,960 feet per second it isn't setting any speed records but it doesn't need to. With a G1 ballistic coefficient of .625 this bullet is super slippery and still holds 1,121 foot pounds of energy at 800 yards.
By comparison the 300 WSM mentioned above has 1,063 foot pounds of energy at 800 yards. The rumors I hear of folks taking deer and even elk at 600 and 700 yards with the 6.5 PRC don't surprise me at all. With less recoil and overall rifle weight than the 300 WSM I can already see this rifle in my hands quite a bit next fall. This is a sweet setup!
While I wish either Tom or I could have gotten this 6.5 PRC in the field this fall it simply wasn't meant to be. Perhaps I'll have to hunt some coyotes or a cougar with it this winter. The ungulates, however, have nothing to fear until next fall.
The Browning X Bolt Pro Tungsten 300 WSM was in the field with me the entire fall, however, and I wasn't easy on this rifle. It rode in my Exo pack on backcountry trips, I drug it thru willows, devils club, and fir branches, and it rested in mud, sand, snow, water, in the back of my truck, etc.. I carried it hunting Pacific Northwest blacktails by mountain bike in the driving rain and on a dirt bike in Idaho that I managed to lay over several times. I took a mule deer on that Idaho trip at 301 yards in its bed and yet another muley in Montana at 280 yards in a driving 4-degree blizzard. This 300 WSM package will hunt.
And now my big game season is over and there's far too much time until it starts again next fall. In the meantime I'm going to see how far I can reach out with these rifles this winter and hopefully plan some more fun and exciting Follow-the-X Bolt hunts for next fall.
I'll post a round-up of photos from my fall hunts sometime soon. In the meantime Happy Thanksgiving and thanks for stopping by!
Rob Endsley
The Outdoor Line
710 ESPN Seattle