My new Browning Pro Tungsten showed up shortly after getting home from a summer in Alaska and I couldn't wait get the break-in process going on this sweet rifle and drill some holes in paper at the range.
I chose to caliber this rifle in 300 WSM because the ballistics very nearly match the famed 300 Win Mag yet it comes in a short action. A few ounces are shaved off this rifle with the short action and it comes with a 23 inch barrel versus a longer 26 inch barrel in the Winny model. Lastly, there's a wide range of ammunition available for the 300 WSM. There's some great calibers out there for sure, but I certainly like this one.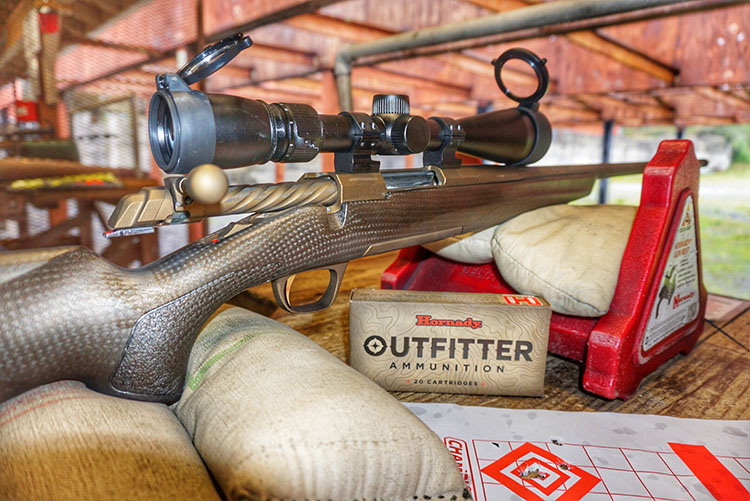 I mounted a Vortex Razor HD LH 3-15×42 scope on this rifle for a couple of reasons. For starters the LH stands for "Lightweight Hunter" and this scope is super lite, weighing just 16.5 ounces. I've got this scope on another rifle and it's worked flawlessly on some tough hunts. Talley lightweight rings and bases secure the scope to the rifle. I've got these mounts on another mountain rifle and they've stood up to some serious abuse on mountain hunts all over the west. They are made of aluminum and they aren't as strong as steel rings mounted on a one-piece base. If you're looking to trim weight though they are the way to go.
Why the Pro Tungsten? For starters I grew up shooting Browning's and finally just retired my old, really old Belgium Browning 30'06 a handful of years ago. I grew up shooting A5's, Citori's, and of course my old battle-scarred Belgium. So there's some brand loyalty there. The Pro Tungsten is one of Browning's lightest hunting rifles and comes in a variety of great calibers. You'll find it in eleven calibers from 6.5 Creedmore to 300 Remington Ultra-Mag and everything in between.
It's got a 360-degree woven carbon fiber stock with a high density foam insert thats super light yet strong. A 60 degree bolt throw cycles smoothly and easily and it comes in a burnt bronze Cerakote finish that will take just about anything Mother Nature can throw at it. A fluted barrel and spiral fluted bolt and knob make for some more weight savings. To put it bluntly, it's a super durable yet accurate rifle that I can beat the living tar out of and still expect to harvest animals with it for many, many years. It isn't a long range bomber by any means. Anything under 500 yards is on notice though.
I used a Wheeler mounting kit to mount the bases, rings, and scope. It's got everything needed for the task. Levels, drives, torque wrench (FAT tool), and dies are all included in the kit.
The Wheeler kit comes with a Firearm Accurizing Tool (Torque Wrench) that allows the bases and rings to be fastened to the exact torque specs of the manufacturer. Talley suggested a rating of 17 pounds of torque for the bases and the suggested torque on the rings for the Vortex scope was also 17 pounds. With a simple twist of the dial the FAT tool is set at 17 pounds and ready to go.
Blue Lock Tite was used on the bases to lock them in place. I didn't use any thread lock on the rings, however, as it can act as a lubricant and there's a chance of over-tightening the rings which can damage or impede the scope.
The Browning X-bolt comes with the new X-lock system that provides four threaded mounting holes forward and back and makes for a super stable platform for the scope.
The final product with the Vortex Razor HD LH 3-15×42 scope mounted.
I adjusted the trigger during this process also and that's posted over on another blog. This rifle is ready to hit the range!
Rob Endsley
The Outdoor Line
710 ESPN Seattle