Coastal razor clam season starts off on a high note at Long Beach where diggers found acres of clams Leave a reply
The term "happy as a clam" is sitting just fine for those along the southern coast at Long Beach where razor clam diggers will likely get around 100 days of digging, a dramatic jump from just four days last season, and the first three-day dig this Friday to Sunday started off on high note!
"It's been really good digging at Long Beach, and I was on the southern half (Saturday) and saw limits (the first 15 clams dug regardless of size or condition is a daily limit) for everybody we talked to," said Dan Ayres, the Washington Department of Fish and Wildlife (WDFW) head coastal shellfish manager. "My crew on the northern half also reported the same by diggers."
Ayres said clams weren't big as expected with most averaging 3 1/2 to 4 1/4 inches peppered with a few larger ones, which their summer assessment data had suggested.
"I wasn't totally thrilled with the size of clams but what amazed me is that some groups we talked to thanked us for providing the early-season digging opportunities," Ayres said. "Wastage was a concern by our crews and enforcement was out watching diggers. My estimate showed around 4,000 diggers on Saturday along the southern portion and my guess would be around 10,000 (for the three-day dig)."
On the southern coast, the young razor clam population at Long Beach is 25,598.579 clams with around 5,205,467 adult clams available to harvest.
"We knew Long Beach had a really strong population of juvenile clams last year and they survived well up to now," Ayres said. "They're not the biggest clams on earth (about 25% measure more than 4 inches and most are 3 to 3.7 inches).""
Summer assessments two years ago at Long Beach showed very few pre-recruits of juvenile clams and it was "scary" news for the short term.
One theory for the huge dip could be related to the low salinity levels due to freshwater run-off from the Columbia River on a good portion of Long Beach, which wasn't a favorable situation for young clams to grow.
Last year, Long Beach saw 645,290 diggers taking home 43,896 razor clams for a 14.7 per person average on four days of digging in 2018-19. In 2017-18, there was 16 days; 2016-17, 11; 2015-16, 94; 2014-15, 104; 2013-14, 72; 2012-13, 42; 2011-12, 23; 2010-11, 35; 2009-10, 37; and 2008-09, 44.
Just to the north at Twin Harbors beaches, the harvestable number of clams is up from 1,373,359 last year to 1,843,227 million this season. The Copalis area – including the popular Ocean Shores area – total allowable catch (TAC) is 2,036,079 and way up from the 860,768 clams last year. Razor clams at Copalis averaged a healthy 4.1 inches.
Mocrocks beaches is expected to see a slight increase of 1,649,890 TAC over last year's share of 1,507,260 million. The TAC at Kalaloch this coming season is 219,561 compared to 777,386 in 2018-19 but WDFW plans to get some digging days plugged into the schedule.
"The Quinault Tribe started digging at Copalis and Mocrocks (not open yet for recreational digging) since the first of September and were seeing great digging for decent sized clams," Ayres said.
Razor clam digging is a big boost for small coastal community economies who rely on these opportunities during the lean tourist times in fall, winter and spring.
The average value to communities is estimated at around $25 million although in strong years it climbed to $35 million in 2012-2013, and $40-plus million in 2013-2014 and around $35 million in 2014-2015. During those strong years, effort ranged from 400,000 to 450,000 diggers.
In all there was 58 digging days coast-wide in 2018-2019 with 273,000 digger trips producing a harvest of 3.7 million razor clams. Success was also very good with an average of 13.6 clams per digger trip – a daily limit is the first 15 clams dug regardless of size or condition.
By comparison the 2017-2018 season saw 27 days of digging coast-wide producing 257,004 digger trips for a little more than 2.8 million clams harvested for 11.0 clams per digger trip
A breakdown by coastal beaches showed four opening days in 20-18-19 at Long Beach (16 days in 2017-2018); 53 days at Twin Harbors (18); 20 days at Copalis (12); 33 days at Mocrocks (20); and six days at Kalaloch (none).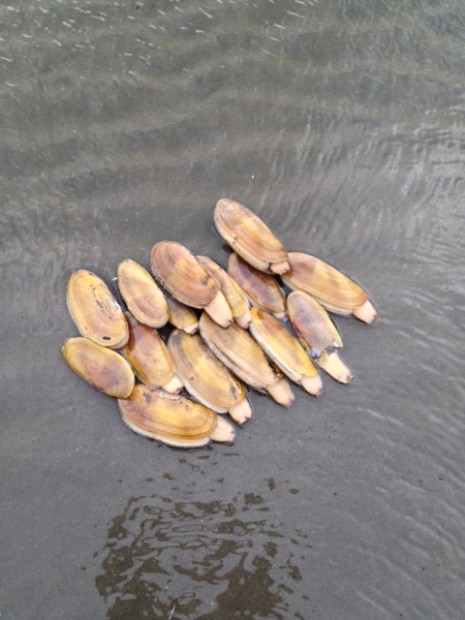 The historical average of days open since the 2008-2009 season was 45 days at Long Beach (104 in 2014-2015 was the most); 49 at Twin Harbors (105 in 2013-2014); 21 at Copalis (33 in 2016-2017); 31 at Mocrocks (54 in 2013-2014); and three at Kalaloch (17 in 2009-2010).
Coast-wide clam digging in 2018-19 was open Oct. 11-13, Oct. 25-28, Nov. 8-11, Nov. 22-25, Dec. 6-9, Dec. 20-23, Jan. 2-6, Jan. 17-21, Feb. 1-3, Feb. 15-21, March 16-17, March 21-24, April 6-8, April 20-22 and May 18-20.
So far, marine toxin levels for domoic acid have remained under the 20 parts-per-million (ppm) cutoff. Final approval depends on marine toxin testing and are usually announced one to two weeks prior to each series of digs.
Planned digs are Oct. 26, 28 and 30 at Long Beach, Twin Harbors and Copalis; and Oct. 27, 29 and 31 at Long Beach, Twin Harbors and Mocrocks. Nov. 1, 11, 13, 15, 17, 24, 26, 28 and 30 at Long Beach, Twin Harbors and Copalis; and Nov. 12, 14, 16, 25, 27 and 29 at Long Beach, Twin Harbors and Mocrocks. Dec. 10, 12, 14, 16, 23, 27 and 29 at Long Beach, Twin Harbors and Mocrocks; and Dec. 11, 13, 15, 26 and 28 at Long Beach, Twin Harbors and Copalis.
"There is a great low tide (minus-1.2 feet) on Thanksgiving Day so we're doing something different by offering a dig on that day," Ayres said. "We've also got digs planned before and right after Christmas but since there low tides aren't good around New Year's we aren't offering any digs at that time. The good news is that we've got a lot of digs planned this winter."
Fall and winter digging occurs during afternoon or evening low tides only. For details, visit https://wdfw.wa.gov/fishing/shellfish/razorclam.
Viable salmon fishing options in October
This is the time of the year for change, and a time when many salmon anglers head toward the rivers to pursue fish although some marine area are still worth exploring.
Late last month, word was spreading like a wildfire that Puget Sound coho were a "no show" in many marine areas and the few caught were smaller in size. WDFW and their co-managers said a predicted Puget Sound coho forecast of 670,159 – up from 557,149 in 2018 – appeared to be headed in a downward trajectory although it seemed by the end of September more fish began appearing in catches and is on a "stay tuned" to see what happens this month scenario.
This prompted WDFW to lower the daily limit of coho to one as part of a two salmon daily limit in marine areas still open this month for fishing.
While the lower limit was implemented catches of coho increased and their size looked better as was seen in Everett Coho Derby on Sept. 21-22 where average weight was 5.40 pounds and anglers averaged one coho per every two rods.
While we hold our breath on what the eventual outcome will be, anglers can still wet a line in central Puget Sound (Marine Catch Area 10) which is open through Nov. 15 for coho or chum; the Dungeness Bay terminal fishery open Oct. 1-31 for coho; the northern portion of east side of Whidbey Island (Area 8-1) open through Oct. 31; Hood Canal (12) open through Dec. 31; and southern Puget Sound open year-round. Be sure to check the WDFW pamphlet, app or website (https://wdfw.wa.gov/) for details on where you can fish.
Doggies will also begin to appear in Puget Sound and this will have some anglers barking up a storm for these hard-fighting fish. For those unfamiliar, these late returning salmon species are known as fall chum – or dog salmon for their gnarly, toothy jaw line at spawning time – with an expected modest Puget Sound return of 642,740.
In Area 10 try fishing at Jefferson Head, Kingston, Richmond Beach, West Point south of Shilshole Bay, Meadow Point, Yeomalt Point, Skiff Point, Point Monroe, Alki Point, Fourmile Rock, Elliott Bay, Allen Bank off Blake Island and Southworth.
Also be sure to on the lookout for chum at estuarial areas like Kennedy Creek in Totten Inlet, Johns Creek in Oakland Bay, Hoodsport Hatchery in Hood Canal, Chico Creek in Dyes Inlet, Curly Creek near Southworth, North Bay near Allyn, Perry Creek in Eld Inlet, McLane Creek, Eagle Creek south of Potlatch State Park, and the public-access shores off Highway 101 from Eldon to Hoodsport.
The eastern portion of Grays Harbor is open through Nov. 30 and has been a good place for big, brawny coho into the high teens. The La Push bubble fishery is open Oct. 1-13 for chinook and hatchery coho. The Hanford Reach area of the Upper Columbia River will also be a popular fishing spot for big-sized fall kings.
Anglers have also been targeting migrating salmon in coastal rivers like the Chehalis, Clearwater, Bogachiel, Calawah, Humptulips, Hoh, Willapa, Queets, Quinault, Sol Duc and Wynoochee. Locally, try the Green, Nooksack, Puyallup, Skagit and Stillaguamish. Anglers should consult the WDFW regulation pamphlet, app or website for what is open and what type of salmon species you can target in each river system.