Follow the X-Bolt – Journey into the Olympic Mountains Leave a reply
Normally I spend the Washington rifle deer opener in Okanogan County cruising the ridges in hopes of finding a mature muley. With mule deer trips on the calendar to Idaho, Montana, and Nevada in the coming weeks, however, I decided to do something a little different. With some intel from good friend Jason Brooks in hand I packed into the wilderness on Washington's formidable Olympic Peninsula to scope out some new blacktail ground.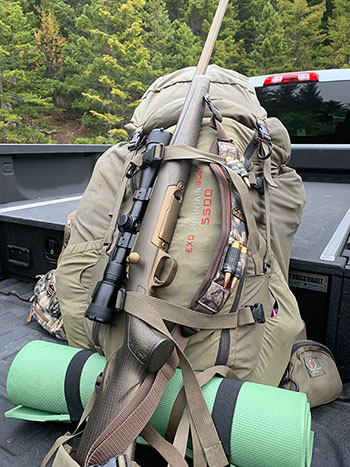 Coastal blacktails are a pain in the ass (kidding…kind of) so why not grind my way into some of the gnarliest country the Olympics have to offer to torture myself in hopes of putting my tag on one. I've harvested quite a few of them and no joke, a mature blacktail is as tough a critter to put in the freezer as any big game animal in North America. For starters they are nocturnal, it's usually dumping buckets of rain, and your best chance of ever seeing one in the daylight is around the rut. With a rifle the prime window of opportunity amounts to about four or five days of the season. You'll see them chewing on rhododendron bushes in your back yard all year long. Finding one in the wild during hunting season, however, is quite the challenge.
So I strapped my Vortex-scoped Browning X-Bolt to my trusted Exo Mountain Gear pack and headed for the alpine. I had a good load of Heathers Choice and Dark Timber Coffee on board to carry me thru for a few days as well as a Delorme InReach to check in with wifey-poo from the mountain.
It took a few hours to trudge to the top and once there the views were spectacular. The high country held basin after basin of alpine blacktail habitat and some great country for black bears, too. I would imagine the blueberry picking would be outstanding up here in late summer, as well.
Within ten minutes of hitting the ridge on top I bumped into a nice 3 x 3 blacktail at 25 yards. I had the safety off and finger on the trigger for a few seconds before deciding to let him go. I managed to grab a quick photo on my iPhone though. He looked at me for a few minutes before ambling off. By the end of day two I was regretting not tagging out on this fella but that's the way it goes.
There was actually very little deer activity up high which didn't surprise me at all. Before heading out I had spoken with both Jason Brooks and Joe Pyburn about the possibility of it being too early in the season for this to be productive and my hunch was correct. With the blacktails in pre-rut they'd mostly be down in the timber and that's exactly where they were. I had crossed countless tracks down low on the hike in. Regardless, the high country here was amazing to say the least and I was thrilled to have made the trip into the high country. Epic views in every direction!
One night after dark these two cats came ambling down the trail thru my small camp and we set to chatting a bit. Turns out big Jon is the media manager for Hilleberg Tents in Redmond, Washington and his good friend Zach was along on the hunt also. Seemed like I'd known these guys forever. Hilleberg's are expedition class tents and if you book an extreme hunt just about anywhere in the world you'll probably sleep in a Hilleberg. They use them all the way down to 50 below zero in some parts of the world. My wife has caught me surfing tent-porn on their website more than once. Definitely a bucket list item for me.
Here's Zach hammering up a ridge with the Olympics in the background. The backdrop and lighting were just too good to pass up.
Some may insist that a trip like this is a failure because I didn't bring anything home. I couldn't disagree more! I gathered a ton of useful knowledge on this trip and have a much better understanding of when to hit this mountain for blacktails next time. Plus, I met some new comrades that I'm pretty sure I'll spend some time with on a mountain in the future.
Jon, Zach, and I decided to pack out together and low and behold we ran into a couple of blacktails along the trail lower on the mountain on the way out. If I can sneak out between these upcoming trips I'll certainly give these crafty coastal blacktails another go. As for my new X-Bolt…it's still waiting for it's chance.
Rob Endsley
The Outdoor Line
710 ESPN Seattle