Coastal bottomfishing season starts soon, plus word on springer and razor clams Leave a reply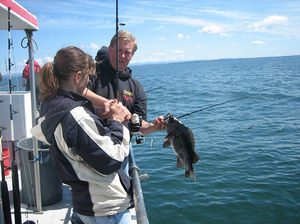 The popular of the coastal black rockfish and lingcod sport fishery gets underway on March 10 off some coastal ports, and anglers can expect some blissful spring days on water weather permitting.
The black rockfish population remains healthy in coastal waters, according to Heather Reed, a Washington Department of Fish and Wildlife (WDFW) coastal fish biologist.
Reed did point out that while black rockfish populations were good in 2017 there was an increase of catch in 2016 and most likely stemmed from the lack of coastal sport salmon fisheries. Charter and private sport anglers rely heavily on bottom-fish especially during the spring when other fisheries are closed.
The coastal sport fishery in 2017 was limited to 632,726 pounds of black rockfish.
The coastal sport fishery opens March 10 through Oct. 20 for bottomfish including lingcod off Ilwaco, Westport and La Push (Marine Catch Areas 1, 2 and 3).
The northern coast off Neah Bay (Area 4) also opens March 10 through Oct. 20 for bottom-fish except the lingcod fishery is open April 16 through Oct. 15.
A spike in the canary rockfish population allowed sport anglers in 2017 to retain one daily off Ilwaco and Westport only for the first time in about 15 years. That one canary daily limit will still be in effect for 2018 as part of an anglers seven rockfish daily limit. Fishing for canary rockfish is still not allowed at La Push and Neah Bay.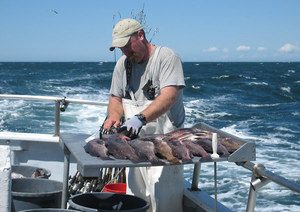 Sport anglers may keep all lingcod regardless of their size due to a rise in their population in the ocean. Anglers should also be aware of certain depth restrictions in coastal deep-water lingcod fisheries.
Sport anglers who pursue halibut and bottomfish are now required to carry a descending device onboard their boat in all marine areas, including the coast. Descending devices are used to release rockfish back to the depth and improve their survival when released. For details, go to http://wdfw.wa.gov/fishing/bottomfish/rockfish/mortality.html.
Word on Lower Columbia spring chinook fishery
Washington and Oregon fishery managers will announce the 2018 Columbia River spring chinook fisheries on Wednesday in Portland, Oregon.
But, word leaked out in Terry Otto's column in The Columbian (http://www.columbian.com/news/2018/feb/15/spring-chinook-season-comes-into-focus/) last week.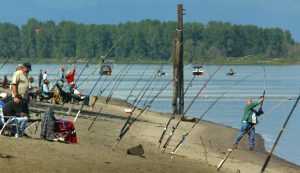 Otto said that "while not official yet it looks as if fishermen will get a 38-day season from the I-5 Bridge to the Bonneville Dam with a single hatchery chinook daily limit. Anglers would get to fish for springers from March 1 through April 7."
The preliminary dates were pitched at the Columbia River Recreational Advisor Group meeting last week in Clackamas, Oregon.
"I would expect the initial sport fishery seasons will look pretty similar to what was set last year, and it's hard to draw any scenarios right now," said a WDFW spokeswoman at the Vancouver WDFW office. "There are so many variables that could affect the success. Some years we see early catches while in other years it's more of a late-timed return."
Other options Otto mentioned in his column were keeping the season open until April 1, and then allowing fishing on Wednesdays and Saturdays for a four-day April season. Another option would be no season in March with a 12-day season in April.
Spring chinook fishing is currently open in the Lower Columbia below the I-5 Bridge, and a few have been reported caught in the big river as well as lower-river tributaries like the Cowlitz and Willamette rivers.
For the moment the daily limit is two-fish, and then drops to one hatchery chinook daily on March 1.
The 2018 forecast is 166,700 upriver spring chinook, which is 90 percent of recent 10-year average return. That is compared to 160,400 forecasted in 2017 and an actual return of 115,822, but somewhat down from 2016's 188,800 and 187,816. In addition, 21,692 jack spring chinook returned in 2017 and was the seventh highest return dating back to 1979.
The WDFW draws up computer model salmon return forecasts – also known as "paper fish" – in December that annually offer anglers a peek into the crystal ball of salmon fishing expectations.
A majority of Columbia River "spring/early summer" are Snake River-bound fish with 107,400 forecasted in 2018, which is nearly twice as many as 2017's actual return of 51,948 (95,800 was the forecast).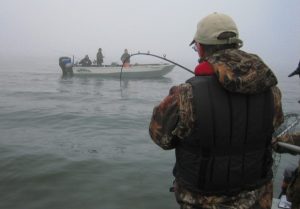 The Willamette River forecast is 53,820 adult and 2,130 jack spring chinook with 19,460 being the allowable catch total. The initial forecast in 2017 was for 40,200 fish (later it was updated to 38,100 fish) although the actual return ended up being 56,163.
Washington's Lower Columbia tributaries are expecting 5,150 for Cowlitz, 1,450 in Kalama and 3,700 in Lewis rivers.
The largest spring adult chinook return on record was 541,000 (364,600 was the forecast) in 2001, and the worst was 12,792 (12,000) in 1995.
Many are cautious on expectations in 2018 due in large part to warm ocean conditions that have stayed in place since the fall of 2014, but could be waning. The ocean ecosystem was turned upside down in 2015 and 2016 creating very poor outmigration for young salmon survival.
There was some news last year that the situation was on the mend, and the ecosystem was returning in a positive direction. In summer of 2017, the copepod system switched back to a cold water community a sign that it was transitioning to more normal conditions.
The spring chinook fishery creates a fishing frenzy beginning as early as January and February, and builds to a crescendo in late March or early April.
Last year, 63,303 angler trips were taken with 9,047 adult spring hatchery chinook kept and 943 released, plus another 137 steelhead kept and 113 released. That averages out to about one hatchery spring chinook kept for every 6.9 trips.
Fishing on Lower Columbia River was open daily from Buoy 10 to I-5 Bridge from Jan. 1-Feb. 7 in 2017. The fishery then expanded up to Bonneville Dam from March 1-April 10, and April 13-17 and April 20-23.
Spring coastal razor clam digs likely to be slim pickings
Tentative coastal razor clams have been set from March through April, and no other digging dates will occur until then.
"Opportunities are pretty limited until the spring digs occur," said Dan Ayres, the head WDFW coastal shellfish manager.
Final approval will depend on further marine toxin testing, which Ayres says have remained well below the action level.
The green light will likely be announced a week before each scheduled dig series.
Digs in March occur during evening low tides after 12 p.m. while those in April are during morning low tides until times noted below.
More digging dates could occur later this spring if sufficient clams remain available to harvest.
Dates are: March 2 (minus-0.8 feet at 6:54 p.m.) at Mocrocks; March 3 (0.3 at 7:34 p.m.) at Mocrocks; March 16 (0.2 at 7:03 p.m.) at Copalis and Mocrocks; March 17 (0.2 at 7:36 p.m.) at Long Beach, Twin Harbors, Copalis and Mocrocks; April 19 (-0.9 at 9:46 a.m.) at Mocrocks; April 20 (-0.7 at 10:37 a.m.) at Mocrocks; April 21 (-0.4 at 11:34 a.m.) at Long Beach, Twin Harbors and Mocrocks, digging hours will be extended to 1 p.m.; and April 22 (-0.1 at 12:38 p.m.) at Long Beach, Twin Harbors and Mocrocks, digging hours will be extended to 2 p.m.
A week-long coastal razor clam dig wrapped up on Feb. 3 with 33,723 diggers hitting the beaches and pulling out 299,848 razor clams.
Ayres said there was a decrease in success, but it had nothing to do with a drop in clam populations.
The most likely scenario was people struggled with darkness and weren't prepared with lanterns, and also simply related to a lack of experience in digging for clams.
Best area was Copalis where 5,003 diggers had 66,184 clams for 13.2 clams per person (daily limit is 15 clams). That was followed by Twin Harbors where 7,086 diggers had 75,767 clams for 10.7 average. Mocrocks had 9,165 diggers with 71,135 clams for 7.8 average and Long Beach saw 11,470 diggers with 86,761 clams for a 7.6 average.
The season total for 19 days of digging on the coast that began Oct. 6 is 153,126 diggers with 1,721,458 razor clams. Season average per digger is 10.2 at Long Beach (58,541 diggers with 594,211 clams); 12.0 at Twin Harbors (33,928 with 408,165); 12.7 at Copalis (29,794 with 378,017); and 11.4 at Mocrocks (30,862 with 351,407).