2018 Fall Chinook Forecast for the Columbia River
by Jason Brooks
The 2018 Fall Columbia River Chinook forecast was just announced today. Anglers hoping to catch an Upriver Bright won't be too excited over the forecast. Last fall the predicted return was 582,600 fish but after the season was over the actual return fell over 100,000 short of that with 475,900 Chinook arriving. 2018 predicted return is 365,600 total Chinook.
Looking at last years' predictions and returns, most of the runs were assumed to be higher than what really came back. But the over-estimated Bonneville Pool Hatchery (BPH) was way off with a 2017 prediction of 158,400 and only 48,200 coming back. 2018 has fish biologist making lower predictions, hopefully underestimated.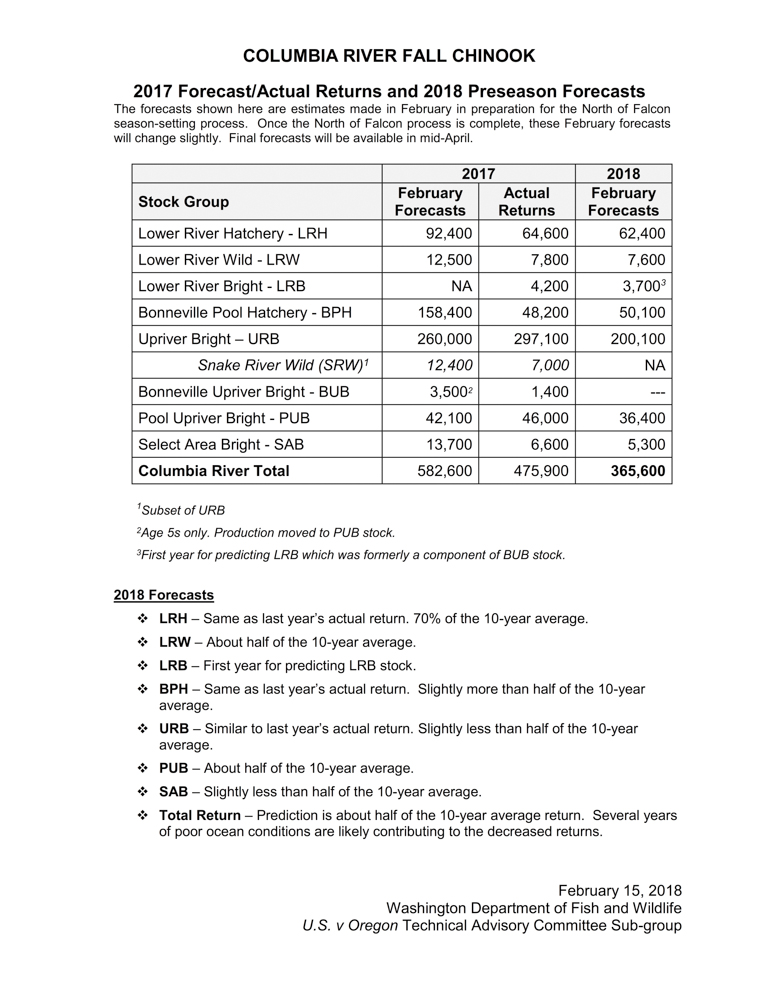 An estimated 200,100 Upriver Bright (URB) run, still less than half of the ten-year average, is on par with the other stocks predictions with a total run estimation about half of the ten-year average. Biologist stated, "Several years of poor ocean conditions are likely contributing to the decreased returns", once again blaming the warm water blob and other conditions to the reason for the low returns.
One bright note is that the Colville Confederated Tribe hatchery at Bridgeport is finally putting out 2.9 million smolts. Last year being the first year of returning adult fish. Even if Buoy 10 is slow this year, the famed Brewster terminal fishery at the mouth of the Okanogan River should provide a good opportunity at some summer Chinook. But come fall, anglers might be looking at shorter seasons depending on the North of Falcon process.
Jason Brooks
The Outdoor Ling Blogger
www.jasonbrooksphotography.com