UPDATED: More 2018 salmon news coming to light ahead of Tuesday WDFW forecast meeting in Lacey 1
With the Washington Department of Fish and Wildlife (WDFW) salmon forecast meeting looming on the near horizon – Tuesday, Feb. 27 – to be exact we now have word leaking out on early expectations for the 2018 fishing seasons.
"We are still compiling the tables so they aren't complete yet and won't have them done until Monday," said Wendy Beeghly, the coastal WDFW salmon manager who was attending meetings in Portland last week.
Another source indicated it looks like co-managers (state and tribal fishery managers) have agreed on most salmon forecasts except for a couple of chinook returns on the coast and the Elwha River in the Strait of Juan de Fuca.
"In Puget Sound most of the chinook forecasts are up a little bit so that is good news," Beeghly said. "A lot of them aren't significant, but some of them are quite a bit higher than they had been. So it is mostly good news on chinook front."
The 2017 Dungeness chinook forecast of 373 fish created headaches for sport fishing opportunities in the Strait of Juan de Fuca (Areas 5 and 6), which was below the critical status threshold of 500 wild spawning chinook requiring a 6 percent impact limit. The 2018 Dungeness forecast is 796, and well above that level and will allow up to 10 percent impact.
Of 12 wild chinook stocks limited by ESA threatened status, all but two stocks (Skagit spring and Skagit summer/fall) have higher forecasts in 2018 than in 2017.
Of particular note is Stillaguamish River wild chinook returns (while still in the poor status range) look upbeat in 2018 and improved over recent years, and co-managers were in process of finishing 2018 forecasts, which could hopefully avoid a skirmish over wild fish. Stay tuned.
While still weighing on the side of caution and mixed signals depending on who you talk to, the early word is Puget Sound coho abundance has improved for 2018. That may lead to some areas of Puget Sound and the Strait opening in the later-summer early fall timeframe, which have been mostly closed since 2015 season.
The forecast for five wild coho stocks that drive Puget Sound sport fisheries are the Strait of Juan de Fuca, Skagit, Stillaguamish, Snohomish and Hood Canal.
In 2017, forecasts for two of these wild stocks – Skagit and Stillaguamish – determined the very restrictive sport fishery for Straits, San Juan Islands, east side of Whidbey Island, and northern and central Puget Sound (Areas 5, 6, 7, 8, 9 and 10).
The 2018 forecast of 59,196 for Skagit wild coho is 350 percent greater than the 2017 forecast of 13,235, and way larger than the 8,912 in 2016 when the situation hit an all-time low.
The 2018 forecast of 18,950 for Stillaguamish wild coho is 150 percent greater than the 2017 forecast of 7,622, and way larger than the dismal 2,770 in 2016.
The 2018 forecasts for all five driver Puget Sound wild coho stocks are up dramatically from the disastrous 2016 season.
There are also a few wild coho stocks of concern that could play a big role in how coho sport fisheries are shaped or for that matter not shaped at all.
Chum and sockeye returns migrating into Puget Sound also appear to be similar to last year.
Sockeye and pink returns were on average poorer than forecast throughout Puget Sound, but chum populations waxed the forecast in 2017, and were 200 percent above the pre-season forecast.
The preliminary run-size was 950,000 chum in Hood Canal and 800,000 in South Puget Sound. Commercial catches this fall were the highest state fisheries had seen in the past two decades. Sport anglers also benefitted from the higher returns.
Chum forage more heavily than other salmon species on gelatinous zooplankton – which may be abundant, but has poor nutritional quality – (and) may be a reason why they did well.
The Pacific Salmon Commission met on Feb. 12-16 in Vancouver, B.C., and the focus was on the salmon management plans negotiations, which indicated no significant change to the way Washington salmon fisheries, and particularly sport fisheries, are managed.
Poor Fraser River wild coho have been an issue to Washington's sport fishing in the Strait of Juan de Fuca consistent with conservation objectives and sharing of limited allowable impacts allocated to the U.S.
Ocean salmon fisheries could be affected although fishery managers we're still working on putting the final touches on forecasts before the Tuesday meeting.
In general Columbia River chinook forecasts are down and particularly for tule chinook stocks (which are the driver in ocean salmon fisheries), and it looks like they're down in 38 percent exploitation rate allowance category. So that will be a little more constraining than in past years.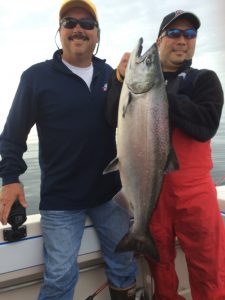 The coastal coho stocks look about same as last year and Columbia coho stocks are down from last year as well as Oregon Production Index.
"That could potentially constrain the ocean fisheries although I think we'll run into coastal coho constraints before that before we reach the OPI natural coho constraints," Beeghly said.
While salmon forecasts aren't that rosy again in 2018 it appears the dismal ocean conditions are a thing of the past.
"The warm "blob" that plagued the North Pacific from late 2013 to 2015 has dissipated, returning sea surface temperature anomalies to more normal levels," said Marisa Litz, with the WDFW fish program management division.
"Despite this, organisms at the base of the food web in the ocean (zooplankton, especially copepods) continue to occur in low abundance and have less lipid than we typically see in the Pacific Northwest," Litz said. "This means that foraging conditions continue to be poor for out-migrating salmon and sub-adults co-mingling on the high seas."
The El Nino of 2015-2016 is officially over and we are in an ENSO neutral state, meaning that the equatorial Pacific does not have abnormally high or low SST anomalies (the signature of El Nino/La Nina).
This typically means that ocean conditions in the Pacific Northwest will be favorable for salmon of all life stages with cooler than average air/ocean temperatures and more precipitation. Although some climate models are indicating below average temperatures, precipitation may just be average for the winter.
A lower snowpack during the winter can lead to lower summer stream flows and higher stream temperatures that could impact both out-migrating juvenile salmon and returning adults, resulting in pre-spawn mortality.
"We are heading into another difficult year for coho, and it's still an uphill battle overall," one fisheries manager noted before the Christmas holidays. "While it is way too early to tell, 2019 will be based off last year's returns, which were decent. As long as ocean conditions are fine for the fish, and they find good survival then hopefully it ends up being more positive two years from now."
The WDFW forecast meeting will be on Tuesday at the Lacey Community Center (Lacey Community Center) from 9 a.m. to 3 p.m.