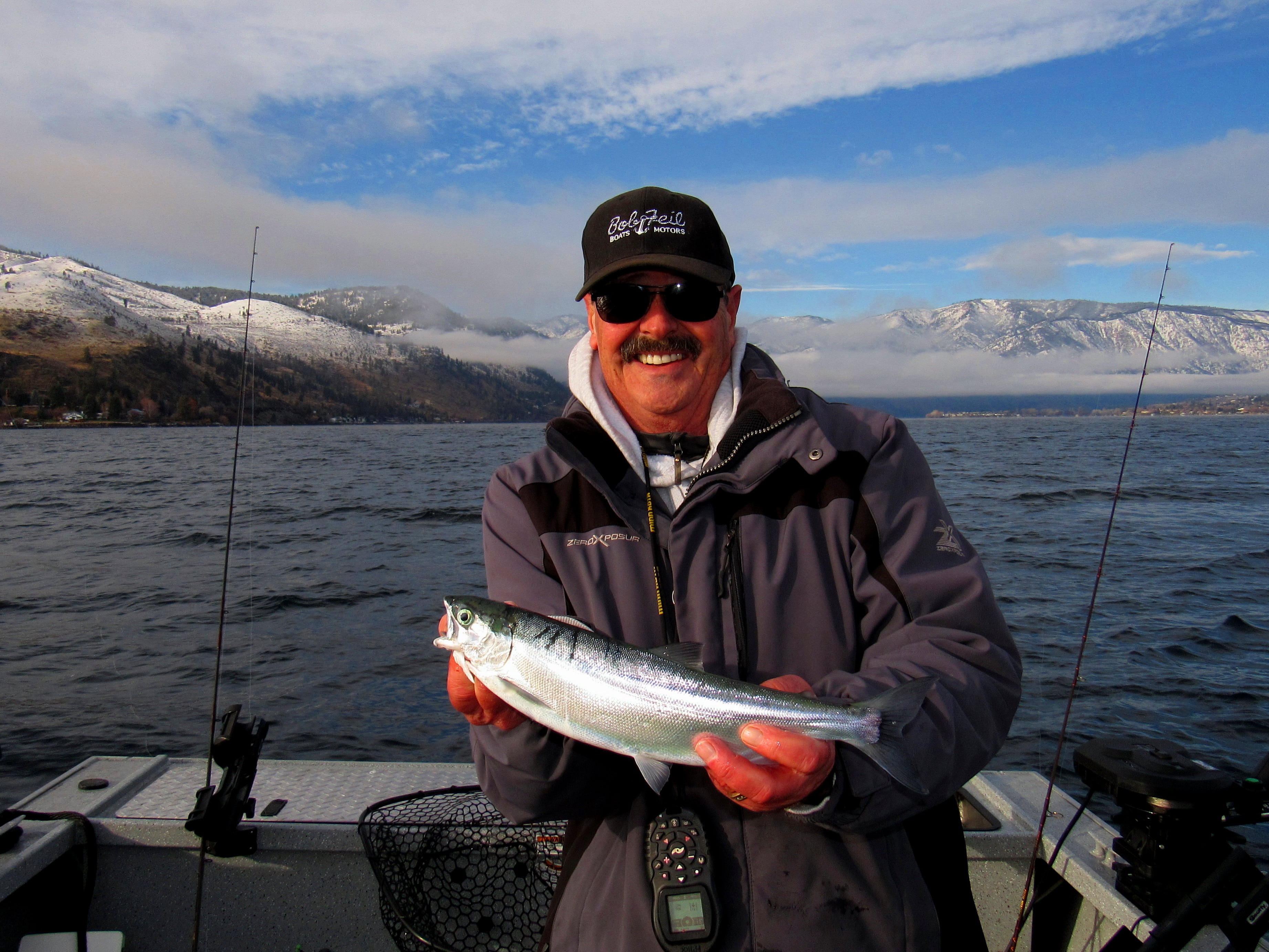 By Dave Graybill
We are blessed with many clear and calm days throughout the winter months here in Eastern Washington. That will encourage kokanee anglers to launch their boats to take advantage of the great kokanee fishing available to them on Lake Chelan. The good kokanee fishing in the winter months surprised anglers last year. It looks like the fishing will be even better and the kokanee even larger this season.
Last year I was invited to try the kokanee fishing with Jeff Witkowski, of Darrell and Dads Family Guide Service, in December. We got our limits in pretty short order, fishing in the Yacht Club area on Chelan. I took my brother-in-law Tom Verschuren to the same spot on a clear and sunny December day, and we got a bunch of kokanee and even a lake trout. A little later in the month my brother Rick and I joined Jeff for another kokanee trip on Chelan. We got 30 kokanee in the same area.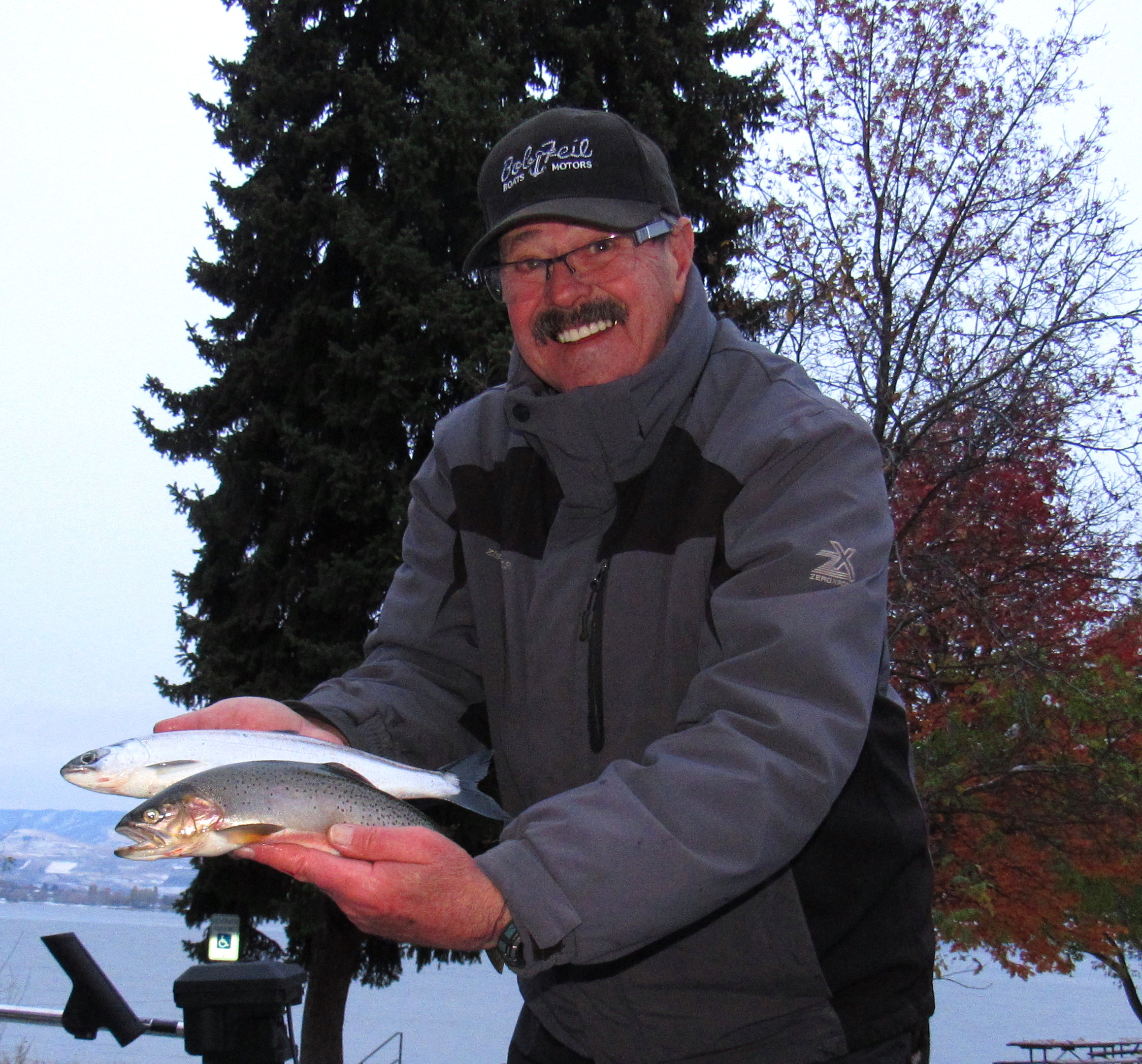 I have made several late-fall trips to Lake Chelan, and found kokanee to be plentiful, and better yet, even larger than the previous year. While last year's fish were mostly 11 to 12 inches, with some 13-inch fish mixed in, this year's crop are mostly 13 inches with plenty in the 14-inch class. I started fishing a ways above the Yacht Club and then with each trip moved further down toward the Yacht Club. On my last trip we found fish as far down the lake as the area across from Rocky Point. This is an indication that kokanee are dispersed throughout the lake already. I really didn't expect to find them so far down lake. This is where I look for them in the spring and summer. It appears that there is a bumper crop of kokanee in Lake Chelan this season and I don't see it slowing down between and spring.
Every serious kokanee angler has their favorite rods, reels and terminal tackle. There is a lot of great kokanee gear on the market. I have fished for kokanee regularly on Lake Chelan since the early 90s and have tried a lot of different gear. I have enjoyed very good success with kokanee the past couple of years and I will share with you what I am using and how I fish for them. It will at least be a place to start if you're new to the sport of kokanee fishing.
I start with specialized rods. They have to have a very soft action. Kokanee have a very soft mouth and the rods have to an effective shock absorber. They are very important. A rod that is too stiff will result in many lost fish. When possible I fish with four rods. Two on downriggers and two on lead balls out the back. I prefer this to "stacking" because it saves time and tangles. I started using lead balls on my back rods last year and have had good success so far this late fall and early winter with them.
The two downrigger rods are the 7-foot Kokanee Specials from Lamiglas. I have used these rods for years and they hold up well with downrigger use. I have good quality level wind reels on these rods. The Abu Garcia Revo series reels are favorites of mine. The rods I use out the back are longer. They are 9-foot Berkley Air spinning rods, but have a very soft action. I first got them for fishing big kokanee on Lake Roosevelt, when I am often using side planers. They work just fine when trolling 3- to 4-ounce lead balls. On these rods I am using the Okuma Coldwater line counter reels. It is hard to estimate exactly how deep your lures are running when trolling kokanee gear, but with the line counters I can consistently get back to the depth that I am finding fish.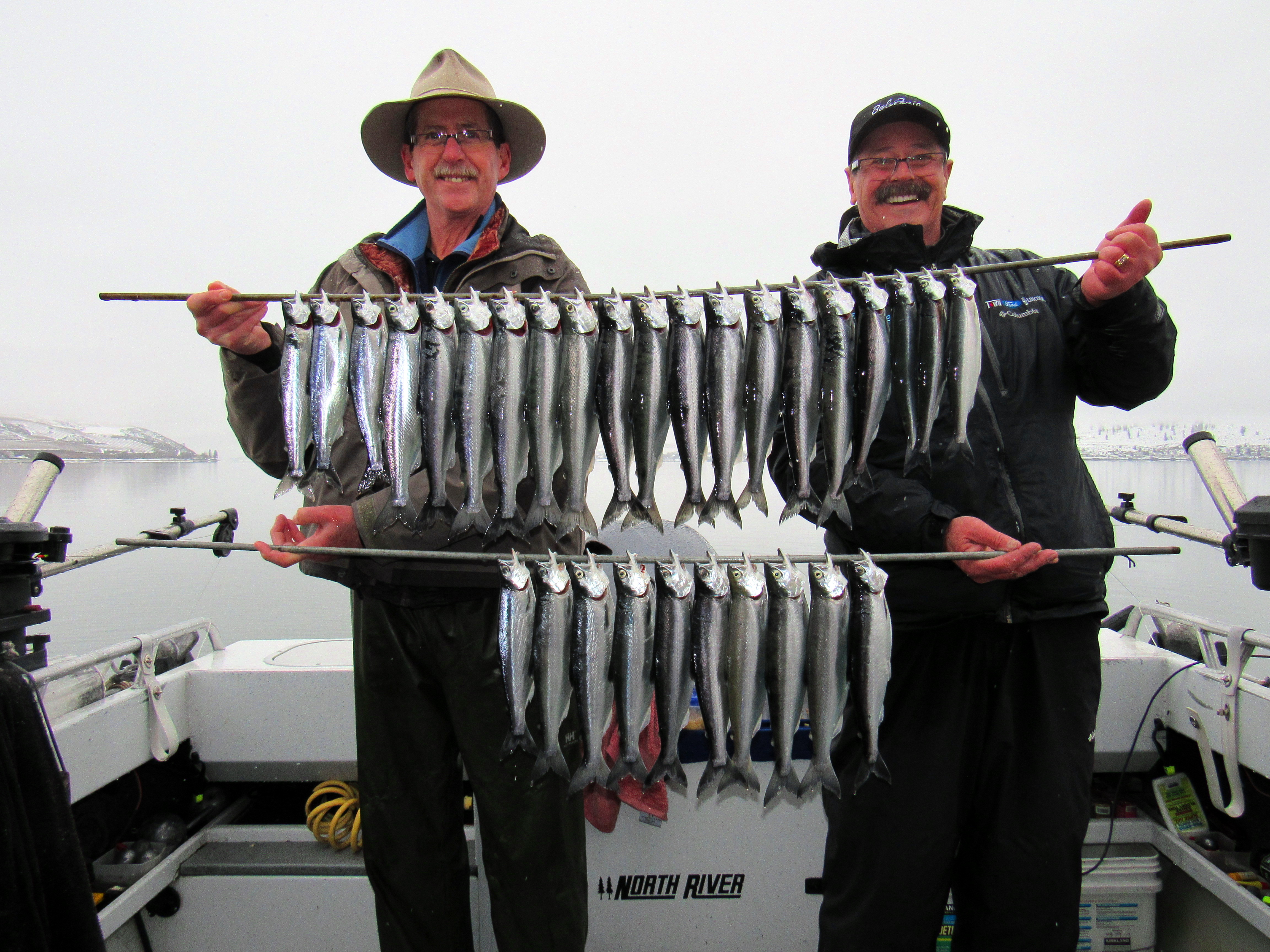 I rig the two sets of rods differently. I can put my kokanee gear directly on my main line with a swivel. On the lead ball rigs I first add a rubber bead, then a swivel so it can slide on the line. I put another rubber bead to protect the knot. It is necessary to then add a connector to allow the blade or dodger to have the right action. You can use heavy mono with a swivel on each end, but I prefer to use the 14-inch, multi-dodger connectors from Kokabow Fishing Tackle. They are made of heavy wire and this helps avoid tangles. You have to let your line out carefully when using the lead balls. If you go too fast the dodger gets ahead of the ball and your leader gets hooked to your line.
There are a lot of different dodgers and blades made especially for kokanee angling. For the past three seasons I have been primarily using the gear from Kokabow Fishing Tackle, and I am not disappointed. The blades come in a wide variety of colors and two different sizes. I use the larger, 5.5-inch blades. They have a "kick" like no others, and that is what the kokanee like. They transmit great action to spinner or squid-style lures. When you are trying to decide which colors of blades to try, I tend to like to run bright colors on bright days and darker colors on overcast days. Some of my favorites are the Watermelon, Yellow Jacket, Blueback, Sunburst and Sunrise.
I also like the spinners and squidders from Kokabow. These also come in a wide variety of colors. The squid-style spinner was introduced just last year and has become extremely popular. The regular spinners still produce good catches, though. Different colors are favorites on different lakes. In our region the fish seem to like the pink and orange colors the best. These two would be my first choices, but it is always a good idea to experiment. This year I tried the new Ravisher color and found it an excellent choice in the late fall.
I would also recommend a leader length of 14 inches. I have fished longer leaders and shorter leaders, but overall a length of 14 inches seems to be just right for getting good action on the spinner. I also add white shoe peg corn to the hooks. I put two kernels on each hook and make sure that they are soaked in Graybills Guide Formula Kokanee or Craw-Anise flavor. I also stain my corn to a deep pink or purple color. The Wizard Kokanee Killer Korn Dye from Pro-Cure works great and it really makes the corn last a long time. I have used the same cured corn trip after trip. I add scent to the stained corn, too.
It is important to have a well-adjusted depth sounder when fishing for kokanee. There is no point fishing in empty water. Sure, there may be some hunting required, but you need to be able to spot schools of fish to determine the depth to put your gear. I will often put my downrigger gear 50 feet or more behind the ball. This gives me enough time to raise or lower my baits to present them to the fish. It will also help keep your speed at the rate you want. I have found that speed of 1.5 to 1.7 mph to be effective on Lake Chelan.
Also, it really helps to have a very long-handled net. When kokanee get up to the surface and near the boat they really start to jump and this is often the time that they shake the hook. Getting a net under them as soon as possible puts more fish in the boat.
I want to mention that cutthroat are very abundant in Lake Chelan, too. Fish to 14 inches are very common, and easy to catch. You can get them by trolling your kokanee gear at shallow depth. You can also switch to lures, like the Mag Lip 2.5 to get them. Anglers often get their 10-fish limits of kokanee and add a five-fish limit of cutthroat to their cooler in a days fishing on Chelan.
There is no need to put the boat away for the winter. There is terrific kokanee fishing available to anglers on Lake Chelan right now, and it will continue right into the spring and summer. If you are new to kokanee fishing this would be a great year to get out and learn what it takes to get some of these wonderful-eating fish.
Dave Graybill
Outdoor Line Blogger
North Central Washington
The Outdoor Line
710 ESPN Seattle