Salmon fisheries recap finds ups and downs, and a sneak peek look ahead to 2018 Leave a reply
By Mark Yuasa
A look back at summer salmon fisheries showed a mash-up of surprises both good, bad and downright ugly.
Salmon catches along the coast this past summer in general were decent for chinook, but mainly somewhat a mixed bag of success for coho.
"At Neah Bay we saw a lot of chinook and I would classify it as a good year especially early and on through the third week of July, and then it started to tail off which is typical," said Wendy Beeghly, the Washington Department of Fish and Wildlife (WDFW) coastal salmon manager. "What we never saw at Neah Bay was coho."
The week of July 3-9 at Neah Bay anglers averaged 0.90 fish per rod –
1,975 anglers took home 1,472 chinook and 245 hatchery coho. Then it jumped to 1.35 July 10-16 – 1,999 with 2,352 and 291 – and 1.07 July 17-23 – 1,698 with 1,156 and 570. Other good weeks were July 31-Aug. 6 with 1.35; Aug. 14-20 with 1.16; and Aug. 28-Sept. 3 with 1.19.
When the season started on June 24, LaPush was like a ghost town with terrible fishing and low angler effort. By mid-August it picked up steam averaging 1.31 to 1.57 per rod until it closed Sept. 4. Catches of hatchery coho fared better than chinook.
"At Westport and Ilwaco fishing was so good we ended up having to close both areas on Aug. 22," Beeghly said. "That kind of surprised us, and coho catches in general were quite good. Chinook fishing started off slow early on at Ilwaco and then picked up, which in comparison was quite the opposite trend from the past five years."
"At Westport they had slightly below average catches of chinook although coho fishing was quite good at times," Beeghly said. "The effort there combined with the decent coho catches are why they ran out of fish pretty quick."
Best weeks at Westport was 1.18 fish per rod on July 17-23; 1.16 on July 24-30; and 1.11 on July 31-Aug. 6. At Ilwaco (not including Buoy-10) the glory weeks on the ocean were 1.03 on July 17-23; 1.33 on July 24-30; and 1.09 on Aug. 7-13.
"The chinook off the coast looked healthy, and there wasn't a lot of big ones – averaged 12 to 15 pounds – and the larger fish were in 20-pound range," Beeghly said. "A surprise to me was the size of the coho, which looked very healthy and that was a good sign of them finding feed in the ocean."
In the Columbia River, another summer and fall salmon fishing hot-bed, Joe Hymer, a WDFW biologist recently offered a summary of how action ended up.
The 3,516 adult-summer and 26,138 adult-fall chinook caught this year was the fourth and sixth highest respectively dating back to at least 1969. The record was more than 5,900 summer and 41,500 fall set in 2015.
Columbia River coho also waxed expectations with more than 3,100 adult fish kept this year, which is fourth highest since at least 1969.  The record was nearly 5,800 fish caught in 2014.
While catches were rosy, angler turnout was the lowest in nearly a decade. The 100,000 angler trips less than the recent 10-year average.
Another lowlight was the less than 1,700 summer steelhead kept this year, which is the lowest since complete fishing closures in the mid-1970s.
Shad were another highlight in the Columbia, and 169,795 shad kept in 2017 was the second highest since at least 1969 (record was 194,898 in 2013).
Summer salmon fisheries in Puget Sound and Strait of Juan de Fuca also saw a mixed bag of success.
"In a general summary I would say Puget Sound chinook returns were pretty solid with bright spots," said Ryan Lothrop, the state Fish and Wildlife Puget Sound recreational salmon manager. "For pinks and sockeye it was spotty although some local good opportunity occurred. We're still grasping for a straw on what we saw this summer for coho returns in Puget Sound since we had to deal at length with the Atlantic salmon situation."
Here is a rundown on how Lothrop viewed summer inner-marine waterway salmon fisheries.
At Sekiu (Marine Catch Area 5) it looks like sport anglers caught about 2,381 hatchery chinook, and it was definitely down compared to recent yearly averages.
"If I had to fathom a guess we came in about half or two-thirds less of what we planned for chinook harvest," Lothrop said. "With no bonus in pinks that had some effect on effort out there, and they've had some sluggish chinook years. Sometimes it's an early game, and sometimes it's a late game for Sekiu. It was a little more later game for them this past summer. We still have no coho estimates, plus it was only open through Aug. 31. They were picking up smaller, but healthy coho at that time."
In eastern Strait of Juan de Fuca (6) the hatchery king fishing was solid when it opened on July 1, and that is consistent with what they've seen in previous years.
"We had catch rates of three-quarters of a chinook per angler right at the start and anytime you have half-a-fish per rod it is good fishing," Lothrop said. "Then it looks like it had fallen off after mid-July."
In San Juan Islands (7) there was a catch of 3,695 hatchery kings in July during the marked-selective season, which is a pretty decent number of fish.
"We're still learning about that fishery, but we caught almost three times as many fish as we had anticipated," Lothrop said. It was poor the year before when we came in less than half of expectation. In 2016, the mark rate was really low, and this past summer it was really high."
By far, the highlight of the summer salmon fisheries occurred in northern Puget Sound (9) where a very good number of hatchery chinook were landed from Possession Bar to Midchannel Bank off Port Townsend. The fishery prematurely closed on July 30 (originally slated to remain open through Aug. 16).
"We caught 5,368 chinook, which we knew was a precursor with the fact it was a very strong mid-South Sound hatchery forecast," Lothrop said. "The Area 9 catch quota was 3,056 (in 2016) so it was 1.8 times bigger or a little less than double for this past summer. It started off pretty hot, and always seems to do that."
In central Puget Sound (10) the total summer catch was 2,193 hatchery chinook, and it stayed open during the entire selective season from July 16-Aug. 15. The catch quota in 2016 was 1,395, and there was a 50 percent increase this past summer.
"The central Puget Sound hatchery king fishery is usually a back loaded fishery, and it behaved like what you expected it to be," Lothrop said. "We had a couple of really good days (Aug. 14-15) where anglers caught most of the fish. It was like 20 or 30 fish per day throughout the season, and then we got to 1,200 fish the last couple of days with pretty solid fishing."
Anglers hadn't had a chance to pursue kings in inner-Elliott Bay during the summer since 2006, and catches weren't much to write home about with a total of 176 – 138 were marked fish and 38 were unmarked.
"Albeit it was just a get our feet wet kind of fishery, and we tried to pick the peak of the run to open the inner-bay (Aug. 11-13) or darn close to it," Lothrop said. "I know it wasn't that great of a catch rate, and this was a non-select fishery because of unmarked (hatchery) chinook program in the Green River."
In south-central Puget Sound (11) the king fishing was a gradual uphill journey to success when it opened on June 1.
"Our data showed it was just a steady slow climb as the summer progressed with some gaps in between along with good moments too," Lothrop said. "By early July it had some of the best catch rates in Puget Sound, and this isn't necessarily that common. Then you often have to wait until August to see the better catches."
Another shining light was southern Puget Sound (13), and Lothrop said you could find 40 or 50 boats consistently fishing and finding solid king action at Boston Harbor all summer long.
"Many South Sound locals avoided going to the ocean since this fishery was producing decent summer catches," Lothrop said. "They were picking up 10 to 12 pounders early on. It was one of those rare summer events when fish showed up early and hung around for whatever reason. They were in constant feeding mode. Most were jigging or trolling, which seemed to work well, and it wasn't a difficult fishery to figure out this past summer. To see those moments when it popped was refreshing for sure."
Hood Canal (12) south of Ayock Point have seen some decent years lately, and those who fished it did fairly well.
"People aren't really in tune with this one yet, and don't have it on their radar," Lothrop said. "But, when we've had seasons with forecasts of 400,000 and 200,000 chinook coming back they should get it on their radar."
Chinook south of Ayock were good biters, and originated from the George Adams and Hoodsport hatcheries.
"Those hatchery programs are at or above forecast," Lothrop said. "We took a little more conservative approach in developing the forecast, but in recent years they have come in very strong due in part to the production in those hatcheries. Hopefully that materializes for larger fish runs for next year too."
Just north of Everett, the Tulalip terminal summer fishery was really good for chinook and coho, and in fact was through the roof for returns.
EARLY OUTLOOK FOR 2018
Painting a clear picture for 2018 salmon returns to Washington is still loaded with many unanswered questions although it appears we've gotten past dismal cycle.
"The warm "blob" that plagued the North Pacific from late 2013 to 2015 has dissipated, returning sea surface temperature anomalies to more normal levels," said Marisa Litz, with the WDFW fish program management division.
"Despite this, organisms at the base of the food web in the ocean (zooplankton, especially copepods) continue to occur in low abundance and have less lipid than we typically see in the Pacific Northwest," Litz said. "This means that foraging conditions continue to be poor for out-migrating salmon and sub-adults co-mingling on the high seas."
Unusual numbers of pyrosomes (a tunicate usually found in subtropical waters and also known as "sea pickles") have been observed up and down the coast. They do not have much nutritional value, and could be competing with marine fish species.
Litz said, after conducting ocean surveys this summer, NOAA issued a warning in the form of a memo that coho abundance may be low in 2018, and chinook abundance likely down in next two to three years after observing the lowest catches of juvenile salmon in the ocean in their 20-year time series.
Sockeye and pink returns were on average poorer than forecast throughout Puget Sound, but chum populations are doing better than forecast, and were 200 percent above the pre-season forecast. The updated run-size is 950,000 chum in Hood Canal and 800,000 in South Puget Sound. Commercial catches this fall were the highest state fisheries has seen in the past two decades. Sport anglers also benefitted from the higher returns.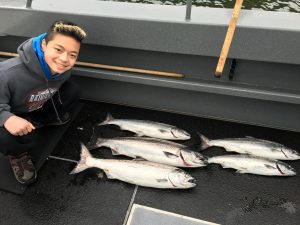 "Chum forage more heavily than other salmon species on gelatinous zooplankton – which may be abundant, but has poor nutritional quality – (and) may be a reason why they are doing well," Litz said.
The El Nino of 2015-2016 is officially over and we are in an ENSO neutral state, meaning that the equatorial Pacific does not have abnormally high or low SST anomalies (the signature of El Nino/La Nina), although there is a current watch in place for this winter and spring for La Nina to develop, according to Litz.
This typically means that ocean conditions in the Pacific Northwest will be favorable for salmon of all life stages with cooler than average air/ocean temperatures and more precipitation. Although some climate models are indicating below average temperatures, precipitation may just be average for the winter.
A lower snowpack during the winter can lead to lower summer stream flows and higher stream temperatures that could impact both out-migrating juvenile salmon and returning adults, resulting in pre-spawn mortality.
"We are heading into another difficult year for coho, and it's still an uphill battle overall," Lothrop said. "While it is way too early to tell, 2019 will be based off last year's returns, which were decent. As long as ocean conditions are fine for the fish, and they find good survival then hopefully it ends up being more positive two years from now."
Mark Yuasa
Outdoor Line Blogger 710 ESPN Seattle