I have been a big fan of Beau Mac Floats for years. For me, I'm sold on the quality and the variety of floats now offered by Beau Mac.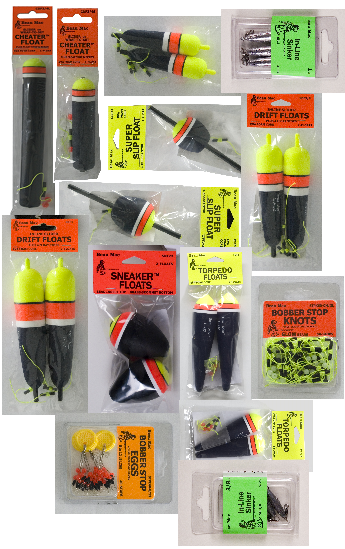 I look for several things when I am looking for a quality float. First and foremost is durability. I don't like fishing floats that can't take a little abuse and stay intact over the course of a tough day of fishing.
When you take a lot of buddies fishing your float's get abused because, well, that's what your buddies do to your gear. This wouldn't happen if they were simply cast into the water. It's the amount of time my floats spend in trees, banged against rocks and the shoreline that tends to beat'em up a bit. And no, I'm not talking about me…
Another key point that I like about Beau Mac floats is the color or the color contrast that they have. The vibrant colors at the top end of their floats not only make it possible for you to see your float, but it's also an indicator as to how deep your float should be floating on top of the water. This indicates that you have your float weighted properly.
With so many styles of floats and weight ratings on floats how do I decide which float to use and when? One thing is for certain, not all floats are created equal. Several floats may perhaps be marked 5/8ths oz. but they actually perform completely different when rigged exactly the same in your presentation.
Let's take a look at some of the floats Beau Mac now offers and I'll identify some practical applications for each type or style of float.
One of the more popular styles of float and one of my favorites for my go-to technique of float-doggin with a stick lead is an in-line sliding float. For a majority of the season, for both salmon and steelhead, I match a 5/8 ounce float with my stick lead which weighs on average about .42 ounce.
As a comparison this is very close in weight to a four bead slinky. Keep in mind that with this presentation we are dragging the weight. That is why you have a float that is rated much higher then the weight you are actually matching to the float.  At times for summer steelhead I have cut the stick lead in half and then I'll match it with a smaller 3/8 ounce float. Beau Mac's In-Line Slider float has a wide range of weights starting at 1/4 ounce going up in 1/4 oz. increments to 1 oz.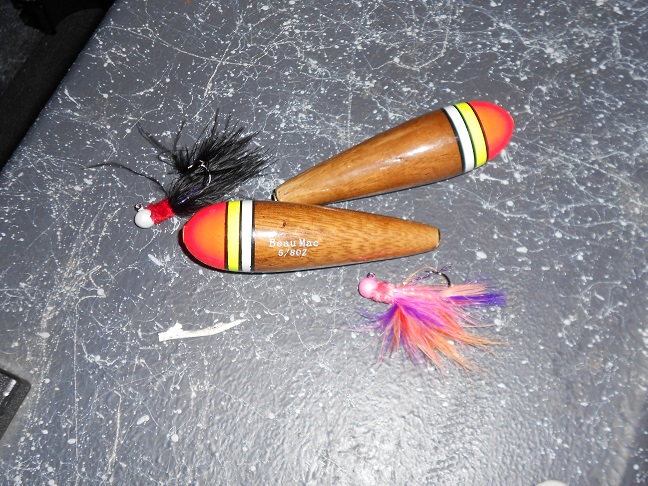 The new Beau Mac wood floats are an extremely nice float too. If you're looking for durability, this is the one. The wood is extremely tough and it does not crack easily. The brass inserts on both the top and bottom prevent line from cutting into the float. The brass inserts also ensure that the float slides extremely well.
My ideal conditions for this float application is fishing any presentation vertically. The wood float works very well for jigs, but it also is well suited for fishing bait suspended. The torpedo design makes for a float that goes down on a fish take with little to no resistance and the weight of the float aids in cast-ability when fishing small jigs.
As with all floats match your float, jig and in-line weight so that the float rides correctly in the water. With a 5/8 ounce float fishing a 3/8 oz. jig you should use a 1/4 ounce Beau Mac in-line sinker to get the proper presentation.
Even though this is a 5/8 ounce float it's not what I will use for float dogging. It's labeled 5/8 ounce as is the foam 5/8 ounce that I use. However, the difference in buoyancy is just enough that the wood float will not stay up where I like them to be in the water column while dragging weight.
The new Beau Mac clear floats are a very good choice for multiple steelhead fishing applications. One thing to keep in mind is that these floats are marked in grams (gms). Here is a simple conversion to memorize: 20g = 0.70oz, 25g = 0.88oz, 30g = 1.05oz.
The clear floats come in several sizes. I have had great success using the 25 gram float for float doggin and the 20 gram is great for fishing jigs. I will definitely use the 30 gram for fall salmon, fishing bait suspended under a float.
These clear floats are a great choice for low clear conditions or even moderately clear conditions anytime. They are extremely tough and I haven't had any issues with the floats separating and filling with water. I think if you check these out you'll also be impressed with the retail price.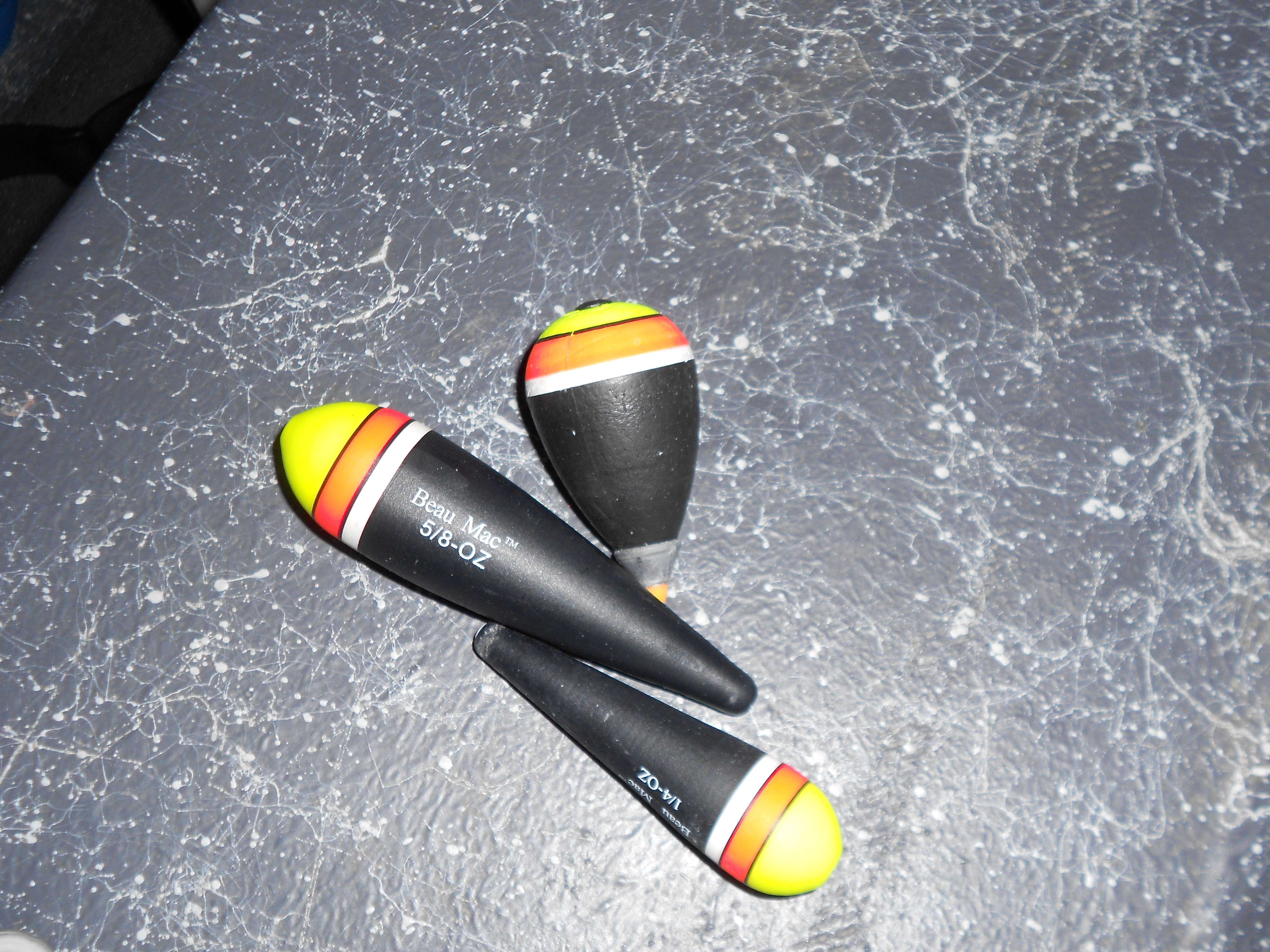 Beau Mac also offers a great selection in their torpedo float design. There are several sizes and weights to choose from. I have used the torpedo floats for both float doggin and fishing jigs. I find the in-line slider to be a much more durable float for float doggin and really like the torpedo design for jigs or fishing bait suspended. The narrow taper allows for even the lightest biters to take your offering without feeling the resistance of the float. They are also extremely easy to retrieve as they do not create a lot of drag on the water. The shorter  and more round taper style is also a good choice on lakes for trout or spiny-ray fisheries.
Beau Mac offers the complete system for float fishing. You have a couple of options when it comes to Beau Mac bobber stops. The dacron thread stoppers work great on braid and they also work well as a line marker on your plug rods for knowing the distance of line you have out. Simply measure an equal distance of line on your reels for your plug rods and slide on and secure a bobber stop. You can even use multiple colors perhaps marking with a bright green stopper at 30 feet and a bright pink at 40 feet.
When I rig up my rods with a top shot of mono for float doggin, I will always run my bobber stops on the monofilament. This is where the rubber stoppers come in and work very well. You only need to remember a couple things when choosing which stopper to use. The dacron stops don't work well on mono, so use the rubber stops if your using monofilament or flourocarbon. The rubber stops don't work well on braid, so use the dacron stops on braid.
There ya go…..Hopefully some of this info helps you decide on which style of float to use specific to the application or technique you are trying to master.
Beau Mac is a great local tackle company that's been around for decades and best of all they make gear specific to our fishing needs here in the Pacific Northwest. Their floats work for me and I'm sure you'll find them to your satisfaction too.
See ya on the water!
Duane Inglin
The Outdoor Line
710 ESPN Seattle
Theoutdoorline.com