There's a dirty, little secret in the boating industry that no one is willing to admit or even talk about. The fact of the matter is that the Florida and southern California boating markets are so large that they tremendously influence domestic boat designs.
If you want to appeal to warm weather markets…you build a warm-weather boat. So, here comes another Boat Show season and what do you get along with it? The endless array of plastic, "T-top" boats with "Clear Canvas" windows. Or, as they have been come to be called, "Florida boats".
Friends, if the only time I used my boat here in the Pacific Northwest was during weather you could call "warm"…my boating season would be quite short indeed. The Northwest is hardtop boat country. Boats that will keep you -and your expensive marine electronics warm and dry. T-tops with clear canvas windows need not apply.
Stabicraft of New Zealand recognizes that most folks want to use their boats more than a couple of months per year and outfits their hulls with diesel heaters, insulated fishboxes and a ride that makes even winter waves whimper…
Introducing the Stabicraft 2600 Pilothouse
Stabicraft Marine pioneered positive buoyancy boats, turning out the first rigid hulled aluminum pontoon boat from a back street workshop in Invercargill, New Zealand. Word quickly spread about the reverse chine pontoon design boat that posessed a ride that had to be experienced to be believed.
The original Stabicraft design was a compilation of the wish list of local divers. They wanted an evolution of the traditional Rigid Hulled Inflatable boat – one that retained the RIB's superior buoyancy, stability on the water and ease of handling, but within a sturdier construction framework to make it even safer in rough waters.
Need serious fishbox space? The 2600 Pilothouse will challenge any angler to fill these three fish coffins! The aft box (top of pic) even has cutting board lids!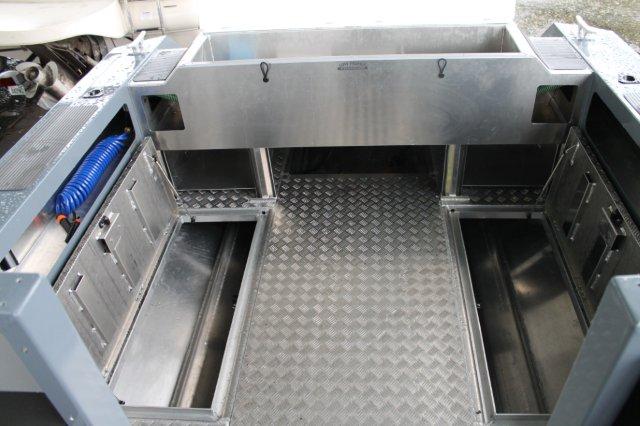 We've been talking a lot lately about the ride, safety and stability of reverse chine hulls. Stabicraft has -without a doubt- the "gold standard" of reverse chine.
I actually got a shot of this Stabi 2600 before the top was attached to the hull. Here is a unique shot of the interior giving you a perspective of the "fisherman friendly" layout of this model.
Stabicraft 2600 Pilothouse Specifications
Length:  26 Feet
Max Adults – 9
Recommended HP – 225hp
Maximum HP – 300hp
Fuel Tank – 95gal
External Beam – 8ft 2in
Internal Beam – 6ft 8in
Deadrise (Transom) – 21.8
Tube Thickness – 5/32in
Hull Thickness – 1/4in
Reserve Buoyancy – 930gal*
Dry Hull Weight – 3858lb
Tow Weight – 6172lb
Length on Trailer – 31ft 2in
Height on Trailer – 10ft 3in
Tom Nelson
The Outdoor Line
710 ESPN Seattle
www.theoutdoorline.com