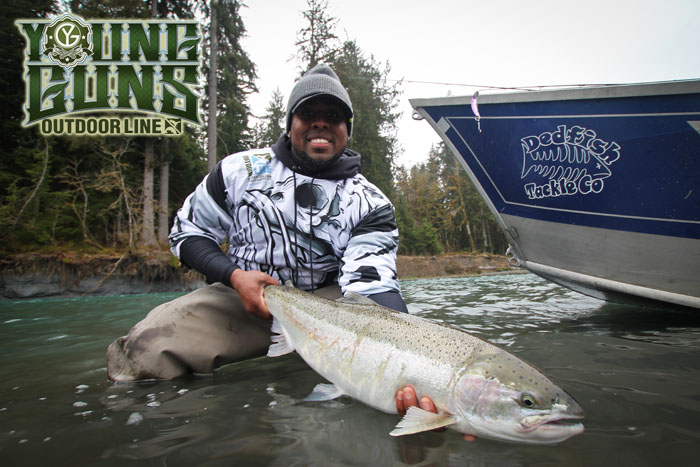 Do you ever run into a situation where you are looking to find information on how a river is fishing? I do, and sometimes you just need to decide to make your way out to the river and get a report yourself. This is the situation that fellow Outdoor Line "Young Gun" Joseph Princen, Phantom Custom Rods owner Kris Jellesed, and I were faced with early Monday morning. Ideal conditions were all around us on many rivers but we were in search of much more than a limit of hatchery fish. It may seem a bit early for the chase of natives to begin for most but the search for a trophy with the anglers involved in this trip never stops.
After making a three hour plus drive to where I had landed a 21.5 buck last year in April, we began our journey. The area on this morning was completely void of any other anglers which makes you think "has the river changed since last year? Is it safe? I wonder if there are any obstructions I cannot navigate through safely?"
I do not recommend to anyone blindly floating a river but in the quest for being a hero risks must be taken. As we ventured out on the "steelie green" water we noticed that the water was about 500 cfs lower than our previous float, but the obstacles and sections of river where fish were caught last year were remembered.
On the right side of the river about an 1/8 of the way down the float Joseph recognized a rock shelf that had deep slow rolling water which produced a fish last year. This time was no different. With a three plug rod spread and a K-13 Kwikfish attached to all of them the slow back troll began. Right after the boat had passed a large boil and the plugs began to track straight again…..BOOM…FISH ON!!!
I took control of the oars as Joseph grabbed his rod and the fight was on. The 13-14lb chrome hen gave us a great fight that lasted about 6-8 minutes and then came to the boat as I gently netted the fish. I rowed to shore quickly to begin the revival and the snap a picture but before my camera was out of my bag the feisty native slipped out of Joe's hands and slowly disappeared into the emerald water.
Anglers remember this! Steelhead pair up, so if a female is caught there should usually be a larger, more aggressive male nearby. Repeat the process that was used to hook fish number one and it should yield the same results.
With all of minds thinking the same thing we began to slowly back troll again with my rod on the far right closest to the rock shelf and again…..BOOM….FISH ON!!!
I had thought that the fish had come off after about thirty seconds but of course she was just running with blinding speed right at the boat. After that she took about 40 yards of line of and then I began the slow retrieve to bring her back to the net. As I lifted the head and Joe scooped her into the net the hook of course fell right out. The power of a steelhead is amazing!
Personally, I have landed many fish on plugs over the 20 pound mark and I have not until this day seen a hook bent back 30 degrees by a 14lb fish. Joe rowed to shore as before and we snapped a couple of pictures for the fish album, I revived and released the beautiful creature, then we began to move down river to another section of water that had similar features.
As we approached the long back troll slot which produced my 20 last year and gave birth to the Dubb Club it was a very slow to get a fish to take. When back trolling a section of water be sure to completely cover the water until the plugs reach the tailout and start striking bottom. Seconds away from instructing Joey and Kris to reel up, the left rod in front of Kris went off….FISH ON!
This situation was a little different due to the fact the fish came off after about 30 seconds but again in the same type of water we had already hooked fish in earlier that day. Recognizing the water you need to produce fish is very important, so when you find fish continue to work that same type of water effectively.
Knowing that time was not on our side and that a very long moped turnaround was ahead of us we decided not to run the plugs again and move down river. During our push toward the takeout Kris hooked a very nice fish on a pink worm that came off due to the speed of the boat moving down and the fish running  up.
This is a very hard situation to control but if you can gather yourself after the excitement of hooking up, dig the oars very hard and try to stop the the boat without throwing anyone off board. Going 2 for 4 is not a stellar day by any means but searching and finding wild fish on a river with no reports is a wonderful feeling. The opportunity for success is always there, all you need is the confidence in yourself and your fishing abilities to make your day memorable.
Good luck and tight lines,
Lael Paul Johnson, a.k.a. LPJ
Outdoor Line "Young Gun"
710 ESPN Seattle
www.theoutdoorline.com