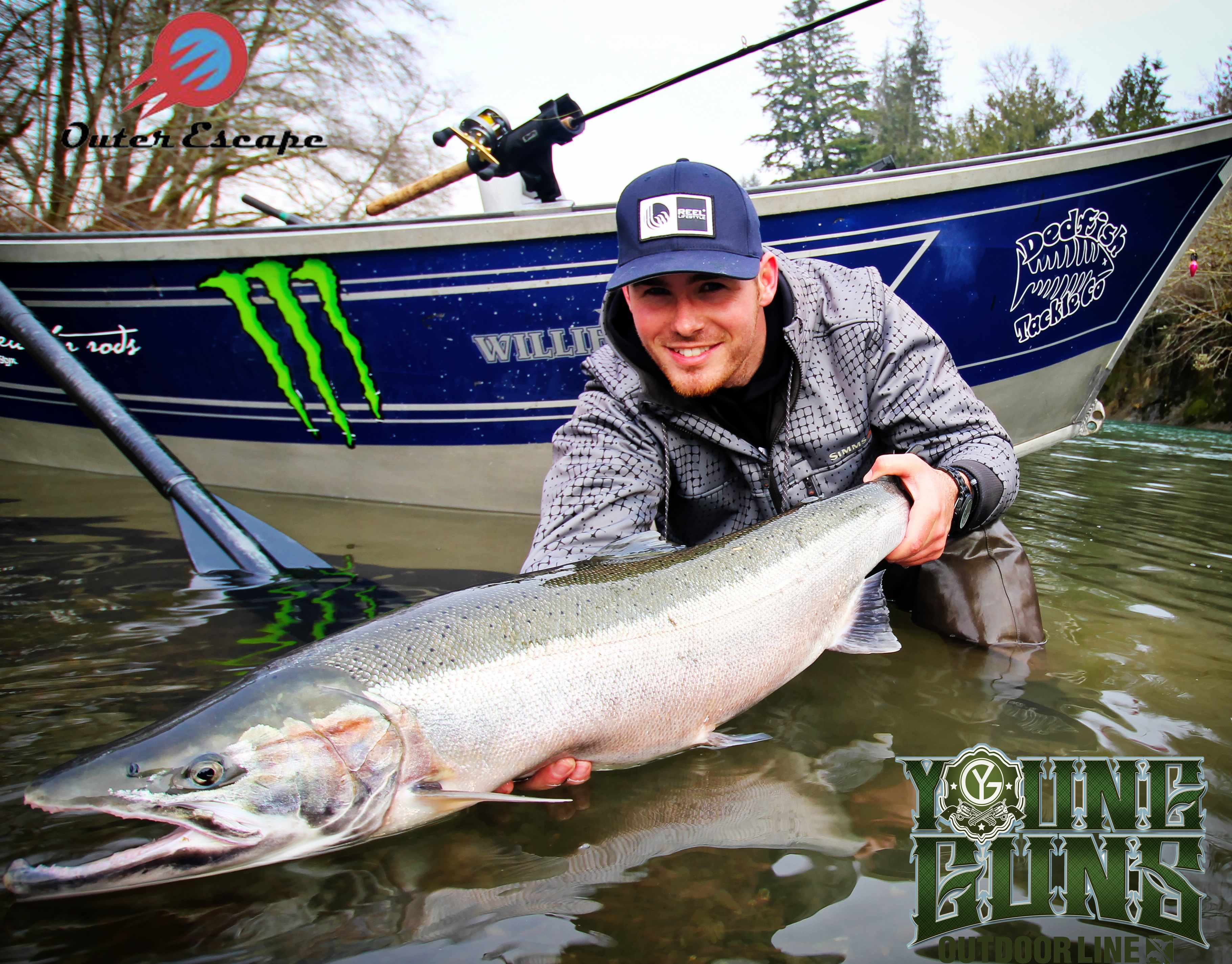 By Joseph Princen
The past few weeks have been nothing short of challenging, trying to persuade those silvery ghosts to commit to the presentation you spent hours prepping, tying, wrapping and curing. One thing is certain, when it all works out there is nothing more spectacular than rolling fresh chrome in shallow gin-clear water. Its an image you'll never forget. Its burned into your mind and it will replay over and over in slow motion bringing you back again and again for more.
One moment its just another slated gravel bottom and you can see every rock, every detail, your mind telling you its too shallow and you should move on. All of a sudden those thoughts are pushed aside as you see the shallows exploding with big bright flashes and white water foaming on the surface as a thick steel tail slices through the cold winter water. Its only in these conditions that a steelheader will get to see the strike first hand from the bite to the finish. An angler never forgets these moments.
A steelheader must think smarter, harder, and longer about how he's going to spend his time on the river though. Even if its just an afternoon trip to the local home-river or a 3 day excursion to the coast to backpack or drift boat into his favorite water. Low water means you need to consider all the options, such as which section of the river you will choose to fish.
Here's some things to consider when searching for low water winter steelhead:
– Does the river fork anywhere? East or West fork? Does it have streams and small creeks that dump into the main stem?
In low water it is MOST important to try and gain as much flow as you can get. This means to fish below any forks, streams, creeks or major sources of water that relay into the main stem of the river system you are fishing.
Get to know your river! Google Maps on your smart phone will show you detailed satellite imagery of small creeks, streams and river forks that dump into the main river.
That means to concentrate your efforts on those lower portions of the river and spend very little time higher in river systems. Staging fish will be below those forks in appropriate deep water areas making it easier for you to locate water that is suitable to hold multiple steelhead. These fish are far too smart to risk being attacked by misjudging safe living conditions and hurrying up river to hold in shallow, exposed areas.
Don't waste your time fishing the fast 2-3 foot gin-clear sections or those 1-3 foot "long runs" on the sides of the river that you would normally beat up all day in medium to high flows. Even with overhanging trees and shaded cover those fish simply are not there in any fishable numbers when the water is low.
Its a numbers game and by numbers i mean… how many feet deep! In low flows steelhead will lie in deeper water making it safer for them to break cover from the safety of the depths to hit a plug or lure. After all, the most important thing in any steelheads tiny little mind is to ensure that their genetics are passed on from generation to generation. Deep water with a bottom covered in boulders provides the cover they need to feel safe.
As soon as it rains these types of runs will be full of migrating fish and I specifically target those long runs that dump into deep canyon holes that low water fish have been hunkered in during periods of low flows.
– Which water holds low water steelhead?
It's imperative to find those slots that have water with walking speed flows that you could physicality walk into and the water would be over your head, especially those runs with shade and size to the pool that gives steelhead an element of safety. These fish will set up shop in these areas when water visibility increases past the 5 foot margin to well below median stream flows.
Why risk the threat of their journey being cut short laying in risky, shallow water when you can lay in a deep, "walking speed" canyon slot that's 5-15 feet deep, preferably shaded, with structure and most importantly a riffle at the head of the pool.
Riffled surface water provides full, all around cover from the sides, top, and bottom.You have to think that most the time in low water conditions its sunny, cold, and clear out so having riffles or choppy water on the surface of a hole is vital to feeling secure from anything that poses a threat looking down into their holding area.

– How do I fish for low water steelhead?
Going small with your baits, jigs and plugs will always pay off. A good rule of thumb for 7-10 feet of visibility is using nickle-size baits and decreasing your Cheater or Corkie sizes to size 14's or smaller. Using neutral/natural color schemes with your presentation really helps and pays off too.
By neutral I simply mean colors that aren't neon, radiant, or vibrant. This includes shrimp pink's, peaches, whites, and that opaque and translucent look that looks like worn out egg skein (peach/white). Using small sand shrimp and very lightly cured medium sized tiger prawns that are coated with just Mike's Gel Scent and sugar can be deadly in this situation also.
Here's how I cure my tiger prawns for low water steelheading:
– 1 Bag raw medium-size tiger prawns
– Leave the shells on, but cut off 1/4 up from the tail end
– 1/4 Cup Orange Borax O' Fire
– 1/2 Bottle Mikes Pink Gel Scent
– 1/4 Cup Sugar and Sprinkle salt on top.
Mix, mix, mix this all together by shaking the container gently until product is evenly distributed and then simply put the cured prawns into a fridge.You can even throw them into your boat on your drive out to the river and the prawns can be ready in less than 2 hours. Remove the shells and cut the prawns down the middle of the slit in their back or cut them in half into small chunks. Either the flap or the chunks will fish just fine but I prefer using the flap style because they bend and flex with the flow of the river giving them a more natural "free-flowing" appearance.
Over the past few weeks my boat has been on the Satsop, Wynoochee, Queets, Humptulips, and Hoh rivers. Call me a groupie, but I love to get around! Knowing each rivers positives and negatives gives a guy an advantage over just fishing one river and being limited to a small fishable area.
On the coast the Queets and Hoh rivers run through giant open gorges with classic gravel bar runs and giant boulder strewn stretches. One thing for certain that gives these rivers the "nod" in low water and that's the fact that they are fed from grey clay cliffs!
These clay cliffs constantly bleed grey clay sediments into the river 24/7 giving the river the "carbon emerald green" appearance in ALL conditions. This carbon green look is IDEAL for low water conditions because it gives the fish a sense of security and they are more willing to continue their journey up higher into the systems. Fishing those 1-2 foot travel lanes can still produce in these systems and you'll find me here more often then not in low water. Plus these rivers have naturally higher flows in terms of CFS than almost all of the others in our state so they fish better in low flows.
Below are some photos of the past 14 days in my driftboat. They are pictures of only some of the steelhead that have been caught in my boat, but each one was special in its own way. Steelheading is a lifestyle for me. It's gotten into my blood and there's no cure to get rid of it. Salmon season is just a time filler anymore and during spring, summer and fall I dream about those cold crisp wintery mornings when I finally get to hook those cold silvery steelhead once again.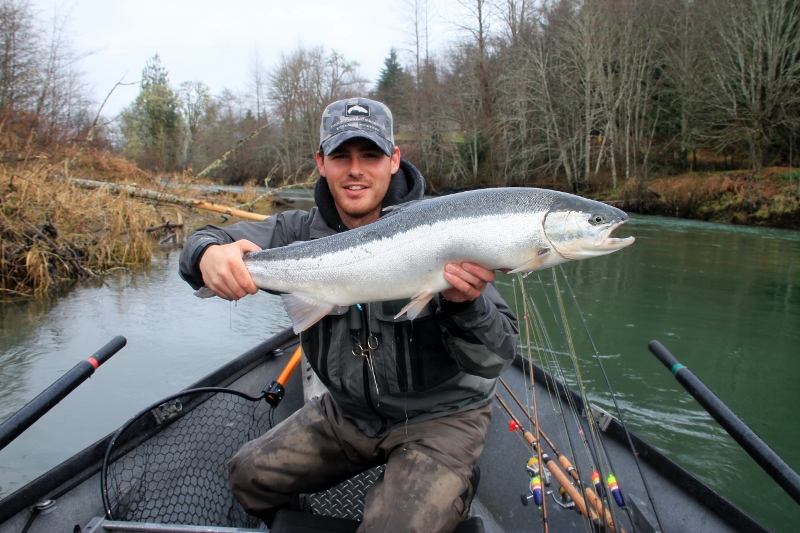 If steelheading is in your blood as much as it is mine please feel free to drop me a line to chat about your addiction or perhaps book a day of fishing with me on the Washington coast. Hope to see you out there and don't be afraid to stop by and say hello!
Joseph Princen
Outdoor Line "Young Gun"
710 ESPN Seattle
www.theoutdoorline.com
(Joseph Princen operates Rainforest Wild Guide Service on the Southern Olympic Peninsula and he will be a regular contributor to the Outdoor Line. He can be reached at (253) 347-5300.)