I'm always looking for an excuse to purchase new toys to satisfy my hunting and fishing fix and this time it just so happened that I "needed" a new low-recoil rifle. I needed one because of a recent hunt for Sitka blacktails in Southeast Alaska and a daughter that just turned two. She seems a little young for a rifle but with the rapidly rising cost of guns and ammo in the U.S. I pitched it to my wife as a solid investment. With any luck our daughter will be hunting with me in the next ten years, or so, and she sure as heck won't be shouldering my .300 Winnie or my shoulder-thumping Belgium Browning 30.06. It took some convincing but my wife finally bit on my sales pitch.
After a ton of research I settled on the 7mm-08 because the load offers a wide range of ammunition choices and it resides in the lower end of the recoil charts. It's a veritable cream-puff compared to the bigger magnums. My good friend Jay Field purchased a 7mm-08 a few years back and simply loves it for blacktail hunting in Western Washington and short-range mule deer or whitetail hunts in Eastern Washington.
You can find 7mm-08 ammo from 100 grain all the up to 175 grain which provides a lot more opportunity to hunt big game larger than just deer. Black bears and elk are definitely not out of the picture with the 7mm 08.
I was so happy with the last Savage I purchased I just went ahead and ordered a second one from Sportco in Fife, Washington. For optics I went with a Leupold VX-2 in 3X9 with a Boone and Crockett reticle. This rifle will be used mostly for shots less than 300 yards, so I didn't see the need to purchase a jacked-up scope for it.
I dropped the gun off with Don Davis and Steve Turner from Snake River Hunting Club and they set the whole sha-bango up for me while I was in Alaska running saltwater charters for the summer.
The first thing Don did was to take the rifle and scope to Northwest Hydroprint in Montesano, Washington to have them apply a camo pattern called "Swamp Hide" to them. After pouring over all the camo patterns on their website I figured this one would fit-in best in the blacktail woods.
After the camo was applied Don mounted the Leupold scope and it was ready for the range.
Factory barrels come with microscopic burrs than can effect the accuracy of the rifle. The first thing Steve does to remove those burrs is to run JB Bore Paste thru the barrel to remove the burrs and polish the barrel. It's called lapping the barrel and this task should be performed on any new rifle. After every pass with bore paste Steve follows it up with Montana Extreme solvent until he gets a clean patch.
Then the barrel break-in starts. Steve fires a single shot and cleans the barrel with Montana Extreme solvent after every shot for ten shots. He then fires 3 shot groups, cleaning in between each set of shots until he reaches 20 or so. After that the rifle is ready to be sighted-in.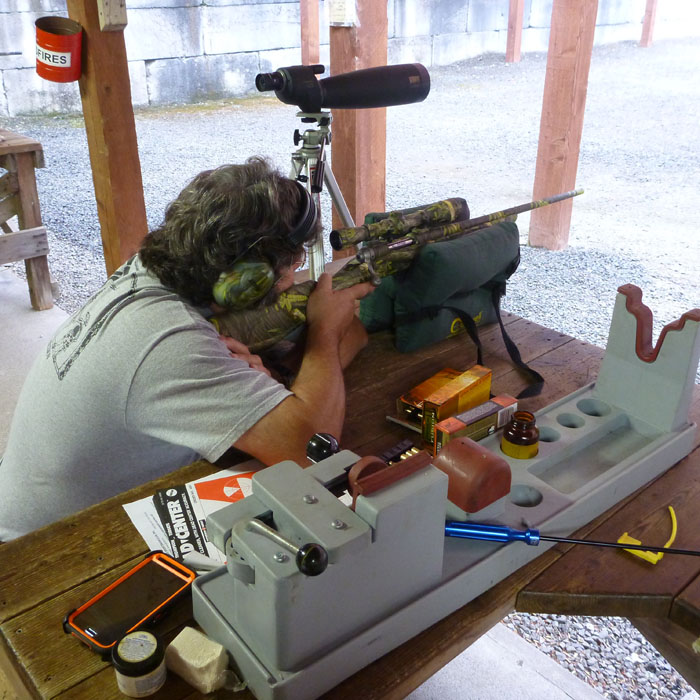 Another handy product that Steve uses is a bore guide from Midway USA. Bore guides come in a variety of caliber groups and they make sliding the rod into the barrel much easier. Plus, they eliminate any damage that may occur as your banging the cleaning rod against the receiving end of the barrel. 
Here's the bore guide from Midway USA
After Steve was done conditioning the bore he left the rifle with me for the final sight-in. He already had the rifle hitting the paper and dialing it in from there was a snap. After many years of using sand bags to stabilize my rifle at the range I finally broke down and purchased a Caldwell "Lead Sled". These platforms make is SO EASY to dial your rifle exactly where you want it and keep it there.
After that it was just a matter of finding a Sitka blacktail and making the shot. As it turned out finding a Sitka blacktail during the pre-rut was no easy task. Sitka's go into a pre-rut funk the third week of September where they simply vanish from the face of the earth. Low and behold I finally found a buck and my new Savage 7mm-08 performed beautifully.
If you're wading thru a mountain of info on small caliber deer rifles I urge you to take another look at the 7mm-08. The 7mm-08 is an excellent caliber for shots under 300 yards and it might allow you to hunt a few different species of game than just deer.
I'm very happy with how this rifle turned out and I can't wait for the day when I can share the experience of deer hunting with our daughter!
Rob Endsley
The Outdoor Line
710 ESPN Seattle