By Jason Brooks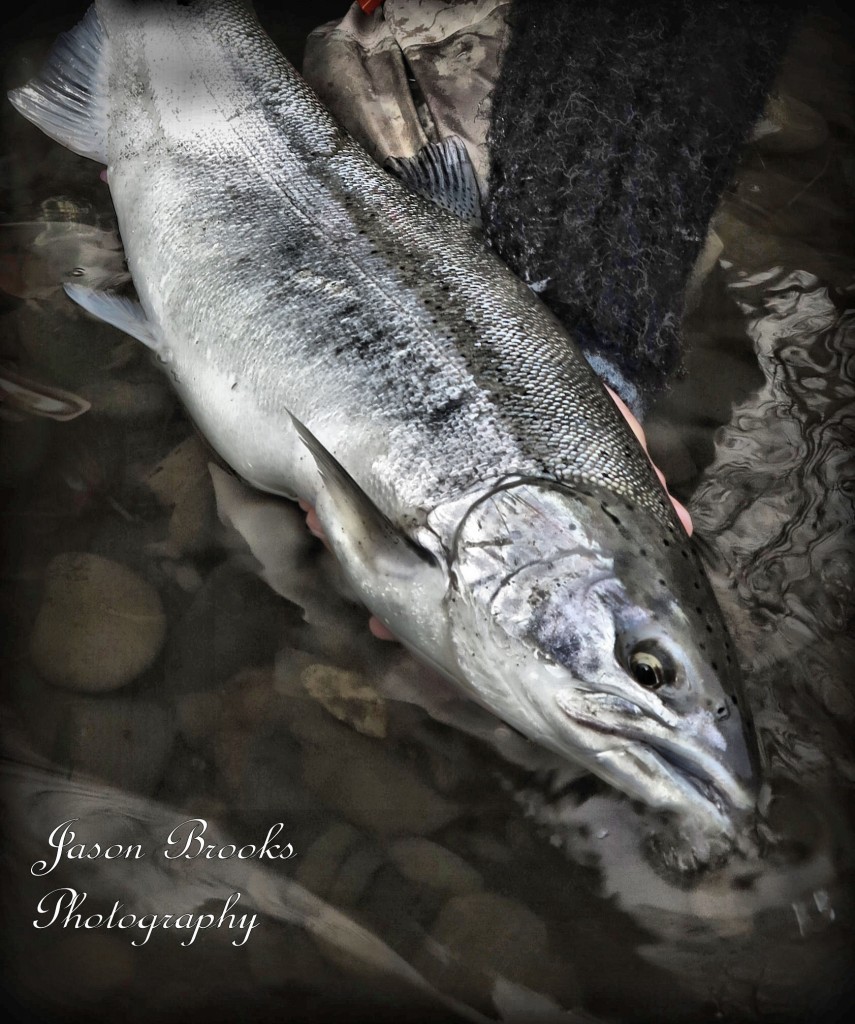 With longer days and warmer weather the winter steelheader knows this is the time of year for big fish to arrive in our rivers. Those that might have not caught a truly large steelhead will learn a few lessons as soon as they hook the fish. Unfortunately this is not the time to learn those lessons. And if you have caught that magical fish of a lifetime then you might want to remember these lessons as well before you head back to the river.
Go where the big fish are.
By doing a little research or hiring a reputable guide you can find a handful of rivers that produce big steelhead. Don't think you can just head to any old steelhead stream and catch a giant fish, even if rumors abound that a twenty pound fish came out of "hatchery brat creek". Wild fish need wild places so head to a remote section of the Olympic Peninsula with a handful of river maps in your tackle box.
Leave the bait at home.
This time of year and the rivers you will target should have a run of big wild fish which means we need to protect them. By using techniques that don't require bait you are more likely to not mortally hook one of these majestic fish. But by all means use scents when it's legal to do so!
It might seem strange to not use bait but use scents, however it's how you use the scent that makes the difference. I rub Pro-Cure Super Gel's on my leaders as well as smear it on my plugs and spoons and soak my slinkies in Pro-Cure bait oils. The idea of using scents is to have it disperse downstream of your presentation so the fish is anticipating something coming and also entice the strike.
Knotless nets and fish stay in the water.
This is almost a no brainer with Washington's regulations though I still see the green or blue nylon knotted nets in drift boats. Those nets literally rip the slime off of the fish which compromises the fish's ability to fight off bacteria and infections. Along with using a soft knotless net you should keep the fish in the water at all times. Sure I see the photos of one fin in the water to "keep legal" but really the head of the fish or at least the gills plate should remain in the water. And be careful of hand placement as putting pressure under the pectoral fins can compress the steelheads heart.
Bring a camera!
A real camera, not your cell phone. You finally land a fish of a lifetime and it's now time to preserve that memory or even use the photos to make a replica mount of the fish. Take a lot of photos from all sorts of perspectives, including close up shots and use a "fill flash" to lighten shadows of ball caps. Along with the camera make sure to take measurements of your fish so you can do the math calculations on just how big your fish really was. Here's a formula that's been developed by biologists to determine the weight of a wild steelhead:
Girth Squared x Length/775
Upsize your gear.
If you are still using 8 or 10 pound test leaders and 12 pound mainline you will really wish you weren't the second you realize you have a monster steelhead up and running. Truly big fish are not as leader shy as some hatchery brats. And big fish means big gear. As soon as we get a warm spring day I switch all of my mainline to either 15 pound monofilament or 20 to 30 pound braid. My leaders are at least 12 pound test and a buddy of mine uses 20 pound test when we fish a certain river on the coast known for log jams and huge fish. I also trade my lightweight side drifting rod for my fall salmon rod. I keep a finger on my line to help feel the bite but I want the backbone of the medium to medium heavy action rod to turn that big fish away from the logs and rocks and hopefully force it in to the bank. Plus the sooner you can land a big fish the sooner you can let it rest and get it back into the stream. Fighting a steelhead to near exhaustion is no different than bonking it on the head with a stick.
Good luck and go find that steelhead of a lifetime!
Jason Brooks
Outdoor Line Blogger
Northwest Outdoor Writer