Choices abound for kings and/or coho salmon in the weeks ahead as summer fishing shifts into high gear Leave a reply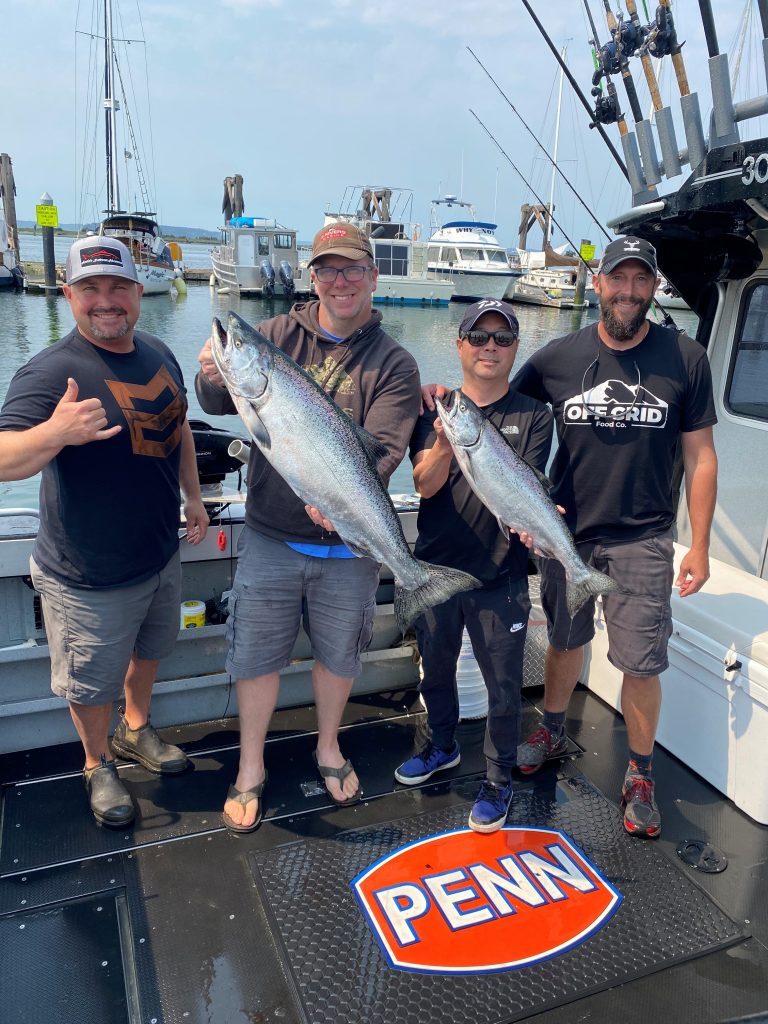 Contributed by Mark Yuasa, WDFW
The first official day of summer is a little more than a week away and some locations have produced some decent early action with more looming on the near horizon that includes the much-anticipated summer coastal salmon fishery.
A few marine areas that were generating some fair to good fishing for salmon in June were the Tulalip Bubble Fishery, central Puget Sound (Marine Area 10) and south-central Puget Sound (Marine Area 11) which just closed this week and reopens on July 1.
The coastal ports of Neah Bay (Marine Area 4) and La Push (Marine Area 3) open for Chinook and hatchery-marked coho retention beginning this Saturday, June 17, followed by Ilwaco (Marine Area 1) and Westport (Marine Area 2) on June 24. All areas are scheduled to remain open until Sept. 30 or until quotas are met, with species and size restrictions dependent on the area.
The Pacific Fishery Management Council based the fishing seasons on an expected to be a decent Chinook and coho forecast mainly destined for the Columbia River.
The Columbia River fall Chinook forecast is 545,300 compared to forecast of 484,900 and an actual return of 674,786 in 2022. The 2023 forecast is like the recent three-year average return of about 577,000.
The estimated ocean coho abundance forecast is 1,135,700 coho. That is down a bit from a forecast of 1,225,900 and an actual return of 887,500 in 2022. The Columbia River subtotal forecast is 886,100 coho compared to 997,200 in 2022 and an actual return of 685,200.
The coast-wide sport catch quotas are 39,000 Chinook (up from 27,000 in 2022) and 159,600 hatchery-marked coho (up from 168,000 in 2022).
A breakdown shows a Chinook guideline in Area 1 of 11,490 and the coho quota is 79,800; Marine Area 2 is 17,210 and 59,050; Marine Area 3 is 1,590 and 4,150; and Marine Area 4 is 8,710 and 16,600. All four marine areas are scheduled to close to salmon fishing at the end of the day Sept. 30, with an additional late season opening in Area 3 in early October, but these areas could close earlier if the quota is met.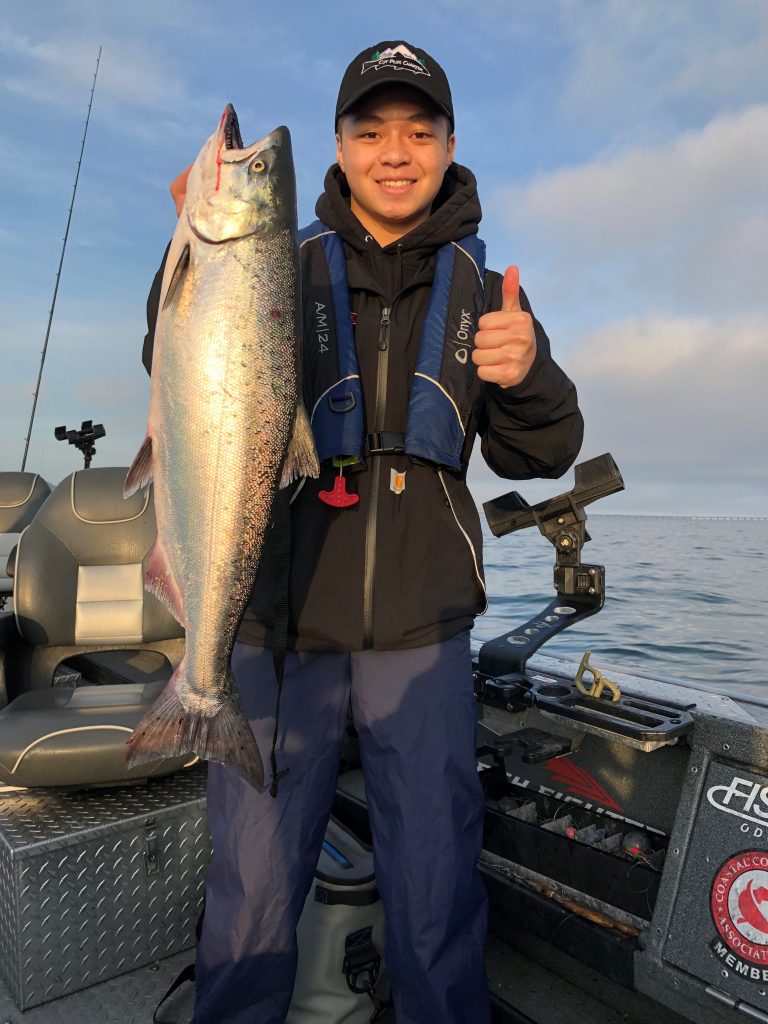 "These quotas reflect abundant forecasts of hatchery Columbia River fall Chinook and coho stocks and should offer ocean anglers a quality fishing season," Kyle Van de Graaf, an ocean salmon manager with the Washington Department of Fish and Wildlife (WDFW said in a recent news release.
At Marine Areas 1 and 2, the daily limit of two salmon, no more than one of which may be a Chinook. Chinook minimum size is 22 inches and coho minimum size is 16 inches. Anglers must release wild coho.
The Columbia River Control Zone is closed to salmon fishing, except from the north jetty when adjacent waters north of the Control Zone are open to salmon fishing or the Buoy 10 fishery is open to salmon fishing.
Willapa Bay (Area 2-1) and the portion of Grays Harbor (Area 2-2) west of the Buoy 13 line is open June 24 under the same rules as Area 2. Regulations for Area 2-1 change in August, and details are listed in the Sport Fishing Rules Pamphlet. The 2023-2024 edition of the pamphlet will be available in late June. Grays Harbor Control Zone is open June 24 through Sept. 30.
At Marine Areas 3 and 4, the daily limit is two salmon, no more than one of which may be a Chinook; no chum may be retained beginning Aug. 1. Chinook minimum size is 24 inches and coho minimum size is 16 inches. Anglers must release wild coho. Waters east of a true north-south line running through Sail Rock are closed in July. No Chinook retention allowed east of the Bonilla-Tatoosh line beginning Aug. 1. The area bounded by a line from Kydaka Point to Shipwreck Point is closed to salmon angling.
The coho fishery in central Puget Sound (Marine Area 10) has been producing good fishing for coho averaging 2 to 4 pounds. Try the deep-water shipping lanes between Jefferson Head and the Kingston-Apple Tree Point area; the rip currents around the Edmonds oil docks to Richmond Beach; West Point south of Shilshole Bay; and the east side of Bainbridge Island.
King fishing has been good at times mainly during the daybreak hours at the Tulalip Bubble Fishery (Marine Area 8-2), which is open through Sept. 5 (fishing allowed Fridays to noon on Mondays only) and Sept. 9-24 (fishing allowed on Saturdays and Sundays only).
At the Tulalip Bubble Fishery most will either troll or jig. For jigging, the type of jig used is usually a judgement call by the angler with one rarely outperforming the other. The Chinook bite is more reactive of whatever flashes in front of their face, so jigs like a P-Line Laser Minnow, Point Wilson Dart, Buzz Bomb, Dungeness Stinger, and Crippled Herring are the top choices. Color is also by preference although favorites are the glow, chartreuse, pearl-white, green-nickel, blue-pearl or blue-gold patterns. Store-bought jigs come with a treble hook and a reminder that they're illegal for salmon in Marine Areas 1 to 13. Only single-pointed barbless hooks and one line with up to two hooks may be used. Other anglers will troll using downriggers with a flasher combined with plugs, spoons, and/or a plastic hoochie squid. Depth depends as some of these fish before or at daybreak can be found from the surface down to 90 feet and as the sun rises go deeper up to around 125 feet.
The south-central Puget Sound (Marine Area 11) hatchery-marked Chinook fishery got off to a good start when it opened on June 1 and has now closed but will reopen on July 1. This fishery is managed under two separate summer quotas and the remaining Area 11 summer quota is 3,379 (2,816 in 2022 and 2,656 in 2021).
Dogfish can be a nuisance in Area 11 so most will jig or troll with downriggers and meat liners using plugs, spoons or a plastic hoochie squid. Dogfish in June weren't a problem for mooching anglers, but they often show up in summer which means bring plenty of fishing leaders and bait.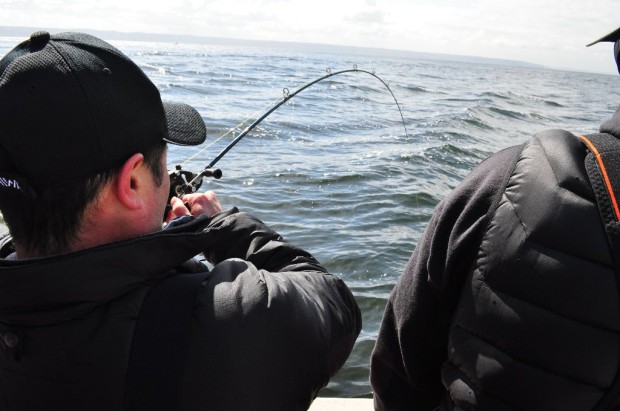 Look for Chinook off Tacoma at the Clay Banks at Point Defiance Park or from Owen Beach to the Slag Pile off the Tacoma Yacht Club; the Flats outside of Gig Harbor; Dolphin Point on the northeast side of Vashon Island; south of the Southworth Ferry Landing; Colvos Passage; Apple Tree Cove to Redondo Beach; Point Robinson; and Point Dalco on the south side of Vashon Island.
Many other anglers are quietly catching hatchery kings south of the Narrows Bridge in southern Puget Sound (Marine Area 13) at places like Gibson Point and Point Fosdick to target early hatchery kings.
Once July rolls around, there will be even more locations opening for hatchery king fishing including centralandnorthern Puget Sound (Marine Areas 9 and 10), and the Strait of Juan de Fuca at Sekiu and Port Angeles (Marine Areas 5 and 6).
Northern Puget Sound (Marine Area 9) is open July 13-15 with a chance to reopen on July 20-22 and July 27-29 (WDFW will assess after each three-day fishery to see if additional time can be added). Fishing is allowed Thursdays to Saturdays with a 4,300 Chinook quota (4,700 in 2022 and 2021 and 5,600 in 2020).
Look for Chinook at Midchannel Bank and Point Wilson off Port Townsend; Bush Point, Fort Casey, Lagoon Point and Double Bluff off the west side of Whidbey Island; Point No Point; Possession Bar; Scatchet Head; and Pilot Point south along the northeastern side of the Kitsap Peninsula.
In central Puget Sound (Marine Area 10) the hatchery-marked Chinook fishery opens July 13 through Aug. 31 and could close sooner if the 3,566 Chinook quota is met (3,966 in 2022, 3,718 in 2021 and 4,100 in 2020).
In Marine Area 10 try off Kingston; Jefferson Head; Richmond Beach to the Edmonds oil dock; eastside of Bainbridge Island at Point Monroe to Skiff Point and Yeomalt Point; Allen Bank off Blake Island; West Point south of Shilshole Bay; and Southworth.
Lots of fishing hype occurs when the eastern Strait of Juan de Fuca, Port Angeles (Marine Area 6) – west of a true north/south line through the #2 Buoy immediately east of Ediz Hook – opens July 1 for hatchery-marked Chinook and coho. A 7,258 Chinook quota in 2023 is larger than the 6,050 in 2022 and 4,769 in 2021. The area east of the of the boundary is open July 1 through Aug. 15 for hatchery-marked coho only. Look for kings directly off Ediz Hook heading west to the old Port Angeles Pulp Mill; the three humps and Winter Hole in the exposed Strait; and Freshwater Bay.
Further away is the western Strait of Juan de Fuca, Sekiu-Pillar Point (Marine Area 5) which also opens July 1 through Aug. 15 for hatchery-marked Chinook and coho. The Chinook fishery could close sooner if the 3,906 quota is achieved (3,890 in 2022 and 4,077 in 2021).
Look for fresh-from-the-ocean kings off the Caves, a stretch of kelp-lined shoreline near the breakwater off Mason's Resort in Clallam Bay and west toward the Sekiu River mouth; Slip Point Buoy; Mussolini Rock and Little Mussolini Rock; Eagle Point; Kydaka Point; the Slide and Coal Mines areas; and east off Pillar Point.
Like 2022, the San Juan Islands (Marine Area 7) is open July 13-15 for hatchery-marked Chinook with a quota of 2,181 (1,800 in 2022 and 1,382 in 2021). Additional openings – July 20-22 and July 27-29 – could occur after the initial three-day opener is assessed.
One place that doesn't get as much for salmon anglers but can be worth a trip is Hood Canal south of Ayock Point (Marine Area 12) which opens July 10 to Sept. 30 for coho and hatchery Chinook. Hood Canal north of Ayock Point is also open July 10 to Oct. 31 for a fishery directed at coho only.
I'll post another blog by mid-July, that'll highlight places to go salmon fishing in late summer and early fall including a huge forecast of nearly 4.0 million pink salmon. In fact, when Marine Area 10 opened in June one angler confirmed a pink he landed while chasing coho!
Lastly, before you plan a trip be sure to check the regulations for any updates or emergency closures. To find a complete list of planned salmon fisheries throughout Washington in 2023-2024, go to https://wdfw.wa.gov/fishing/management/north-falcon/summaries#ps-freshwater.
(Mark Yuasa is a Washington Department of Fish and Wildlife Communications Manager. He also has contributed numerous blogs to the KIRO/ESPN The Outdoor Line and was the outdoor reporter at The Seattle Times for 28 years.)