Millions of pink salmon returning, and fishing success is excellent in Puget Sound and the Strait of Juan de Fuca Leave a reply
Contributed by Mark Yuasa, WDFW
We've turned the corner on summer and are now heading into one of the most bustling and exciting times for salmon anglers.
Salmon fishing options in August are highlighted by the robust pink salmon catches happening right now with hot action around Puget Sound for a robust predicted return of nearly 4 million pinks.
Other great fishing options include statewide lakes producing fun for warmwater fish species like bass, yellow perch, catfish, and crappie; and the Strait of Juan de Fuca, coastal and Columbia River for Chinook, coho or pinks.
But before we delve into the latter let's talk about those anglers blushing on boats and along shorelines digging the millions of pinks that have finally shown up in Puget Sound all the way out into the western edge of the Strait of Juan de Fuca and beyond. To catch the latest glimpse of just how good pink fishing is make sure to see the WDFW creel checks webpage.
The Puget Sound pink run usually peaks in mid-August, and in southern Puget Sound the last week of August and early September are best to try your luck and eventually in open rivers and streams.
"We're optimistic on Puget Sound pinks this year given we had solid outmigration numbers from the brood year and a great climate cycle to rely upon, all which should have provided sufficient ocean productivity," says Mickey Agha, with the Washington Department of Fish and Wildlife's fish management division. "With a total forecast of 3.9 million for Puget Sound and median forecast of 6.1 million for the Fraser River, if the return comes back as expected, we could be seeing a lot of pinks in the water!"
The 2023 forecast is like the 10-year average of 4 million pinks and is expected to huge returns from 2009 to 2013, when returns were well beyond expectations. Predictions the last two odd-numbered years were for 2,925,681 in 2021 and 608,388 in 2019.
Among the higher forecasted returns are the Green, 821,681; Skagit, 552,193; Snohomish, 642,279; Nisqually, 45,428; Stillaguamish, 199,564; Puyallup, 397,255; and Strait of Juan de Fuca streams, 365,427. Hood Canal is another location not to be overlooked and has been generating good catches right now in Hoodsport Hatchery area, where the pink forecast is 492,858.
Pinks aren't big in size and usually average three to five pounds. They are the fastest growing of the five Pacific salmon species and spend less than two years in the ocean before migrating back to their natal rivers.
Being able to ID a pink is by looking at their large black spots on the caudal fin and back. Their nickname "humpies" or "humpy" comes from the hump formed on the back as well as the hooked upper jaw that develops on male pinks at spawning time in rivers.
What to use and tips to catching pinks
The colors to use for a lure, spoon, jig, or fly, is a color that resembles the plankton or krill which are the main part of their diet. They are hot pink, red, chartreuse, and orange.
Smaller presentations are the top choice such as mini plastic squids, spoons or flies tied behind a 13- to 16-inch leader to a white-colored dodger or silver flasher. Another method is a smaller 8-inch Pro-Troll flasher with a slightly longer leader of 15 to 20 inches.
You can also use a Buzz Bomb, Beau Mac, or Point Wilson-type jigs. Let it sink about a foot per second, and once you feel the jig go slack, reel up (don't set the jig hard because pinks have soft jawlines) until the rod bends. Shore-bound anglers like to also cast a pink mini hoochie jig with a single 1/0 pink- or red-colored hook.
Other lures include a pink Rotator trailed behind a small pink plastic hoochie with a single 1/0 pink- or red-colored hook. Let it flutter down to the desired depth and then slowly retrieve from shore or a boat.
One of the more exciting ways to catch pinks is fly fishing with a pink Clouser Minnow using a 7- or 8-weight fly rod with a sinking line that'll give the streamer an irresistible action when stripping line in with intermittent pauses.
The best pro tip when fishing in a boat is to troll VERY SLOWLY – 1.5 to 2.0 mph depending on current, tide and wind. Also paying close attention to what's happening in or on top of the water is key, as schools of pinks can be seen finning on the surface or leaping out of the water.
Pinks prefer to hug the shoreline to avoid strong currents making them accessible to bank anglers. Around an hour before and right after a flood tide or a slack tide is the optimal time to catch pinks.
Pinks are much less oriented to structure and don't stay deep in the water column or near or on the bottom like Chinook. Pinks can be found from the surface to no deeper than 80 to 125 feet.
Places to catch pink salmon
Good pink spots via boat are Possession Bar, Browns Bay, off the Edmonds Marina, west side of Whidbey Island, from Mukilteo south to Shipwreck, Possession Point, Jefferson Head, Richmond Beach, West Point south of Shilshole Bay, the Strait of Juan de Fuca from Sekiu to Port Angeles, Midchannel Bank at Port Townsend, Browns Bay south to the Edmonds Marina and the San Juan Islands.
Excellent shore spots are Mukilteo Lighthouse shoreline, the Mukilteo Pier, Edmonds Pier, Lincoln Park in West Seattle, Carkeek Park, Alki Point in West Seattle, Deception Pass, Redondo Beach; Dash Point State Park shoreline (pier is closed), Point Wilson and Fort Casey State Park near Port Townsend, Point No Point, Possession Point Bait House on southeast side of Whidbey Island, Picnic Point in Edmonds, Point Defiance Park Boathouse or Les Davis piers in Tacoma, and Fort Casey, Keystone, Bush Point and Lagoon Point off the west side of Whidbey Island.
Other statewide fishing options
Anglers can also chase salmon around Buoy 10 on Lower Columbia River and the entire coast remains open for chinook and/or hatchery coho at Ilwaco, Westport, Neah Bay and La Push but be sure to check for days fishing is allowed and what type of salmon you can retain. Tuna chasers are also finding fish along the blue water line located around 30 to 50 miles offshore and will usually ramp up in September.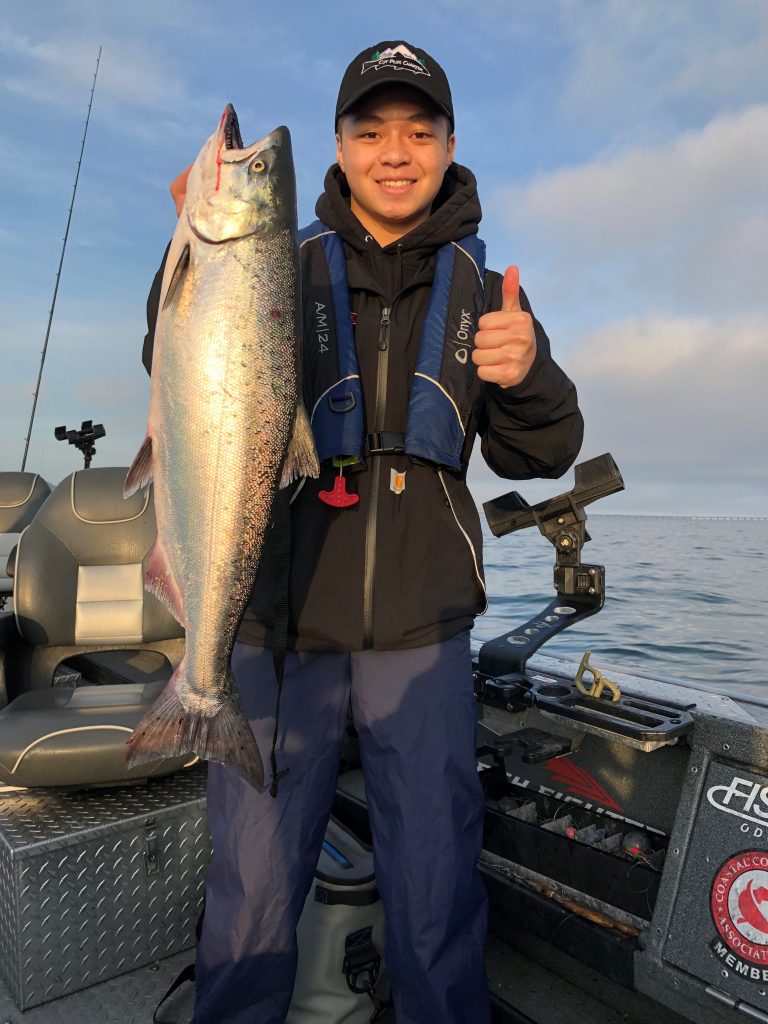 Before heading out the door, check the WDFW website to see what is open or closed and what you can or can't keep, plus any possible emergency closures this month.
There's also a vast array of statewide lakes being overlooked in late summer, and many are the perfect places especially for those without a boat.
Just off I-90 bordering Adams/Lincoln counties is Sprague Lake (1,760 acres) has rainbow trout, largemouth bass, catfish, and bluegill sunfish.
Rufus Woods Reservoir has ideal bank access for trout on the Colville Reservation, and the tribes do charge to fish the entire year. Click here to find out more details. Best fishing is by the net pens and there is RV parking and a nice camping area.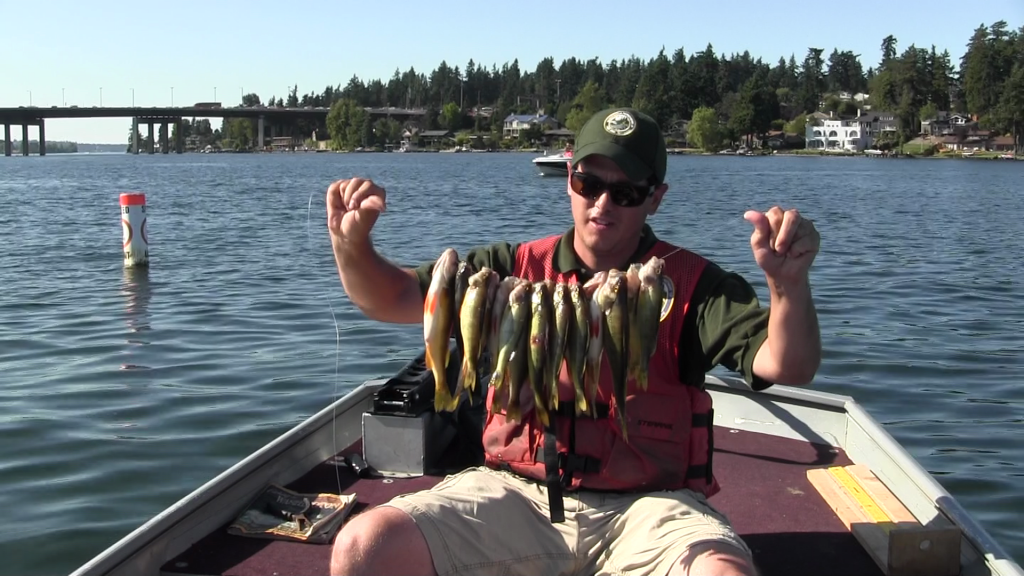 The Potholes Reservoir, located about seven miles south of Moses Lake, has a variety of warmwater fish like walleye, bass, yellow perch, and walleye, plus rainbow trout. For those without a boat head to MarDon Resort that has dock with productive fishing. The resort and Medicare Beach are popular areas for trout. There is a large private resort, state park, and several developed public access areas that have all the necessary amenities.
Lake Roosevelt is another worthwhile choice for a mix of rainbow trout and kokanee for bank anglers, and the Keller area is a place to go. Other lakes worth a try are Conconully Reservoir in Okanogan County; and Fish Lake in Chelan County.
In western Washington, look for warm water fish species in Lake Washington, which is 20 miles long and covers more than 22,000 acres. These fish can be easily caught from the shore or boat, and includes yellow perch, rock bass, catfish, crappie, and largemouth and smallmouth bass.
Look for schools of yellow perch in shallow water, 15 to 35 feet, and close to the shoreline. They will school up in shaded locations just outside the cover of weed beds, milfoil, aquatic weeds, and lily pads or under docks, piers and overhanging trees and brush.
Target yellow perch at Seward Park; Montlake Cut; Newport Canal; Newport Shores; Kenmore log boom and pier; Juanita Bay; Magnuson Park; Andrews Bay; Webster Point in Union Bay; Yarrow Bay in Kirkland; Gene Coulon Park in Renton; Mercer Island near Luther Burbank Park; and in South Seattle off Leschi Park, Madison Park, Stan Sayres Pits and Mount Baker Park.
Other lakes to target yellow perch are Sammamish; Kapowsin; Sawyer; Goodwin; Steven; American; Angle; Desire; Meridian; Samish; Whatcom; and Bosworth.
The WDFW Trout Derby is ongoing through Oct. 31, and it is free if you have a valid fishing license.
In past years, prizes handed out for the derby totaled about $37,000. WDFW has hundreds of tagged trout swimming right now in select lakes. All the trout in the derby have a blue tag attached to their fin. If you catch one be sure to keep the tag to claim your prize.
The derby in past years has generated close to 55 to 60 percent of the tags turned in for prizes. To help boost catching a tagged trout, WDFW has a list of all the lakes in real-time where prizes are left to be claimed. Be sure to share your derby success on social media using the hashtag #watroutderby. Go to the WDFW Trout Derby webpage for additional information.
You can also find more information on lowland lake locations by going to the WDFW webpage and basic trout fishing techniques on the WDFW You Tube webpage. More trout fishing tips can also be found on the WDFW Medium blog.
(Mark Yuasa is a Washington Department of Fish and Wildlife Communications Manager. He also has contributed numerous blogs to the KIRO/ESPN The Outdoor Line and was the outdoor reporter at The Seattle Times for 28 years.)