Oodles of razor clams sprawled out along four coastal beaches with more digs planned after the New Year, plus scores of fishing choices to be had during the holidays Leave a reply
By Mark Yuasa
There are so many ways to "opt out" of the post-Thanksgiving madness by catching trout, chinook, Dungeness crab and squid, but first and foremost let's take a look at the on-going spectacular coastal razor clam digging season.
A liberal 67 days of digging began on Sept. 17 and continues through Dec. 31 (42 days have been completed to date) with an estimated 56.3-million harvestable clams – 17.6-million available for sport harvest – on four coastal beaches.
"It has been going well (and) mostly limits especially for folks who show up early," said Dan Ayres, the head Washington Department of Fish and Wildlife (WDFW) coastal shellfish manager. "Crowds also remain large except on nights when the weather is bad."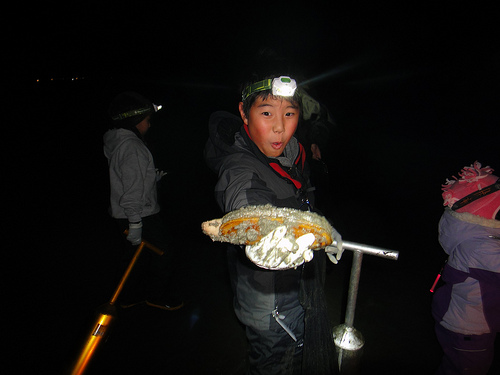 In fact, according to Ayres, there aren't enough low tides during the entire 2021-2022 season to dig up the millions of surplus clams available.
Icing on this season's cake is WDFW also boosted the per person daily limit to the first 20 clams dug regardless of size or condition up from the standard 15 clams in past seasons.
Ayres noted a bonus limit has occurred just once in his 41-year career with WDFW, when Long Beach had a 25-clam limit during a brief six-days in the 2016-2017 spring season.
Prior to that you'd have to go way back to 1929 when it was 36 clams before a reduction to 24 clams in 1948, and eventually the long-standing 15 clam limit in 1974.
The average take home of bivalves since this season began is about 18 razor clams per person overall on almost all days and all beaches outside of stormy weather periods of late.
The next round of evening low tide digging was approved this past week, and are set to be held at Long Beach, Twin Harbors and Mocrocks on Dec. 2, 4, 6 and 8, and future tentative dates are Dec. 15, 17, 19, 21, 23 and 30. At Long Beach, Twin Harbors and Copalis digging will be open Dec. 1, 3, 5, 7 and 9 plus more digs planned for Dec. 16, 18, 20, 22 and 31.
The WDFW staff plans to sit down with tribal co-managers to go over potential dates in January through late May, and plans to make an announcement just before the Christmas holiday.
"As we finish this next tide series we will be looking very closely at digs after the New Year," Ayres said. "As long as the marine toxin levels stay low this season will keep on going hopefully through spring. There are show many shows on the beaches and this is a huge population of clams."
The Nov. 16-24 data won't be completed until after the Thanksgiving holiday, but to give you an idea on success and turnout the latest data collected revealed more than 2.8 million clams harvested on 155,000 digger trips through early November.
Even better news is the latest coastal razor clam marine toxin testing results for domoic acid show all open beaches are well under the action level of 20ppm. At Long Beach it was 2 ppm; Twin Harbors, 3 ppm; Copalis, 4 ppm; and Mocrocks, 2 ppm.
Avoid holiday shopping madness by wetting a line
Anglers have a wide variety of fishing choices in the weeks ahead to work off all the calorie intake of holiday feasting.
First off, the WDFW's "Black Friday" trout fishing fun is underway and a total of 27 lakes – the majority, 23 lakes are in the western and southwestern Washington regions – have been planted with 48,188 "jumbo-sized" trout (averaging 1 to 1 ½ pounds apiece). That is up from 20 lakes with 27,157 in 2020.
Add to that another four eastern Washington lakes receiving spring fry plants of around 126,300 (117,000 in 2020) as well as 2,000 fall jumbos.
In the Puget Sound region, 21,500 jumbo-sized trout are awaiting anglers to catch.
In King County, they include Green, 5,300; and Beaver, 2,500. In Snohomish County, head to Silver, 3,000; Tye, 2,000, Gissburg South Pond, 2,000; and Ballinger, 3,000. In Island County, Cranberry has received 4,000.
Lakes in the southern Puget Sound region that received plants are American, 4,500; Tanwax, 1,000; and Bradley, 400 in Pierce County. Spencer, 700; and Kokanee, 2,400 in Mason County. Leland, 500 in Jefferson County. Sylvia, 500 in Grays Harbor County. Long, 1,000; and Offutt, 1,000 in Thurston County.
Southwest Washington lakes include Battleground, 2,000; and Klineline, 2,000 in Clark County. Kress, 2,000 in Cowlitz County. Rowland, 2,000 in Klickitat County. Goose, 1088 in Skamania County. Fort Borst Pond, 2,000; and South Lewis County Park Pond, 2,000 in Lewis County.
In eastern Washington head to Hatch (12,800 fry plant) and Williams (13,500) in Stevens County; Fourth of July (80,000) in Lincoln and Adams counties; and Hog Canyon (20,000) in Spokane County.
One east side lake getting 2,000 trout averaging one pound apiece is Elton Pond in Yakima County, which is open from Nov. 28 through March 31. In Chelan County, Roses Lake was expecting a plant of 18,000 trout. Other good options during the winter for large-size kokanee and triploid rainbow trout are Rufus Woods Reservoir and Lake Roosevelt.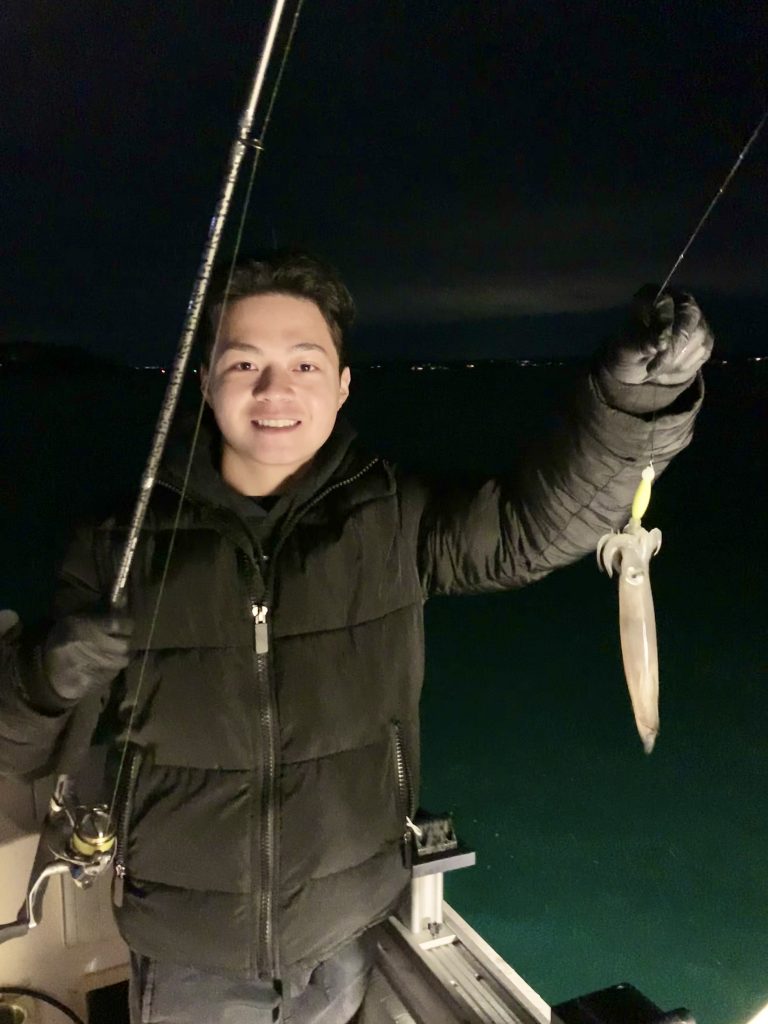 The word on the street for squid jiggers is "better than never" after a rather gloomy start to the Puget Sound squid jigging fishery, which finally picked up noticeably in recent weeks from Edmonds south to Elliott Bay and as far south as Des Moines. Places further south like Les Davis and Point Defiance in Tacoma remain somewhat on the slow side but could pick up anytime now.
Night-time or early morning are the best period as squid are attracted to light, which is why public piers are great spots to catch them. Squid tend to hide in the dark, shadowy edges of lighted water and then dart out into the light on their unsuspecting prey.
Puget Sound squid are commonly known as "Pacific squid" or "market squid" and measure 5 to 12 inches with a short-term life cycle of about 18 months.
This isn't a very complicated fishery and a simple trout-style fishing set-up with a handful of colored squid jigs will efficiently get the job done.
Squid school anywhere from just below the water's surface to about 20 to 25 feet down, but it's good to work your lure from top to bottom in the water column to catch them.
Some of the most popular places to catch squid are along the Seattle waterfront at Piers 69 and 70, around the Big Wheel or the Seattle Aquarium Pier.
Other locations are the Seacrest Boathouse Pier in West Seattle; Edmonds Pier; Des Moines Pier; Redondo Pier; A-Dock and Shilshole Pier; Fauntleroy Ferry Dock; Illahee State Park Pier; and the Waterman and Indianola piers in Kitsap County.
Boat anglers are also catching on to squid jigging off the Edmonds Marina, Shilshole Bay and Elliott Bay.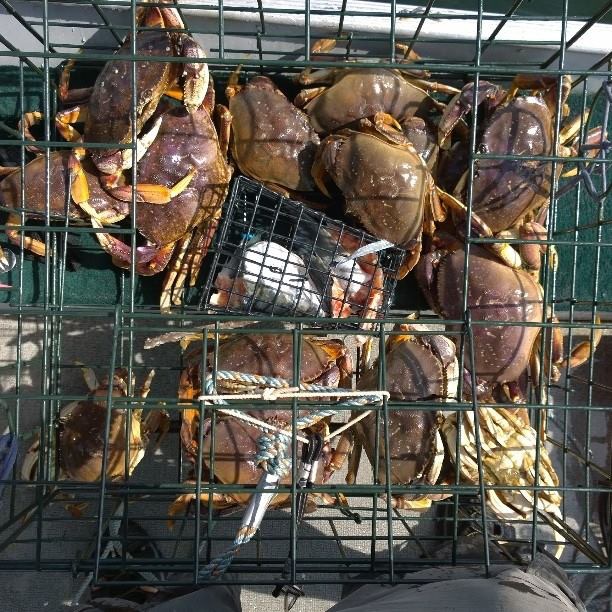 The premature closure of the winter hatchery chinook fishery in south-central Puget Sound (Marine Catch Arewa 11 shouldn't hold you back from heading deeper into southern Puget Sound (Area 13) south of the Narrows Bridge, which remains open year-round. The daily limit is two hatchery chinook or coho.
An unexpected larger return of chum salmon into Area 13 will allow anglers to keep chum as part of their two-salmon daily limit, release all wild chinook and wild coho. Also, the Kennedy Creek mouth area is open through Nov. 30 for chum.
Lastly, it's still not too late to add a batch of Dungeness crab to the holiday feast as some inner-marine waterways are open daily through Dec. 31.
They include the Strait of Juan de Fuca (Marine Catch Areas 5 and 6); San Juan Islands (7); Deception Pass, Hope Island, Skagit Bay, Port Susan and Port Gardner (8-1 and 8-2); northern Puget Sound (9), central Puget Sound (10) and Hood Canal north of Ayock Point (12). Crab pots may be set or pulled from a vessel from one hour before official sunrise through one hour after official sunset. Daily limit is five Dungeness crabs (males only) in hard-shell condition.
The coastal waters also remain open year-round for Dungeness crabbing, and for those without a boat can find crabbing opportunities around various marinas like Westport.