Enjoy a wide-range of fishing opportunities in the days ahead and during the Thanksgiving holiday for salmon, trout, squid razor clams and Dungeness crab Leave a reply
By Mark Yuasa
There's plenty of fishing choices heading into the Thanksgiving holiday weekend from chasing salmon to digging clams or jigging for squid, but topping the list is the Washington Department of Fish and Wildlife's (WDFW) "Black Friday" trout fishing extravaganza.
But before we get into the near horizon options those who can't wait should take advantage of some early plants that occurred on Nov. 1 in a handful of lakes.
They include Green in North Seattle which was planted with 2,650 rainbow trout. In Snohomish County, Ballinger got 1,800, and Silver received 1,200. In Pierce County, head to Bradley which received 729 and Spanaway got 2,472.
Then it's time to opt out of heading a busy shopping mall, and instead grab the rod and reel and jar of PowerBait for the annual "Black Friday" where thousands of trout that average 1 ¼ pounds apiece will be planted in time for port-Turkey Day.
A total of 27 lakes – most (23 lakes) are in the western and southwestern Washington regions – will be planted for Black Friday with 48,188 "jumbo-sized" trout (averaging 1 to 1 ½ pounds apiece) an increase from 20 lakes with 27,157 in 2020. Add to that another four eastern Washington lakes receiving fry plants of around 126,300 (117,000 in 2020) as well as 2,600 fall jumbos.
The Puget Sound area is getting the biggest bang for your buck with a plant of 21,500 jumbo-sized trout heading to seven lakes.
A breakdown of the trout plants by lakes are – Green, 5,300; and Beaver, 2,500, in King County. Silver, 3,000; Tye, 2,000, Gissburg South Pond, 2,000; and Ballinger, 3,000 in Snohomish. Cranberry, 4,000, in Island County.
Lakes in the southern Puget Sound region receiving plants as part of Black Friday are American, 4,500; Tanwax, 1,000; and Bradley, 400 in Pierce County. Spencer, 700; and Kokanee, 2,400 in Mason County. Leland, 500 in Jefferson County. Sylvia, 500 in Grays Harbor County. Long, 1,000; and Offutt, 1,000 in Thurston County.
Southwest Washington lakes receiving plants include Battleground, 2,000; and Klineline, 2,000 in Clark County. Kress, 2,000 in Cowlitz County. Rowland, 2,000 in Klickitat County. Goose, 1088 in Skamania County. Fort Borst Pond, 2,000; and South Lewis County Park Pond, 2,000 in Lewis County.
Add to that several eastern Washington lakes receiving early spring trout fry plants of around 126,300 (117,000 in 2020) that have probably grown to a "catchable-size" of 8 to 11 inches.
This includes Hatch (12,800) and Williams (13,500) in Stevens County; Fourth of July (80,000) in Lincoln and Adams counties; and Hog Canyon (20,000) in Spokane County. Hog also got a plant of 900 trout averaging one pound apiece in mid-October.
One east side lake planted with 2,000 trout averaging one pound apiece is Elton Pond in Yakima County, which is open from Nov. 28 through March 31. In Chelan County, Roses Lake is expecting a plant of 18,000 trout around Nov. 15.
Nibbles and bites
Time could be running against anglers who enjoy chasing winter chinook in south-central Puget Sound (Marine Catch Area 11) a prime location that is nudging ever so closer to closing sooner than later.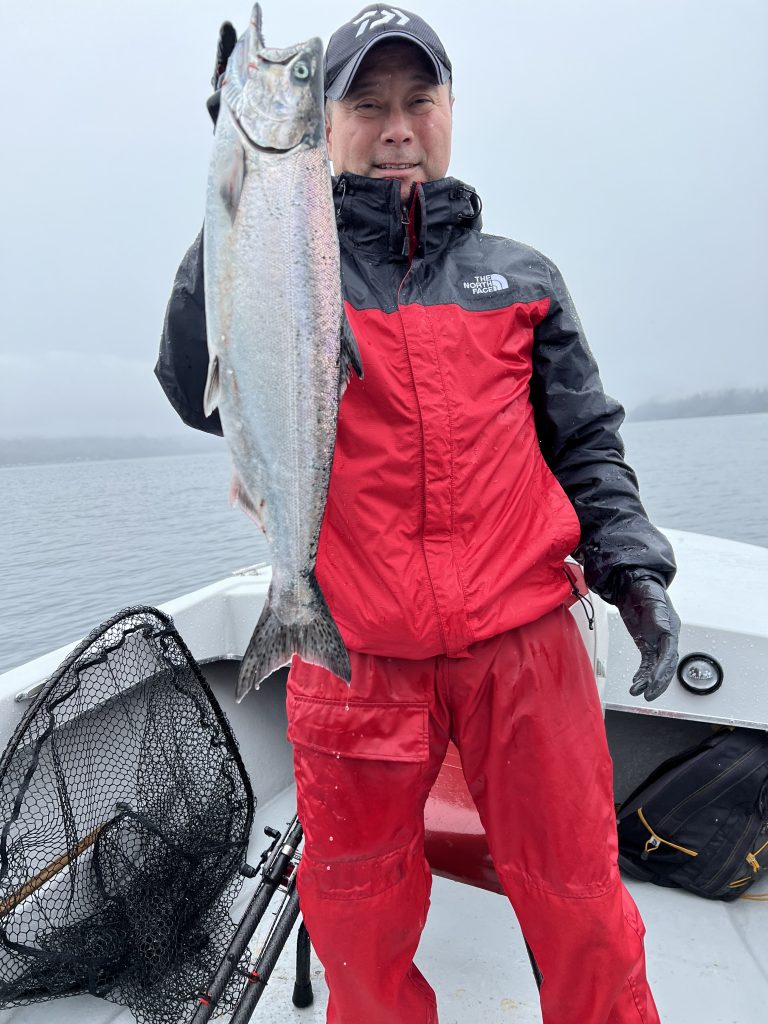 Through Nov. 7, the estimated total chinook encounter is 401 (1,001 is ceiling on encounters) for 41 percent; the total unmarked encounter is 63 (239) for 26 percent; and the total sublegal encounter is 315 (637) for 49 percent. WDFW will likely have some kind of decision on the state of the Area 11 fishery by Friday.
I was out on Thursday off Point Defiance Park in the Tacoma at the Clay Banks, and among the fleet of 15 boats the fishing was fair at best for hatchery chinook, 4 to 10 pounds, with most anglers jigging or trolling meat-liners with a Pro Troll Flasher and green hoochie.
Here's the catch estimates for the Area 11 winter chinook fishery – 152 boats with 208 anglers Nov. 1 caught 50 hatchery marked chinook and released 265 hatchery and 57 wild chinook for 372 encounters; 21 with 33 Nov. 5 caught two hatchery marked chinook, and released 9 and 2 for 13; 12 with 16 Nov. 6 caught nor released any fish; 5 with 13 Nov. 7 caught 3 hatchery marked chinook and released 18 and 4 for 25. The test boat revealed legal-size mark rate was 66.7 percent, and overall mark rate is 84.6 percent.
For the moment, south-central Puget Sound (Area 11) from the northern tip of Vashon Island south to the Narrows Bridge is open daily through Dec. 31. The daily limit is one hatchery chinook.
Southern Puget Sound (13) south of the Narrows Bridge is open year-round. The daily limit is two hatchery chinook or coho.
Until further notice those salmon fishing in southern Puget Sound (Area 13) may keep chum as part of their two-salmon daily limit, release all wild chinook and wild coho. Also, the Kennedy Creek mouth area is open through Nov. 30 for chum salmon. This is due to chum returns being better than expected.
The next round of coastal razor clam digs are Nov. 16-24, and folks will be able to not only chow down on turkey but a nice batch of clams too!
"The digs so far this season have been spectacular, and we've been seeing numbers of diggers like you would at the end of April, which is exciting news," said Dan Ayres, the head WDFW coastal shellfish manager. "As long as the marine toxin levels stay low this season will keep on going into 2022 and hopefully through spring. There are show many shows on the beaches and this is a huge population of clams."
Data collected from the Nov. 3-7 showed nearly 30,000 digger trips – and that didn't include Nov. 8-10 data. For the season more than 2.8 million clams were harvested on 155,000 digger trips.
Ayres was out surveying on Sunday and reported diggers were averaging 17 clams per person (the first 20 dug regardless of size or condition is a daily limit).
Upcoming evening low tides are scheduled for Long Beach, Twin Harbors and Mocrocks are Nov. 17, 19, 21 and 23 with tentative digs scheduled for Dec. 2, 4, 6, 8, 15, 17, 19, 21, 23 and 30. Dates at Long Beach, Twin Harbors and Copalis are Nov. 16, 18, 20, 22 and 24 with tentative digs on Dec. 1, 3, 5, 7, 9, 16, 18, 20, 22 and 31.
The latest coastal razor clam marine toxin testing results that showed all open beaches are well under the action level of 20ppm. Samples were all collected on Oct. 23 – Long Beach: 6 ppm for domoic acid, and no PSP or DSP detected. Twin Harbors: 5 ppm for domoic acid, and no PSP or DSP detected. Copalis: 3 ppm for domoic acid, and no PSP or DSP detected. Mocrocks: 3 ppm for domoic acid, and no PSP or DSP detected.
After a slow start it appears Puget Sound squid jigging has finally improved of late.
"We've had some pretty good nights while many times it has been a struggle to find them although (this past week) we've started to see them in larger schools," said Paul Kim, owner of Seattle Squid charter service in Seattle.
The squid fishery is usually a productive autumn/winter affair on Puget Sound piers from Edmonds to Tacoma as many other fisheries begin to wind down. Night-time or early morning are the best period as squid are attracted to light, which is why public piers are great spots to catch them. Squid tend to hide in the dark, shadowy edges of lighted water and then dart out into the light on their unsuspecting prey.
Puget Sound squid are commonly known as "Pacific squid" or "market squid" and measure 5 to 12 inches with a short-term life cycle of about 18 months.
This isn't a very complicated fishery for anglers to catch wind of and a simple trout-style fishing set-up will efficiently get the job done.
A sensitive long-length rod and spinning reel with lightweight fishing line of 5- to 6-pound test will help you feel the subtle tap or vibration of an attacking squid.
Weighted luminous or light-up plastic jigs come in a variety of colors like pink, chartreuse, blue, red, green, orange or no-color at all. Jigs don't have "hooks" and instead have upward slanting sharp prongs. Unweighted lures are also used by squid jiggers that attach to a one-ounce lead weight.
Squid don't bite a jig and will wrap their tentacles onto the jig's prongs. This is where you need to reel with steady upward pressure, giving no slack in the line otherwise they'll let go.
Raising the rod tip up to about 10 o'clock and then slowly lower the jig back down to make it resemble an injured fish.
Squid school anywhere from just below the water's surface to about 20 to 25 feet down, but it's good to work your lure from top to bottom in the water column to catch them.
Some of the most popular places to catch squid are along the Seattle waterfront at Piers 69 and 70, around the Big Wheel or the Seattle Aquarium Pier.
Other locations are the Seacrest Boathouse Pier in West Seattle; Edmonds Pier; Des Moines Pier; Redondo Pier; A-Dock and Shilshole Pier; Point Defiance Park Pier; Les Davis Pier in Tacoma; Fauntleroy Ferry Dock; Illahee State Park Pier; and the Waterman and Indianola piers in Kitsap County.
Boat anglers are also catching on to squid jigging off the Edmonds Marina, Shilshole Bay and Elliott Bay.
Good news for those chasing Dungeness crab as central Puget Sound (Area 10) will reopen daily beginning Nov. 22 through Dec. 31. WDFW says summer catch assessments show enough is left to sustain winter crabbing in Area 10.
Other areas still open daily now through Dec. 31 in the Strait of Juan de Fuca (Marine Catch Areas 4 east of Bonilla-Tatoosh line, and 5 and 6); San Juan Islands (7); Deception Pass, Hope Island, Skagit Bay, Port Susan and Port Gardner (8-1 and 8-2); northern Puget Sound (9) and Hood Canal north of Ayock Point (12). Crab pots may be set or pulled from a vessel from one hour before official sunrise through one hour after official sunset. Daily limit is five Dungeness crabs (males only) in hard-shell condition.