Remainder of the coastal razor clam digging season in doubt as marine toxin levels skyrocket to all-time highs, and places like Twin Harbors could remain closed through spring of 2021 Leave a reply
By Mark Yuasa
The coastal razor clam season is now in doubt through December and possibly clear into the spring of 2021, after the latest marine toxin testing levels skyrocketed to levels not seen in a longtime.
"This is really tough news especially since we started off with such a great season of digging," said Dan Ayres, the head Washington Department of Fish and Wildlife (WDFW) coastal shellfish manager. "This could take a very long time for the razor clams to flush out of their system, and even at this level places like Twin Harbors could be done for the season."
WDFW closely monitors marine toxins such as domoic acid – a natural toxin produced by certain types of marine algae – which can be harmful or even fatal if consumed in enough quantities. The cut-off threshold for domoic acid is 20 parts per million (ppm).
Since 1991, when the toxin was first detected on the Pacific Coast, outbreaks of domoic acid have prompted the cancellation of three entire razor-clam seasons in Washington — the last one in 2002-03.
Twin Harbors Beach never opened in 2015-2016 as marine toxin levels never dipped below the action level. The entire coast was also closed in late May of 2015 when domoic acid spiked well above the cut-off level.
The latest test sampling taken on Nov. 1 and sent to the Department of Health revealed some very high levels of domoic acid. They are: Twin Harbors levels, 60 to 83 ppm; Mocrocks was 11 ppm; Long Beach was 57 to 60 ppm; Kalaloch Beach was 20 ppm; and Copalis was 23 ppm.
"It is entirely possible that we will see higher than safe levels, even into December," said Larry Phillips, the WDFW coastal region director. "We understand how important razor clam digging opportunities are to coastal communities and citizens of Washington, and we will continue to work with our partners to reopen as soon as possible."
The most recent digs had seen near record turnout as folks looked for ways to get outdoors while still following rules under the social distancing guidelines.
The next series of digs Nov. 13-19 have been cancelled, and other remaining tentative digs are Dec. 1-4, Dec. 12-18 and Dec. 29-31.
The most recent digs at Long Beach, Twin Harbors and Copalis saw a turnout of 25,390 diggers Oct. 17 with 324,107 clams for a 12.7 per person average; and 2,750 on Oct. 19 with 41,251 for 15.0. At Long Beach, Twin Harbors and Mocrocks it was 7,716 on Oct. 18 with 115,745 for 15.0; and 1,781 with 26,728 on Oct. 20 15.0.
A day-by-day breakdown – Long Beach: 10,126 diggers on Oct. 17 had 151,902 clams; 3,111 on Oct. 18 had 46,665; 1,048 on Oct. 19 had 15,726; and 718 on Oct. 20 had 10,776. Twin Harbors: 5,583 on Oct. 17 had 83,754; 1,758 on Oct. 18 had 26,370; 604 on Oct. 19 had 9,071; and 406 on Oct. 20 had 6,090. Copalis: 10,126 on Oct. 17 had 151,902; and 1,096 Oct. 19 had 16,452. Mocrocks: 2,847 on Oct. 18 had 151,902; 657 on Oct. 20 had 9,861.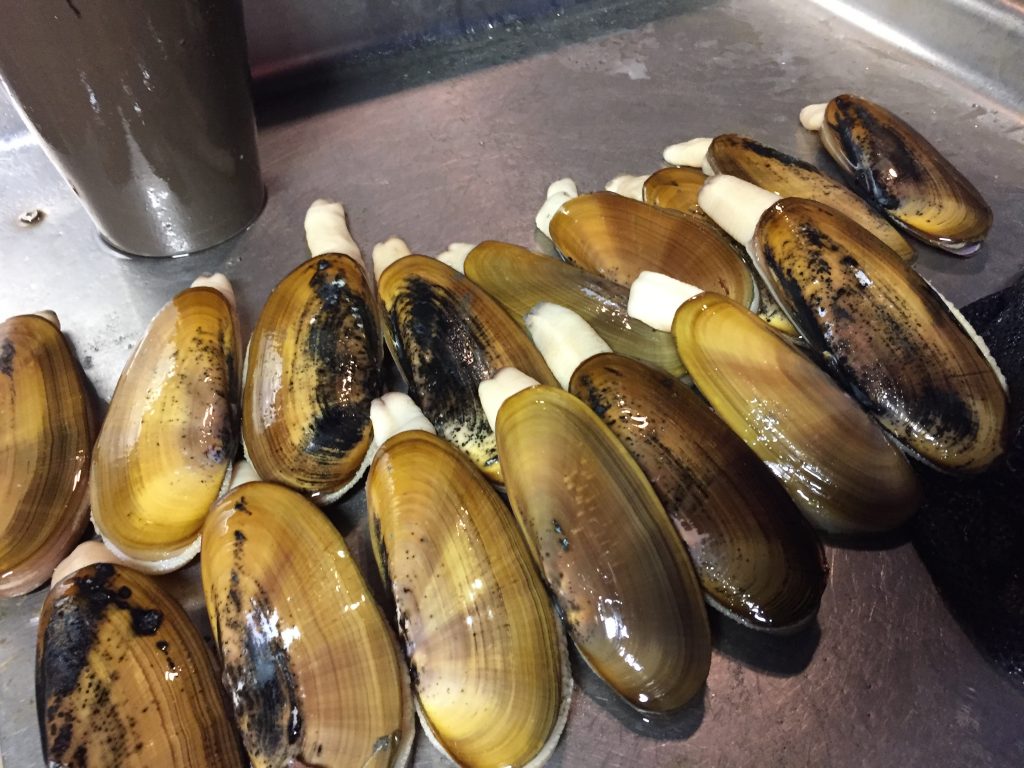 Public health officials will also be closely monitoring the incidence of COVID-19 throughout the digging season, and WDFW will rely on their guidance when making in-season adjustments to the schedule if necessary, to reduce public health risks.
What worries WDFW is that folks are not listening to the sheer health risk that digging and consuming these clams can pose on a person as was witnessed by agency staff digging samples this past week.
"We had staff at Twin Harbors who told me there was evidence of someone digging on the beach," Ayres said. "I asked our enforcement officers if they had seen anyone and nobody could recall of seeing anyone out on the beaches. These clams are not safe to eat and I was waiting to see if I would hear from a hospital of someone getting sick but so far I haven't."
WDFW plans to take another test sample of clams sometime this week, and will continue to monitor the situation.
Razor clam digging is a huge money maker generating $25- to $35-million for small coastal communities who rely on these opportunities during the lean tourist times in autumn, winter and spring to help boost their economy.
All this bad news comes on the heels of what has been a very strange year with the pandemic and other bad news.
"This isn't something you can fight out in the courts and domoic acid numbers are what they are," Ayres said. "All we can do for now is hope that we can salvage some parts of what had been a great season."
A bit of good news is that while Ayres was digging test samples this past Sunday (Nov. 1) at Copalis and Mocrocks in every hole he dug were lots and lots of little juvenile clams, which bodes well hopefully for the future.
For details, go to http://wdfw.wa.gov/fishing/shellfish/razorclams/.