Upcoming coastal razor clam digs could be in limbo after marine toxins spiked along southern beaches, but plenty of other fall fishing options on tap Leave a reply
By Mark Yuasa
Coastal razor clam lovers got some jarring news this past week.
Looking at one of the most robust seasons in recent memory, it appears diggers may have to put immediate plans on the back burner after the Department of Health (DOH) and Washington Fish and Wildlife (WDFW) saw a surge in a marine toxin known as domoic acid.
"I don't think this is going to last long, but the jury is still out on what to expect in the near future (the next series of digs are supposed to start on Halloween)," said Dan Ayres, the head WDFW coastal shellfish manager. "The spike in domoic acid was limited to Long Beach and to a certain degree Twin Harbors, but Copalis and Mocrocks looked fine. We should have the next sample results by Monday (Oct. 26)."
WDFW closely monitors marine toxins such as domoic acid – a natural toxin produced by certain types of marine algae – which can be detrimental if consumed in high enough quantities. The impacts vary from nausea and headaches to more severe symptoms including neurological damage, seizures and even death.
Since 1991, when the toxin was first detected on the Pacific Coast, outbreaks of domoic acid have prompted the cancellation of three entire razor-clam seasons in Washington — the last one in 2002-03. Twin Harbors Beach never opened in 2015-2016. The entire coast was also closed in late May of 2015 when domoic acid spiked well above the 20 parts-per-million cut-off level.
The most recent sample results found razor clams and water increased and had the potential to reach or surpass the cut-off level when beaches closed on Oct. 21. WDFW officials assured diggers that all clams taken home prior to Oct. 21 were safe to eat.
"The cell counts dropped off but were still producing domoic acid in the water column," Ayres said. "It was a (DOH) decision to take a time out as indications showed there could be a serious problem had we kept the beaches open. The clams tend to hang on to domoic acid in their bodies for quite a while and we're not sure how quick they can flush it out."
Prior to the closure, coastal razor-clam diggers have enjoyed off-the-charts digging since the season opened on Sept. 14 with some of the best success rates seen in several decades.
"Mostly everybody had their limit (the first 15 clams dug regardless of size is a daily limit) during the recent digs, and we saw large crowds at all the beaches," Ayres said. "The (Oct. 17) turnout rivaled some of the biggest crowds we've seen during spring digs."
The most recent digs at Long Beach, Twin Harbors and Copalis saw a turnout of 25,390 diggers Oct. 17 with 324,107 clams for a 12.7 per person average; and 2,750 on Oct. 19 with 41,251 for 15.0. At Long Beach, Twin Harbors and Mocrocks it was 7,716 on Oct. 18 with 115,745 for 15.0; and 1,781 with 26,728 on Oct. 20 15.0.
A day-by-day breakdown – Long Beach: 10,126 diggers on Oct. 17 had 151,902 clams; 3,111 on Oct. 18 had 46,665; 1,048 on Oct. 19 had 15,726; and 718 on Oct. 20 had 10,776. Twin Harbors: 5,583 on Oct. 17 had 83,754; 1,758 on Oct. 18 had 26,370; 604 on Oct. 19 had 9,071; and 406 on Oct. 20 had 6,090. Copalis: 10,126 on Oct. 17 had 151,902; and 1,096 Oct. 19 had 16,452. Mocrocks: 2,847 on Oct. 18 had 151,902; 657 on Oct. 20 had 9,861.
If approved the next series of digs during evening low tides will be Oct. 31 and Nov. 1 and 3 at Long Beach, Twin Harbors and Mocrocks; and Nov. 2 at Long Beach, Twin Harbors and Copalis.
The remaining tentative dates during evening low tides are: Nov. 14, 16 and 18; Dec. 1, 3, 13, 15, 17, 28 and 30 at Long Beach, Twin Harbors and Copalis; and Nov. 13, 15, 17 and 19; Dec. 2, 4, 12, 14, 16, 18, 29 and 31 at Long Beach, Twin Harbors and Mocrocks.
In all 39 digging dates were scheduled since Sept. 14 through Dec. 31, and more will be planned from January and possibly into May or shortly thereafter.
Final approval of all dates above depends on marine toxin testing and are usually announced one to two weeks prior to each series of digs. Digging is also contingent upon continued guidance by public health officials monitoring COVID-19 in coastal communities. For WDFW COVID-19 updates, go to https://wdfw.wa.gov/about/covid-19-updates.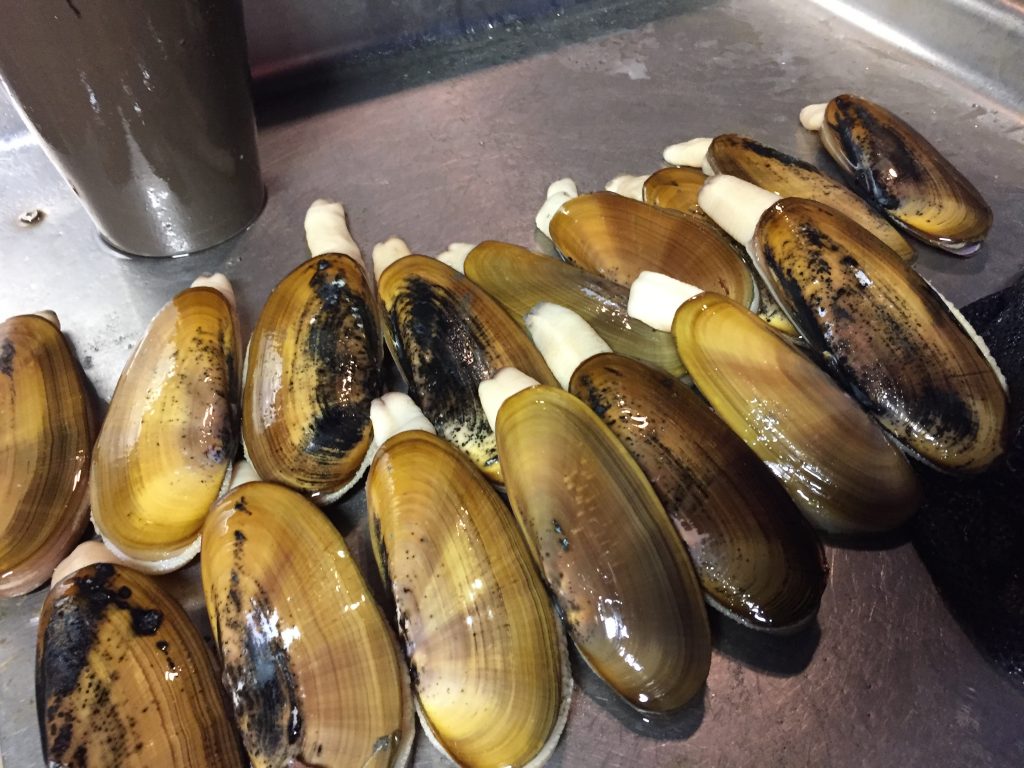 Summer assessments completed in late August showed excellent razor clam populations.
Long Beach has 24.8-million recruit-size razor clams and a total allowable catch (TAC) of 9.9-million for the 2020-2021 season, which is up from 5.2-million in 2019-2020. Potentially there could be 220 days of digging at Long Beach, but there aren't 220 low tides in the entire 2020-2021 season.
At Twin Harbors just south of Westport, assessments showed 5.2-million recruit size clams with a TAC of 2.1-million compared to 1.8-million last season. WDFW indicates 104 days of digging could be offered at Twin Harbors compared to 63 days last season.
At Copalis, the recruit size clam total is 11.8-million with a TAC of 4.7-million (recreational harvesters are allowed a share of 2.37-million) up from 4.2-million in 2019-2020. At Copalis, there is the potential to offer 55 days of digging in 2020-2021 season.
At Mocrocks there are 11.6-million recruit-size razor clams with a TAC of 4.6-million (recreational harvesters are allowed a share of 2.37-million) up from 3.3-million last season. Under the shared catch, WDFW could offer up to 90 days of digging.
Kalaloch was closed during 2019-2020 due to a low abundance of clams, but recent assessments showed a slight uptick. In 2019-2020, it was 0.4-million and for 2020-2021 it is 0.7-million although Ayres noted almost no clams were over 3 inches long.
For more on razor clams, go to http://wdfw.wa.gov/fishing/shellfish/razorclams/.
Nibbles and bites
Squid jigging remains very good at many Puget Sound piers from Edmonds to Seattle and as far south as Tacoma and west to Bremerton. Night-time is best under the lit piers although daybreak and just before sunset are good time frames. Try during or right at flood tide. Daily limit is 10 pounds or 5 quarts.
Try piers along the Seattle waterfront; the Seacrest Boathouse Pier in West Seattle; Edmonds Pier; Des Moines Pier; A-Dock and Shilshole Pier; Point Defiance Park Pier; Les Davis Pier in Tacoma; Fauntleroy Ferry Dock; Illahee State Park Pier; and the Waterman and Indianola piers in Kitsap County.
The Puget Sound and Hood Canal chum fishery is just getting underway with a forecast of 874,307 fall chum up from 642,740 in 2019. Places seeing a few early chum are Kennedy Creek estuary in Totten Inlet, Hoodsport Hatchery in Hood Canal and the open areas near the Skokomish Flats. All of Hood Canal is open through Nov. 30 and check the WDFW rules for what other salmon species you can keep.
Central Puget Sound is open for chum and coho south of the Apple Tree-Edwards Point line south to northern tip of Vashon Island through Nov. 15. Try Kingston; Jefferson Head; northeast side of Blake Island; West Point south of Shilshole Bay; Alki Point; Southworth near the Curly Creek estuary; Manchester area; and southeast side of Blake Island. South-central Puget Sound from Vashon Island south to Narrows Bridge is open until Oct. 31; Hood Canal is open until Nov. 30; and the Dungeness Bay terminal coho fishery is open through Oct. 31. Southern Puget Sound is open year-round for hatchery-marked coho and/or chinook only. Down on the coast, the eastern portion of Grays Harbor east of Buoy 13 is open through Nov. 30, and produces big coho with good fishing through Thanksgiving.
Many west side rivers are open for salmon fishing and anglers should consult with the WDFW regulation pamphlet or go to their website at https://wdfw.wa.gov/ to see what is open or closed.
Eight marine areas of Puget Sound/Strait of Juan de Fuca are open daily through Dec. 31 for winter Dungeness crab fishing including the eastside of Whidbey Island (Marine Catch Areas 8-1 and 8-2); Strait of Juan de Fuca (4 east of Bonilla-Tatoosh line, and 5 and 6); San Juan Islands (7); northern Puget Sound (9) and Hood Canal north of Ayock Point (12). All other areas are closed this winter. For updates on crabbing, go to https://wdfw.wa.gov/fishing/shellfishing-regulations/crab
There's plenty of autumn statewide trout fishing happening right now across the state. Seasonal lakes are open through Oct. 31 and many others are open year-round.
Lakes planted this month are – Vance Creek Ponds in Grays Harbor County. Leland, Gibbs and Teal in Jefferson County. Island, Kitsap and Wye in Kitsap County. Island, Spencer, Tee, Trails End, Kokanee, Lost and Nahwatzel in Mason County. Cases, Black, Snag and Western in Pacific County. Bonney, Bradley, Harts and Kapowsin in Pierce County. St. Clair, Long's Pond and Munn in Thurston County. Before heading out the door be sure to check for lakes open/closed, regulations and other statewide trout plants at https://wdfw.wa.gov/.