Coastal razor clam season opener produced stellar results for diggers, and Hanford Reach fall king fishing is best bet as big run nears peak time period Leave a reply
By Mark Yuasa
Those who ventured to coastal beaches for the first seven days of the 2020-2021 razor clam season had no need to "clam up" with limits across the board.
"It was a very successful opener (Sept. 16-22) and people pretty much had limits on all the beaches," said Dan Ayres, the head Washington Department of Fish and Wildlife (WDFW) coastal shellfish manager. "There was a mix of small and larger-sized clams and we did encounter some wastage. Diggers need to be reminded that they must keep their first 15 clams regardless of size (or condition)."
A total of 30,403 diggers from Sept. 16-22 took home 456,042 clams (doesn't include 29,046 of clam wastage).
Here's a breakdown of the success by beach – 12,134 at Long Beach Sept. 16-22 had 192,006 clams for 15.0 clams per person; 7,943 at Twin Harbors Sept. 16-22 had 119,150 for 15.0; 3,953 at Copalis on Sept. 16, 18, 20 and 22 had 59,302 for 15.0; and 6,372 on Sept. 17, 19 and 21 had 95,585 for 15.0.
In all WDFW approved an initial 39 digging dates for the 2020-2021 razor clam season. The next tentatively scheduled digs during evening low tides include a Halloween "trick or treat" dig on Oct. 16, 18, 20 and 31 at Long Beach, Twin Harbors and Mocrocks; and Oct. 17, 19 and 21 at Long Beach, Twin Harbors and Copalis.
Other remaining tentative dates are: Nov. 2, 14, 16 and 18; Dec. 1, 3, 13, 15, 17, 28 and 30 at Long Beach, Twin Harbors and Copalis; and Nov. 1, 3, 13, 15, 17 and 19; Dec. 2, 4, 12, 14, 16, 18, 29 and 31 at Long Beach, Twin Harbors and Mocrocks.
Final approval of all dates above depends on marine toxin testing and are usually announced one to two weeks prior to each series of digs. WDFW keeps close tabs on marine toxins such as domoic acid – a natural toxin produced by certain types of marine algae – which can be harmful or even fatal if consumed in enough quantities.
"We got in one sample testing (on Sept. 22) and the results showed all levels below the cutoff," Ayres said. "We plan to do one more final test in early October and will then make an announcement on the next series of digs."
The latest samples from the Department of Health labs showed domoic acid levels remained well under the 20 parts-per-million (ppm) cutoff and ranged between 2 and 5 ppm on all four beaches.
Digging is also contingent upon continued guidance by public health officials monitoring COVID-19 in coastal communities. For WDFW COVID-19 updates, go to https://wdfw.wa.gov/about/covid-19-updates.
Summer assessments showed some of the highest razor clam populations seen in more than two decades.
Long Beach has 24.8-million recruit-size razor clams and a total allowable catch (TAC) of 9.9-million for the 2020-2021 season, which is up from 5.2-million in 2019-2020.
At Twin Harbors it was 5.2-million with a TAC of 2.1-million up from 1.8-million; Copalis was 11.8-million with 4.7-million up from 4.2-million; and Mocrocks was 11.6-million with 4.6-million up from 3.3-million.
For more on razor clams, go to http://wdfw.wa.gov/fishing/shellfish/razorclams/.
Word on salmon fishing
Fall chinook fishing continues to be very good in the Hanford Reach of the Upper Columbia River with an average of 1.3 salmon per boat (12 hours per fish) and some guides are getting their two-adult salmon daily limits. The next two weeks are the peak fishing time with some kings in the 20- to 30-plus pound range.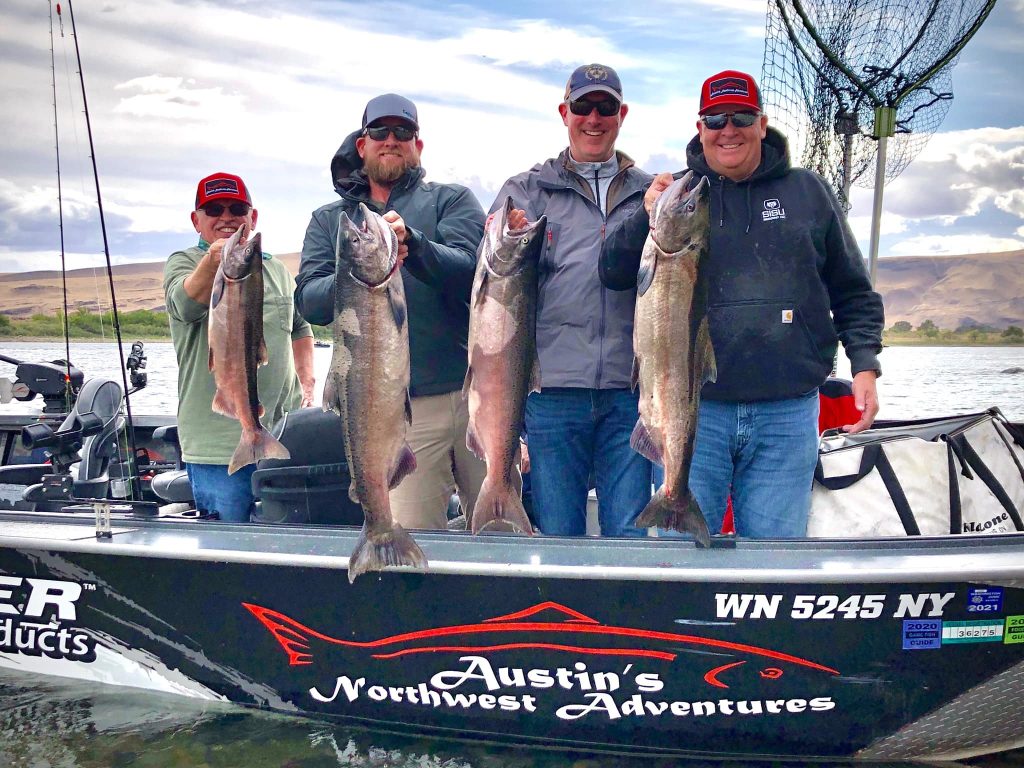 "Fishing is going to get better and better, and it is just starting to get good with consistent limits," Austin Moser, owner of Austin's Northwest Adventures said in an 710 ESPN The Outdoor Line interview on Saturday. "It is a lot of fun to get out here and get the last salmon fix of the year."
Current harvest is 4,561 adult fall chinook. At 83,000 adult fall chinook, there will be sufficient numbers of fish allocated to the sport fishery to continue the fishery with a two-adult limit through the end of the scheduled season. Fishing on the Columbia River above the Highway 395 Bridge to Priest Rapids Dam remains open through Oct. 15. The next in-season update will be posted Oct. 1.
Fall chinook counts at Bonneville are declining (2,021 to 7,694 this past week) and 351,112 total through Sunday (Sept. 28) but McNary numbers this past week are holding steady at 2,300 to 6,575 daily. For those chasing them in Hanford Reach/Vernita area, the McNary Dam fall chinook passage totals 144,682 through Sunday (Sept. 28).
The first in-season return for the Hanford Reach fall chinook population was completed last week. Current estimate is 83,593 natural (wild) fall chinook, up 14% from the pre-season forecast of 65,359 adults. In addition, both Priest Rapids and Ringold Springs Hatcheries are expecting good returns.
The total Columbia fall chinook return is now expected to include 499,700 adults (18% greater than the preseason forecast). Through Saturday (Sept. 26) a total of 338,147 adult and 48,263 jack fall chinook have passed Bonneville Dam.
Fall chinook action was also fair to good at Drano Lake, and off the mouth of the Klickitat and Deschutes rivers in the Gorge area.
Locally, the Puget Sound coho salmon fishing season is still providing some decent action off West Point south of Shilshole Bay, in front of the Shilshole Marina breakwater, Elliott Bay, Meadow Point north to Richmond Beach, Jefferson Head, Point Monroe, Possession Bar, Point No Point, west side of Whidbey Island and across at Midchannel Bank off Port Townsend, San Juan Islands and Strait of Juan de Fuca between Sekiu and Port Angeles. The Tacoma area remains unseasonably slow for coho and most are running north to the Redondo Beach area. A fairly good number of coho are also being caught in deep southern Puget Sound around Anderson Island and Johnson Point.
Central Puget Sound is open for silvers through Nov. 15; northern Puget Sound wraps up for hatchery coho only this Wednesday (Sept. 30); the Strait off Sekiu and Port Angeles and San Juan Islands are open until this Wednesday (Sept. 30); south-central Puget Sound from Vashon Island south to Narrows Bridge is open until Oct. 31; Hood Canal is open until Nov. 30; and the Dungeness Bay terminal fishery is open through Oct. 1-31. Southern Puget Sound remains open year-round for hatchery-marked coho and/or chinook only.
Down on the coast, the eastern portion of Grays Harbor east of Buoy 13is open through Nov. 30, and produces some of the bigger silvers in our state with good fishing right up to the Thanksgiving timeframe.
Many west side rivers are open for salmon fishing and anglers should consult with the WDFW regulation pamphlet or go to their website at https://wdfw.wa.gov/ to see what is open or closed.
Expect winter Dungeness crab fishery announcement soon
We should hear from WDFW on Puget Sound winter Dungeness crab fisheries very soon, which in past years has happened between Oct. 1 and 7.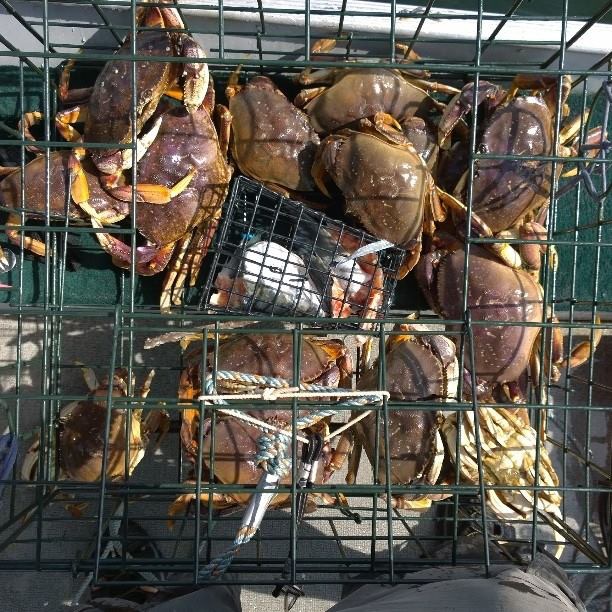 "We still need to look at more summer catch record data (on Monday) and will then have a better idea where we stand on winter crab fisheries," said Don Velasquez, a WDFW Puget Sound shellfish manager.
The San Juan Island's summer fishery never achieves the state's share of the recreational total allowable catch so it is likely to reopen.
In recent years other the winter fisheries have mainly occurred in the northern waters from the Apple Cove Point-Edwards Point line north into the Strait of Juan de Fuca and is usually open daily through Dec. 31. Crab populations in southern reaches of Puget Sound remain poor or have attained their summer catch share.
In 2019, the summer and winter Puget Sound sport Dungeness crab fishery landed 1,660,752 pounds (compared to 1,585,956 in 2018 and 1,764,633 in 2017).
Summer generates the highest participation level with an average of 192,798 catch cards issued compared to 23,578 during the winter fishery.
For updates on crabbing, go to https://wdfw.wa.gov/fishing/shellfishing-regulations/crab.