COVID-19 has all fishing and shellfish gathering shutdown statewide but the beat on crafting future salmon seasons still goes on as are WDFW's plans for upcoming spring fisheries Leave a reply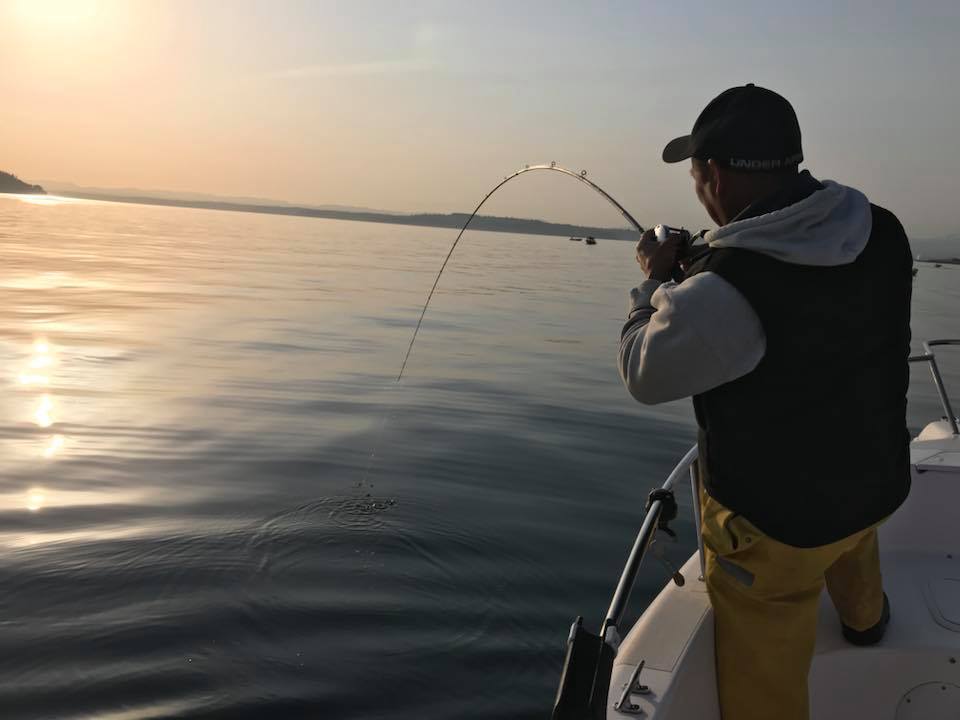 We are living in a tumultuous moment related to COVID-19 with a "Stay Home, Stay Healthy" order in place.
This has led to an unprecedented temporary closure of all statewide fishing opportunities and created challenges in the ongoing salmon fishing season setting process.
In the chronicles of Washington sport fishing history nothing of this magnitude – a fishing ban that took effect on March 26 through 5 p.m. on April 8 – has ever been witnessed. The Washington Department of Fish and Wildlife (WDFW) will decide on April 6 to see if an extension is necessary.
This is the stark reality we live in but "social distancing" not only could save you but also the well-being of a fishing buddy, the gas station or grocery store attendant or a loved one or an elderly relative.
It's a tough choice up for debate as many will say being on a boat with your buddy six-feet apart is a prime way of "social distancing" but for the moment people are raising their hands to stay inside and tie some leaders, add some fresh fishing line to the reel, listen to a 710 ESPN The Outdoor Line podcast, watch a You Tube fishing video or prep and tune-up the fishing gear and boat.
As we trudge through these muddy waters, the fate of what's open or closed in the 2020-2021 salmon fishing season is also the focus of many and should be decided by April 9 or 10 at the final Pacific Fishery Management Council (PFMC) teleconference meetings. Each user group has been weighing options while focusing on conserving wild salmon stocks of concern – a number of which are protected under the federal Endangered Species Act. Other issues include a decline of southern resident killer whales, expanding marked selective fishing, boosting hatchery production and habitat restoration and protection.
At this point there are no defined fishing seasons for Puget Sound although three ocean options came to light at the PFMC meetings in early March.
Kelly Susewind, WDFW Director, discussed the situation Saturday on 710 ESPN The Outdoor Line – to listen go to http://www.theoutdoorline.com/podcasts – and said they need to find a balance to get down on limiting factors related to Stillaguamish wild/hatchery chinook and mid-Hood Canal wild chinook stocks as they craft upcoming Puget Sound fishing seasons. The plan is to look at fishing areas most affected by these runs and then adjust seasons accordingly.
In other words it appears cuts are necessary to ensure a poor forecast of Stillaguamish and mid-Hood Canal chinook return. A mere percentage savings of both could equate to weeks or months of closures either this summer or in winter of 2021.
A final North of Falcon teleconference follow-up meeting will be held this Tuesday (March 31) from 9:30 a.m. to 3:30 p.m. through an online webinar teleconferencing system. For details, go to https://wdfw.wa.gov/fishing/management/north-falcon/public-meetings.
The most liberal ocean option is a quota of 60,000 chinook and 35,000 hatchery-marked coho (32,000 and 172,200 in 2019) with a sport quota of 30,000 and 29,400. Ports would open June 14-28 for chinook only fishery, then open daily or five days a week from June 29-Sept. 30 for chinook and hatchery coho.
The middle option quota is 45,000 chinook and 25,000 hatchery coho (27,500 and 159,600 in 2019) with a sport quota of 22,125 and 22,500. Neah Bay and La Push is open June 27-Sept. 13 and Westport and Ilwaco on June 28-Sept. 13. Ports are open either daily or five days a week.
The third most draconian option is an entire coastal closure.
A Buoy 10 fishery would start Aug. 1 and depending on the option hatchery coho quotas range from 13,000 to 17,000 during August and September.
There have been poorer coho returns in past years where fishery managers still created limited summer seasons. This seasons' forecast is somewhat similar to 2010, 2011, 2012 and 2018. The situation improved in 2013 and was much better by 2014.
The Columbia River coho forecast is 268,700, compared to a preseason forecast of 1,009,600 last year and an actual return of 408,100 in 2019 (forecast in 2018 was 349,000 and an actual larger return of 230,700). The Washington coastal river forecast is 276,989 (down from 401,655 in 2019 and up from 270,756 in 2018).
The Columbia River fall chinook run of 430,000 is better than a forecast of 340,400 and actual return of 375,700 in 2019.
The Willapa Bay chinook forecast is 31,185 compared to 28,100 in 2019. This is a popular inner-bay fishery from August through Labor Day weekend.
Fishery managers indicate the 2020 adult coho returnees ventured into the ocean as juveniles and suffered a die-off (most likely related to the "Blob").
The overall Puget Sound summer/fall chinook forecast is 249,990 (28,909 are wild) in 2020, and down slightly from 268,404 (32,947) in 2019. The Puget Sound coho return is also expected to see a dip in 2020 with a forecast of 523,498 (157,214 are wild) compared to 710,299 (157,214) in 2019.
Planned spring fishing options
(As indicated all fisheries below are currently CLOSED until further notice but this can be used as a reference once the statewide fishing ban is lifted.)
Tentative dates have been set for the Puget Sound spot shrimp opener but WDFW is waiting to release them until the fishing season resumes. What we do know is that it will occur in early May.
For hatchery chinook fishing head to the western Strait (Area 5) which is open through April 30. The eastern Strait (6), San Juan Islands (7) and northern Puget Sound (9) is open through April 15; and south-central Puget Sound (Area 11), Hood Canal (12) and east side of Whidbey Island (8-1 and 8-2) are open through April 30. Southern Puget Sound (13) is open year-round. Central Puget Sound (10) is closed.
The coastal lingcod fishery is open off Ilwaco, Westport, La Push and Neah Bay west of the Bonilla-Tatossh boundary line. Areas east of Bonilla-Tatoosh opens April 16. Many inner-Puget Sound areas also open May 1. Anglers can also pursue healthy black rockfish populations off the entire coast. Sport anglers are now required to carry a bottomfish descending device on their boat in all marine areas, including the coast. Descending devices are used to release certain poor rockfish stocks back to the depth they were caught and improve their survival when released. For details, go to
https://wdfw.wa.gov/species-habitats/at-risk/species-recovery/rockfish.
The eastern Strait of Juan de Fuca and most of Puget Sound opens for halibut on April 16. The western Strait, Ilwaco, La Push and Neah Bay opens April 30 for halibut. For details, go to https://wdfw.wa.gov/fishing/regulations/halibut.
The lowland lakes trout opener on 546 waterways across Washington is April 25-26 and WDFW will be stocking or has stocked more than 16.5 million trout and kokanee. For details, go to https://wdfw.wa.gov/fishing.
The COVID-19 outbreak has the NW Fishing Derby series heading into unchartered waters as the Something Catchy Kokanee Derby at Lake Chelan on April 18-19 and the Lake Stevens Kokanee Derby on May 23 have been cancelled following the same course as the For the Love of Cod derbies in southern Oregon on March 21-22 and March 28-29. At this point the Father's Day Big Bass Classic at Tenmile Lake in southern Oregon on June 20-21 is still happening. Details: www.NorthwestFishingDerbySeries.com.
For the moment all we can say is that hope is eternal and soon enough with all the hardship we've faced, one day we'll eventually get back to enjoying life and most of all fishing as it was not too long ago.
I'll hope to see you on the water soon, and stay healthy, be safe and wash tour hands!