Salmon fisheries in 2019 were a mixed bag and outlook for 2020 could mirror the past with conservative measures remaining in place Leave a reply
The dust is just settling on 2019 summer and early fall salmon fisheries and looking back in the rear-view mirror it can simply be deemed as surprisingly good in some locations and downright lousy in others.
While it is still very early in the game to see how all Puget Sound salmon runs and sport fisheries fared, Mark Baltzell, the Washington Department of Fish and Wildlife (WDFW) Puget Sound salmon manager, was able to offer a glimpse of this past season.
"I believe the best way to describe Puget Sound salmon fisheries overall in 2019 is a mixed bag," said Baltzell. "We had some unexpected good salmon fishing and returns, while others were as poor as the preseason forecasts had predicted."
"Summer chinook fisheries were for the most part better than we expected despite the expected reduced seasons," Baltzell said. "Early on we saw some really good chinook fishing in May and June in southern Puget Sound (Marine Catch Area 13 south of the Narrows Bridge)."
It wasn't uncommon for Area 13 anglers during June to hook into limits of early summer hatchery kings, 10 to 18 pounds with a few larger, off Point Fosdick and Fox Island's east side at Gibson Point, Fox Point in Hale Passage, northwest corner at the Sand Spit, Toy Point and Concrete Dock "Fox Island Fishing Pier."
In the past few years, central Puget Sound (Area 10) starting in June has become a hot bed for resident coho and this past summer was no exception to the norm. On certain days you'd find hundreds of boats off Jefferson Head to Kingston and in the shipping lane. Most of these coho ranged from 2- to 4-pounds.
"We had a coho fishery in Area 10 from June through August that was really good and this has turned into a successful early summer salmon fishery," Baltzell said.
The Tulalip Bubble Terminal Fishery within Area 8-2 opened in June and was another location that proved to be fairly decent for early summer kings in the 10- to 15-pound range.
When July rolled around the Strait of Juan de Fuca (Areas 5 and 6) opened for hatchery kings and was off and on for much of the summer season.
The San Juan Islands (Area 7) had a brief hatchery king fishery from July 1-31, which saw plenty of fishing pressure and a much higher than expected success rate.
Preliminary WDFW data during the Area 7 fishery showed 5,310 boats with 11,739 anglers from July 1-31 kept 3,019 hatchery kings (10 wild fish were illegally retained) along with 451 hatchery and 982 wild chinook released. The best fishing period occurred from July 1-14. The WDFW test fisheries showed the Area 7 legal-size chinook mark rate was 84.6 percent and overall mark rate was 78.6.
The summer hatchery king fishery in northern and central Puget Sound (Areas 9 and 10), started out of the gates on July 25-28 much slower than expected due to extreme low tides. But once the tidal fluctuation turned around as more dates were tacked on to the fishery catches began to pick up rapidly.
During an 11-day fishing period from July 25 to Aug. 4, the success rate in Area 9 was a 0.23 fish per rod average with a total of 7,779 boats with 17,147 anglers keeping 3,446 hatchery chinook (six unmarked were illegally retained) and released 1,124 hatchery and 756 wild chinook plus 697 coho kept and 747 released. The Area 9 legal-size chinook mark rate was around 88.0 percent by WDFW test fishery boats.
The Area 10 hatchery chinook fishery was open daily July 25 through Aug. 16 and a total of 7,606 boats with 15,900 anglers kept 3,200 hatchery chinook (17 wild were illegally retained) and released 994 hatchery and 1,579 wild chinook plus 2,013 coho kept and 463 released. The legal-size chinook mark rate was around 50.0 percent.
Summer hatchery chinook action in south-central Puget Sound (Area 11) stumbled out of the gates when it opened July 1 and was peppered with a few glory moments until it closed Aug. 25 for chinook retention. In Area 11, an estimated 12,264 boats with 22,818 anglers from July 1-Aug. 25 retained 212 chinook and released 164 hatchery and 465 wild chinook.
"We saw a lot more legal-size chinook in Puget Sound than the FRAM (Fishery Regulation Assessment Model) had predicted and more legal hatchery fish around than we had seen in past years," Baltzell said.
In general, the wild chinook stock assessment also seemed to be somewhat better in some parts of Puget Sound, and places like the Tumwater Falls Hatchery in deep South Sound even had a few nice 20-pound females return.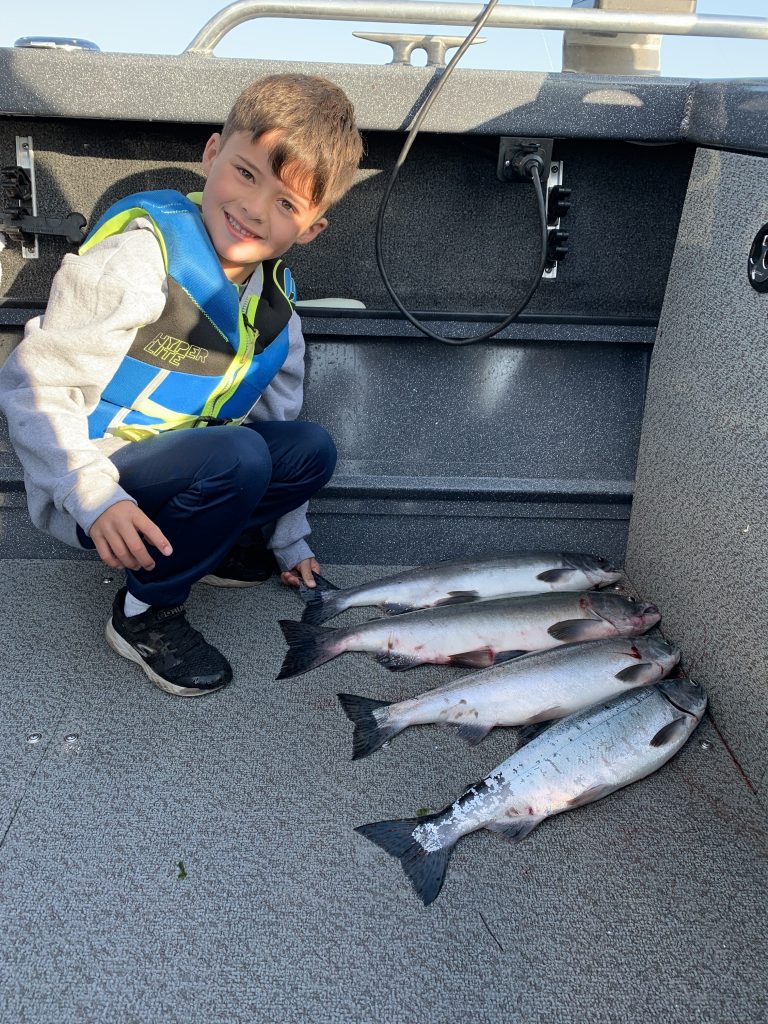 Heading into late summer, the Puget Sound pink returns were off the charts good here and there while other pink runs were downright dismal. Salmon anglers chasing pinks managed to find some excellent fishing from mid-August through September.
"In some places it seemed like we had twice the abundance of pinks and in others we just didn't get as many as we had thought," Baltzell said. "The Puyallup did really good and we had a decent number of pinks pass over the Buckley fish trap and was up into the historical day numbers. But, the Skagit and Stillaguamish weren't so good for pinks and it was the same for coho numbers too."
"At this point were going to be OK in places like the Snohomish for coho," Baltzell said. "Both the tribes and state did all the things necessary to help ensure we would exceed our goals made hatchery coho broodstock, and that did eventually happen."
Other locations like the Green River achieved coho broodstock goals although that didn't occur until late last month. In Hood Canal, the Quilcene early coho return came back less than half the preseason expectation and the size of jack coho was much smaller.
"There was a size issue throughout the Puget Sound area and the lower returns had us taking a precautionary move to a one coho daily limit," Baltzell said. "It was the right move in retrospect and helped us move more coho into the rivers."
The mid- and southern-Puget Sound and Hood Canal chum forecast of 642,740 doesn't appear to be materializing and at this point WDFW has downgraded the run to almost half the preseason expectation.
"It is really hard for us as fishery managers to pinpoint what was the cause for all of it," Baltzell said. "We can point the finger to marine survival and conditions in the ocean like the warm blob that sat off the coast up to Alaska for a while. We also know the Canadian sockeye runs tanked this year and saw it in our own like Lake Washington that virtually got nothing back for sockeye."
The ocean salmon fisheries from Neah Bay south to Ilwaco started on June 22 through Sept. 30, and it was a mixed bag of success.
"Fishing was pretty much what I expected it to be and the chinook fishery was slow except up north off Neah Bay where it was pretty good this past summer," said Wendy Beeghly, the WDFW head coastal salmon manager. "The majority of chinook we see in ocean fisheries are headed for the Columbia River and their forecasts were down so the poor fishing came as no surprise."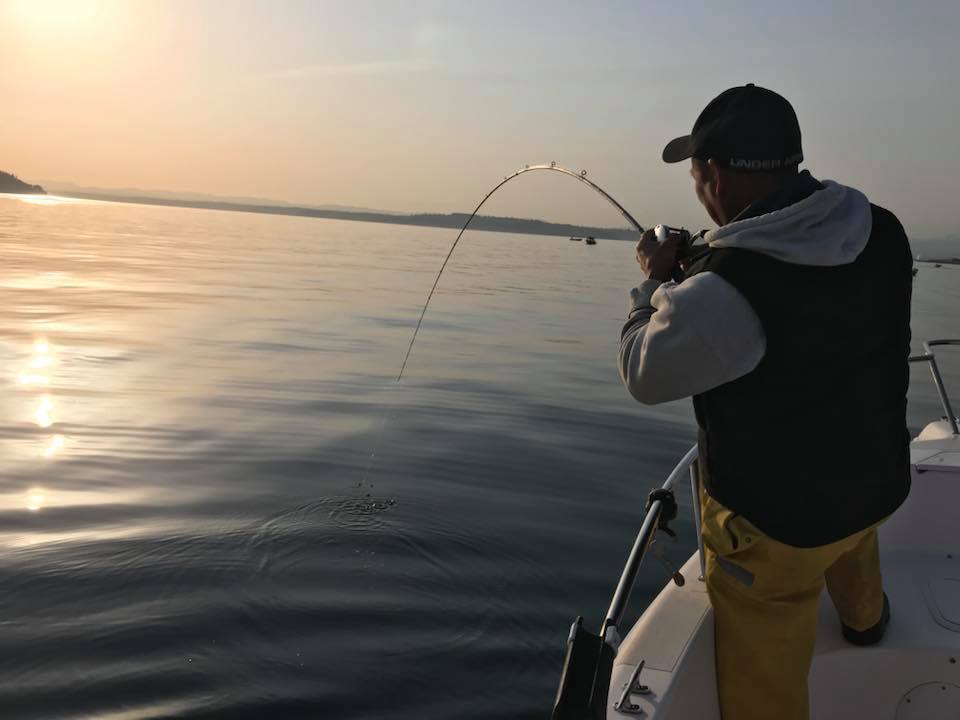 Close to a million coho were expected to flood the gates of the Columbia River this past summer and that too was a downer.
"The coho fishing wasn't quite as good as I had expected, but we saw some decent fishing at Ilwaco and Westport," Beeghly said. "The Columbia River coho forecast didn't come back like we had originally thought but better than the past three or so years. The hatchery coho mark rate was lower than anticipated."
Coast wide only 51.1 percent of the hatchery coho quota of 159,600 was achieved, and 41.4 percent of the chinook quota of 26,250 was caught.
Here's the final ocean salmon sport fishing catch data:
Ilwaco (including Oregon) –44,297 anglers from June 22 to September 30 caught 4,018 chinook (56% of the area guideline of 7,150) and 53,377 coho (67% of the area sub-quota of 79,800).
Westport – 23,465 anglers from June 22 to September 30 caught 2,336 chinook (18% of the area guideline of 12,700) and 20,221 coho (34% of the area sub-quota of 59,050), plus 700 pinks.
La Push – 2,076 from June 22 to September 30 caught 449 chinook (41% of the area guideline of 1,100) and 1,752 coho (43% of the area sub-quota of 4,050), plus 206 pinks. Late-season fishery October 1-13 saw 240 anglers with 164 chinook (64% over the fishery guideline) and 16 coho (16% of the fishery quota).
Neah Bay – 10,116 anglers from June 22 to September 30 caught 3,895 chinook (75% of the area guideline of 5,200) and 6,223 coho (37% of the area sub-quota of 16,600), plus 869 pinks. Chinook retention closed July 14.
Areas north of Leadbetter Point saw a coho mark rate of somewhere under 50 percent and Ilwaco where data was still being crunched might come out to be a little higher than that.
Once the fish arrived in the Columbia River at Buoy 10 it appeared the catch of hatchery coho fell well short of expectations with a lot of wild fish released but it was peppered with some glory moments early on.
Coastal and Columbia River chinook forecasts should come to light by around the Christmas holidays. The Pacific Fishery Management Council preseason meeting will occur in mid-February just ahead of when the Oregon Production Index coho forecast will be released.
As Baltzell rubbed the crystal ball looking into 2020 it still remains fuzzy at this point but general expectations aren't rosy.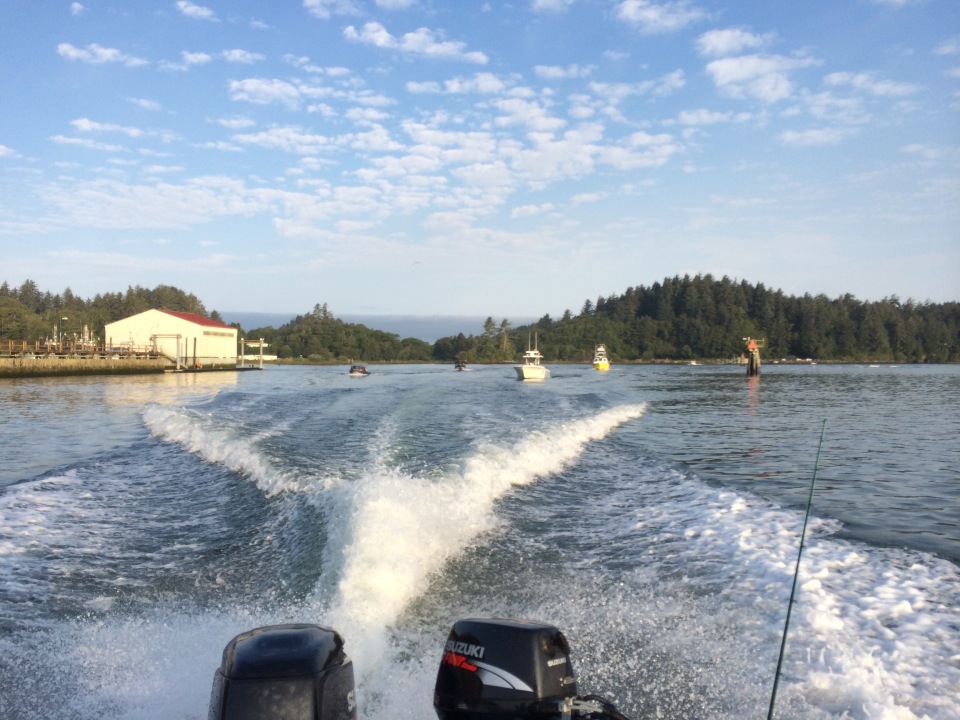 "It would be fair for me to say that I wouldn't expect anything much better in 2020 than what we saw in 2019," Baltzell said. "We have no forecast information at this point but I wouldn't expect a rosier outlook as far as chinook goes for next year."
State, federal and tribal fishery managers in 2020 will be faced with a lot of same wild chinook stock issues as in recent past years like mid-Hood Canal and Stillaguamish. Add on top of that killer whale orca issues as well as the pending Puget Sound Chinook Management Plan that has been looming a dark cloud for the past three years with no end in sight just yet.
"If I had to gauge things out my gut reaction is we will likely have to take a more cautionary approach again next year," Baltzell said.
The WDFW general salmon forecast public meeting will occur either on Feb. 25 or 26 in Olympia or Lacey.
Word on coastal razor clams
Coastal razor clam lovers now have more places to seek out one of the most prized shellfish in the Pacific Northwest as the latest series of week-long digs were set to begin Monday (Nov. 11) on four beaches.
Dates and low tides are Monday, Nov. 11 (plus-0.1 feet at 5:51 p.m.) at Long Beach, Twin Harbors and Copalis; Tuesday, Nov. 12 (0.3 at 6:27 p.m.) at Long Beach, Twin Harbors and Mocrocks; Wednesday, Nov. 13, (-0.5 at 7:03 p.m.) at Long Beach, Twin Harbors and Copalis; Thursday, Nov. 14 (-0.6 at 7:41 p.m.) at Long Beach, Twin Harbors and Mocrocks; Friday, Nov. 15 (-0.5 at 8:22 p.m.) at Long Beach, Twin Harbors and Copalis; Saturday, Nov. 16 (-0.3 at 9:08 p.m.) at Long Beach, Twin Harbors and Mocrocks; and Sunday, Nov. 17 (-0.1 at 9:59 p.m.) at Long Beach, Twin Harbors and Copalis No digging is allowed before noon for allowed digs, when low tide occurs in the evening.
The second round of digs were held Oct. 26 to Nov. 1 and success was excellent on all the beaches.
"It was good digging and limits across the board (the first 15 clams dug regardless of size or condition is a daily per person limit) but generally the crowds weren't as large as we headed into the weekday time period," said Dan Ayres, the head WDFW coastal shellfish manager. "I've had really good feedback on the season especially about the clams being nice size."
Ayres said digging at Copalis has been the hotspot with beautiful size clams and a large abundance. Mocrocks beaches also have a good abundance of clams but are small in size.
WDFW surveyor data showed 65,519 diggers from Sept. 27 to Nov. 1 dug 976,737 razor clams. At Long Beach, 19,019 from Oct. 26-Nov. 1 dug 283,508 clams for 14.9 clams per person average. At Twin Harbors, 9,118 from Oct. 26-Nov. 1 dug 136,113 for 14.9. At Copalis, 11,864 on Oct. 26, 28 and 30 and Nov. 1 dug 176,748 for 14.9. At Mocrocks, 6,918 on Oct. 27, 29 and 31 dug 103,617 for 15.0. At all four beaches, 46,919 from Oct. 26 to Nov. 1 dug 699,986 clams.
A slight spike in domoic acid at Twin Harbors and Long Beach in razor clam test samples right before the second series of digs caused some concerns early last week but remained well under the 20 parts per million (ppm) cutoff range.
"I know it puts a damper on people's travel plans when we can't make announcements sooner than later," Ayres said. "But we need to weigh on the side caution anytime we see an increase of marine toxins in clams."
Diggers who plan to hit the coastal beaches this week should be prepared for inclement weather and surf condition as well as digging in complete darkness. Be sure to bring a strong lantern and headlamp, keep an eye out for young ones, remember where you parked your vehicle and always watch out for the surf.
More digs are planned on Nov. 24, 26, 28 and 30 at Long Beach, Twin Harbors and Copalis; and Nov. 25, 27 and 29 at Long Beach, Twin Harbors and Mocrocks. Dec. 10, 12, 14, 16, 23, 27 and 29 at Long Beach, Twin Harbors and Mocrocks; and Dec. 11, 13, 15, 26 and 28 at Long Beach, Twin Harbors and Copalis.
WDFW has some dates in mind for digging after the New Year but will need to get agreement and discuss those options between tribal co-managers, which should occur by early December. Diggers can get an idea of dates by looking at a tide table on when low tides occur each week.