To a native Washingtonian, the opportunity to get out of state on a hunt offers several game-changing advantages; More animals, less pressure, more days to hunt, a vast landscape and the absolute necessity of an All Terrain Vehicle to access the country and hopefully, a big bull elk! Fortunately, we've been able to make a few friends in "Big Sky Country" that have some serious experience in elk country and have been generous enough to share their knowledge with us and that is something for which I'll never be able to fully expess my appreciation.
I've come to recognize that fishing and hunting share more than a few aspects and crossover concepts. For example, when I'm fishing an area for the first time, chart study is a huge part of my mental preparation. Hunting is absolutely no different and while I can't bring my Raymarine chartplotter aboard the Can-Am Defender, I've got an AP for that…
Autumn Montana weather can swing hard on you and that's EXACTLY what the temperatures did to us, plummeting the barometer and dumping the mercury 60 (yes, SIXTY) degrees for opening day weekend. The conditions we got to scout in were nothing at all like we had to hunt!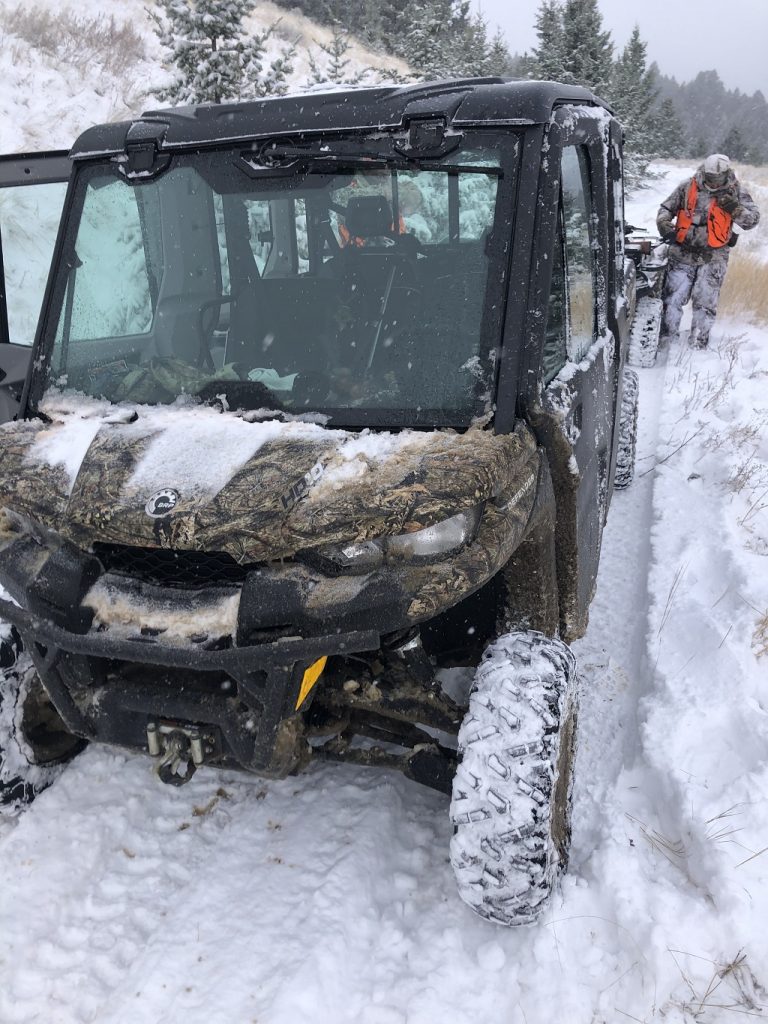 The weather broke in mid afternoon, lifting the cloud cover and increasing visibility which allowed us to finally get to glass the hillsides. Our gracious host Keith spotted some cows and after picking apart the terrain, a beautiful 5×5 bull came into view. The only way to get a chance at this bull was to start a low-profile stalk at the 700 yard mark and hope to cut distance with a belly crawl in the snow. My hunting partner Mike McAuley had been practicing up to 1000 yards and was "volunteered" for the stalk.
Montana's public lands are nothing short of a National treasure. It's a wonderful privilege to be able to apply for a non-resident tag and experience a hunt like this. Here in Washington, we're the smallest of the seven western states but second in population only to California. This population density doesn't eliminate hunting in solitude amongst remote landscapes in the Evergreen State but rather makes it difficult, even rare to find. It's simply much easier -and more affordable than you think- to get into a great big-game hunt in Montana.
Tom Nelson
The Outdoor Line
710 ESPN Seattle
www.theoutdoorline.com