Choices abound now and heading into June for salmon and many other fish species Leave a reply
Many are gearing up for early returning salmon runs including sockeye – one of the first summer migrating salmon species – and chinook making the journey from the ocean back to natal rivers and lakes.
"There's a lot going on right in many fisheries and folks just need to diversify what they want to target whether its salmon, trout, kokanee, walleye, bass, halibut or lingcod," said Mike Chamberlain, owner of Ted's Sports Center in Lynnwood.
Anglers have begun to prep their fishing gear to hit the Skagit River and Baker Lake where 33,737 sockeye are forecast to return, which is somewhat down from
35,002 in 2018 (about 32,000 was the actual return), and well below 47,000 in 2017 and 55,054 in 2016.
On the leading edge of that sockeye run is a Skagit/Cascade spring chinook forecast of just over 6,000 (5,756 in 2018) where 100 adult fish have already returned to the Marblemount Hatchery through May 22. Of that more than 4,000 are hatchery spring chinook with two-thirds of them being marked with a missing adipose fin.
"We've got salmon fisheries going on right now, but it has been pretty slow for hatchery spring chinook in the Skagit (open from Memorial Highway Bridge to Gilligan Creek through May 31)," said Brett Barkdull, a Washington Department of Fish and Wildlife (WDFW) biologist. "I'm not sure what the deal is and there are fish around, but it's likely people haven't figured out how to catch them. The tribes are catching them above and below (the sport fishery), and people are seeing them rolling in the river."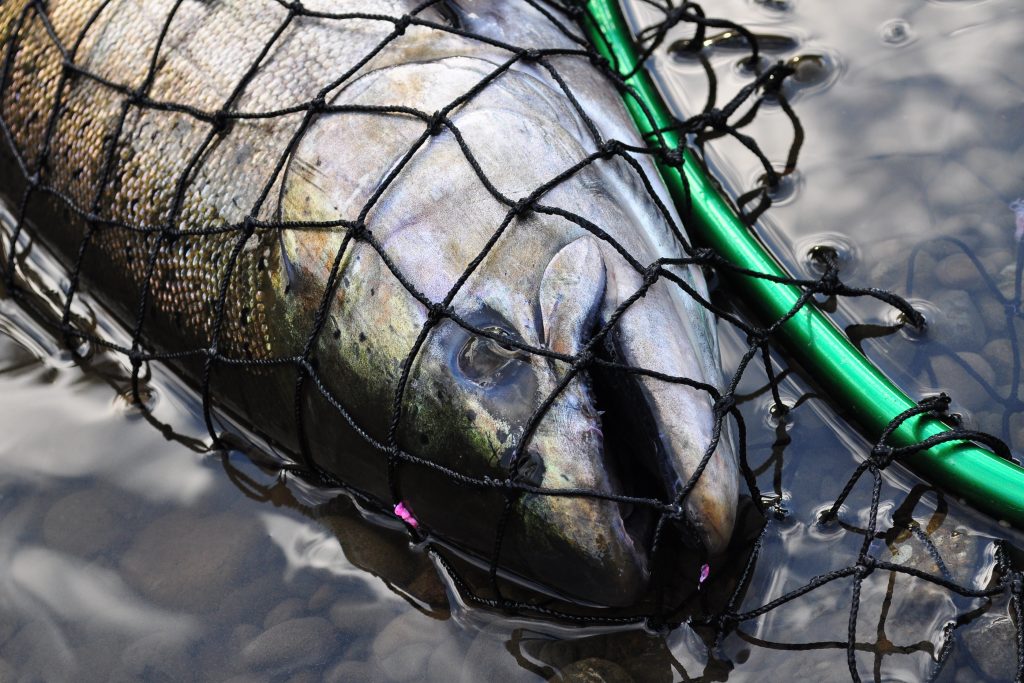 So far, the WDFW creel checks have shown only 22 hatchery spring chinook caught.
"The catch was not anywhere near what was expected, and I knew it wasn't going to be red hot, but I would've thought they'd do better than that," Barkdull said. "Overall we've had less water flow than normal and how that affects the fishery I really don't know."
The Skagit from the Highway 530 Bridge at Rockport to Cascade River Road and from Cascade mouth to Rockport-Cascade Road Bridge opens June 1 through July 15 for hatchery-marked chinook.
"I'm sure there are a fair number of chinook already in the small couple miles of area you can fish on the Cascade," Chamberlain said. "Most of the guys will use a gob of salmon eggs or a sand shrimp and egg combo and do quite well on those. Others will fish with corkies and yarn."
The first sockeye opportunity will begin on the Skagit River from Memorial Highway Bridge to Gilligan Creek, which opens June 16 through July 15.
Much of the snow on the hillsides have already melted off and it looks like the snowpack is way down as will likely be the water flow, and Barkdull says that will have a big effect on how well anglers catch sockeye in the river.
That river fishery will be followed by Baker Lake opening July 7 through Sept. 16 with the typical peak timing occurring in late-July and early-August. Much of this is dictated by the numbers of fish at the fish-trap on the river and timing of trucking fish up into the lake.
When using the median age specific from smolt to adult survival rate historically the ocean age two fish is 5.1 percent, and the age three fish is 1.2 percent. The long-term average is right around 8 percent and historically there's survival rates as high as 14 percent.
"This unfortunately should have been a big year for sockeye since we had more than a million smolts go out to sea but we're not expecting very good marine survival," Barkdull said. "When these fish left the ocean was still in bad shape.
"One of these years we will have a huge return and that'll catch us by surprise," Barkdull said. "Last year we had an outmigration of about 850,000, which isn't a bad number. If you got a 14 percent survival rate on that number, it equates to about 119,000 adult returning fish. And it wasn't like that has never been observed before, but we'll just need to wait and see."
From a run timing standpoint, it is likely that there should be sockeye already in the river when it opens. Arrival time varies year-to-year, but the best two weeks of fishing should be last week of June and first week of July when a lot of fish are passing through, which is based on a normal run curve. The peak of the sockeye run usually occurs around July 15.
The key to tracking when the best fishing occurs in the lake is to follow the fish trucking on WDFW website at http://wdfw.wa.gov/fishing/salmon/sockeye/baker_river.html.
Baker sockeye were first introduced from an artificial enhancement that started in 1896 when the state built a hatchery on Baker Lake. The natural run at that time was estimated to be approximately 20,000 fish, which was way before the dams were built.
Success of sockeye returns is based on improved juvenile fish production. Puget Sound Energy work crews have a huge fish barge collector anchored above Lower Baker Dam on Lake Shannon. The collector draws migrating juvenile salmon unto a funnel where they're held until being transferred below the two dams and released to begin their outmigration.
Since the 1920s, annual adult sockeye returns averaged 3,500, and then by the early 1980s it dropped off the charts and hit an all-time low of 99 fish in 1985.
Other early-season salmon opportunities
The Tulalip terminal Bubble Fishery is also open through Sept. 2 with fishing allowed each week from 12:01 a.m. Friday through 11:59 p.m. Monday (closed June 15). This fishery also started off well during the early part of last year and is likely the result of an earlier timed return of kings to the area and will be something to keep an eye on right from the get-go.
Another location in the marine area that often gets off to a decent early start is the Edmonds Pier where anglers tossing a variety of jigs or a Styrofoam float with a herring drifting underneath often get the fish to bite.
Last year's early chinook fishery on the Skykomish River from the mouth to the Wallace River produced some fair to good action last year also due in part to an early-timed production at the Wallace Hatchery and this fishery opened this past Saturday (May 25) through July 31. In the past the best time occurred in July but has now switched and the first couple of weeks it is open are best.
The Reiter Ponds area of the Skykomish River also opened Saturday (May 25) for hatchery steelhead fishing and should be a good bet in the weeks to come.
Central Puget Sound (Marine Catch Area 10) opens June 1 through July 24 for a fishery directed at resident coho averaging 2 to 5 pounds. Look for hungry coho in the shipping lanes off Jefferson Head up to Kingston.
In past years south-central Puget Sound (Area 11) would open on June 1 but this year it's closed between June 1-30. Typically, the first couple of weeks in June is pretty solid for a mix of immature feeder chinook, and mature spring and summer kings. Some Point Defiance Park Boathouse anglers have been quietly turning the corner around the Clay Banks and heading few miles into southern Puget Sound (Area 13) and finding some decent early action on chinook since it is open year-round. Look for decent action off Point Fosdick and off Fox Island's east side at Gibson Point, Toy Point and Fox Point.
The halibut fishery has been going strong off the coast when anglers manage to get out.
"We've seen in sampling at Westport a lot of halibut limits on charter and private boats that are all doing pretty darn good," said Wendy Beeghley, a WDFW coastal fish manager. "At La Push it has been pretty much limits, but Neah Bay has been slower. The dressed head off average weight is 16 pounds at Westport so that means they're probably 20 to 22 pounds. They're also a tiny bit bigger up north but not by much."
Fishing is open for halibut in Areas 1, 3 and 4 and 5 to 10 on May 26. In addition to those dates, sport halibut fishing will be open Thursday, June 6 in Marine Area 2. Additional fishing days in Marine Areas 5 through 10 are Thursday, May 30; Saturday, June 1; Thursday, June 13; Saturday, June 15; Thursday, June 27; and, Saturday, June 29.
Other nibbles and bites
Fishing for kokanee – ranging 11 to 13 inches – and chinook – averaging 14 to 20 inches – on Lake Chelan has been outstanding and more are targeting those fish species than the more abundant lake trout. Cutthroat fishing has also been very good of late in the Stehekin area on the northern-most part of the lake casting spoons and spinners. Many of the cutthroat are nice in size averaging 14 to 18 inches.
The smallmouth bass fishing on Lake Sammamish and Lake Washington has started to ramp up with the warmer weather.
The Potholes Reservoir has been outstanding for bass and the walleye action in the Potholes and Soda Lake remains very productive.
There are still millions of trout lurking in many statewide lakes offering decent action. Here's list of west side lakes planted May 16-20 – American, 2,500; Benson, 1,016; Battleground, 1,833; Black (Thurston County), 600; Buck (Kitsap), 300; Carney, 1,314; Carter, 1,012; Cases, 400; Clear (Pierce), 5,725; Deep (King), 1,000; Gissburg, 1,110; Grandy, 1,540; Hicks (Thurston), 3,001; Horseshoe, 631; Jackson (Pierce), 530; Bradley (Pierce), 1,000; Lawrence, 1,892; Mayfield, 5,400; Mission, 911; and Summit, 2,800.
Other lakes worth a try that were recently planted include Green in North Seattle, Desire, Meridian, Cottage, Pine, Wilderness, North, McMurray, Lone, Cranberry, Duck, Flowing, Fenwick, Ki, Mineral, Bosworth, Aberdeen, Cain and McIntosh.
For a comprehensive list of statewide lakes planted with trout, go to https://wdfw.wa.gov/fishing/reports/stocking/trout-plants.
The statewide WDFW Trout Derby is happening now through Oct. 31, and WDFW indicated about last year's success with around two-thirds of the tags turned in statewide. More money has been diverted into this five-month event for 2019 with about $39,000 ($38,000 last year) in donated prizes totaling more than 1,000 prizes from a 130-plus participating businesses. Prize values range from $25 to $1,000. In 2018, 57 percent of the tags turned in came from the Puget Sound region, which is a 14 percent increase from 2017. In the Puget Sound region – King, Snohomish, Skagit, San Juan, Whatcom and Island counties – around 300 of the 1,000 tags will be placed in 22 lakes. Details, go to https://fishhunt.dfw.wa.gov/Home/FishingDerby.
Kids Steelhead Day coming up soon
The Reiter Ponds area of the Skykomish River will be kid central on June 1 for the first of three kid-related steelhead fishing events hosted by the Snohomish Sportsmen's Club and the Sky Valley Anglers.
The event on June 1 as well as July 6 and Aug. 3 are open to all anglers age 14-and-under from 5 a.m. until noon with all the fishing gear – rod and reel – provided. A license isn't required but each participant will need a salmon/steelhead catch card.
WDFW will block off the bank area from the pond outlet downstream 500 feet to the rapids between Reiter and the Cable Hole.
"Some of the Reiter regulars won't be happy with losing some fishing area, but there is ample space to fish on the other side of the river and above and below the kids area," said Chamberlain, who's tackle shop is one of the sponsors along with Gibbs Delta, John's Jigs, Pure Fishing, Element Outdoors, Dead Lead, Conti's Custom Rods and Seaguar. "This is a great way to promote kids to get outdoors and learn and experience what fishing is all about."
Reiter Ponds at 45300 Reiter Road is located off Highway 2 east of Gold Bar. Take Reiter Road for 2.5 miles and turn right onto a road that leads to the parking lot.
There will also be some activities along the shoreline for kids to participate in and WDFW employees will also be on hand. For details, call 206-876-0224 or email Elementmasonry@gmail.com.