Fishing opportunities and more options for razor clams and spot shrimp are now in full spring bloom Leave a reply
May is a wonderful time to head out on the water and wet a line, but first let's dig this news!
It has been a grand coastal razor clam digging season this spring and winter and a few more days were added into the mix on May 18-20 at Mocrocks beaches.
"The weather will determine how good this dig will be," said Dan Ayres, the head WDFW coastal shellfish manager. "We've got some super low tides and the clams are much larger further down on the beach."
The low tides couldn't be any better for the upcoming digs at Mocrocks and this Saturday (May 18) at 6:58 a.m. it is minus-1.4 feet; Sunday (May 19) at 7:41 a.m. it is -1.6; and Monday (May 20) at 8:23 a.m. it is -1.6.
The southern border of Mocrocks is the Copalis River and the northern border of Mocrocks is the southern end of Quinault Indian Reservation, just south of the Moclips River. This includes the following popular areas: Iron Springs, Roosevelt Beach, Seabrook, Pacific Beach and Moclips Beach.
All other beaches are now closed for the season including Copalis, Long Beach, Twin Harbors and Kalaloch.
Ayres recommends those driving to Mocrocks avoid taking Highway 109 as traffic will likely be very crowded. Head north on Lincoln Street in Hoquiam and take Highway 101 north bound. Then turn left onto Ocean Beach Road to Pacific Beach.
"A lot of locals know this route and it is a windy road but will save you time," Ayres said.
A quick look back of the most recent digs on April 20-22 revealed some spectacular results with a 14.5 clam per person average (the first 15 clams dug is a daily limit) for 70,290 diggers trips with 1,022,155 clams
"It was crazy weekend and we saw the largest one-day harvest that I could find on record with 38,306 razor clam diggers on April 20 with 548,712 clams and that didn't include Mocrocks one of our biggest beaches," Ayres said.
Long Beach during the razor clam festival on April 20 alone had an amazing 19,507 diggers and that was a record looking back on data as far as Ayres could find, which generated around $3.7 million in revenue to the small southern coastal community.
A break down by beaches: Long Beach (April 20-21),38,775 diggers with 500,423 clams for 14.8 per person average; Twin Harbors (April 20-22), 17,170 with 244,539 for 14.2; Copalis (April 20), 11,266 with 156,015 for 13.8; and Mocrocks (April 21-22), 8,079 with 121,179 for 15.0.
The coast wide season total of 55 digging days between Oct. 11 and April 22 showed 260,196 diggers harvested 3,368,217 razor clams.
Even though the dust hasn't settled on the 2018-19 coastal razor clam digging season, WDFW has already started their population assessments at Long Beach.
"We started our assessments last week at Long Beach, and it is looking very good," Ayres said. "We are seeing a lot of little clams and this is great for the future. We will also start work on other beaches as we head into summer. Hopefully this is a good sign for (2019-2020) season."
Another shellfish garnering plenty of attention this past Saturday along with great success when the season opened was spot shrimp.
Thousands of anglers turned out and found easy limits of these prawn sized shrimp from central Puget Sound clear up into the eastern Strait of Juan de Fuca, San Juan Islands and Hood Canal.
Spot shrimp are the largest – averaging 8 to 12 inches long – of more than 80 shrimp species in local marine waterways.
The western Strait (Area 5) is open daily; and eastern Strait (6) is open Thursdays to Sundays of each week. Each area will close once the catch quota is achieved. The Discovery Bay Shrimp District (within 6) will reopen May 15 and 29 and June 1 from 7 a.m.-3 p.m. each day.
The San Juan Islands in Area 7 South reopens May 16-19 and May 23-24; Area 7 East reopens May 16-19, May 23-26 and May 30-June 2; and Area 7 West is open Thursdays to Sundays of each week and closes once the catch quota is achieved.
The east side of Whidbey Island (8-1 and 8-2) reopens May 15 from 7 a.m.-1 p.m. each day. Northern Puget Sound (9) reopens May 15 from 7 a.m.-11 a.m. Hood Canal (12) reopens May 15 and 29 and June 1 from 9 a.m.-1 p.m. each day.
Elliott Bay, central Puget Sound (10); south-central Puget Sound (11); and southern Puget Sound (13) are closed.
In all Puget Sound areas, the daily limit is 80 spot shrimp per person.
"We decided to remove the bonus limits (120 daily in past years) in Areas 6 and 7 West in order to extend the spot shrimp seasons," said Don Velasquez, the WDFW Puget Sound shellfish manager. "Last year we hit the target (recreational) share on July 6 and the feedback we got from our constituents was they'd like to float the season into August this summer."
Additional dates and times for spot shrimp will be announced if quotas aren't achieved.
Last year, the total sport harvest of spot shrimp was 194,863 pounds and the non-tribal commercial take was 97,578 pounds for a total of 292,441 pounds. Sport and non-tribal commercial fishermen split a 300,000-pound spot shrimp yearly catch quota with 70 percent going to the sport fishery. The tribal fishery has a 300,000-pound catch quota.
Summer Dungeness crab fishing seasons are also on the mind of many anglers and WDFW announced that crab pots can hit the water in some marine areas starting on July 4. Fishing time will be like 2018 but specific dates and areas open or closed won't be finalized until later this month.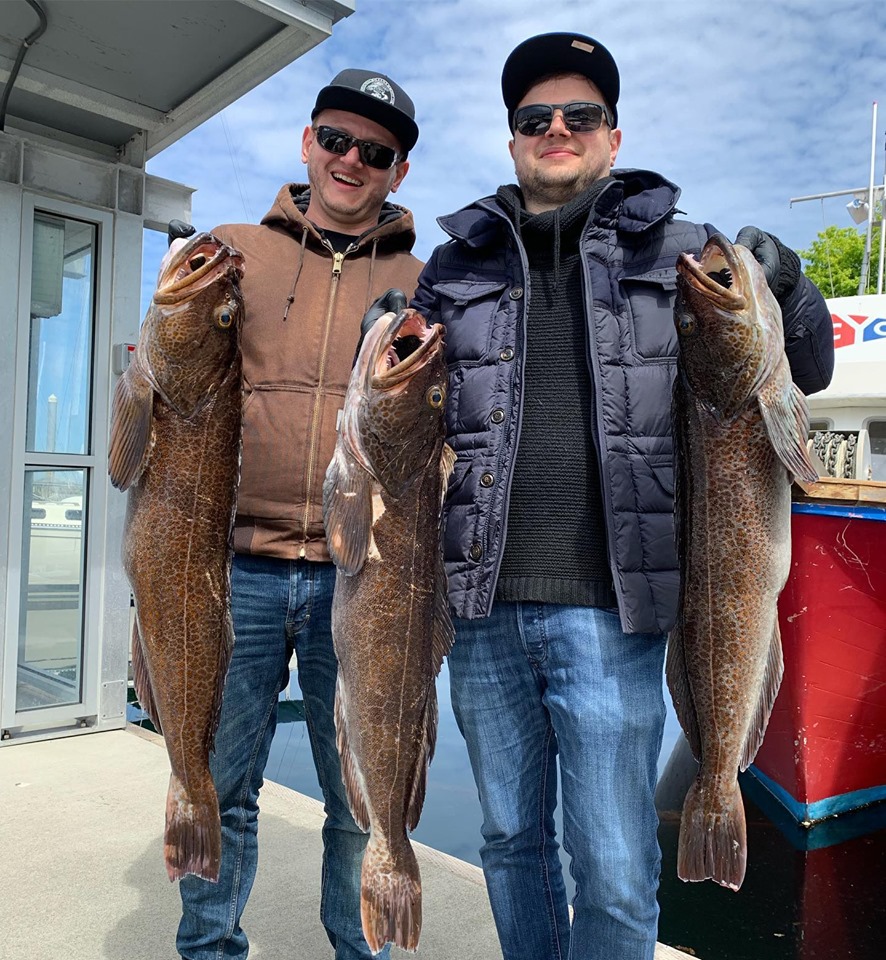 Bottom-fishing for lingcod remains very good in most areas of Puget Sound and Strait; and halibut success started off on a high note off the coast and from the Strait of Juan de Fuca. Catches were marginal in northern and central Puget Sound although a few were caught in the Fort Casey/Admiralty Inlet areas. The coastal lingcod and rockfish fishing seasons remain strong coupled with the nice ocean conditions that have allowed charter boats to out to the fishing grounds.
For those who still want to get their fix on hatchery chinook then head to southern Puget Sound (Area 13) south of the Narrows Bridge where fishing is open year-round, and a new 20-inch minimum size limit has been instituted. This fishery will only get better as we head into next month.
Also remember it's time to start making salmon fishing plans as Neah Bay, La Push, Westport and Ilwaco open on June 22. Those who don't want to venture that far can also target resident coho when central Puget Sound opens June 1 and the Tulalip Bubble Fishery also opens then for hatchery chinook.
Trout fishing also remains string in many statewide lakes, and some of the top producing lakes include Langlois, Cottage, Margaret, Bosworth, Wilderness, Mineral, Howard, Ki, Storm, Wagner, Rattlesnake, Spanaway, Meridian, Desire, Aberdeen, Panther, Duck, Haven, Cain, Toad and Wooten. Kokanee chasers should give Stevens and Chelan a try.
In eastern Washington, head to Ellen, Diamond, Conconully Lake and Reservoir, Starvation, Mudgett, Rocky, Badger, West Medical, Williams, Fishtrap, Warden, Blue, Park, Deep, Wapato, Jameson and Pearrygin.