Coho fishing takes center stage, but don't overlook excellent shellfish gathering 1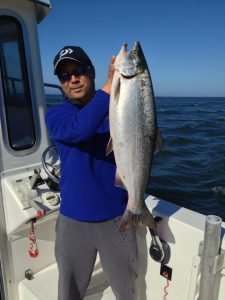 Just like clockwork the coho have started to arrive in very good numbers from the Strait of Juan de Fuca clear into Puget Sound right in front of the Seattle skyline, but hitting up a beach for shellfish gathering is right up there on the "must do" list as we head into autumn.
WDFW announced the clam and oyster seasons for North Bay in Case Inlet is open now through Sept. 30. This is an awesome beach for gathering Manila clams and has a small oyster bed and diggers need to be aware that you can access this area during daylight hours only.
One of the prime locations for oyster gathering is Twanoh State Park south of Belfair along State Route 106 with the beds located very close to the parking lot. A top oyster spot is located on the west end near the boat ramp in the park's day-use area. Clams and mussel gathering is also open now through Sept. 30 only.
In Hood Canal, Twanoh State Park is a good beach for Manila clams, native littleneck clams, small butter clams and cockles. Look for clams along a narrow band below the oyster beds, which extends from southwest of the boat ramp east to the point (just west of the swimming area).
Eagle Creek Beach located in Mason County north of Lilliwaup is open year-round for oyster gathering and has easy access to the beach with a 15-foot wide trail across from the Eagle Creek Tavern. Diggers need to remember to stay south of the creek channel, which is private property.
The Triton Cove Tidelands on western shore of Hood Canal – five miles north of Eldon – has a trove of oyster beds that are open year-round. It is undeveloped and closest restroom is a quarter-mile north at the state park.
Triton Cove used to be an oyster farm, and the dirt parking area can hold plenty of vehicles. A plus here is those with limited mobility have good access to the beach.
West Dewatto is an excellent oyster beach on the eastern shore of Hood Canal, and is a secluded spit that juts out on Northeast Dewatto Beach Drive. It is also open for clam harvest through Sept. 30 and native littleneck clams and Manila clams can be found in patches throughout the mid-high tidal zone but their abundance on West Dewatto can vary from year to year and conservation closures may be necessary so check if it is open or closed before heading out.
Parking at West Dewatto is very limited on the shoulder of the dead-end road that leads to this very rural-like beach in Mason County.
According to WDFW the word "Dewatto" comes from the Indian place name du-a-to meaning "home of evils spirits who make men crazy." In legend, spirits emerged from the bowels of the earth in Dewatto Bay area and attempted to enter the bodies of warriors.
There are many other year-round shellfish options including Belfair State Park; Dosewallips State Park (excellent for Manila littleneck clams in the mid-tidal zone); and Point Whitney Lagoon (open year-round for oysters but closed currently for clams).
Birch Bay State Park north of Bellingham near the Canadian border is open year-round for clams and oysters. This beach has been enhanced with oysters although not too abundant. Look for a clam band along a wide stretch of sand and gravel extending from the drift line down to low water. There is good digging for native littleneck clams and Manila clams in the sandy gravel of the upper intertidal and you will find butter clams, cockles and horse clams on lower tides.
Birch Bay County Park is also open year-round for clams and oysters but go at your own risk since not much is known on their current abundance.
Drayton West near Blaine and adjacent to the Semiahmoo Golf & Country Club is open year-round for clams and oysters. It is a good beach for Manila clams, native littleneck clams and butter clams and most of the harvest occurs near the north end of Drayton West. The adjacent beach to the north is Semiahoo Marina and it is closed year-round due to pollution.
The Port Gamble Heritage Park Tidelands is open year-round for clams, oysters and mussels, and parallels Port Gamble Bay, and is south of State Route 104 on northwest side of Kitsap Peninsula on Hood Canal.
Port Gamble is a gorgeous beach and has a good access point with developed trails to the well populated clam beach. Surprisingly the best spots for clams are located higher up on the beachline. Watch out for broken glass while digging on the northern end – gloves are highly recommended – and the amount of historical glass may be of interest to beach combers. The southern portion is the place to go for oyster gathering.
A note of caution is to avoid parking your vehicle on the shoulder of narrow two lanes of SR 104 between the access points, which is heavily used by ferry travelers headed to and from Kingston. The north and middle access is very limited, and southern access has room for several vehicles.
Before you shuck or pluck shellfish
–There is a good low tide series coming up this week during the morning hours! Low tides: Monday (Sept. 3), 0.6 feet at 5:15 a.m.; Tuesday (Sept. 4), 0.1 at 6:18 a.m.; Wednesday (Sept. 5), -0.4 at 7:23 a.m.; Thursday (Sept. 6), -0.9 at 8:25 a.m.; Friday (Sept. 7), -1.3 at 9:21 a.m.; Saturday (Sept. 8), -1.4 at 10:13 a.m.; Sunday (Sept. 9), -1.1 at 11:01 a.m.; and Monday (Sept. 10), -0.6 at 11:47 a.m.
–Note: All eastern mainland beaches from Everett south into southern Puget Sound are also closed for shellfish due to unsafe pollution levels.
–Good rules to know are be aware of shellfish daily limits, fill-in all holes and shuck all oysters and leave the shells on the beach where you found them.
–A good table to review is the WDFW public beach listing at http://wdfw.wa.gov/fishing/shellfish/beaches/WDFWBeachSeasonsBarChart.pdf. WDFW also has a great interactive shellfish map at http://wdfw.wa.gov/fish/shelfish/beachreg.
–Prior to heading to a beach for any emergency closures, call the marine biotoxin hotline at 800-562-5632 or visit the website at www.doh.wa.gov. Also check the state fisheries hotline at 866-880-5431 and Web site at http://wdfw.wa.gov.
–For day-by-day tides, go to http://www.saltwatertides.com/dynamic.dir/washingtonsites.html
–Be sure to have a valid state-issued shellfish/seaweed harvesting license ($17.40 annually for Washington residents ages 16-69). A Discover Pass ($11.50 single-day, $35 annually) is required for parking in Washington State Parks and at undeveloped state park lands. Go to www.discoverpass.wa.gov.
Coho action gaining steam
Those who've been hitting the open marine waterways are finding some great coho fishing.
"Not sure if it was a fluke, but we got them out in the shipping lanes between Alki Point and Restoration (Point)," said Justin Wong, owner of Cut Plug Charters in Seattle, who has also been hooking decent numbers of coho in northern areas of central Puget Sound (Area 10) as well.
The Puget Sound coho forecast is near the 10-year average and is providing a glimmer of hope after anglers suffered through the downfall of returns in 2015 and 2016 when fisheries were all but shut-down. The last time anglers have seen a decent coho fishery was 2014.
Coho salmon – known as silvers for their brightly colored silver bodies – ran into poor water conditions from the "blob" in the Pacific Ocean, and wreaked havoc fish survival. To make matters worse drought-like conditions and deadly warm water temperatures in river spawning grounds were a detriment to spawning adult coho and out-migrating juvenile fish.
The WDFW is predictin a coho return of 557,149 (249,174 wild and 307,975 hatchery) for 2018 in Puget Sound although in recent years they've underestimated the run-sizes.
Fishing reports in recent days have indicated a flood of bigger migratory coho started to appear at places like Sekiu in the Strait and Puget Sound. A good indicator of this was the healthy numbers of resident coho that provided good fishing in June around places like Jefferson Head.
"The coho numbers have started creeping up and it looks like we'll have some decent fishing through the month," said Mike Chamberlain, longtime owner of Ted's Sports Center in Lynnwood. "Everyone seems fairly happy with fish showing up around the Edmonds oil dock to Boeing Creek (south of Richmond Beach), Jefferson Head and at Shipwreck to Mukilteo."
Recent WDFW fish checks from Aug. 29 showed 28 boats with 61 anglers out of Van Riper's Resort in Sekiu taking home 93 coho; and 39 with 71 at Shilshole Bay ramp caught 39 coho. Scoring better than a fish per rod equals decent action, which has been a common theme in recent days at local ramps and marinas!
Hatchery coho fishing is open now through Sept. 30 in the Strait of Juan de Fuca from Sekiu to Port Angeles (Areas 5 and 6).
The San Juan Islands (Area 7) are open for coho through Sept. 30 and while it is not a hot-bed for coho look for brawny silvers along the outer island chain.
The east side of Whidbey Island in Area 8-1 is open through Sept. 30 for all coho, and Area 8-2 (Ports Susan and Gardner) is open through Sept. 23.
Options for shore-bound anglers are the Possession Point Bait House; west side of Whidbey Island at Bush and Lagoon points and Fort Casey; Point No Point; Marrowstone Island; Point Wilson near Port Townsend; Golden Gardens off Shilshole Bay; Lincoln Park in West Seattle; and piers and shorelines from Lynnwood to Seattle and as far south as Tacoma.
Especially look for plenty of glory moments to happen in northern (Area 9) and central (Area 10) Puget Sound. Hatchery-marked coho fishing will be open in Area 9 through Sept. 30, and in Area 10 anglers can keep all coho – hatchery and wild – from through Nov. 15.
The PSA Edmonds Coho Derby is this coming Saturday (Sept. 8), and the biggest derby on West Coast – the Everett Coho Derby is happening on Sept. 22-23. For details, go to www.NorthwestSalmonDerbySeries.com.
South-central (Area 11) and southern (Area 13) Puget Sound and Hood Canal (Area 12) are open for coho through Sept. 30.
Doing the jig for Puget Sound squid
It's a happy dance that occurs nightly around Puget Sound piers as anglers are beginning to find fair numbers of squid arriving by the millions to spawn in local waterways.
Puget Sound has been very consistent from late-summer through winter for squid averaging 5 to 12 inches as they feed heavily on small baitfish and crustaceans.
Top jigging locations are along the Seattle waterfront at Piers 57, 62, 63, 70 or the Seattle Aquarium Pier. Pier 86 at the grain terminals off Elliott Avenue remains closed due safety concerns.
Other good spots are Seacrest Boathouse in West Seattle; Edmonds Pier; Des Moines Pier; Redondo Pier; Shilshole A-Dock; Point Defiance Park Pier; Les Davis Pier; Illahee State Park Pier; and Waterman Pier.
All you need to catch them is lightweight trout rod and spinning reel combo spooled with 5- to 6-pound test fishing line. A weighted luminous or brightly colored light-up plastic jig works best with some using multiple jigs attached to their main-line. Remember WDFW rules say no more than four lures may be used at one time.
Schools of squid can be found anywhere from just below the water's surface to about 20 to 25 feet down. From a timing stand-point target them during or right at flood tide.
The daily limit is 10 pounds or 5 quarts, plus up to five Humboldt squid; each angler must keep their catch in separate containers; no more than four lures may be used at one time; a forage fish dip-net or hand dip net may be used; and there is no minimum size limit for squid.
A state shellfish license is required for ages 15 to 69, and 70 and older will need a senior shellfish license. For useful information on squid, go to http://wdfw.wa.gov/fishing/shellfish/squid/.