Would you rather make one eye-popping shot or never miss? Can you do either?
In the autumn of 1908 in what is now lower Tanzania, elephant hunter James Sutherlin fired the right-hand barrel of his .577 into the chest of a bull. Heart intact, the elephant charged. The second shot also missed its mark. The animal grabbed Sutherlin and flung him, then snatched him up again and hurled him against a tree. Badly injured, he fumbled his .318 onto the shoulder of his tracker, who, astonishingly, had not run for his life! Unable to steady the rifle, Sutherlin missed. The elephant came to finish the men. Telling the African to hold the rifle barrel, Sutherlin coolly cycled the bolt and at 14 yards killed the bull.
It was an important shot after mediocre shooting. Ivory hunters who lived to pen memoirs made enough good shots without muffing the most crucial.
Jim Corbett, who early in the last century hunted man-eating tigers in India's Kumaon district, had very close shots: "…Within three yards of the bracken I saw a movement …. my first bullet raked her from end to end, and the second bullet broke her neck." The Talla Des tigress had killed dozens of people.
On the trail of the Chowgarh man-eaters, he came upon them undetected. In thick forest he crept to within 20 steps and, peeking over a tall rock, judged the light-colored animal to be the eldest. He fired; she fell. To his chagrin, Corbett had killed the youngster. An easy shot. A mistake.
By April, 1930, the surviving tigress had killed at least 64 people, and Corbett was again closing in. Beside the jungle trail he noted a pair of rare bird's eggs. He picked them up. A few steps farther on, he rounded a bend and looked "straight into the tigress's face" three steps away. The eggs in his palm, he wrote, checked his reflexive urge to cheek the rifle – action that would have cost him his life. With one hand Corbett inched the .275 across his chest. An eternity later, his bullet shattered the man-eater's spine.
Distance isn't the only variable that can make a shot difficult.
On a beat (drive) for the Champawat tigress, Corbett loaded two of his three cartridges in a .500 double. When the tigress streaked through an opening, his shot missed. She broke cover again at 30 steps. Absorbing marginal strikes from the remaining rounds, she then vanished into cover. Corbett ran toward the beaters, grabbed from one a derelict shotgun and dashed after the tigress. He found her just as he saw, to his horror, a gap between the gun's barrels and breech! He fired anyway. And missed! By great good fortune, her previous wounds claimed the tigress at that moment. She had killed more than 400 people.
Perfect shooting is rare. Adequate shooting can be cause for thanks.
These days, marksmen and hunters are hailed for hitting at great distance. Having fought the wind and mirage and my pulse to smack targets a mile off, I admire the long-range wunderkinds who ring steel or punch bullsyes far away – if they're consistent. Accuracy is a measure of repetition.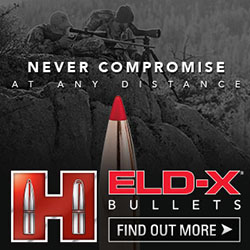 On 26 June, 1874, buffalo hunter Billy Dixon was one of 28 men asleep in the Texas panhandle town of Adobe Walls. At dawn 700 Comanches led by chief Quanah Parker came to kill. The defenders repulsed the charge with withering rifle fire. But two days later hostiles still lurked near the settlement. When several appeared on a bluff nearly a mile off. Dixon was urged to take a shot with the 1874 Sharps he'd used during the battle. A skilled marksman, he obliged. But even he must have been astonished when, seconds after the blast, an Indian fell from his horse. Whether or not you believe Billy Dixon dropped a hostile at a measured 1,538 yards with a black-powder Sharps, you're in good company! The tale reminds me of a hunter who fired offhand at a deer vanishing over a distant ridge. "I found him dead – but with no bullet hole! Then I saw a crease between his antlers. My bullet had nicked the skull."
Not every shot that brings desired results is a good shot, or confirms good marksmanship.
In 1861 recruits wanting to join Colonel Hiram Berdan's Sharpshooters had to prove themselves. "No man would be enlisted who could not put 10 bullets in succession within five inches from the center at a distance of six hundred feet from a rest or three hundred off hand." Black powder and iron sights, of course. Few hunters with scoped rifles these days would meet that offhand requirement!
In succeeding decades exhibition shooters also had to perform consistently. Phoebe Ann Moses was a gifted talent who, at the age of 15, married Frank Butler, a marksman she'd beaten in a local Ohio rifle match. She joined his traveling show, then, as Annie Oakley, Buffalo Bill's Wild West Show. On stage she shot coins from Frank's fingers and a cigarette from the lips of Germany's Crown Prince. She used a .22 rifle in 1884 to break 4,772 glass balls of 5,000 tossed! In her sixties, badly crippled by an auto accident, she could still hit 25 tossed pennies without a miss.
Texan Ad Topperwein tapped his gifts as an artist to drill "Indian head" profiles in tin with a .22 at the headlong rate of a shot a second. In 1894 he hit 976 of 1,000 airborne 2 ¼-inch disks. Ad perforated postage stamps stuck on airborne washers, and could nip the bullet from a tossed cartridge. Shooting for Winchester, he fired a Model 63 autoloader ejection port up, then spun and shot the .22 hull in its arc! In 1907, firing Model 1903s at tossed 2 ¼-inch blocks, he hit all but nine of 72,000! That record lasted until 1959, when Remington's Tom Frye used the new Nylon 66 .22 on 100,010 tossed blocks and missed six!
These feats predated computer wizardry that could make fiction look like fact.
Winchester hired Herb Parsons in 1929. Deadly with a shotgun, Herb could toss a stack of seven clays and with a Model 12 pump shatter all before any hit dirt. He shot tossed marbles with a .22. Talking non-stop, he pulped airborne fruits and vegetables with all manner of rifles, swapping them without pause or help. From the hip he emptied a .351 auto to dust 10 clay disks on edge. "They're not hard to hit, folks, just easy to miss!" The last of the era's great shooters, Herb Parsons died at age 51 from a blood clot.
Men and women who bet their lives and reputations on consistent hits demonstrated shooting all too rare now. Instead of benches and bipods, they relied on bodies disciplined by long training to steady rifles – or deftly bring them alive – for the shot. With iron sights and steel nerves they survived the jungle and wowed audiences. Modern barrels, bullets and optics have extended our reach. But marksmanship, not hardware, has defined the best shots ever.
Wayne Van Zwoll
Award Winning Gun Writer
Outdoor Line Blogger
The Outdoor Line
710 ESPN Seattle