Preliminary halibut dates set for 2018, but catch quota will likely be reduced Leave a reply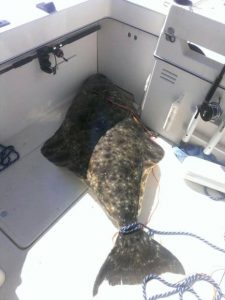 The preliminary halibut fishing dates for 2018 have been set, but catch quotas won't be decided until late next month and it's likely they could be lower than it had been in past seasons.
"The (Pacific Fishery Management Council) adopted the 2018 halibut dates at the (Nov. 28-29) meeting, but still need to be approved by (International Pacific Halibut Commission) in late January and then officially adopted into federal rule sometime after that," said Heather Reed, the state Fish and Wildlife policy coordinator.
The preliminary halibut fishing dates for Neah Bay, La Push, Westport, Puget Sound and Strait of Juan de Fuca (Marine Catch Areas 2, 3, 4, 5, 6, 7, 8, 9 and 10 only) are May 11 and 13, and May 25 and 27. Other potential dates – depending on harvest totals – are June 7, 9, 16, 21, 23, 28 and 30.
The Westport near-shore is open first Saturday after the closure of the primary fishery and open daily until the quota is projected to be taken. State fisheries plans to set aside 10 percent of the to be determined catch quota or 2,000 pounds, whichever is less.
The opening date at Ilwaco is May 3 for the all-depth fishery. Fishing will be open Thursdays, Fridays and Sundays only, and will close Sept. 30 or until the quota is achieved, whichever comes first. The near-shore season will open May 7, and fishing allowed Mondays through Wednesdays only.
In all areas the daily limit is one halibut with no minimum size limit.
While the tentative dates are decided, the discussion at the IPHC November meeting found that halibut populations weren't as strong as they've been in previous years.
"There were some pretty strong declines for halibut populations in (Washington, Oregon and California), and (Canada and southeast Alaska)," Reed said. "This means the quota could potentially be down this coming year."
The entire West Coast catch quota in 2017 for sport, tribal and non-tribal commercial fisheries was 1.33-million pounds compared to 2016's quota of 1.14-million pounds.
Of that the Washington sport catch quota was 237,762 pounds in 2017, and 214,110 pounds in 2016, 2015 and 2014.
A change in how fishing seasons were structured occurred in 2017 to avoid exceeding catch quotas in the Strait of Juan de Fuca and inner-Puget Sound marine waterways.
"The good news was we stayed under our sport allocation, which we haven't done for several years and that was regarded as a success," Reed said. "The 2017 fishing season was good overall."
Reed said the average size of halibut at Neah Bay and La Push was 18 pounds; Ilwaco was 14 pounds; Westport was 16 pounds; and Puget Sound was 24 pounds.
The IPHC will meet the week of January 22 in Portland, Oregon to set catch quotas from California north to Alaska.
The National Marine Fisheries Service will then make its final approval on fishing dates sometime in March or sooner.
Celebrates the New Year with coastal razor clam digs and more on horizon
Coastal razor clam diggers can ring in New Year's Day on some beaches, and more digs have been set in late January to early February.
The next digs are New Year's Eve (Dec. 31) at Long Beach, Twin Harbors, Copalis and Mocrocks (minus-1.2 feet low tide at 5:12 p.m.); and Monday (Jan. 1) at Twin Harbors and Mocrocks (-1.7 at 6:02 p.m.). Digging is allowed during low tides after 12 p.m. only.
Other proposed digs are: Jan. 28, (-0.4 at 4:06 p.m.) at Mocrocks; Jan. 29 (1.0 at 4:59 p.m.) at Copalis; Jan. 30 (-1.5 at 5:47 p.m.) at Twin Harbors and Mocrocks; Jan. 31 (-1.6 at 6:33 p.m.) at Long Beach, Twin Harbors and Copalis; Feb. 1 (-1.5 at 7:17 p.m.) at Long Beach, Twin Harbors and Mocrocks; Feb. 2 (-1.0 at 8 p.m.) at Long Beach, Twin Harbors and Copalis; and Feb. 3 (-0.4 at 8:42 p.m.) at Long Beach, Twin Harbors and Mocrocks.
Marine toxin levels remain low on all coastal beaches, but protocol will have WDFW staff out taking clam samples, and two clean samples are needed before the digs can be approved.
During the previous digs Dec. 1-4, 26,688 diggers dug 242,674 razor clams.
"It was kind of a mixed bag of clam digging, and the weather didn't exactly cooperate for the first couple of days (Dec. 1-2)," said Dan Ayres, the head state Fish and Wildlife coastal shellfish manager.
By Dec. 3, everything turned around and it was fairly easy limits – diggers must keep the first 15 clams dug regardless of size or condition – at three open beaches (Long Beach, Twin Harbors and Copalis) although some still struggled at south-end of Long Beach.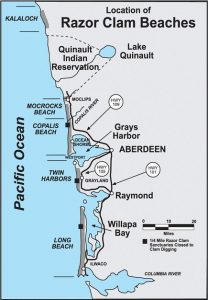 "I was back at Mocrocks (Dec. 4), and it was perfect clam digging conditions," Ayres said. "The surf was down, but it was cold (36 degrees) with a light northeasterly wind that felt like you were in a cold storage room."
"The people who came prepared with lanterns did fine," Ayres said. "Some good diggers managed to get their clams by 5 p.m. before it got dark, but I saw some who struggled especially since they had a tiny headlamp or simply nothing at all."
Diggers were still finding a mixed bag of razor clam sizes, and one of the keys is if you're finding small ones in a certain area of the beach don't be afraid to move to another spot.
A breakdown by beach showed 11,578 diggers at Long Beach Dec. 2-4 had 78,587 clams for 6.8 clam per person average; 6,910 at Twin Harbors Dec. 2-4 had 69,210 for 10.0; 6,583 at Copalis Dec. 1 and Dec. 3 had 79,000 for 12.0; and 5,566 at Mocrocks Dec. 2 and Dec. 4 had 55,518 for 10.0.
The season total for 10 days of digging that began Oct. 6 is 82,774 diggers with 962,647 razor clams. Season average per digger is 10.9 at Long Beach; 11.9 at Twin Harbors; 12.2 at Copalis; and 12.0 at Mocrocks.
"I talked anecdotally with some local community business folks who were thrilled about the turnout, and said customers were coming and spending the night," Ayres said.
Ayres pointed that state fisheries plan to save as many clams as they can for daylight morning low tide digs in the spring.