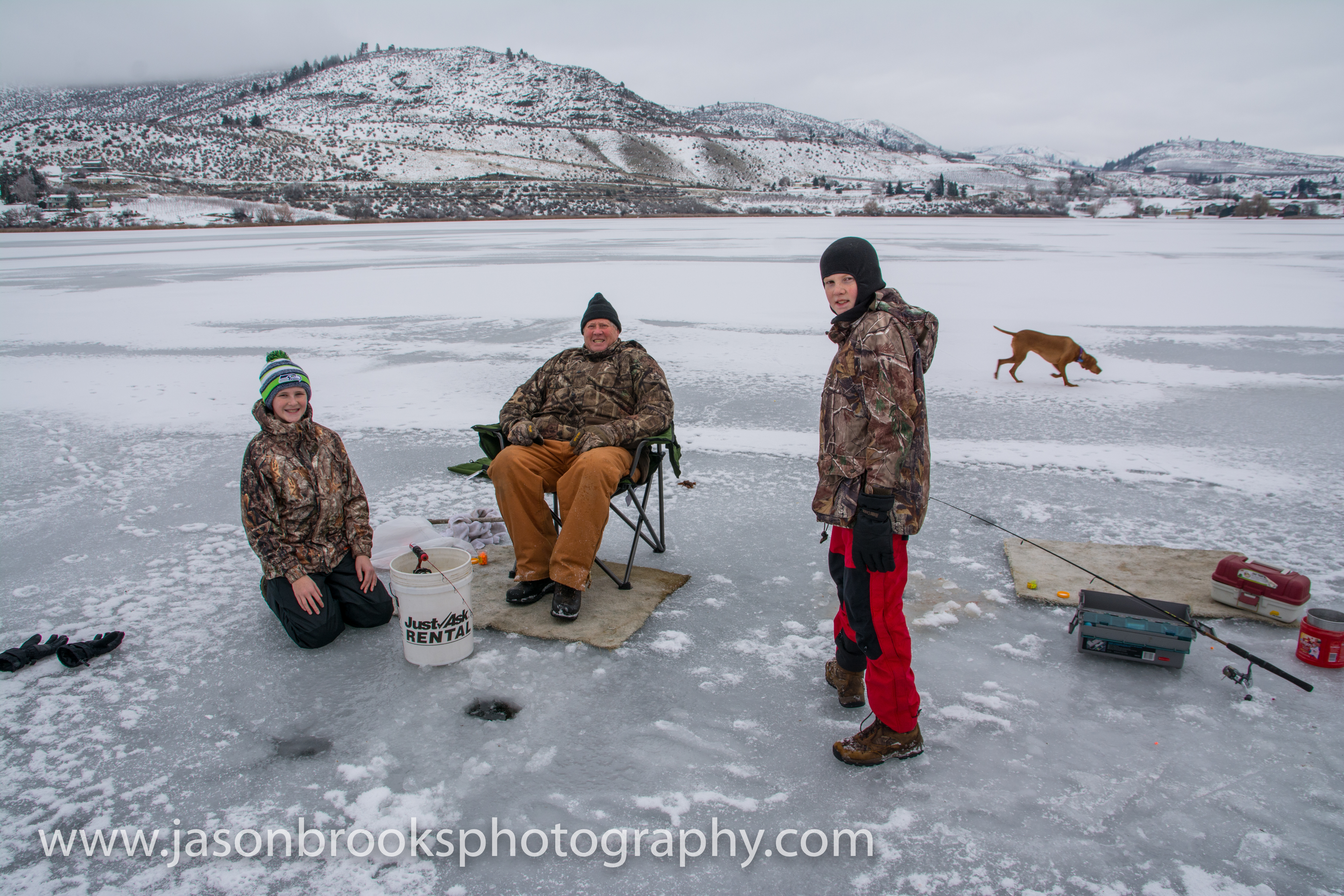 Let's Go Ice Fishing!
by Jason Brooks
The recent cold temperatures have thickened the ice and a winter pastime is creating memories once again. Ice fishing is going strong in Eastern Washington with the trout bite being consistent on Roses Lake near the tiny town of Manson. Those that prefer to catch a mess of perch are doing really well on Moses Lake and don't forget Fish Lake near Leavenworth.
The fishing is fairly simple, just chop or auger a hole in the ice and drop your baits down towards the bottom where the water temperatures are a little warmer. Look for areas where other anglers have found previous success, as shown on the ice with places where fish have flopped around and froze, or by watching anglers on the ice.
Ice fishing is one of those activities that is more of a novelty than a "must catch a limit" fishery. Have fun out on the ice but realize that it is cold, windy, and if you take the kids along they might not want to sit out there for very long. To make it more comfortable I like to take a lawn chair and a piece of carpet. The carpet makes it so you won't be sliding around all the time and it really helps keep your feet warm.
For gear, a standard, light action Daiwa trout rod works well, but so do those tiny "ice fishing" rods you find in the mid-west. They are very sensitive as the bite is light with the cold waters. Spool the small reel with 6 pound Platinum Izorline monofilament. When trout fishing it is best to use a leader with the weight tied at the bottom and the hook tied off of the leader between the weight and the swivel. I prefer to use a 1/4 ounce bell weight and size 10 bait holder hooks. Common baits are powerbait, single salmon eggs, or my favorite-salad shrimp cured overnight in Pro-Cure's "Shrimp and Prawn" cure. For perch, jigging is the way to go, and it also works great for trout fishing too. Use a small jig, like a 1/8 ounce or smaller Mack's Lure Glo-Getter that is UV enhanced. Tip the jig with a piece of worm, shrimp, or maggots. I also use a lot of scent when ice fishing no matter the type of fish as this attracts the lethargic fish and turns on a bite. Try Anise and Garlic scents as they seem to work really well ice fishing.
Jason Brooks – Outdoor Line Blogger