It kind of sounds like an oxymoron when you first read it. Scouting with a 2 year old…really???
She isn't actually two yet, but at 20 months she's close enough. This is our third trip into the woods now and I'll admit the first two were a little rough.
On our first voyage we walked around two miles behind a locked gate with Ava riding in our Bob jogging stroller. I picked some chantrelle mushrooms along the way and I scoped out the edge of a clear cut before we had to go…like right now. If you've got little ones at home you can probably guess what happened. It was bad, really bad. Thankfully I brought a change of clothes for Ava. I wasn't so lucky though and ended up shirtless all the way back to the truck. Wow!
Our second adventure went much more smoothly and we were able to ride in on the mountain bike this time with Ava riding shotgun in the kiddo trailer. It was her first time in the trailer and she enjoyed the ride as long as she had her favorite sippy cup, a snack cup full of Goldfish, and her favorite stuffed monkey.
We rode approximately 3 miles behind a gate to an old clear cut that's grown up a lot the last couple of years. It holds a lot of blacktails, however, so I tossed her up onto my shoulders and we did a rather quick half hour lap around the entire clear cut looking for sign. Nada…nothing…not a damn thing!
She was getting a little fussy so we piled back onto the bike and cruised back to the truck to head home and have some Spaghetti'O's!
Since then she's been climbing in the kiddo bike trailer on a near-daily basis and yelling "Go!" along with some other jibberish that I can't quite make out. She's already turning into a little outdoor girl, so I hope.
With that encouragement from Ava I loaded up the truck this morning with the bike, trailer, kiddo snacks, stuffed animals, and a diaper bag full of necessities and we once again headed for the hills.
Upon arriving at the gate I got Ava all geared up with animal cookies, Goldfish, her sippy cup, and her monkey and off we went on another scouting mission cloaked as a bike ride. She was quite content in the trailer today so I rode as quickly as I could, getting us in about four miles behind the locked gate. It's a fairly easy ride behind this gate and it didn't take us long to cover the distance.
Ava ended up on my shoulders again and off we went for a lap around yet another clear cut in search of the elusive blacktail deer. We didn't walk 25 feet before we ran into our first blacktail rub…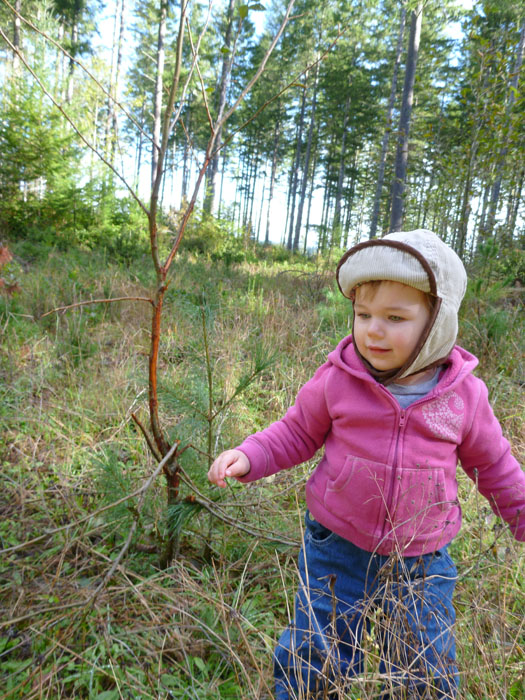 We poked around the area a little bit and found more rubs like this one on the backside of this small alder tree.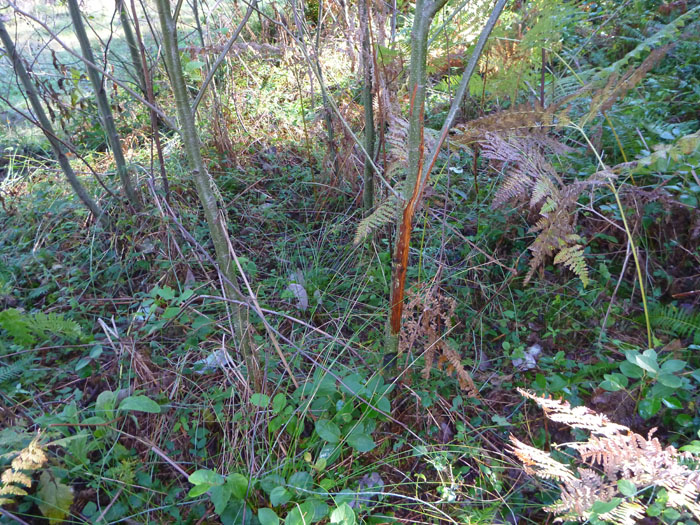 Here's where the buck stopped to tickle this alder with his antlers before heading on down the trail. It's not a huge rub, but it's blacktail sign that you definitely can't ignore.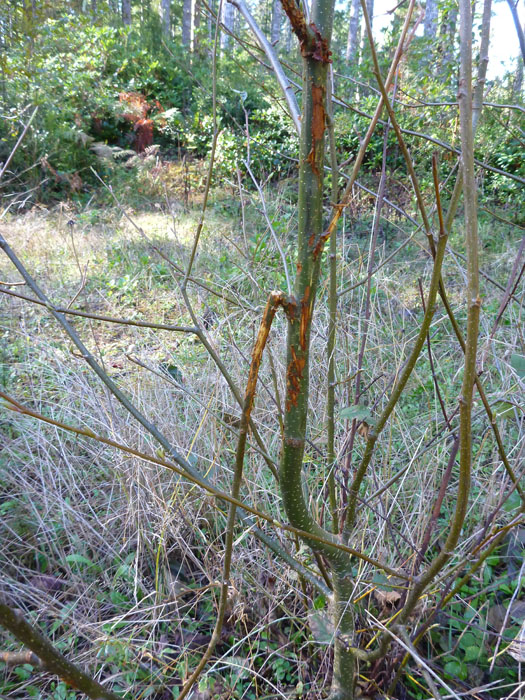 The weather was absolutely perfect today and Ava sang the whole time as we walked around this big clear cut looking for sign. There were doe tracks all over the place and also a few more rubs on small saplings in the clear cut. I think we found what we were looking for!
Towards the end of our walkabout I noticed a subtle disturbance in the pine needles and dirt that turned out to be a really good blacktail buck track. It's kind of hard to tell from the photo, but you can definitely make out the dew claws and the hooves in the pine needles. This is a dandy!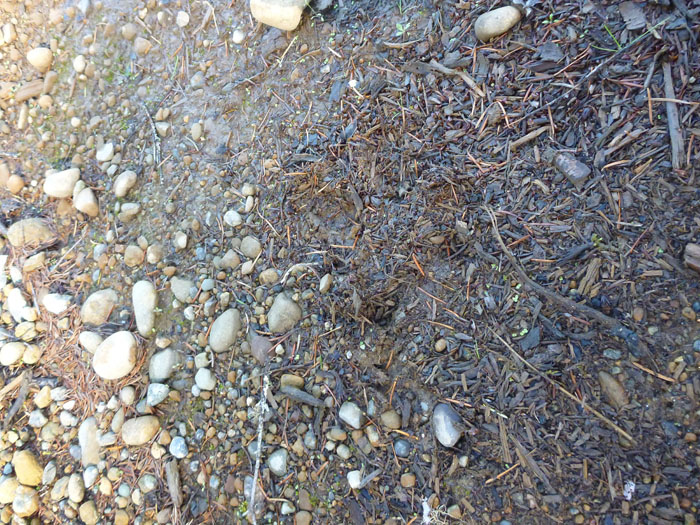 Even though Ava was happy as a lark I figured we had better get going so as not to push it too far with her today.
I'm constantly scanning for sign on these forays into the forest and on the way out I spotted this rub on a small tree. I took the picture from the road to show you how well these rubs can blend in. If you don't know what you're looking for it's easy to walk right on by. It's on the bottom of the largest branch in the photo. After checking it out I used my binoc's to scan the tree line along the edge of the clear cut and sure 'nuf…there were more rubs on quite a few of the alders. When the rut starts this place will be crawling with blacktails.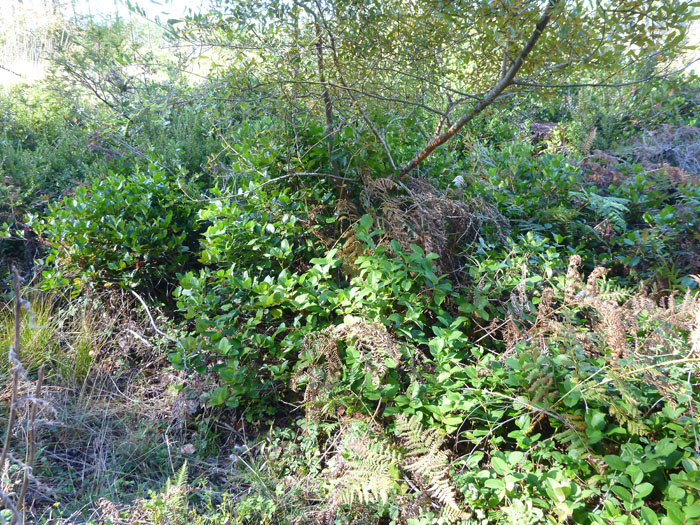 It takes some extra effort and obviously a lot of precautions, but it's definitely possible to get out with your kids and get some exercise all the while scouting for deer. I chose the right weather days and always made the trip mid-morning so that we wouldn't blow any deer out of the area. And of course I didn't expect to stay out all day…just a few hours at best.
I'll do my usual trip to eastern Washington for opening weekend in search of mule deer and won't worry too much about these blacktails until they really start to rut in a couple of weeks. You simply won't see many mature blacktails until then anyway. Towards the end of the regular season, however, I'll be out just about every day in search of these elusive deer. After today's clues they'll be a lot easier to find when that time comes.
If you're still looking for you're first blacktail here's a few tips that might help…6 Tips for Taking a Late Season Blacktail.
With hunting season starting this weekend I won't make any more trips into the woods with Ava this fall. Our adventures thus far have been wonderful though and I'm looking forward to our next one…whatever it may be.
Best of luck to everyone this hunting season. This is by far my favorite time of year!
Rob Endsley
The Outdoor Line
710 ESPN Seattle