I recently received a small cooler with 24 fresh Steelhead skeins in it from a good buddy of mine. "Thank You Andy". The timing is perfect as I was hoping to get some more eggs and get them cured up in one of my favorite and easiest Steelhead cures, that I have been using the past couple seasons.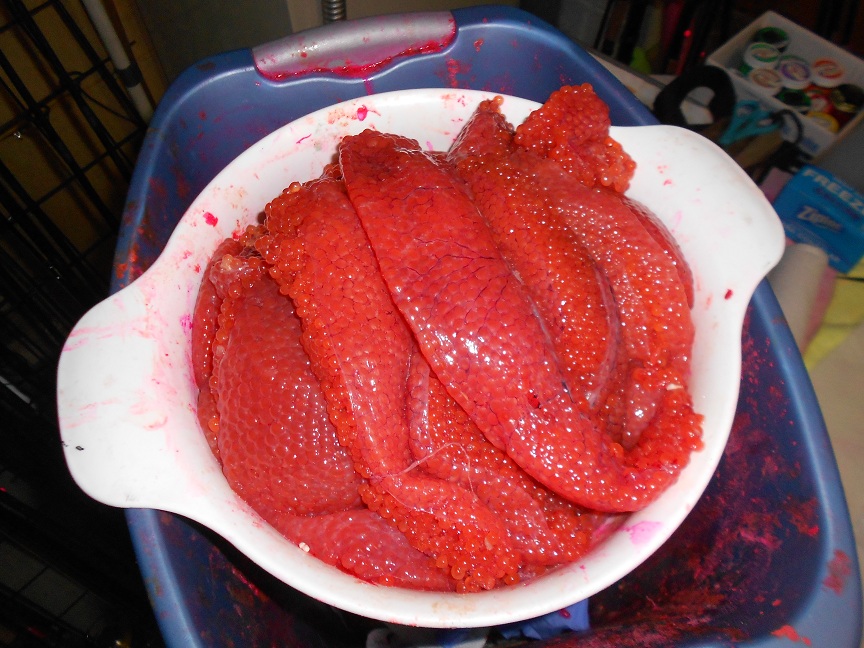 As with any eggs, to create great baits you have to start with great eggs. These eggs are fantastic, however even really good eggs won't fish well, if you leave the blood in them.
Getting the blood out is really pretty simple. I just take the flat long blade of my scissors and lightly drag it against the skein, pushing all the blood from the smaller veins, into the large vein at the lower inside base the skein. Then I make a couple small cuts with my scissors and run them along the vein, pushing all the blood out of the small snip, into a paper towel. The paper towel should actually wick the blood away from the skein.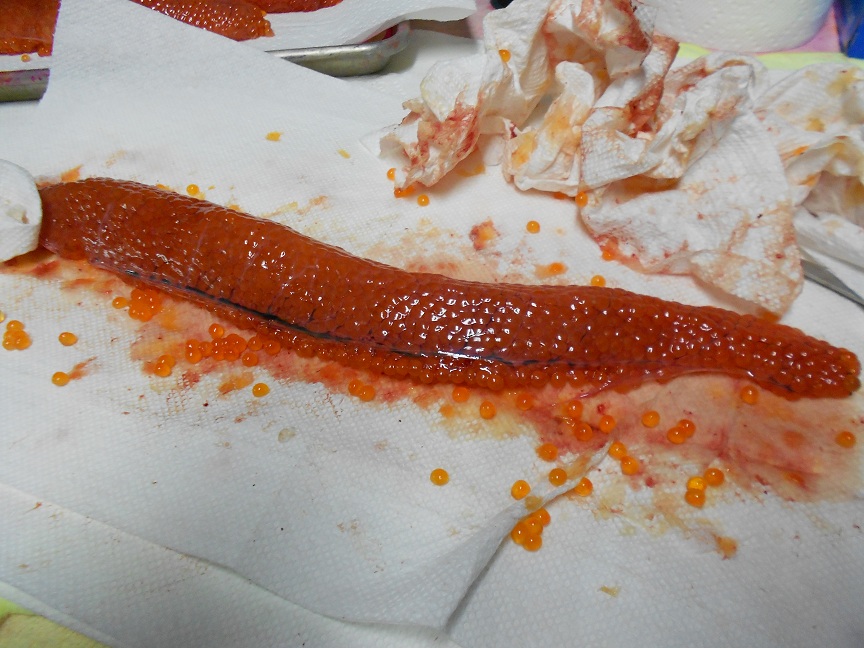 If you take your time, you will not tear the skein and all the blood should be removed.
Once you get all the blood out and the skeins are clean, you are ready to cure.
You have several choices, for me it's a matter of a wet or dry cure. My "Go-To" cure for Steelies anymore is my wet-cure. It's so simple and truly creates a bait that is exactly how I want my Steelhead baits to be; "Nice and Gummy".
In my opinion, you will be hard-pressed to find a better egg cure for creating Steelhead baits, that will out fish BorX O Fire, by Pautzke's bait company. It works great right out of the bottle. Of course with my bait lab, I can never just cure baits as everyone else does. I could, but where is the fun in that?
One thing that I usually do with my BorX O Fire is a little mixing. I also like to add sugar, as Steelhead do crave sweets. The best combination that I have come up with is mixing the dark red with pink. Or, pink with the orange. I will mix two brand new jars together and to that, I will add one full cup of refined white sugar. If I don't mix two bottles together and want to add the sweetness, I'll simply mix a ½ cup of sugar to one full bottle of BorX O Fire.
After my two bottles of BorX O Fire are mixed with one cup of sugar, I am ready to go.
This ratio works great as a sprinkle on dry cure and I will usually pour some into an old sprinkle bottle to ease the application and to not over-apply. Both my combination colors are proven and work very well.
Now here comes the ultimate tweak; "Ya ready"?
2 cups Red Fire Brine, into a gallon Zip-Lock Bag.
½ cup of my pre-mixed double color and sugar BorX O Fire (red/pink)
1 teaspoon krill powder.
Shake the bag with all the contents to mix and then add your egg skeins.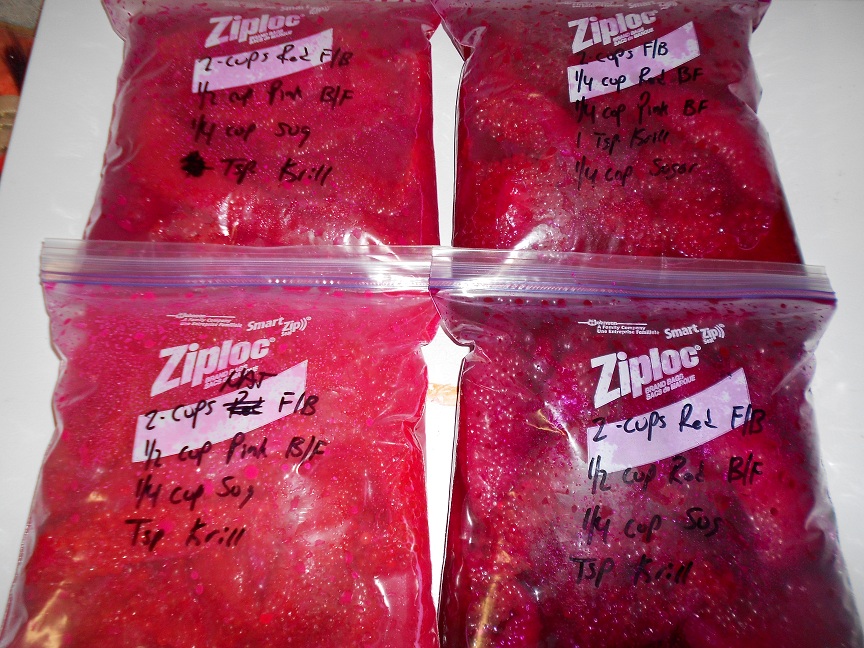 I will usually place at least six skeins in the bag and then seal up. This is about a six hour soak rolling the bag around every fifteen minutes or so, for the first two hours. Then I simply flip the bag over about every hour, until I hit the six hour mark.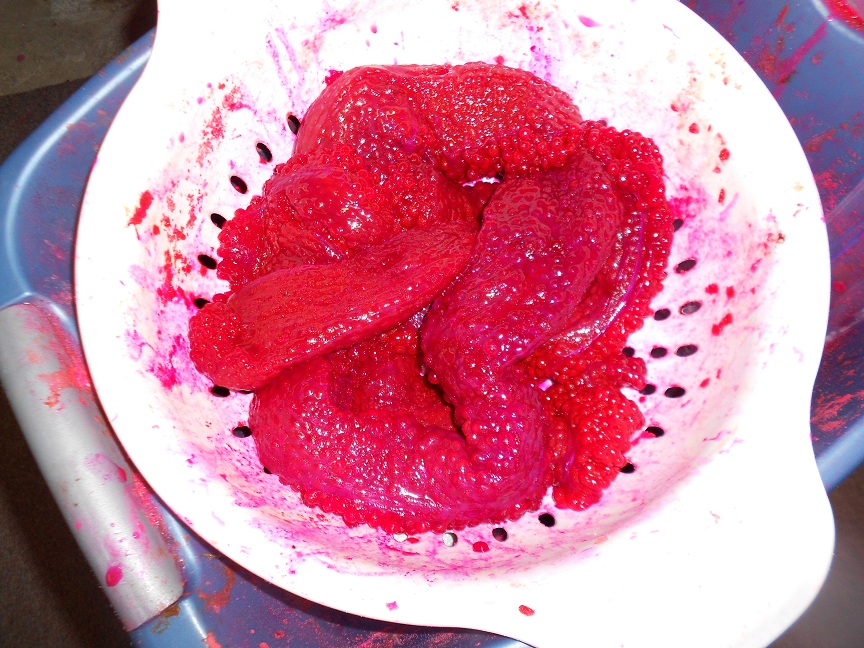 Once they are soaked, they are cured. I have also left the eggs soaking in the wet cure for up to 10 hours and they do just fine. After the eggs are cured, I dump them out into a strainer and leave them there for about ten minutes.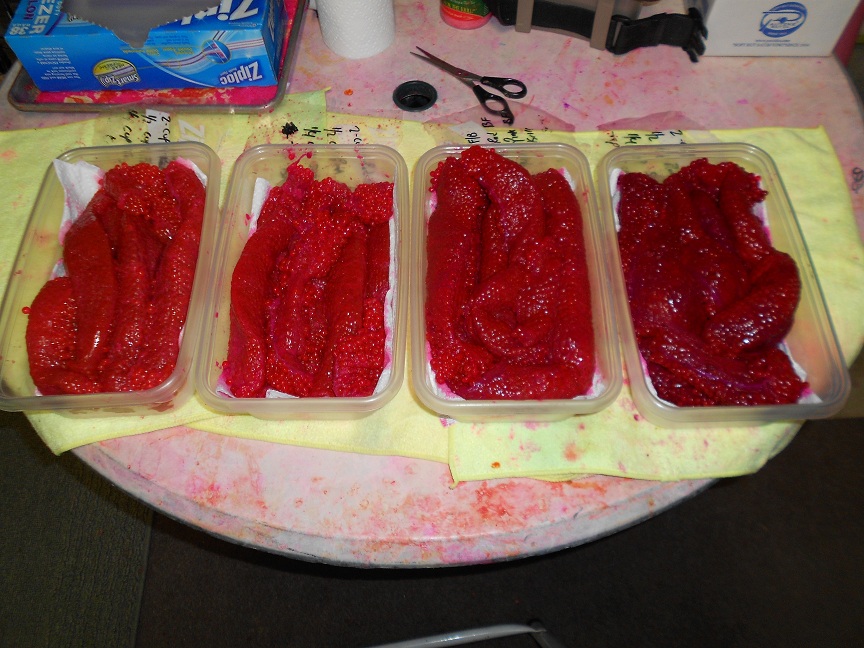 After they have dripped for about 10 minutes, I place the eggs into containers, lined with a couple layers of paper towels. I make sure I place the skeins into the containers, egg side down, skin side up. This is to allow the excess cure to drain-out of the eggs. I then place them in the refrigerator, uncovered, overnight and they are ready to fish by morning.
You'll notice that I have four trays with slightly different colors.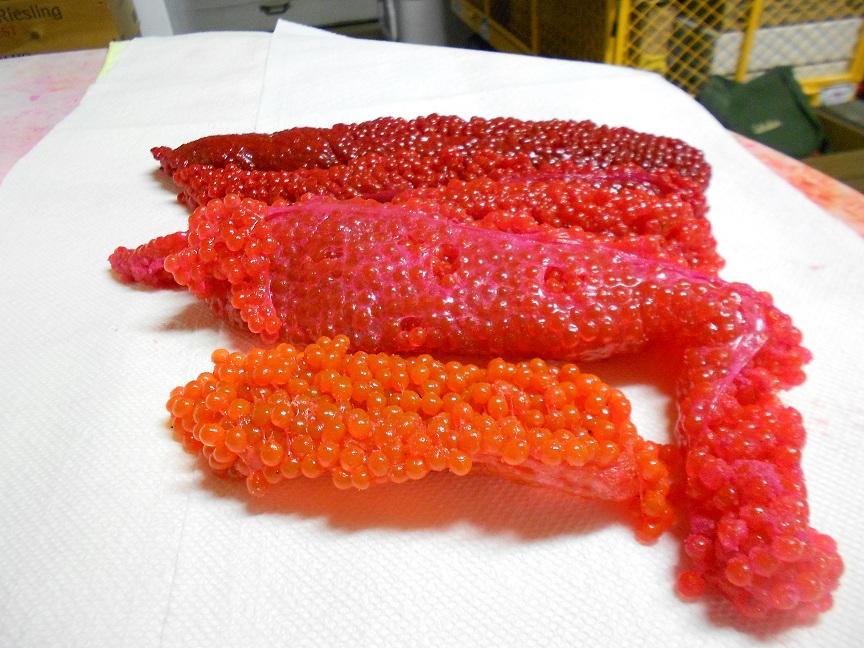 The different colors are created by simply mixing and matching. I can choose to use dark red BorX O Fire, with the sugar added and which goes into red Fire Brine. This will create a very dark red egg. If it is the combo red/pink BorX O Fire into the red Fire Brine, will creat a slightly different red.
The pink/orange BorX O fire into orange Fire Brine, creates a very nice orange egg, however the pink/orange BorX O fire combo into clear Fire Brine,, creates an amaxing peach egg.
It's really up to you to mix and match the colors of BorX O Fire with the Fire Brine.
Give it a try, it's a great and simple wet brine that flat out produces…
Duane Inglin
The Outdoor Line
710 ESPN Seattle
www.theoutdoorline.com