Just as every northwesterner counts down the waning days of winter looking forward to spring, salmon anglers eagerly await the arrival of our earliest running chinook affectionately known as "springers".
Trying to fit the four-hour springer sojurn to the Columbia into a busy schedule is challenging enough. Add to that the inconsistent, early season springer fishing reports and the term "forcing the issue" comes to mind.
After Saturday morning's weekly installment of The Outdoor Line Radio Show and then the annual Master Marine Spring Seminar in Mt Vernon, "The Commish" Larry Carpenter and I hooked up to Big Red and did some I-5 time, launching in the Columbia just before dark.
A Columbia River Sunday morning sunrise greets us. We had great baits -and great attitudes- working early and late…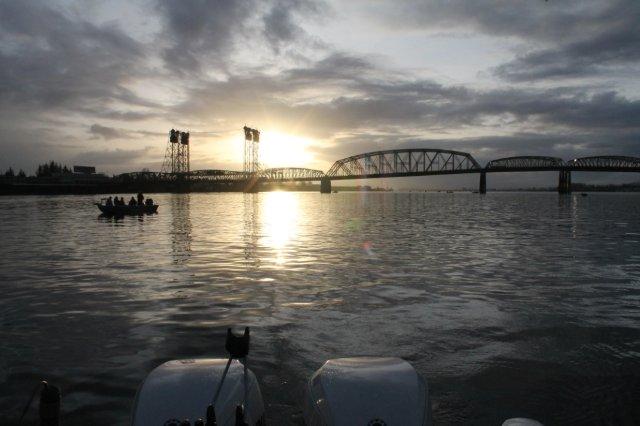 Unfortunately for us, despite great bait and a long effort, we would not get a single bite on Sunday. Mark Coleman of All Rivers Guide Service was the only guide boat we saw land a fish. Here is Mark and his happy clients with a springer right under the I-5 Bridge.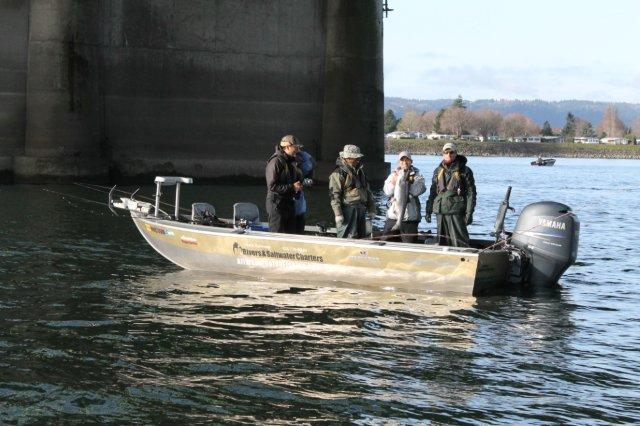 Enter my ol' buddy Eric Linde for a little technique refresher… "springer school" if you will… Eric and his clients had a tough day on Sunday as well and since he didn't have clients on Monday, he agreed to jump onboard Big Red for the Monday morning bite.
And yes,… true to form, on the second drag of the day Eric's rod lit up and no matter how hard he tried to pass off the rod, no one would accept it! We "made" him play the fish!
I'm pretty sure there was no more experienced net man on the entire Columbia River that day than Larry Carpenter. Here he checks traffic ahead while he waits for Eric to get control of a hot springer.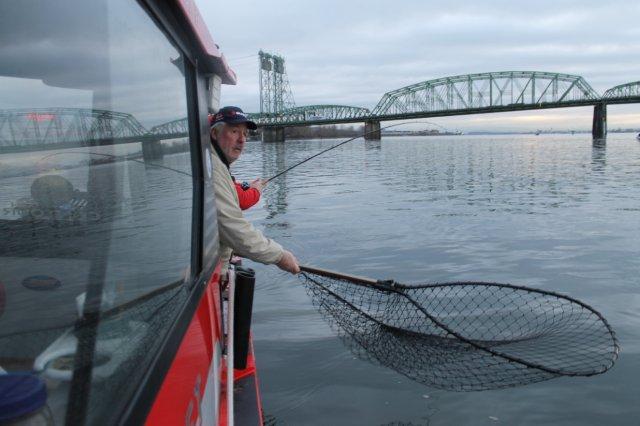 Just one more run alongside the boat….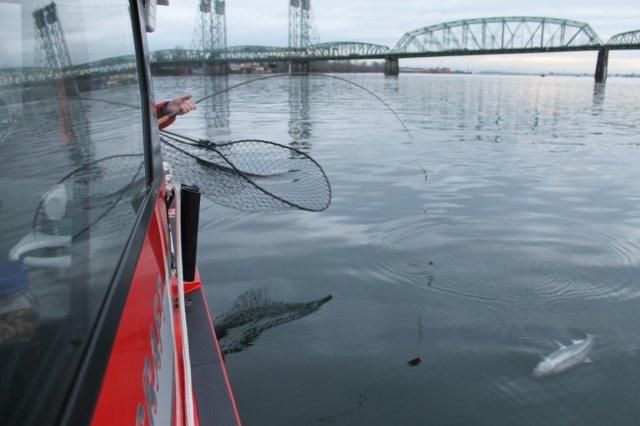 …and our first Columbia River springer of the season is in the bag!
Nothing quite says "chrome" like a St. Patty's Day springer. Eric Linde's smile says it all!
There are springers a lot bigger than this one, but what he lacks in size, he will more than make up in taste on the table tonight!!!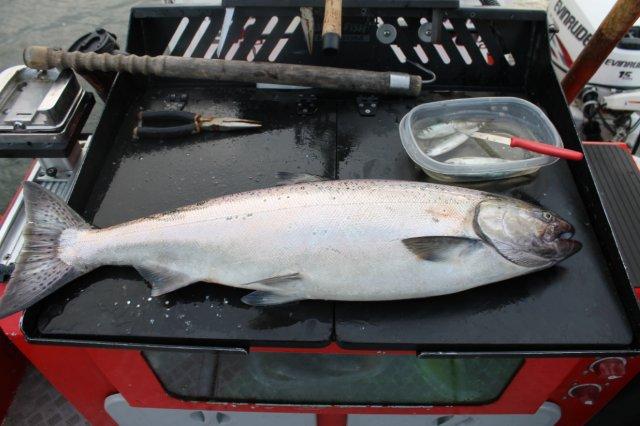 This year's springer season is just getting cranked up. We're guarenteed a season in the main stem of the Columbia through April 5th. After that, we're at the mercy of an in-season update which may result in more days on the Columbia, but probably not until May. The Willamette, Wind and Drano Lake will remain open through April but keep in mind that until we see springer numbers over Bonneville in excess of 2000/day, the Bonne pool "bubble" fisheries will not be worth the drive.
Now, if you'll excuse me… I have to put a springer on the "Bar-bie"
Tom Nelson
710 ESPN Seattle