Coho forecast known as the Oregon Production Index, and other salmon news could be a beacon of light for anglers in 2023 Leave a reply
Contributed by Mark Yuasa, WDFW
The days are finally getting longer, flowers are starting to poke out of the soil (snow in recent days), allergies are looming, and with that comes a time when many anglers begin looking at expectations for Washington salmon returns this spring, summer, and fall.
So far, word has been swirling like a hard rip current through the Pacific Northwest that a decent coho return is expected to arrive off the coast this summer and early fall. To further boost the excitement, early indications are that other 2023 salmon forecasts could mirror what anglers saw in 2022 fisheries with a few added gifts.
A week ago, the Oregon Production Index – which provides ocean coho abundance forecasts – was released and revealed an estimated 1,135,700 coho to arrive off the Washington coast. That is down a bit from a forecast of 1,225,900 and an actual return of 887,500 in 2022.
The Columbia River subtotal forecast is 886,100 coho compared to 997,200 in 2022 and an actual return of 685,200. If the stars align for coho numbers, this should also generate some decent action in the Big-C (namely the Buoy-10 fishery at the mouth of the river) and its tributaries in late summer and fall.
These coho are the bread and butter for coastal fisheries off Neah Bay, La Push, Westport and Ilwaco and in the Columbia River from Buoy 10 upstream.
While the actual coho forecast is down in 2023, state fishery managers have pointed out that an actual return of around 700,000 should create some happy faces on anglers.
Columbia spring Chinook salmon on the minds of many
The coho numbers come on the heels of what is also expected to be a decent abundance of Columbia River spring and summer Chinook salmon. The spring Chinook fishery draws a lot of attention as salmon anglers suffering from a case of the winter blues come out of hibernation.
In fact, this past Saturday (Feb. 11), the first spring Chinook of 2023 was landed in the Multnomah Channel on the Oregon side of the Lower Columbia River (salmon fishing is currently open in the mainstem below the I-5 Bridge).
According to a report by Bill Monroe with the Oregonian, 81-year-old Mike McMahon of Tigard, Oregon, caught a 19-pound hatchery-marked spring Chinook. The story was a wish come true for McMahon who is battling terminal cancer and under hospice care. McMahon is showing no signs of giving up and has more fishing dates booked with local fishing guides.
That first spring Chinook is part of a 2023 forecast where 307,800 fish are expected to enter the Columbia. That compares to 197,000 forecast and actual return of 274,495 in 2022. The lower Columbia River tributary returns of spring Chinook on the Washington and Oregon side also look promising.
Data reports from the Washington Department of Fish and Wildlife (WDFW) fishery managers, indicate the upriver spring Chinook forecast of 198,600 adult fish in 2023, if accurate would be about one third higher than the average return observed over the past ten years (2013–2022). The forecast for adult upper Columbia spring Chinook of 41,400 fish is nearly double the recent 10-year average; the wild forecast is 211% of the 10-year average wild return. The wild component is forecasted to represent 14% of the upper Columbia spring run, which is about the same as the recent 10-year average (13%).
The forecast for Snake River spring/summer Chinook of 85,900 fish is the same as the recent 10-year average return while the wild forecast of 13,200 is only 68% of the recent 10-year average. The wild component is forecasted to represent 15% of the total Snake River run, which is lower than the recent 10-year average (22%).
It means there are 3,253 more springers available overall than last year, including 2,893 more in the Lower Columbia, where there are also enough spring salmon returning to the Cowlitz, Kalama, Lewis, and Sandy Rivers that there shouldn't be any mainstem bubble closures as seen in the past.
The newly released information shows there are 6,487 Upper Columbia-Snake spring Chinook mortalities available below Bonneville Dam; 927 above Bonneville Dam to Washington-Oregon boundary line; and 669 in the Snake River. These are based on the 198,600 upriver spring Chinook forecast, the 30% run-size buffer; and a 1.6% Endangered Species Act ceiling, prior to mid-May joint WDFW and Oregon Fish and Wildlife in-season return update.
Summer also looks bright for Upper Columbia Chinook
The Upper Columbia summer Chinook forecast of 84,800 in 2023 is up from a 2022 forecast of 56,300 and an actual return of 78,444. This run is the main driver for recreational fisheries from the Rocky Reach Dam to Chelan Falls as well as many other open areas further upstream and downstream.
The 2022 upper Columbia summer Chinook return was the seventh largest since 1980, totaling 78,494 adults, compared to the preseason forecast of 56,300 adults. The adult return was comprised of an estimated 53,595 Age-4 fish; 23,632 Age-5 fish; and 1,266 Age-6 fish. The 2022 return was 114% of the recent 10-year average (2012–2021) of 68,932 adults. The 2022 jack return of 10,777 fish at Bonneville Dam was greater than the recent 10-year average (10,327). The 2022 adult return was 116% of the average of returns observed since 2001, and more than four times the average return during the years 1980–2000 (17,425 adults).
The 2023 preseason forecast for Upper Columbia summer Chinook is expected to include 43,400 Age-4 fish; 40,800 Age 5 fish; and 600 Age-6 fish. If accurate, this projection would represent the fourth highest return since 1980 and be 120% of the average return observed over the past decade. Note – This preseason forecast for summer Chinook will be adjusted after the PFMC ocean fishery planning process is complete to account for expected effects of ocean fisheries.
Columbia River sockeye salmon forecasts are a wildcard in 2023
The Columbia sockeye forecast is a modest 234,500 in 2023. In 2022, the forecast was 198,700 and the actual return hit a robust 664,935, which was the largest since Bonneville Dam was erected in 1938.
The huge 2022 return of sockeye to the Columbia River was two times the recent 10-year average return. The 2022 return included at least 147,473 Wenatchee; 513,317 Okanogan; and 2,329 Snake River stock sockeye returning to the Columbia River.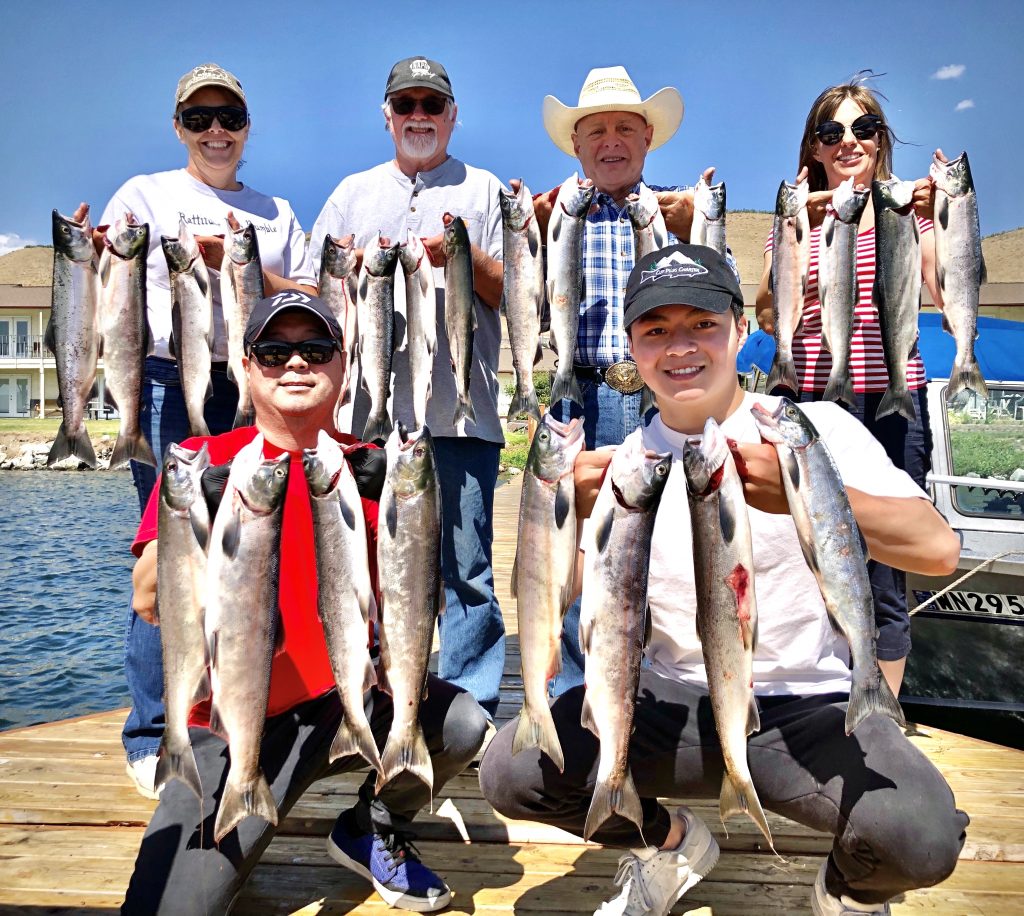 At Prosser Dam on the Yakima River, approximately 100 sockeye were counted. On the Deschutes River, sockeye passage at Round Butte Dam totaled approximately 100 fish. The Wenatchee return was 768% of forecast; the escapement objective of 23,000 fish to the Wenatchee River was met, with 135,837 sockeyes reported at Tumwater Dam. The Okanogan return was 292% of forecast.
The breakdown for 2023 Columbia River sockeye run includes 44,300 Wenatchee stock, 187,400 Okanogan stock, and 2,600 Snake River stock. The forecast is 73% of the 2013–2022 average total return of 323,107 fish.
The 2023 Wenatchee component is forecasted to be 68% of the 10-year average return. The return of Okanogan-origin fish is expected to be approximately 73% of the recent 10-year average. A return of 2,600 fish to the Snake River would be 230% of recent 10-year average return. Nominal returns to the Yakima and Deschutes rivers are also expected.
Puget Sound salmon forecasts to be revealed soon
As we wait the official word on salmon forecasts for inner-marine areas that will be released in a few weeks there is a lot of anticipation and excitement building in the air.
First off, since it's an odd-numbered year, inner-marine areas could see a relatively decent forecast of pink salmon that return every other year to Puget Sound rivers and streams. This is a great introductory salmon fishery for newbies with good access to the fish from the shorelines surrounding Puget Sound, but many other anglers welcome their return too!
While the pink numbers are still being figured out, the 2021 return was well above par. This could be positive news this summer if their survival rate was favorable in-river and during migration in the ocean.
How all these Columbia River and coastal and other salmon forecasts correlate into exact fishing seasons won't be finalized until April 2-7 in Foster City, California, but WDFW will unveil the 2023 salmon forecasts including Puget Sound forecasts at a public in-person and virtual meeting on Friday, March 3, 9 a.m. to 2 p.m., at the Lacey Community Center, 6729 Pacific Avenue S.E., in Lacey.
The Pacific Fishery Management Council (PFMC) will also announce three ocean salmon season and quota options proposed for waters three to 200 miles off the coast during meetings from March 5-10 in Seattle.
All the meetings are part of the month-long season-setting process known as North of Falcon, a term referring to waters north of Oregon's Cape Falcon, which marks the southern border of management of Washington's salmon stocks. This includes Puget Sound, Strait of Juan de Fuca, Columbia River, and coastal Washington salmon stocks.
State fishery managers use a suite of scientific data, including watershed sampling and monitoring, ocean indicators, and previous year returns, to estimate the number of salmon returning and decipher how many fish are available to catch.
For a meeting schedule with opportunities to participate in meetings and provide public feedback, visit WDFW's North of Falcon public meetings web page.
(Mark Yuasa is a Washington Department of Fish and Wildlife Communications Manager. He also has contributed numerous blogs to the KIRO/ESPN The Outdoor Line, and was the outdoor reporter at The Seattle Times for 28 years.)