Buoy 10 at the Lower Columbia River mouth turns into nerve central for late-summer salmon fishing Leave a reply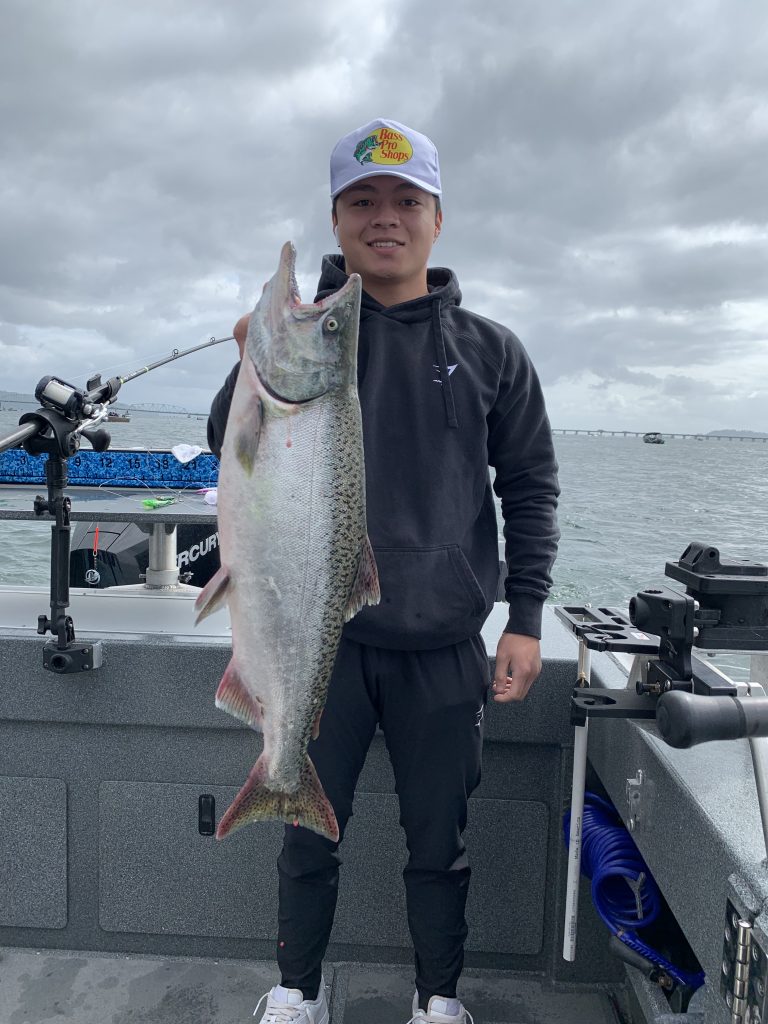 We've turned the corner on summer but that doesn't necessarily mean it's time to give up on salmon fishing.
In fact, the best is yet to come as a huge return of fall chinook and coho are expected to arrive in the Columbia River and taking centerstage is Buoy 10 – a 20-mile fishing area where the river's brackish water meets the briny Pacific Ocean – at the Lower Columbia River mouth.
"The Buoy 10 area ranks high on places to fish each year and given the fact we've got some pretty strong returns should only boost the excitement," said Austin Moser, owner of Austin's Northwest Adventures Guide Service, who makes Astoria his home-away-from-home in Astoria during late summer.
Buoy 10 is the red navigational marker located just outside of the Port of Ilwaco and is the western boundary that heads upriver to the Tongue Point-Rocky Point boundary line located above the Astoria-Megler Bridge.
The 2022 Columbia fall chinook and coho runs are a huge improvement over the past few years, and they're the key drivers to what should be a rather decent late summer season in the Columbia River. better news is several returns so far this summer have waxed expectations and it could mean the fall salmon returns will hopefully follow the trend.
An estimated fall chinook forecast of 485,500 fall chinook are expected to return off the Columbia mouth in 2022 compared to a forecast of 576,200 and an actual return of 481,282 in 2021.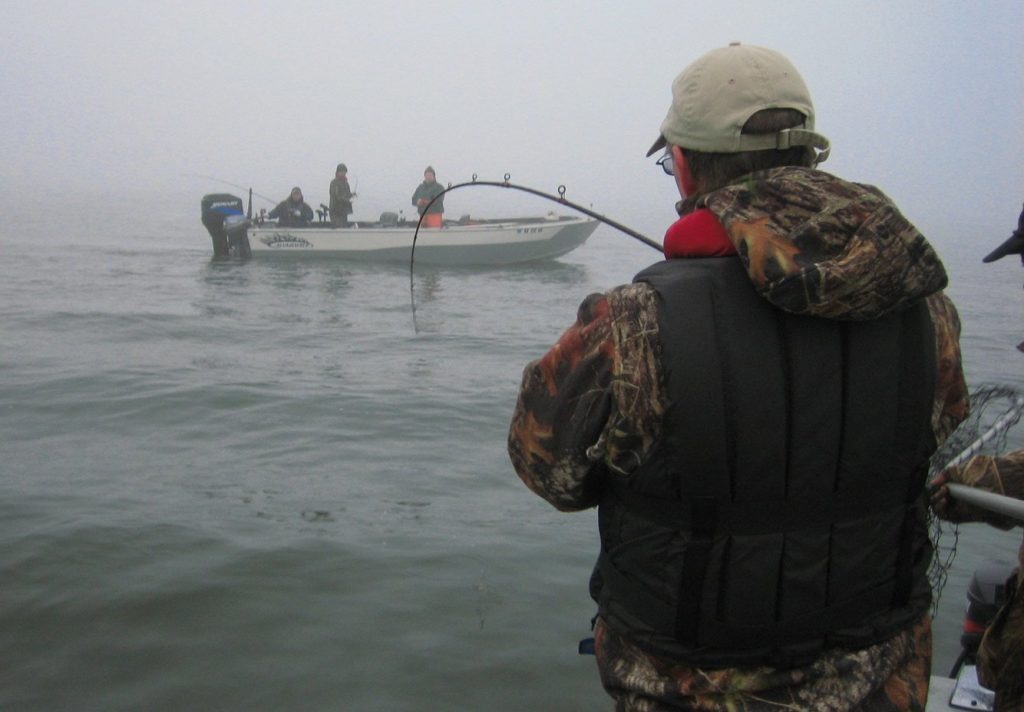 The lower river "tule" hatchery Chinook (a driver for ocean salmon fisheries) is predicted at 73,000 (73,100 was the forecast and 74,700 was the actual return in 2021) and 89% of the 10-year average.
Coho are the star of the show in 2022, and this could be another banner year with a forecast in 2022 of 1,225,900 (1,732,900 was the forecast and 1,114,500 was the actual return in 2021). You'd need to look back to at least 2015 when the forecast was 1,015,000 to find anything closely resembling the 2022 forecast and 2021 actual return.
The Buoy 10 salmon fishery at the Lower Columbia River mouth is open daily through Aug. 24 with a two-hatchery-salmon limit (only one hatchery Chinook), followed by any Chinook from Aug. 25-Sept. 7. A three hatchery-marked coho daily season begins Sept. 8-30 followed by a Chinook fishery reopening in October.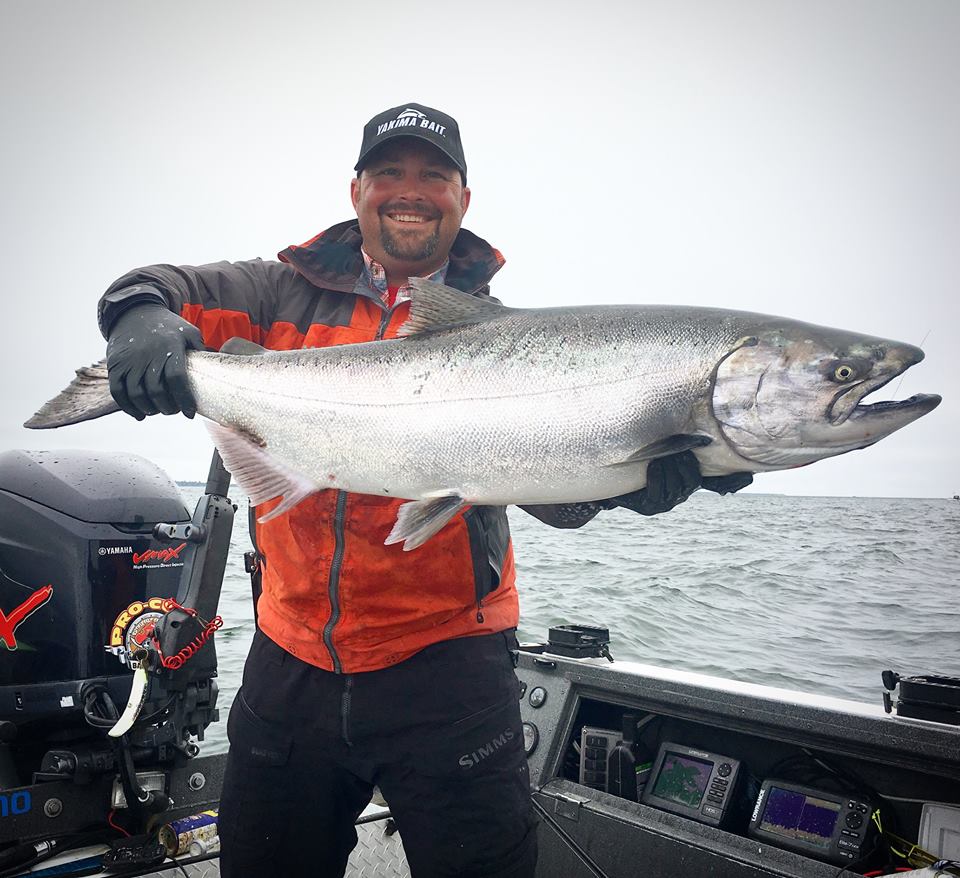 Big floods tides are a time when anglers should be on the water as it pushes in fresh salmon from the ocean but knowing where to can be intimidating to the uninitiated.
An early morning flood tide is something to keep an eye on and those coming out of Ilwaco should make their first drop along the Wing Walls, a mess of old fishing cannery pilings. Salmon like to stage here in water 25 to 45 feet deep but be aware it can be snaggy as you troll where sunken pilings will grab your lines.
The Desdemona Sands area located in the middle of the river above and below the Astoria-Megler Bridge is a mid- to late-flood tide show along a series of paths flanked by shallow sand bars.
This long, sandy, underwater bar that is exposed at low tide is the divider where migrating chinook and coho salmon headed upstream into the channel need to choose whether to swim along the Washington or Oregon side.
Moser says when you fish on the smaller tides, fish tend to congregate from Desdemona Sands up to the Shipwreck and they don't really move farther down the river compared to the bigger tidal influences.
The buoy line just off the town of Astoria where huge ocean-bound freightliners anchor up just above the bridge is another decent location during a flood tide change. Nearby many will also focus their fishing below the bridge and just off the Port of Astoria Marina.
On the Washington side just above the bridge are three long underwater channels just above the bridge along Highway 401 where salmon will move up and down depending on the tide. Schools of anchovy baitfish will sit in the channels as salmon pick them off while waiting to move upriver.
Other spots are the Church Hole off Fort Columbia State Park, from the Fort Stevens State Park on the Oregon side west toward Hammond. Buoy 10 itself isn't a good place to fish but you can find good action there for coho.
If you plan to fish Buoy 10 be sure to show some patience as you'll be among a fleet of thousands of boats. Be sure to stay out of the way when someone is fighting a fish and keep your distance when trolling in the opposite direction of other boats to ensure you don't snag into their fishing gear.
The gear in the lower river fishery usually consists of a weighted diver or drop ball sinker of 8- to 10-ounces with a KoneZone- or Fish-Flash-type flasher tied to a leader with a whole or cut-plug herring or anchovy in 30 feet of water.
Anglers will need to constantly check their bait as it will get tattered while being dragged along the sandy bottom or from the extremely strong tides. Many will also put an Anchovy plastic bait holder on the bait's head to protect it from getting ruined.
You can try spinners like a Toman's Thumper Flex with a blade in red/white or chartreuse attached to a plastic squid or a Brad's Super Bait Cut Plug lure.