The "old school" fishing style of mooching – not from your kids piggy bank – sees a successful revival for kings aboard the SeaBeast Leave a reply
By Mark Yuasa
The mere mention of "mooching" comes up in jokes numerous times with me especially on a boat surrounded by high-tech downriggers since it's my preferred "old school" way to fish.
Like a silly scene from Bill Murray's 1993 movie "Groundhog Day" the topic has been mentioned numerous times as why I'd fish this way, but the conversation turned serious after spending a day trolling in northern Puget Sound with 710 ESPN The Outdoor Line hosts Tom Nelson and Joey Pyburn.
"We're putting the downriggers on lock and key, and going mooching on our next trip," Nelson and Pyburn promised on the July 30 outing.
What is "mooching" you ask? No, it's not a friend mooching everything out of your refrigerator or someone who doesn't help chip-in for gas on a fishing trip.
The term "mooching" much deeper meaning to those familiar with a technique that evolved more than 100-plus years ago on Elliott Bay.
In the early-1900s, first generation Japanese-American anglers casting from piers discovered a new technique consisting of a long bamboo cane rod attached to a simple level-wind reel.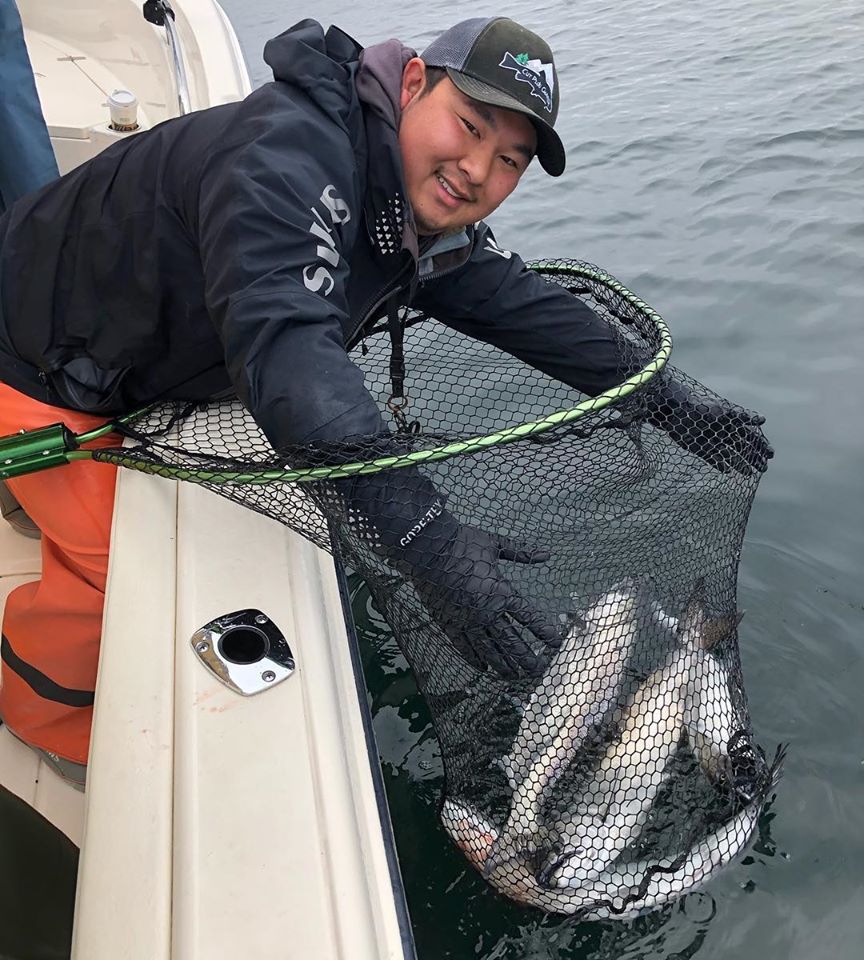 In order to make long casts they used raw silkworm-gut fishing line attached to a small banana weight hooked onto a six- to eight-foot leader. Anglers would then retrieve their herring by stripping in line to give it that enticing spin.
Shortly thereafter it gained attention by boat anglers who'd anchor in deep, flowing water and allow the tidal movement to get the bait to spin. It was also an effective tool from a slowly rowed or drifting boat and the method dubbed "spinning" eventually progressed into "mooching."
The promise of our mooching trip finally came to fruition this past week, when fishing guides Austin Moser, owner of Austin's Northwest Adventures; Todd Daniels, owner Tall Tails Guide Service; Jeff LaLone, co-owner of Bayside Marine in Everett; as well as myself and Pyburn boarded Nelson's 30-foot Duckworth boat called the SeaBeast.
We met at the Everett Marina and cut the lines from the dock at 5 a.m. sharp, and began our 45-plus minute boat ride in northern Puget Sound (now closed for chinook retention) around Whidbey Island to Fort Casey, a location I'd never mooched before, but knew of it's potential from our previous outing.
"I brought nine dozen herring in both red and green sizes," Pyburn said with a gleam in his eyes before we left the marina. "Nothing better than having high-quality bait when you're mooching."
Fort Casey, which sits on the northwest side of Whidbey Island, has a sharp point just west of the ferry where the tidal influence collides along the steep drop-off ledge just mere yards from the shoreline.
It is here where baitfish like herring and candlefish stack up, and birds dive and pelt the water's surface devouring on the feed, and most importantly a known highway intersection for hungry migrating salmon to munch on their prey.
This makes it a popular gathering spot for anglers trying their luck by mooching a herring up and down the water column, and yes, the trollers get their share of fish too.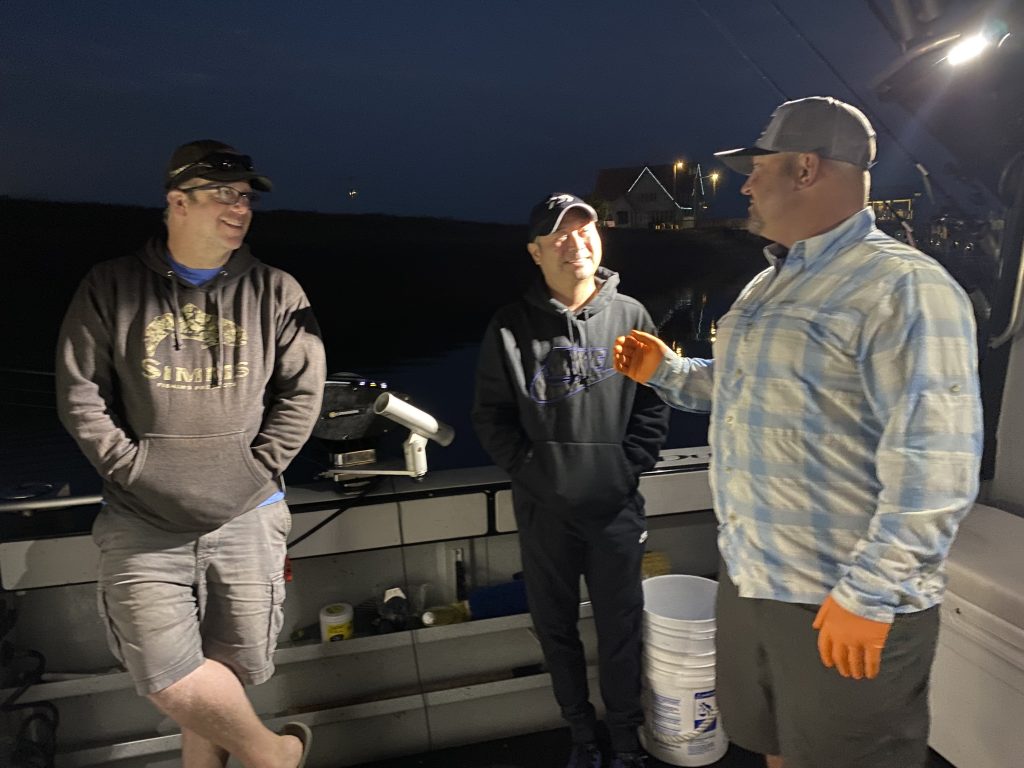 Pyburn intently focused his gaze on the fish-finder and liked what he saw, which included arches (marks of salmon both kings and pinks) at various depths of the water column.
"I'm marking fish at 20, 30 and 50 feet and right off the bottom," Pyburn said as he moved from watching the fish-finder to setting up the rods while six of us took turns uniquely plug-cutting our first herring. This was truly Pyburn "multi-tasking" at the highest level.
At this moment, I harkened back to a valid statement by Justin Wong, owner of Cut-Plug Charter (https://www.seattlesalmonfishing.com/) in Seattle, who is one of the premier moochers in Puget Sound.
"What I tell my customers is if your herring isn't spinning then you're not winning," Wong said.
I checked and doublechecked my cut-plug herring to make sure it had a quick, tight spin before slowly lowering it into the briny depths.
"That bait of yours has a very nice spin to it," affirmed LaLone, who was fishing next to me.
The morning started off fairly slow outside of a variety of bottomfish we released, but we were truly confident the bite was going to pop sometime leading up to low tide change or soon thereafter.
After making a handful of drifts, Daniels had a king slack line him and pick up his bait in 35 feet of water. The king made several strong runs away from back of the boat. We cleared our lines as he fought this fish, which at times sulked just underneath the water before Pyburn netted the 20-plus pound hatchery king.
After some quick high-fives, we got back to mooching with greater confidence, and what followed was a fast and furious bite followed by Nelson releasing a wild king in the 20-pound range.
The most excitement is when a salmon grabs ahold of the bait and begins to swim up taking the weight with them. At this point it's all about timing as when to reel to catch up to the fish until your line tightens and the rod doubles over, and the tip diving into the water. Reaction is critical because the salmon will often spit the bait once the drag becomes apparent to them.
Then as quickly as the bite occurred it started to wane, and none of us managed to get another keeper king in the boat despite having many opportunities. Other boats around us also began to spread out and you could tell the action by mid-morning had taken a nose dive.
It was at this point we did our "Hail Mary" move to the boundary of northern Puget Sound after getting intel of a good chew happening in this location.
I caved in to swapping out our mooching gear, and got the downrigger balls bouncing along the sandy bottom with a dodger and hoochie instead.
And as luck would have it, we hooked another keeper hatchery king to end a successful day on the water despite the final fish coming off a downrigger.
Sometimes you have to be versatile and switch over to another technique at a moment's notice, whether you believe in one way to fish or another. You do what works!
Why I choose to mooch
There are certain effective methods like downrigger fishing to catch salmon, but it doesn't appeal to all anglers.
Feeling that initial moment when a salmon attacks the bait when mooching is something you can't replicate to any other technique.
The art of mooching goes back three generations in my family and was the only way I knew how to fish in saltwater. I experienced mooching in 1972 with my grandfather George Yuasa as we launched out of Ray's Boathouse in Ballard.
I recall vividly how we'd drop and retrieve our bait from top to bottom in the water column. When the current went slack, grandpa George skillfully move the boat to keep our lines at the right angle.
A couple years later I began making summer trips to Sekiu with my grandparents. I'd watched intently the night before as grandpa would carefully slice our herring into cut-spinners, which is now a lost art, and then tied one custom leader after another. It was on this trip where I caught my first salmon mooching off the Slip Point buoy.
Despite downriggers being the current rage, mooching is still the preferred method of some charter operators in Puget Sound and off the coast as well as Canada and southeast Alaska.
The "old school" method has regained its foothold around local marine waterways and you'll see many younger-generation "new school" moochers or jiggers at places like Point No Point and Kingston off the Kitsap Peninsula, Midchannel Bank off Port Townsend, Fort Casey off Whidbey Island and the Clay Banks off Point Defiance Park in Tacoma.
"I like mooching because it's an active way to catch salmon from the moment we drop our lines in the water," said Wong. "It's also an effective way to fish simply using a lead weight, a couple hooks and bait, but there's so much more (complexity) to it that many people don't understand."
While mooching may require minimal tackle it plays into your advantage to having a high-quality rod-and-reel, sticky Gamakatsu hooks and some knowledge before you wet a line.
"One of the key and most essential things for my clients are line counter reels," Wong said. "When I'm calling out depth numbers it simplifies to my customers the precise depths where the fish are located."
Wong also says at any point your line goes slack no matter how deep to start reeling up until you see a big bend in the rod.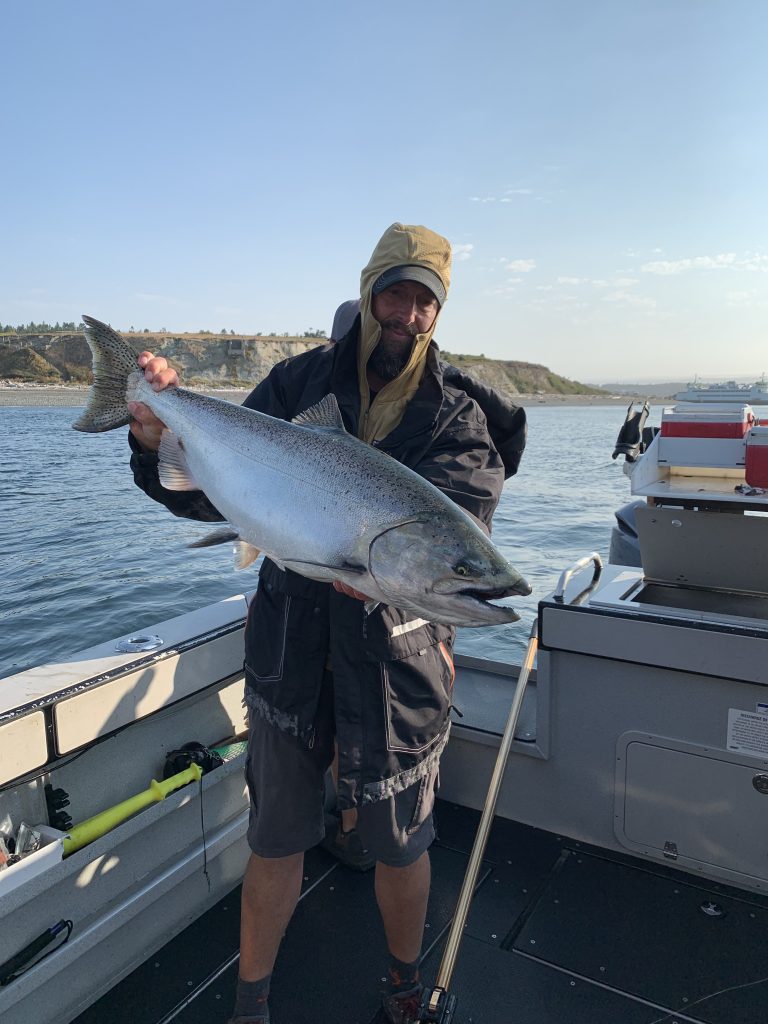 "When you get a bite keep reeling, but don't set the hook," Wong stressed. "Often times the fish will simply swipe at the bait before taking it and by reeling up what will happen is you'll give the fish time to chase it and then eventually bite or eat it."
Salmon typically engulf your bait and they don't turn and swim away pulling down on your fishing rod. Most times you feel a light peck which is the fish swimming up or laterally with your bait so don't wait for a pull down on the rod because it usually doesn't happen. Once you detect a peck for a few seconds, then reel down and don't yank. It's all about timing.
Wong mentioned for those who know how to mooch it is common to go all the way down and hit bottom, but from a customer aspect, he'll look on the depth finder to see where the fish are located and then just have them drop down and crank up.
There are a variety of line counter reels – the Shimano Tekota Series is a popular choice – but whatever you choose make sure it can hold at least 250-plus yards of 15- to 25-pound test line as a large king salmon can spool you very quickly.
I prefer the hard-to-find Shimano Bantam Series reel since it has direct drive.
What is direct drive? Essentially, it's a free spooling reel letting you control the tension of line between you and the fish with your thumb versus relying a drag system. In Canada, the preferred mooching reel is an Islander brand that resembles a large fly-fishing reel.
There are a wide variety of rods specifically designed for mooching. Most are eight-and-a-half to ten-and-half feet long medium action and a strong backbone coupled by an extra fast flexible tapered "soft" tip. This provides a nice sensitive feel especially when you've got 150 to 200 feet of line between you and the fish.
"The rods I like to use are the G-Loomis SAR 1084 GL2 moderate action 9-footers, and I don't like a fast action rod for mooching," Wong said. "I'll also use a fixed banana sinker (3 to 8 ounces depending on the current) instead of the sliding sinkers."
"The direct tie from the weight to the leader allows my customers to detect the lighter bites and when their lines go slack it's easier for them to feel," he said. "I'll use monofilament fishing line over braid because it helps the customer to feel the bite."
Using the correct weight is vital to get the right angle on your line so keep a handful of different sizes in your back pocket. During windy or strong current times, you'll need to turn on the main motor and back up the boat to keep the right angle on your line as well as how much lead to use.
A common mistake I see is when someone lowers their bait straight down too rapidly from the rod tip and allows the sinker fall right on top of it. This creates the bait to spin over the mainline and get tangled up. In order to avoid it simply cast away from the boat so the bait lands in a straight line beyond the sinker then let out line steadily. Figuring this out takes time, but keeps you from untangling line when the action is happening.
When casting make sure your bait isn't hitting the water as this will often times rip or tear the herring right off the hooks rendering it totally useless on the way down.
A "sticky" sharp set of tandem hooks attached to your leader is very important. I use Gamakatsu-brand hooks, but most importantly make sure the hook point is extra sharp.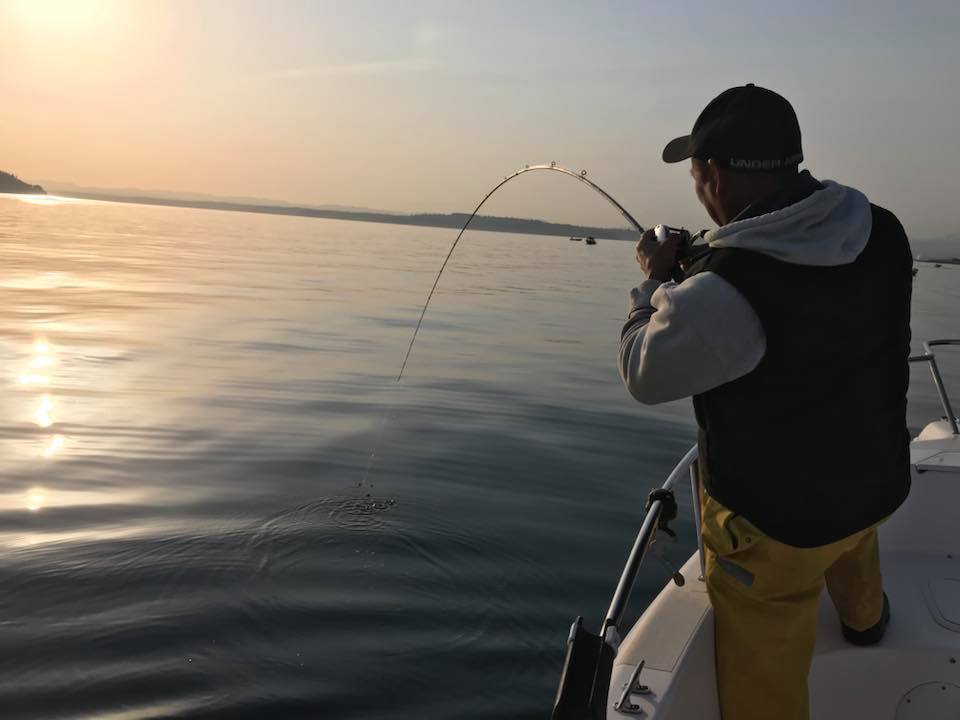 Some will claim with hook size – bigger is better – but I've consistently used a 3/0 on the trailing end and a 4/0 on top while using a green-label size herring. I'll downsize to a 2/0 and 3/0 for smaller red-label size herring in order to get the proper spin on the bait. Salmon aren't judging you on size and seem more keyed-in on the bait itself rather than the exposed hook.
There is an art to making a cut-plug herring spin correctly and many claim a tight spinning bait with a lot of flash will get the fish to hit more times than not. I stick to cutting the head off the herring at a 40- to 45-degree or a slightly less angle both vertically and horizontally.
There are after-market plastic bait cutters like a Folbe Cutting Guide to help you get the right angle although once you've cut enough bait, you'll be able to find the right cut and angle even in your sleep (well maybe not that easily!). For tips, go to http://www.theoutdoorline.com/blog/post/2010/03/07/how-to-rig-a-cut-plug-herring.aspx. You can also watch a video on mooching by The Outdoor Line crew at https://www.youtube.com/watch?v=ke3OBOwkXaE&t=533s.
I don't always use a cut-plug herring and will switch to a whole herring with a curved bend. The degree of bend controls the proper roll. In order to get the right "curve" in a herring I'll bend it in the palm of my hand and insert a toothpick up the anal cavity. Then set the top hook in the herring jaw to keep the mouth shut and the trailing hook dangling freely near the tail.
Both methods are effective and each has its own advantages, so the choice is up to you.
Truthfully, the most important factor of a frozen herring is quality control. Be sure they're firm – never refreeze them for another trip – and toughen them up in a homemade rock-salt brine solution or an over-the-counter brine from your local tackle shop. Additionally, other scents and dye colors can be added to make the herring stand out.
Lastly, keep a few Sabiki rigs on the boat just in case you come across a school of baitfish to catch your own fresh herring.
Leader length is also a preference with some sticking to a shorter six- to eight-foot leader and others go as long as 10- to 12-feet.
Be sure to tie lots of leaders before going out on the water especially in the summer when schools of leader-fraying dogfish sharks can be an issue. The last thing you want to do is tying leaders on the boat when the "bite" comes on. Trust me I've been there and watching others catch fish during a short bite isn't any fun at all.
When the fish is finally hooked never "horse-in" the fish and never have your drag set too lightly. Initially set the drag tight and then back off once the salmon is hooked.
A derby devoted to mooching
The evolution of mooching became an integral part of one of the oldest salmon derbies in the Pacific Northwest known as the Tengu Blackmouth Derby in Elliott Bay.
The derby is named after Tengu, a fabled Japanese character who stretched the truth, and just like Pinocchio, Tengu's nose grew with every lie.
It was started by Japanese-Americans in November of 1937 before hitting the pause button during World War II. The derby resumed in November of 1946 and has been ongoing, except for 2015 when central Puget Sound was closed to all salmon fishing. The 2018-2019 season was also cut short by an in-season closure, and 2020 was closed due to the pandemic.
The Tengu derby is held in the winter, when salmon are usually sparse in the bay, and anglers can only mooch. No artificial lures or downriggers are allowed.
While I firmly believe mooching is my way to fish, the choice is totally up to you whether it's with a downrigger – I'll use them when necessary – or "old school" style that will hopefully get you hooked on a fun way to fight a salmon!