It's finally time to dig in! Mocrocks Beach on the northern coast will open this Saturday for the first razor clam dig since last October Leave a reply
By Mark Yuasa
Dig this news!
After a six-month-plus closure of the entire coast for razor clam digging, Washington Department of Fish and Wildlife (WDFW) just approved Mocrocks Beach will be open Saturday and Monday (May 15 and 17) only for digging during morning low tides.
"People will find some nice digging, and many of the clams are big and in beautiful condition," said Dan Ayres, the head WDFW coastal shellfish manager.
Here are the upcoming low tides: Saturday, May 15, -0.6 at 9:51 a.m.; and Monday, May 17, -0.1 at 11:18 a.m.
The marine toxin levels for domoic acid finally dropped below the action level of 20 parts per million at Mocrocks – that extends from the Copalis River to the south boundary of the Quinault Indian Reservation – in three sections between 12ppm to 19ppm.
WDFW and Department of Health (DOH) closely monitors marine toxins such as domoic acid – a natural toxin produced by certain types of marine algae – which can be harmful or even fatal if consumed in enough quantities.
The DOH requires two consecutive samples that show levels are below the cut-off threshold before a beach can be open, although this time around DOH may require a third sample since recent results have fallen just under the 20ppm cutoff.
Marine toxin levels still remain high at other places like Long Beach, 23ppm; Twin Harbors, 31ppm; and Copalis, 14ppm to 27ppm.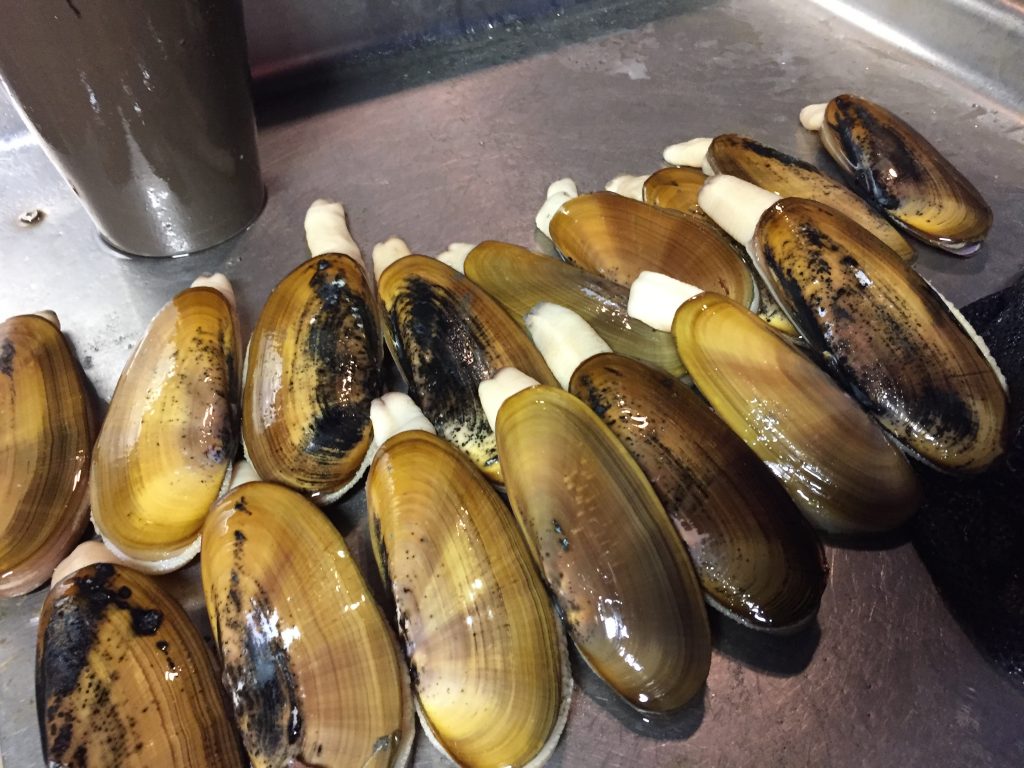 "Mocrocks will be the only beach open during this low tide series," Ayres said. "We need to assess the outcome of testing from other beaches before anything else can happen."
Many ocean beaches are open to motor vehicles, but drivers are required to follow the "rules of the road," said Ayres. "Mocrocks beach only has three points of road access, so we are asking beachgoers to arrive early and exercise good judgment when accessing the beach," he added.
"Under state law, all vehicles – and horses – are required to travel along the extreme upper limit of the hard sand," he said. "When in doubt, follow the path marked by multiple tire tracks." Drivers who veer from that path pose a direct threat to fish and wildlife, Ayres said. Motorists who violate Washington state laws on beach driving can face a fine of $150, or much more for killing endangered seabirds, like snowy plovers.
The expectations were very high on the 2020-2021 digging season which was cut short when marine toxin levels skyrocketed in late-October and closures became necessary.
Since 1991, when the toxin was first detected on the Pacific Coast, outbreaks of domoic acid have prompted the cancellation of three entire razor-clam seasons in Washington — the last one in 2002-03.
Twin Harbors Beach never opened in 2015-2016 as marine toxin levels never dipped below the action level. The entire coast was also closed in late May of 2015 when domoic acid spiked well above the cut-off level.
Before the closures last fall, digs at Long Beach, Twin Harbors and Copalis saw a good turnout of 25,390 diggers Oct. 17 with 324,107 clams for a 12.7 per person average; and 2,750 on Oct. 19 with 41,251 for 15.0. At Long Beach, Twin Harbors and Mocrocks it was 7,716 on Oct. 18 with 115,745 for 15.0; and 1,781 with 26,728 on Oct. 20 15.0.
Prior to the closure more than 80,000 digger trips produced close to 1.2-million clams harvested coast-wide.
Razor clam digging is a huge money maker generating $25- to $35-million for small coastal communities who rely on these opportunities during the lean tourist times in autumn, winter and spring to help boost their economy.
No other beaches are scheduled to open at this time, and WDFW will continue testing marine toxins in razor clams in conjunction with the Washington Department of Health. If marine toxin levels remain below the action, WDFW could also reopen Mocrocks and possibly other beaches during other upcoming low tidal series.
Other potential dates if marine toxin levels remain below the action level are: Tuesday, May 25, -1.8 feet at 6:36 a.m.; Wednesday, May 26, -2.5 at 7:24 a.m.; Thursday, May 27, -2.8 at 8:12 a.m.; Friday, May 28, -2.8 at 9:01 a.m.; Saturday, May 29, -2.4 at 9:50 a.m.; Sunday, May 30, -1.8 at 10:41 a.m.; and Monday, May 31, -1.1 at 11:34 a.m.
Note: These aren't actual dates that digging will occur and opportunities on some beaches must be shared between co-managers, but provides an outlook of when the most idea low tides will occur. For details, go to http://wdfw.wa.gov/fishing/shellfish/razorclams/.