WDFW managers predict a whopping 2.9-million-plus Puget Sound pink salmon return that'll have anglers blushing this summer, while other salmon forecasts are a mix of good, bad and downright ugly Leave a reply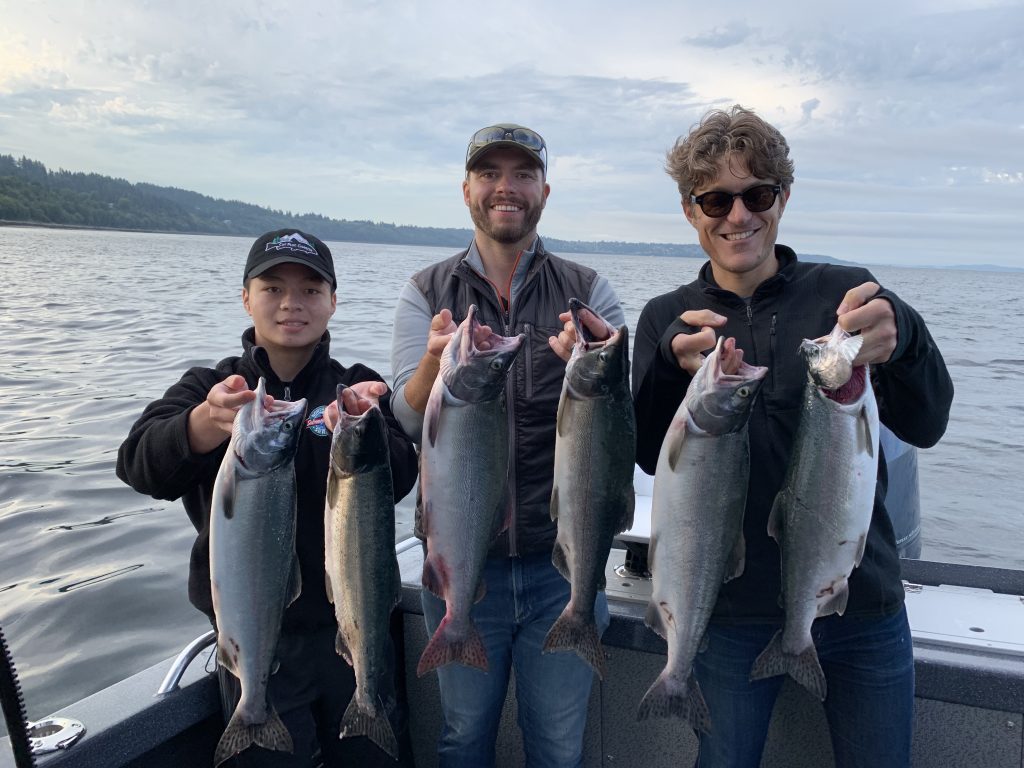 By Mark Yuasa
It's time to buckle up for a possible big salmon season in some areas!
State fishery managers are unveiling the 2021 forecasts at a public meeting today (Feb. 26), and while there are big hurdles to overcome in establishing Puget Sound chinook seasons, it appears a boatload of pinks will arrive in late summer and some places like the ocean and Columbia River could harken back to the "good old days" of fishing.
"We have decent returns for pinks," said Mark Baltzell, the Washington Department of Fish and Wildlife (WDFW) Puget Sound salmon manager.
An enormous pink forecast of 2,925,681 – compared to 608,388 in 2019 – is predicted this summer for Puget Sound, Hood Canal and Strait of Juan de Fuca. Fingers are crossed it might lead to a bonus daily catch limit in some marine areas.
While relatively small in size (3 to 5 pounds), pinks are the fastest growing Pacific salmon species and return in bulk during odd-numbered years after spending two years in the ocean before migrating to natal rivers.
Pinks mainly spawn in lower river stretches, which is why they're able to be less impacted by urban development, and don't spend an extended time in the harsh freshwater environment.
Pinks provide an extra fishing opportunity in the Strait and Puget Sound as well as some local rivers. Fishing in Puget Sound was excellent at times in summer of 2019 during August and September.
A breakdown by river shows a pink forecast in Nooksack of 240,000 (24,476 in 2019); Skagit, 927,300 (114,769); Stillaguamish, 51,607 (47,929); Snohomish, 555,929 (128,362); Green, 397,732 (141,130); Puyallup, 358,368 (47,905); Nisqually, 184,636 (25,380); South Puget Sound, 142 (143); Hood Canal, 174,244 (70,675); and Strait of Juan de Fuca, 35,723 (7,629).
"In 2019 we did bounce back to a run size of 2.9-million pinks, (but) it was below the 10-year average of 4-million," said Mickey Agha, a WDFW biologist. "The fry output may play a larger role in the (2.9-million forecast) return."
Agha says we had strong pink runs from 2001 to 2009 and then they turned into the negative starting in 2011, 2013, 2015, 2017 before bouncing back in 2019.
Looking at the big picture, Puget Sound coho could also see slight improvements with a return of 614,948 in 2021 (504,604 in 2020, 708,521 in 2019 and 557,149 in 2018). Of those 2021 returnees, 369,059 are hatchery and 245,889 are wild (341,895 and 162,709; 417,319 and 293,980; and 307,975 and 249,174).
"The takeaway this year is a mixed bag statewide for coho, but overall (in Puget Sound) there is reason for optimism," Baltzell said. "Starting with Snohomish (the wild coho forecast of 60,000) is up over last year. That is a place where we've struggled to get to the wild spawning escapement goal of 55,000 so that is a positive."
The Snohomish total coho forecast is 75,279 (44,886 in 2020, 70,309 in 2019 and 73,017 in 2018) with 60,000 (39,020 in 2020) of wild origin. Other coho forecasts are Skagit, 80,451 (49,136, 67,850 and 72,297); Lake Washington, 7,806 (8,537, 13,560 and 15,002); Stillaguamish, 30,828 (21,749, 26,054 and 18,950); Green River, 77,519 (69,363, 71,681 and 51,352); and Puyallup, 40,851 (26,434, 41,569 and 22,949).
Strait and Hood Canal coho forecasts are Dungeness, 10,847 (16,909 in 2020); Elwha, 1,629 (3,709); Nooksack, 80,066 (49,203); Samish, 3,549 (5,450); Nisqually, 17,054 (8,718); Quilcene, 32,158 (39,573); and Skokomish, 18,514 (24,621).
The coastal coho forecast calls for 241,800 (93,657 are wild) in 2021 compared to 255,609 (105,278) in 2020, and may have an effect on determining inner-marine area fishing seasons.
It's a balancing act out in the ocean and how those fisheries are structured, according to Baltzell, which means more or less coho coming back to Puget Sound. A determining factor is once the three ocean fishing options and quotas are set early next month.
In a sport fishing advisory board meeting this week, a WDFW fishery manager pointed out the highly popular June coho fishery in central Puget Sound (Area10) could be a topic of conversation during the season setting process. In 2019, the Area 10 coho only fishery was modeled for a catch of 1,200 and due to high popularity and success, anglers ended up landing around 7,500.
The Puget Sound/Hood Canal fall chum return continues to struggle and the prediction is 525,604 in 2021 (874,307 in 2020 and 1,035,835 in 2019) compared to a recent 10-year average of 1.5-million. In Hood Canal the chum forecast is 273,396 (471,810 and 518,645) and southern Puget Sound is 121,078 (309,573 and 263,171).
"We're taking the preemptive step to close all deep south sound chum fisheries, and there won't be any commercial chum fishing in Puget Sound this year," Baltzell said. "Not meeting chum goals for a couple years is concerning."
Last year's Puget Sound chum returns were the lowest dating back to 1979 and the preliminary estimate in 2021 is only slightly higher.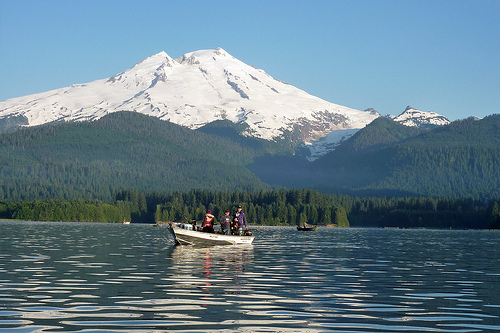 The Lake Washington sockeye numbers remain poor with 24,807 forecasted in 2021, which is up from 20,166 in 2020 and 15,153 in 2019. The lake's spawning escapement goal is 350,000 before any fisheries can be considered. The last time it was open for sport fishing was 2006 when 453,543 returned. Since then, the run dipped dramatically to 25,123 in 2018 and 22,165 in 2009, but had 100,000-plus returns in 2017, 2013, 2012 and 2010.
The Baker Lake sockeye forecast is 12,253 down from 13,242 in 2020 and way below the 33,737 in 2019.
In British Columbia, the Fraser River sockeye forecast is 1,330,000 (941,000 in 2020 and 4,795,000 in 2019) and pink forecast is 3,009,000 (5,018,000 in 2019).
Potential roadblocks for Puget Sound chinook
While Puget Sound wild chinook have been an ongoing issue in years past, it looks like the challenges in 2021 also include lower forecasts in south sound hatchery programs where recent spawning goals haven't been achieved.
"To see lower abundances and forecasts makes the conversation to expand (sport fisheries) that much harder," Baltzell said. "Unfortunately, we can expect things to be just as difficult as last year. With so many different populations of salmon in Puget Sound there will be improvements, and the usual struggles to meet wild escapement in places where we've had ongoing issues."
Annual constraints of certain wild chinook stocks include the usual suspects like the Stillaguamish, Skagit, Snohomish and mid-Hood Canal.
The hatchery and wild chinook forecast for the Skagit is 10,986 (13,346 in 2020, 13,938 in 2019, 13,600 in 2018 and 16,200 in 2017); Stillaguamish is 912 (901, 888, 1,600 and 1,500); Snohomish is 8,973 (9,732, 10,248, 10,000 and 8,200); Tulalip is 5,760 (6,366, 12,700, 7,500 and 5,300).
Others are Skokomish, 33,264 (38,379 in 2020); Hoodsport is 35,806 (33,509); mid-Hood Canal is 18 (39); Grovers is 2,166 (2,431); Lake Washington is 4,410 (4,594); Green is 24,368 (25,179); Gorst is 7,652 (10,642); Puyallup is 17,835 (13,139); Minter is 7,580 (11,644); Chambers is 685 (647); Nisqually is 14,798 (17,498); McAllister is 371 (6,843); Deschutes is 5,951 (13,906); White is 4,069 (3,996); Elwha is 4,800 (4,160); Dungeness is 703 (791); Hoko is 1,044 (1,411); and Nooksack/Samish is 20,024 (17,143).
"The Puget Sound wild chinook excluding spring chinook is a little more than 22,000 fish and down 20 percent from the 10-year average of about 28,000," said Chad Herring, a WDFW biologist, who presented forecast news at today's meeting. "The Puget Sound hatchery chinook forecast of 185,000 is down 2 percent of 188,500 of 10-year average."
The historic loss of winter blackmouth fishing opportunities in 2020-2021 has been a bitter pill to swallow, and trying to restore some marine areas is tops on the list of crafting seasons.
"We know there is a strong desire to get some winter fishing back," Baltzell said. "The blackmouth fishery has been around forever, and we are very supportive to try and implement winter fisheries into the package. But we need to see what it looks like in the big picture and right now I just don't know."
"We're trying to align all the desires of time on the water and prioritize what opportunities work best for recreational fishermen," Baltzell said. "If that means summer isn't as high on the priority list then maybe we can adjust to more fishing time in the winter."
Possible dramatic uptick for Columbia River and coastal fisheries
The 2021 Columbia fall chinook and coho runs are a big improvement over the past few years, and they're the key drivers to sport fisheries in late summer and early fall from Neah Bay south to Ilwaco and in the Columbia River from Buoy 10 near Astoria to the Gorge area, and clear up to Hanford Reach.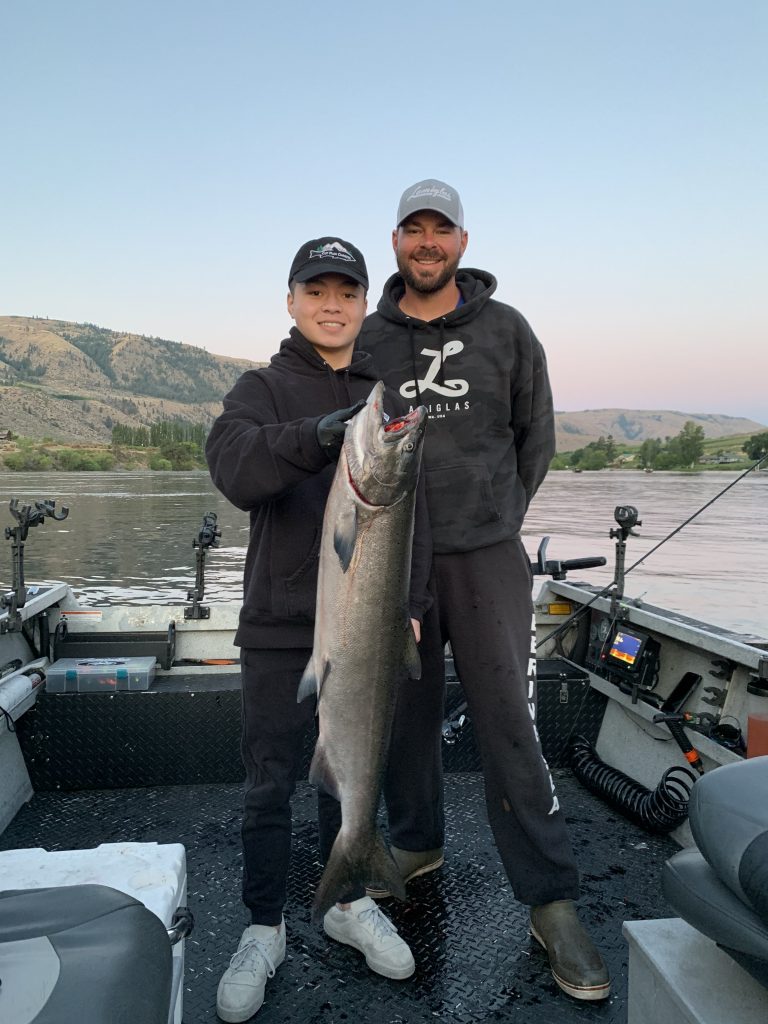 In all, 580,800 fall upriver bright, tule and lower river chinook are expected to return off the Big-C mouth in 2021 compared to a forecast of 431,000 and an actual return of 574,700 in 2020.
The meat and potatoes are the upriver bright chinook return forecast of 354,200 in 2021 (233,400 was forecast and 299,300 was actual return in 2020) which is 83 percent of 10-year average.
The lower river "tule" hatchery chinook (a driver for ocean salmon fisheries) is predicted at 73,100 (51,000 and 77,900) which is 85 percent; lower river "wild" chinook is 19,700 (19,700 and 35,400) which is 104 percent; and lower river bright chinook is 8,800 (7,900 and 7,100) which is 166 percent.
The Bonneville Pool hatchery chinook is 46,800 (46,200 and 52,700) which is about 66 percent; pool upriver bright is 77,400 (71,800 and 101,900) which is about 80 percent; and select area bright is 500 (1,000 and 400) which is six percent.
This comes on the heels of what was reported earlier this month, when the Oregon Production Index (OPI), which provides ocean coho abundance forecasts, calls for a whopping 1,732,900 coho to arrive off the Washington coast. This compares to a preseason forecast of 268,700 and an actual return of 479,600 in 2020.
The Columbia subtotal forecast is 1,590,000 coho compared to a forecast last year of 181,000 and a much larger actual return of 363,600.
The OPI predictions have been on par dating back to the 1980s but in the past five years have over predicted returns.
These coho are the bread and butter for coastal fisheries off Neah Bay, La Push, Westport and Ilwaco and Columbia River from Buoy 10 upstream. It is the largest dating back to at least 2015 when the forecast was 1,015,000 and in 2014 when the forecast was 1,724,000.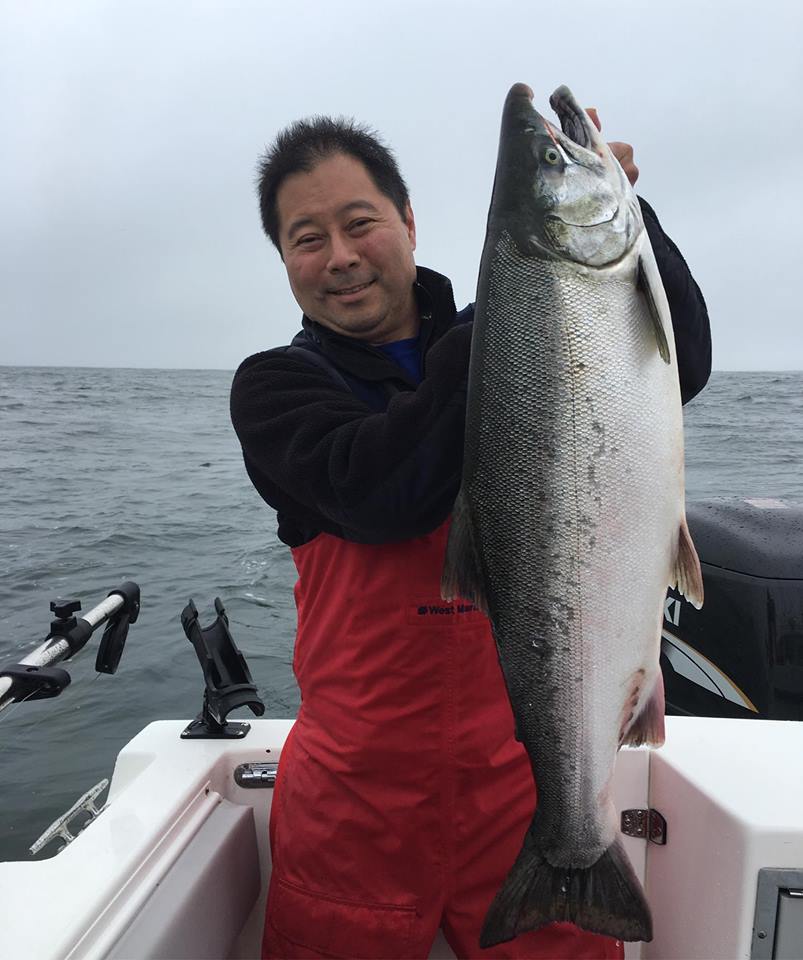 Digging even deeper in time you'd have to go back to 2009 when the forecast was 1.2 million coho — actual return was about 1.05 million — in what was deemed as a "wonderful ocean coho fishery season.
When looking at coho seasons dating back 10 years, the 2020 season landed right on the same page as 2010, 2011 and 2012 when it was in the doldrums. The situation improved in 2013 and was a lot better by 2014 although there wasn't many coho caught in the ocean fisheries.
It is likely that coho stocks will drive the 2021 ocean and in-river salmon seasons from Neah Bay south to Ilwaco.
In 2020, the coast opened on June 20 and led to an early closure by July 26 at Ilwaco and Aug. 7 at Neah Bay as quotas – 13,250 coho at Ilwaco and 2,988 at Neah Bay – were gobbled up quickly. The two coastal ports wedged in between (Westport and La Push) remained open until Sept. 30. The slow catch pace at La Push was attributed to difficult access to the area related to COVID-19 port closures and Westport just had a downright pitifully slow season.
As mentioned above the 2021 total coastal coho forecast is 241,800 (93,657 are wild). A breakdown of the combined wild and hatchery coho forecast – Willapa Bay is 80,654 (69,635 in 2019); Grays Harbor is 76,518 (92,290); Quinault is 39,650 (44,434); Queets is 15,699 (18,716); Hoh is 3,013 (4,159); Quillayute summer is 3,662 (4,253); and Quillayute fall is 22,604 (22,118).
The coho numbers come on the heels of what is expected to be a back-to-back decent years of Upper Columbia adult summer chinook with a forecast of 77,600. If accurate it'd be the seventh highest return since 1980 and 109 percent of the average return observed over the past decade.
Better known as "June Hogs" they would be comprised of 36,900 four-year-old; 39,900 five-year-old; and 800 six-year-old fish.
That's a good chunk of age four and five fish that'll likely have anglers jumping for joy in the Chelan Falls-Beebe Bridge area as well as further downstream during the month of July.
The 2020 summer chinook return was the 12th largest since 1980, totaling 65,494 adults, compared to the preseason forecast of 38,300 adults. The 2020 return was 91 percent of the recent 10-year average (2010–2019) of 71,995 adults. The 2020 adult return was 96 percent of the average of returns observed since 2001, and nearly four times the average return during the years 1980–2000 (17,425 adults).
While a 155,600 forecast for Columbia River adult sockeye, including 27,300 Wenatchee, 127,300 Okanogan and 700 Snake River stocks is rather paltry compared to the actual return last season the hopes are this summer's runs will also wax expectations leading to another good July fishery in the Brewster area of the Upper Columbia.
The forecast is 50 percent of 2011–2020 average total return of 312,234. The Wenatchee component is forecasted to be greater than the escapement objective but is less than the 10-year average return of 53,835 fish. The return of Okanogan-origin fish is expected to be approximately 49 percent of the recent 10-year average (257,179 fish). A return of 700 fish to the Snake River would be 57 percent of recent 10-year average return.
On the southern Washington coast, the Willapa Bay 2021 chinook forecast is up with 34,394 compared to 31,185 in 2020, 28,100 in 2019 and down from 44,100 in 2018. The Willapa Bay chum forecast is 39,077.
The 2021 Grays Harbor fall chinook forecast for the Humptulips is 5,696 hatchery and 4,668 wild (3,573 is wild escapement goal); and Chehalis is 1,862 and 10,852 (9,753). The Humptulips coho forecast is 7,874 and 2,519 (6,894); and Chehalis is 23,801 and 42,324 (28,606). The Grays Harbor chum forecast is 2,110 and 40,138 (21,000).
Further south, off northern California the Sacramento fall chinook forecast is 271,000, which is 202,200 less than 2020's forecast of 473,200 and an actual return of 351,900.
The Klamath forecast of three-year-old chinook is 135,600 (down 14,000 from 2020 forecast of 149,600 and an actual return of 158,700) and four-year-old chinook is 45,100 (up 8,900 from 2020 forecast of 32,600 and actual return of 15,000). The Rogue fall chinook forecast is 274,100, up 17,200 from 2020 forecast of 256,900. No data was provided, but north-migrating Oregon coast chinook will be "above recent year average."
Here is a link to my 710 ESPN The Outdoor Line blog that recapped 2020 salmon fisheries: http://www.theoutdoorline.com/blog/post/2021/02/01/salmon-fishing-outlook-for-2021-could-resemble-2020-with-some-marked-improvements-and-anglers-can-add-pinks-into-the-mix.aspx.
How all these Puget Sound and coastal salmon forecasts correlate into exact fishing seasons won't be finalized until April 8-15 but the Pacific Fishery Management Council (PFMC) plans to announce three ocean salmon fishing options and quotas during webinar meetings from March 2-11.
Other upcoming meetings are – March 16, first North of Falcon (NOF) Zoom public meeting on preliminary Puget Sound and inner-marine area fisheries; March 17 and April 1, Columbia River fisheries discussion via Microsoft Teams meeting; March 23 and March 25, public meetings via Zoom on Puget Sound salmon fisheries; March 31, second NOF public meeting via Televideo; and April 8-15, PFMC meeting via webinar to adopt final salmon fishing seasons. For a list of meeting information, go to https://wdfw.wa.gov/fishing/management/north-falcon/public-meetings.
(Note: Due to the pandemic all meeting dates and times are subject to change and will be held virtually or via Zoom, Televideo, Microsoft Teams and webinar.)
Fingers crossed on possible Columbia smelt dip-net fishery
The Cowlitz River smelt return garners plenty of attention in late winter and decent catches by a research level commercial fishery on Monday gave hope that a sport dip-net fishery is possible sometime soon in the Cowlitz River.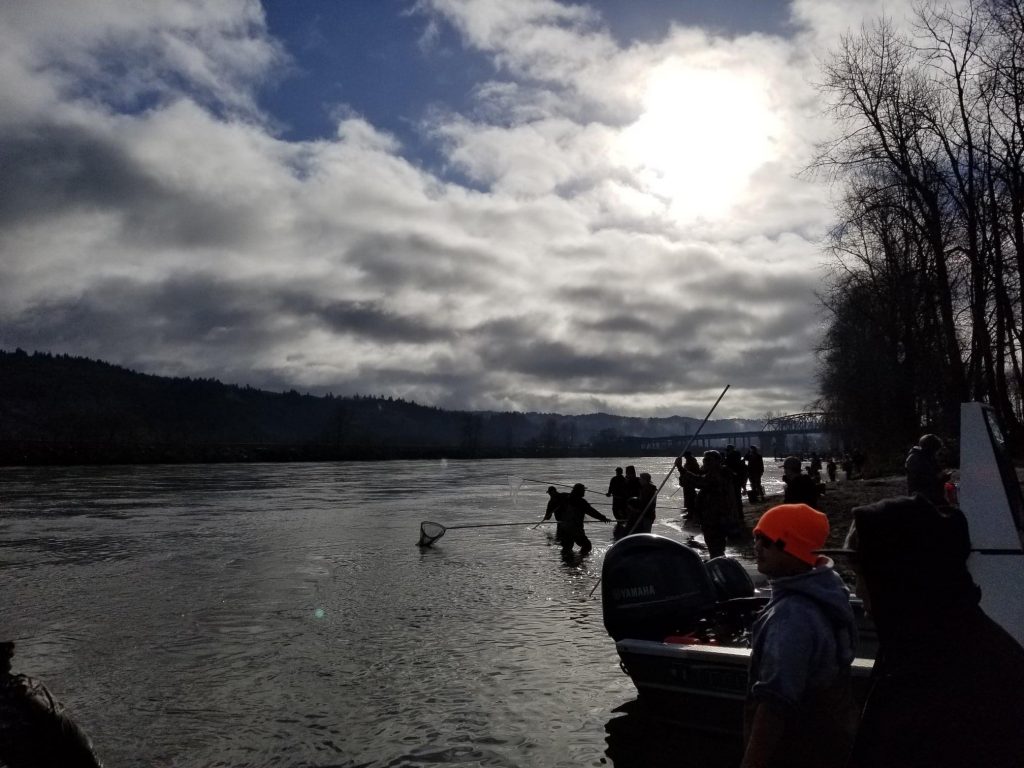 On Monday, the research fishery caught 4,247 pounds for a 708-pound average per delivery. Anytime there's more than 200 pounds it is indicative of a very strong run. The research fishery has occurred eight times since it began on Jan. 28.
A two-day smelt season in February of 2020 was the first-time folks had a chance to dip-net since 2017.
The 2021 run is expected to be moderate in size, similar in magnitude to the estimated returns of 3.8- to 4.2-million pounds the last two years.
"The 708-pound catch per delivery ranks as the highest we've seen in a single-day average (since 2014)," said Laura Heironimus, a WDFW biologist. "In 2015 we had a few days over 500 and 450 pounds per day. This might be an indicator that we have a very large run-size. Some of the preliminary data this year shows the catch could be over 3-million pounds and that is a pretty good sign."
Smelt were detected in the Columbia River in early January. Upon opening the commercial fishery, smelt presence appear to decline and few fish were harvested during the first three weeks of the commercial retention period.
Other catch prior to Feb. 22 by date showed 59 pounds was landed on Jan. 28 for 30 pounds per delivery; none were caught on Feb. 1; 5 on Feb. 4 for 5; 100 on Feb. 8 for 100; 22 on Feb. 11 for 11; none were caught on Feb. 15; and 6 on Feb. 18 for 6.
Due to the apparent increase in abundance, WDFW staff extended a research-level commercial fishery from March 1-11 on Mondays and Thursdays from 5 a.m. to 5 p.m. each day. The extension would maintain the conservative approach used in the 2021 smelt fishery and would continue to provide biological and run-strength data as well as some fishing opportunity.
At this time, Washington and Oregon are not recommending recreational smelt fisheries in the Cowlitz or Sandy rivers. Washington and Oregon staff will determine if fisheries are warranted after additional freshwater abundance indicators become available and following discussions with county public health officials regarding COVID-19 concerns.
During 2014-2017 and 2020, limited recreational fisheries occurred in the Cowlitz River. The fishery was restricted to one to five days annually (5 to 6 hours per day). The Sandy River was only open in 2014 and 2015 (two to four days annually; 6 hours per day). Annual recreational harvest averaged 134,256 pounds (range 541–290,770) with an average exploitation rate of 1.50% (range 0.03-2.77%). There was no recreational fishing opportunity in 2018 and 2019.
There was a charge of smelt as of Monday seen by sport steelhead anglers at Lexington in the Cowlitz River. There were reports of smelt present at Chinook too.
Sport dip-netting for smelt was a huge draw from the 1980s to the early 2000s when thousands of people dressed in waders and dip-nets would line the Cowlitz River shoreline.
Smelt returns have steadily declined to the point where they were listed on the Endangered Species Act in the spring of 2010. Commercial and recreational fisheries were subsequently closed in 2011-2013.
Ocean environmental conditions were favorable for marine survival during 2012-2013 but then deteriorated dramatically although improvement was seen the past few years.
WDFW and ODFW plans to have another meeting on Tuesday (March 9) for a smelt update.