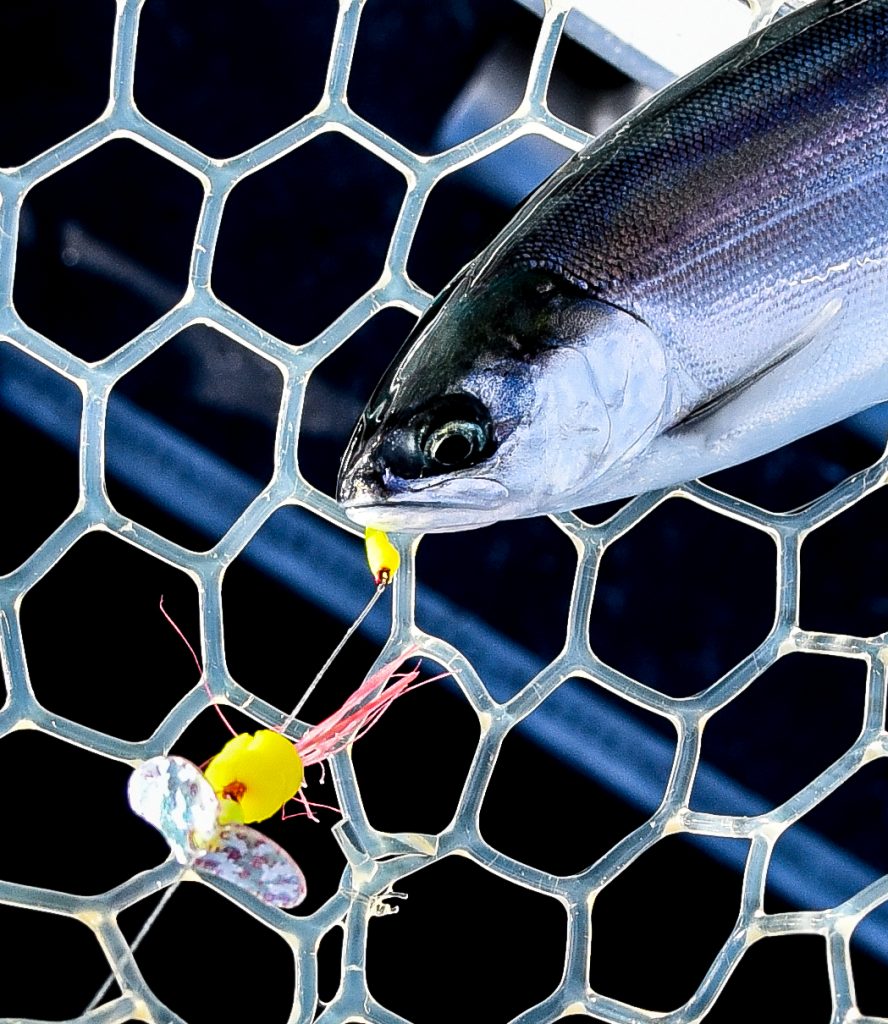 Tips for Lake Chelan Winter Kokanee
by Jason Brooks
Kokanee fishing has gained popularity in recent years for various reasons. Motivation includes salmon anglers wanting to use their knowledge on inland lakes where robust fisheries still occur to fill the void left by reduced runs of the larger saltwater cousins to the small landlocked sockeye. And until recently kokanee fishing was a spring into summer angling opportunity.
Then Jeff Witkowski, a full-time guide on Lake Chelan, started spending his off days in the winter looking for the fish. Being a sockeye salmon Jeff knew there were fish in the lake all year long and just needed to find them. Once he started to consistently find the fish from November through February he began guiding for kokanee all year long on Lake Chelan, the first guide to do this. He recently shared his secrets on this unique fishery.
Depth
Most anglers think that water depth means where the fish are suspended. This is true, but it also means depth of the lake when it comes to Lake Chelan kokanee. We worked our gear 100-feet down on the downriggers and trolled along in 350 feet of water. Then pointing the boat towards the middle of the lake the rods went off all at once. A quick glance at the sonar revealed we were in 400 feet of water. Making a few circles and catching fish we ended up motoring to 450 feet and then the bite was off. Back to the 400-foot line and bites like crazy.
Depth can vary depending on sunlight, water temperature or thermocline, food, which in this case is plankton, and over-all depth of water. To prove this point, we switched from the north shore to the south shore of the lake and as soon as we hit the 400-foot line again we started getting bites. Jeff mentioned somedays the fish are in 300 feet of water, other days in 600 feet of water and this day it was 400 feet. He usually fishes 100 feet down during the winter months as this is the thermocline but is always looking at the sonar looking for schools of fish and will adjust to the depth where they are located.
Gear
We trolled 6-inch Sling Blade dodgers in a combination of kokanee catching colors. Some were trailed by a Cha-Cha kokanee rig but the "lure of the day" was a yellow Koke-A-Nut. Jeff added a small smile blade to the front of the lure to give it more action and flash. Koke-A-Nut is a lure made by Mack's Lure which is based out of Wenatchee, Washington. Lake Chelan is the "home waters" for Mack's Lure product developer and marketing director Bob Loomis. It is also where I grew up and my father guided on the lake for many years. We knew this gear worked as Jeff often test and develops new lures, dodgers, and colors for Mack's Lure. 
Scent
Starting with a base of shoepeg corn and then mixed with a variety of Pro-Cure scents. Jeff makes his own baits, often having multiple "flavors" on board, but a go-to scent is Bloody Tuna. Anise, krill, and sweet corn are proven kokanee scents as well. Pro-Cures Bait Sauce is very sticky and is perfect for smearing on the dodger to create a large scent column to attract fish. Jeff mentioned that he prefers shoepeg corn mostly because the kernels are longer and easier to put on the hooks, two pieces of corn on each hook, every time.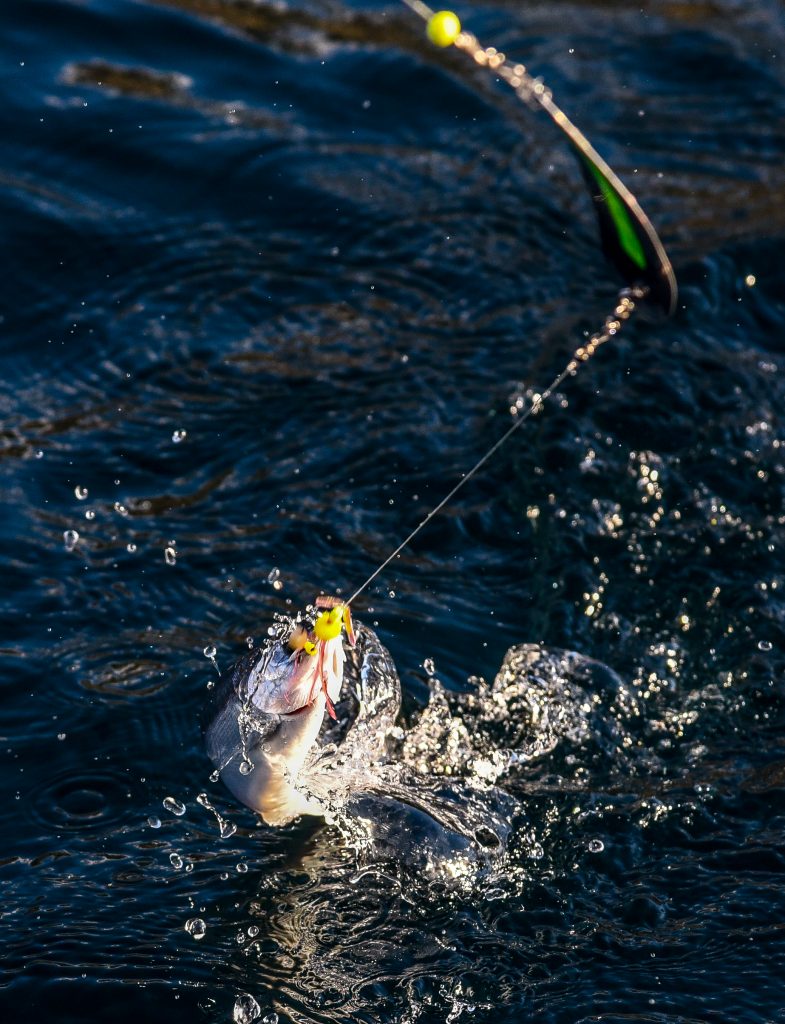 Speed
Kokanee are landlocked sockeye and just like their anadromous cousins they prefer slower speeds. Trolling 1.2 to 1.4 mph appears to be a "sweet spot" for kokanee. Lake Chelan is big water and winds can affect this. Be sure to watch your speeds and if needed use a wind sock to slow you down.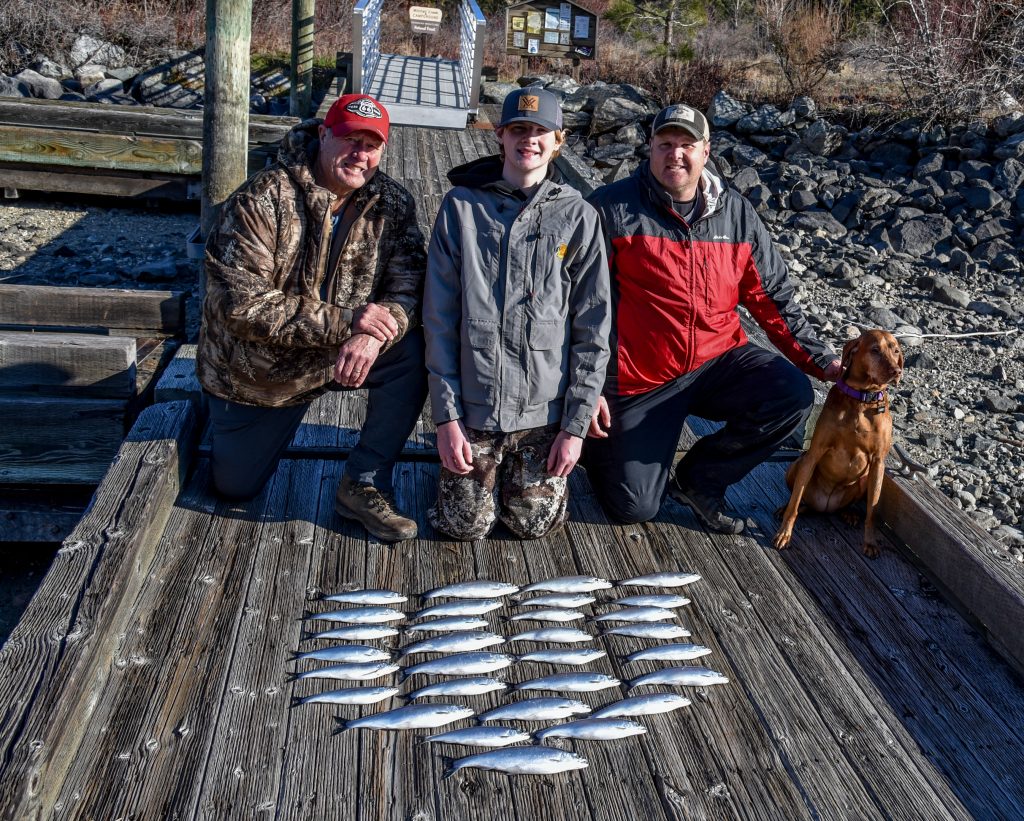 You don't need to wait until spring to catch kokanee. Most lakes that have these tasty fish and are open year around are void of crowds during winter months. These same tactics work well for these lakes as well as Lake Chelan. This past week we caught 30 kokanee in just over 3 hours of fishing by watching our depth, using the right gear, creating a scent trail and adjusting to the right speed. If you want to learn even more tips then give Jeff Witkowski a call at Darrell & Dad's Guide Service (509) 687-0709.