Put aside the holiday "to do" list and get outside to enjoy boundless early-winter opportunities for Dungeness crab, squid and trout just to name a few Leave a reply
By Mark Yuasa
December already? Wow, where did time go?
It seems like the tires on life are spinning fast and with the Christmas just a few weeks away, I'm barely hanging on by a thread. But, before I plunge into the holiday abyss, the good news is there's options happening around the Pacific Northwest fishing scene.
While some will be fine tuning plans for baking holiday cookies or shopping, I'll continue to ride high on the Puget Sound Dungeness crab and squid jig fisheries into the sunset, and then saddle up for central Puget Sound winter chinook heading into 2021.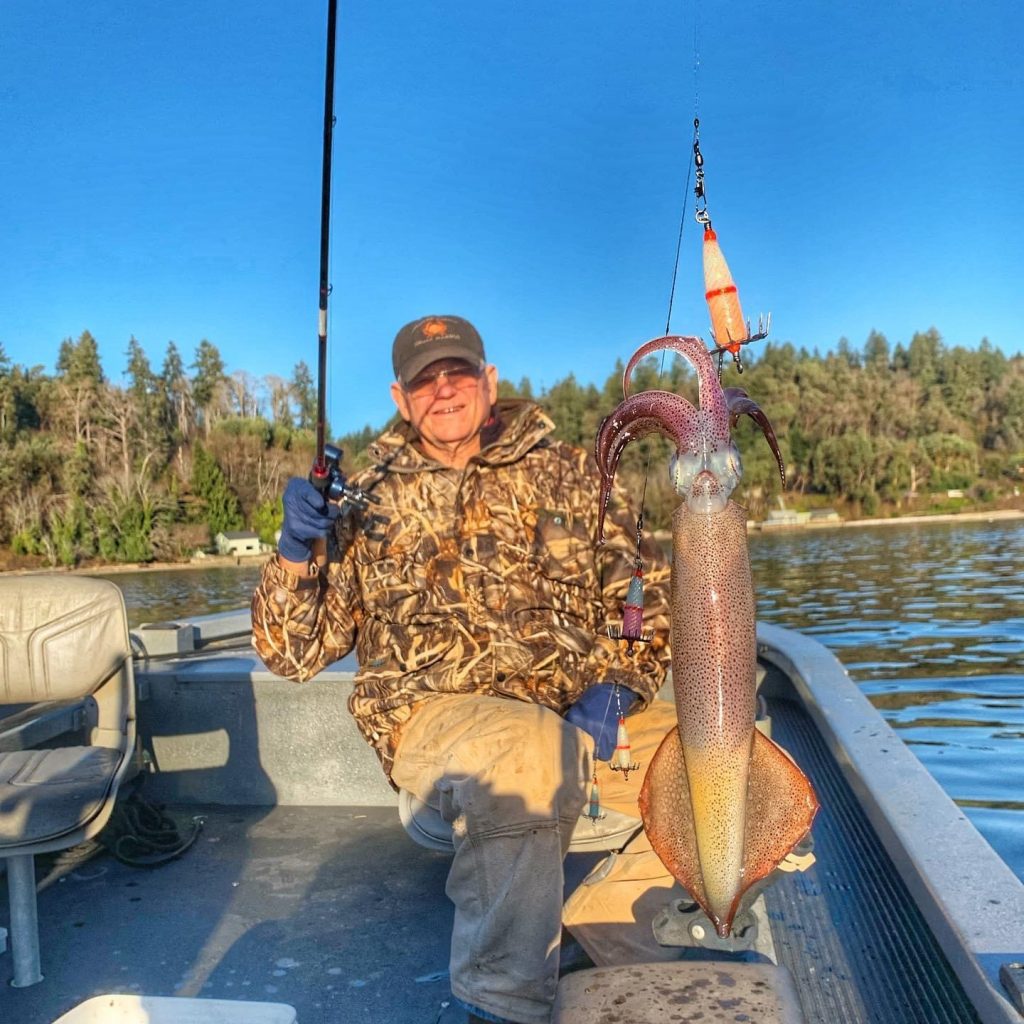 That's correct, I said squid jigging – which if you've been sleeping under a rock lately and haven't taken notice – has turned out to be a blessing in disguise both by boat and off many piers scattered across Puget Sound.
A little more than a week ago, I ventured into Elliott Bay with my two sons (Taylan and Tegan) aboard the boat of guide Paul Kim, owner of Fish Pacific Northwest Guide Service, during a daytime incoming tide and we found excellent squid jigging just a stone's throw away from the Seattle skyline.
"Squid jigging has been firing on all cylinders for more than a couple months now," Kim said, as we reeled in double- and triple-headers of squid attached to pink and chartreuse tandem weighted squid jigs, and surrounded by a dozen or so other boats who were feverishly catching onto this momentum occasion.
One of the biggest differences I've seen since my first trip out in late October was the sheer size of the squid (6- to 10-inches long) that are feeding heavily on small baitfish and crustaceans as they near spawning time in the next couple of months.
Puget Sound is one of top marine areas where squid migrate annually to lay their eggs along the gentle sloping rocky bottoms at depths of 15 to 80 feet. Many asked why would anyone eat something from the polluted waters of the bay, but remember squid are migratory so they don't ingest pollutants like a bottomfish would.
Night-time is best period as squid are attracted to light, which is why public piers are great spots to catch them. Squid tend to hide in the dark, shadowy edges of lighted water and then dart out into the light on their unsuspecting prey.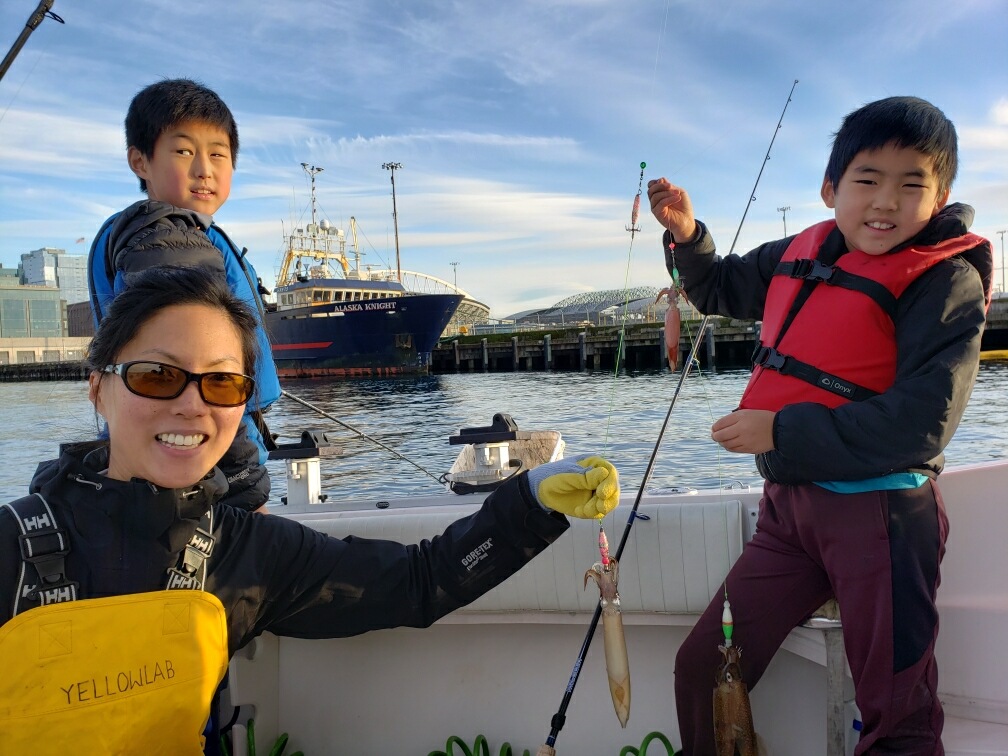 However, this season the population appears to be booming with anglers hooking them even in the daytime during or the hour leading up to a high tide change.
Some of the most popular places to catch squid are along the entire Seattle waterfront; the Seacrest (Marination) Boathouse Pier in West Seattle; Edmonds Pier; Des Moines Pier; A-Dock and Shilshole Pier; Point Defiance Park Pier; Les Davis Pier in Tacoma; Fauntleroy Ferry Dock; Illahee State Park Pier; and the Waterman and Indianola piers in Kitsap County. The Dash Point Pier has been closed due to overcrowding and COVID-19 concerns.
The better-than-expected weather has also provided a great opportunity for those pursuing Dungeness crab to get out and load up their pots with these fine tasting denizens of the deep.
Crabbing remains open daily through Dec. 31 along the eastside of Whidbey Island (Marine Catch Areas 8-1 and 8-2), Strait of Juan de Fuca (4 east of Bonilla-Tatoosh line, and 5 and 6); San Juan Islands (7); northern Puget Sound (9) and Hood Canal north of Ayock Point (12). All other areas are closed this winter.
Crab pots may be set or pulled from a vessel from one hour before official sunrise through one hour after official sunset. Daily limit is five Dungeness crabs (males only) in hard-shell condition with a minimum carapace width of 6 1/4 inches. Crabbers may also keep six red rock crabs of either sex per day with a minimum carapace width of 5 inches, and six Tanner crabs of either sex with a minimum carapace of 4 1/2 inches. Anglers must also possess a winter crab catch card.
Many year-round lakes continue to be planted by WDFW hatchery personnel, and are providing decent fishing for trout chasers. Note: For those who prefer a different species of fish be sure to hit Lake Goodwin where the yellow perch bite has been on fire.
Here's a rundown on the latest WDFW trout plants from Nov. 22 through Dec. 2 – King County: Green, 2,877; Beaver, 1,386. Pierce: American, 1,560; Tanwax, 1,000. Snohomish: Ballinger, 1,493; Silver, 1,493; Gissburg, 1,000. Thurston: Black, 2,400; Long, 1,000; Offutt, 1,000; Ward, 300. Kitsap: Kitsap, 1,720. Mason: Spencer, 1,195. Island: Cranberry, 2,000. Lewis: Fort Borst Park, 2,000; Lewis County Park Pond, 1,880. Cowlitz: Kress, 1,880. Clark: Klineline Pond, 2,000; and Lacamas, 4,550. Kittitas: Mattoon, 175.
Additional plants of trout occurred earlier last month at Leland in Jefferson County. Kitsap in Kitsap County. Kokanee, Lost and Nahwatzel in Mason County. Cases, Black, Snag and Western in Pacific County. American, Bonney, Bradley, Harts and Kapowsin in Pierce County. St. Clair, Long's Pond and Munn in Thurston County.
Those making the drive east of the Cascades (use caution for snow and icy roads) will find fish biting in some lakes and reservoirs.
Expect good catches of thousands of rainbow trout released from the Colville Tribe net pens in the Rufus Woods Reservoir. Lake Roosevelt is another worthwhile choice for a mix of rainbow trout and kokanee for boat and bank anglers. Lastly seek out kokanee in Lake Chelan above the Yacht Club and off Mitchell Creek.
For updates on the latest WDFW trout plants, go to https://wdfw.wa.gov/fishing/reports/stocking/trout-plants.
Looking further down the pipeline of fishing opportunities is central Puget Sound, which opens Jan. 1 through March 31 for hatchery chinook. The daily limit is one hatchery chinook with a minimum size limit of 22 inches. If you can't wait there are likely some hungry winter chinook lurking in southern Puget Sound south of the Narrows Bridge, which is open year-round.
Long-standing Tengu Derby cancelled
The Tengu Winter Blackmouth Derby that was scheduled to begin on Jan. 3 in Elliott Bay has been cancelled due to the ongoing pandemic, according to Doug Hanada, president of the derby.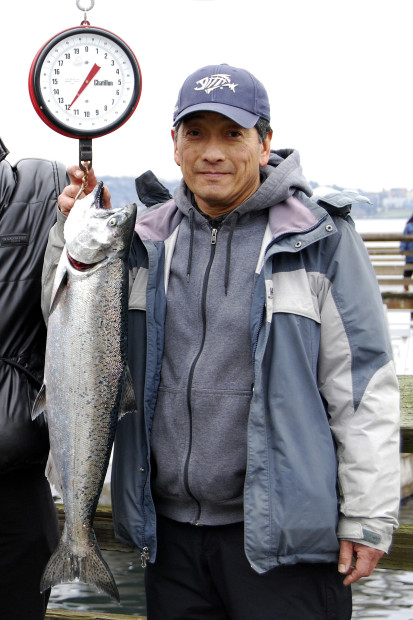 The last time the derby was cancelled occurred in 2015 when central Puget Sound was closed to all salmon fishing. The 2018-2019 season was also cut short by an in-season closure.
The derby is named after Tengu, a fabled Japanese character who stretched the truth, and just like Pinocchio, Tengu's nose grew with every lie.
During productive years, it is not uncommon to have 50 to 100 fish weighed, but catches have dramatically fell off since 2009.
The record-low catch total was two fish last season, and was followed by four fish landed in 2010, 2011 and 2019. The record high catch total occurred in 1979 when 234 were weighed-in.
Coastal razor clam digs cancelled
All coastal beaches remain closed to razor clam digging through Dec. 31 or possibly longer after recent marine toxin test results still show levels of domoic acid well above the cutoff threshold.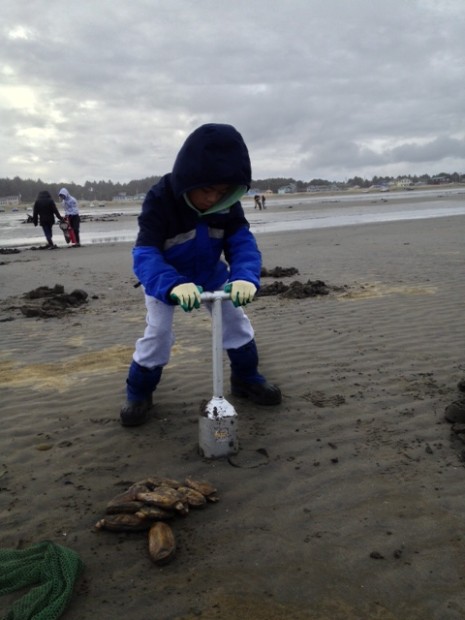 "Domoic acid levels remain too high to re-open for razor clams on Washington's ocean beaches," said Dan Ayres, the head WDFW coastal shellfish manager said in a news release. "We plan to re-evaluate marine toxin levels in early January and will move forward on scheduling tentative digs in early 2021 if conditions allow."
Domoic acid, a natural toxin produced by certain types of marine algae, can be harmful or fatal if consumed in sufficient quantities.
The latest marine toxin testing from clams dug on Tuesday showed levels at 25 parts per million (ppm) at Copalis and 67 ppm at Twin Harbors, which is well above the cutoff of 20 ppm cutoff.
Prior to the closure more than 80,000 digger trips produced close to 1.2-million clams harvested.
WDFW will continue to monitor the situation and regularly conduct sample testing of clams for marine toxins. The reality is it takes time for the razor clams to flush toxins out of their bodies, but once it drops under the cutoff look for WDFW to start tacking on as many dates as possible in 2021.
Have a great holiday and I'll see you on the water very soon!