State fisheries summer assessments reveal a historical high number of razor clams on coastal beaches with a possible early start to the autumn and winter digging season Leave a reply
It appears the coastal razor clam "shellabration" could get a jump start in the not too distant future, and the Washington Department of Fish and Wildlife (WDFW) just completed summer assessments noting populations have soared to historical proportions.
"It's going to be a spectacular year of digging and the razor clam population on every single beach is much greater than last year, which was already at a 25-year historic high," said Dan Ayres, the head WDFW coastal shellfish manager.
The main purpose of the yearly summer assessment is to get an accurate estimate of the number of clams measuring at or more than 3 inches long and can be safely harvested in the coming year without harming the overall population. Those who'd like to see how assessments are done can view a video at http://youtu.be/aC4fu6_8G8I.
"On one beach in particular (Long Beach) we've got so many clams that we don't have enough low tide days between now and spring to dig them all," Ayres said. "Potentially we could offer 220 days of digging, but there aren't 220 low tides in the season. It's a good problem to have."
In all Long Beach has 24.8-million recruit-size razor clams – measuring more than 3 inches long – and for the 2020-2021 season the total allowable catch (TAC) is 9.9-million up from 5.2-million in 2019-2020.
Earlier in the summer, WDFW surveyors indicated in just one ½-square meter plot at Long Beach, they found clams of all sizes from juveniles clear up to adults measuring 5 inches long.
"From a biological standpoint to see that in one spot means it is very healthy," Ayres said. "That means we've got clams for today, tomorrow and hopefully beyond. I was nervous before we got started at Long Beach because there have been previous years when we've seen lots of clams at the end of spring and then came back in the summer and saw terrible survival rates."
It has been quite a remarkable comeback for Long Beach where the adult clam population level in 2017-2018 was lowest seen in more than two decades, and had very few pre-recruit juvenile clams. This led to just four digging days in 2018-2019.
At Twin Harbors, assessments revealed 5.2-million recruit size clams with a TAC of 2.1-million compared to 1.8-million last season. At Copalis, the recruit size clam population is 11.8-million with a TAC of 4.7-million (recreational harvesters are allowed a share of 2.37-million) up from 4.2-million last season.
"This year shows me we can do 104 days of digging at Twin Harbors compared to 63 days last season," Ayres said. "We could offer 55 days at Copalis, and last year (the TAC) was a near record and the 4.7-million would be the highest in the past 25 years."
At Mocrocks, 11.6-million recruit-size razor clams are buried in the beaches with a TAC of 4.6-million (recreational harvesters are allowed a share of 2.37-million) up from 3.3-million last season. WDFW could offer 90 digging days at Mocrocks.
Kalaloch beaches were closed during 2019-2020 due to a low abundance of clams, but recent assessments showed a slight uptick. In 2019-2020, it was 0.4-million and for 2020-2021 it is 0.7-million although Ayres noted almost no clams were over 3 inches long.
Early opportunities a possibility starting next month during early morning low tides
Under a normal year, digging would get underway in late September or early October, but with ample time available in the upcoming 2020-2021 season, WDFW has proposed an earlier start that includes some early morning low tide opportunities.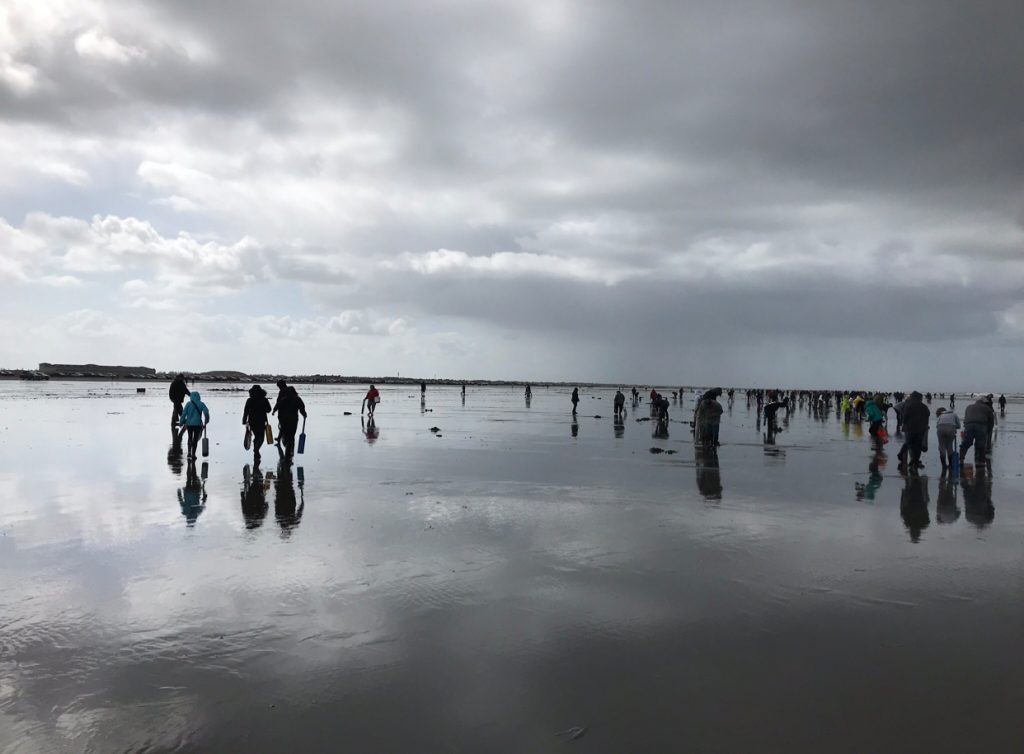 "We'd like to get a jump start on the season (possibly as soon as Sept. 14), but need to have clear guidance from coastal community and health leaders, the Department of Health (DOH) and the governor's office," said Larry Phillips, the head WDFW regional director. "We had a meeting (on Aug. 18 with coastal county officials) and provided a proposal of what the season could look like for the first 40 digs through December. There was discussion on what the risk is to public health and challenges faced by putting a bunch of people onto beaches. It seems to me we're ready to move forward."
WDFW is also closely monitoring marine toxins such as domoic acid – a natural toxin produced by certain types of marine algae – which can be harmful or even fatal if consumed in enough quantities.
"We saw a spike in domoic acid at Clatsop beaches (in Oregon) and we're keeping an eye on the southern coast where we saw higher levels in the water but certainly nothing to get too alarmed about at this point," Ayres said.
The latest samples from the DOH labs showed domoic acid levels remained well under the 20 parts-per-million (ppm) cutoff. At Twin Harbors, test samples went up from 2ppm to 5ppm, but all other beaches were 2ppm or less.
Since 1991, when the toxin was first detected on the Pacific Coast, outbreaks of domoic acid have prompted the cancellation of three entire razor-clam seasons in Washington — the last one in 2002-03. Twin Harbors Beach never opened in 2015-2016 as marine toxin levels never dipped below the action level. The entire coast was also closed in late May of 2015 when domoic acid spiked well above the cut-off level.
Razor clam digging is a huge money maker generating $25- to $35-million for small coastal communities who rely on these opportunities during the lean tourist times in autumn, winter and spring to help boost their economy.
Phillips indicated WDFW will have further talks with Pacific and Grays Harbor County officials this week, and decide if an earlier opening along with the proposed 40-day start to the winter season is a viable option.
"We've got a great dilemma on our hands and that is a lot of clams on the beaches to dig," Phillips said. "Hopefully we can find a way access them while being responsible with the public health guidelines related to COVID-19."
Normally, fall and winter razor clam digs take place on evening low tides while spring-time digs happen on morning low tides, however, an earlier start in mid-September could occur during morning low tides.
For details, go to http://wdfw.wa.gov/fishing/shellfish/razorclams/. For tips and advice, go to https://wdfw.wa.gov/fishing/basics/digging-razor-clams.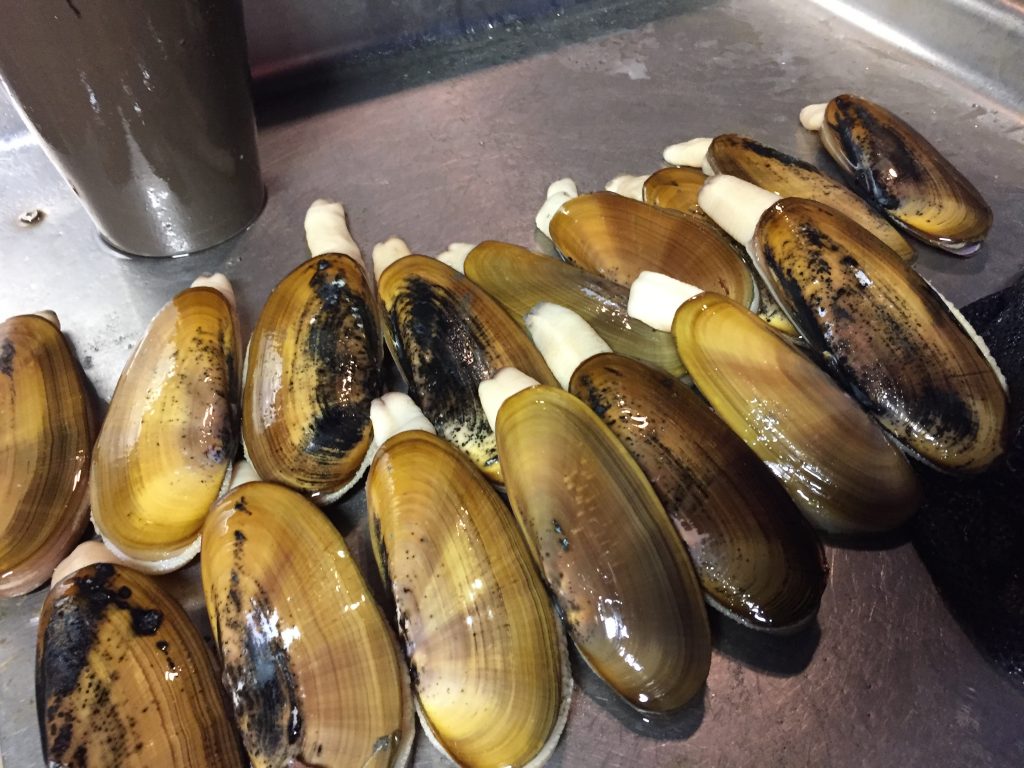 Mark's razor clam recipe
There are many ways to prepare them, and topping the list is my pan-fried razor clam dish with a gob of tartar sauce. This recipe is relatively easy to make and will have the kiddos and friends coming back to the dinner table for more!
In future blog posts I will also post more tasty seafood recipes that relate to the catch of the month.
Ingredients
15 cleaned razor clams
3 eggs
½ cup of milk
1 cup of flour
1 1/2 cup of panko (Japanese cracker crumbs)
½ teaspoon of black pepper
½ teaspoon of kosher salt
Tartar sauce (Ivar's is my preferred choice)
Directions
First rinse clams, drain and pat dry with a paper towel
In a bowl whisk eggs with milk
Then dredge clam pieces into the flour mixed with salt and pepper on one plate, and then roll in the panko on a separate plate
Using on medium high heat, fry the clams in quarter-inch of oil in a pan
Fry the clams for about two minutes or until brown and flip them over to brown the other side for just as long
Take out and lay out on paper towels to absorb the grease and serve
To view a variety of ways to dish up some yummy recipes, go to the WDFW website at https://wdfw.wa.gov/sites/default/files/2019-10/clam_recipes.pdf.