Salmon forecasts show some Puget Sound chinook and coho returns are down for 2020 and the road to creating fishing seasons could face hurdles Leave a reply
The Washington Department of Fish and Wildlife unveiled their 2020 salmon forecasts at a public meeting in Olympia this past Friday, and there could be some potential roadblocks in carving out fishing seasons.
"For Puget Sound chinook forecasts we are a little lower but general numbers of hatchery returns are about where they have been," said Mark Baltzell with the Washington Dept of Fish and Wildlife's (WDFW) Puget Sound Salmon Fisheries Management.
According to Baltzell the "hot topics" in 2020 will be chinook issues for the Stillaguamish and mid-Hood Canal, plus the Snohomish has popped up on their radar as another to keep an eye on.
In general, Puget Sound chinook, coho and chum returns are down across the board, and some like the mid-Hood Canal chinook are quite alarming with just 39 fish forecasted in 2020 compared to 286 in 2019, which was still in historic "dire straits" level.
Crafting Puget Sound chinook fishing seasons hinge on constraints of certain wild chinook stocks – that are protected under the Endangered Species Act – like mid-Hood Canal and the Stillaguamish.
The Puget Sound Sportfishing Advisory Board Group sent a letter this past week to the Pacific Fishery Management Council (which sets ocean salmon seasons) to look at making northern coastal ocean fisheries selective – meaning only hatchery chinook may be kept – since they play a role in the total take of critically low mid-Hood Canal stocks.
The Puget Sound summer/fall chinook forecast is 256,821 (218,305 are of hatchery origin and 38,516 are wild) in 2020, slightly up from 246,837 (217,042 and 29,796) and 255,219 (227,815 and 27,404) in 2018.
A breakdown of some preseason hatchery and wild chinook abundance shows the mid-South Puget Sound forecast in 2020 at 111,160 (107,400 in 2019, 128,400 in 2018 and up from 85,100 in 2017); Skagit is 13,346 (13,938, 13,600 and 16,200); Stillaguamish is 901 wild only (888, 1,600 and 1,500); Snohomish is 9,732 (10,248, 10,000 and 8,200); and Tulalip is 6,366 hatchery only (12,700, 7,500 and 5,300).
In hindsight, the preliminary Columbia River chinook returns will be much improved over the past couple of years.
In all, 430,000 fall chinook are expected to return to the Big-C in 2020 compared to a forecast of 340,400 and an actual return of 375,700 in 2019 and 365,600 and 290,900 in 2018.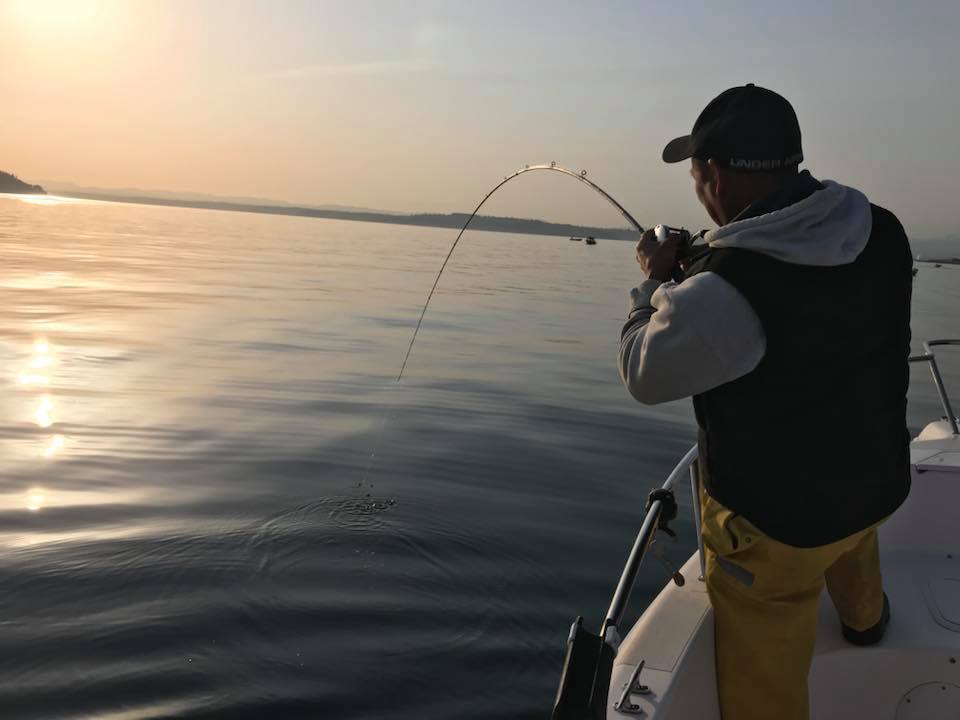 The lower river hatchery return in 2020 is about 60 percent of the 10-year average; lower river wild is 117 percent; lower river bright is about 170 percent; Bonneville Pool hatchery is about 60 percent; upriver bright is 55 percent; pool upriver bright is about 80 percent; and select area bright is 17 percent.
The meat and potatoes are the upriver bright chinook of 233,400 (158,400 and 212,200 in 2019 and 200,100 and 149,000 in 2018).
The lower river "tule" hatchery chinook (a driver for ocean salmon fisheries) is predicted at 51,000 (down from a forecast 54,500 but up from actual return of 48,900 in 2019 and 62,400 and 50,400 in 2018). The lower river wild is 19,700 (13,700 and 16,700 in 2019); lower river bright is 7,000 (8,000 and 9,900); Bonneville Pool hatchery is 46,200 (46,000 and 29,000); pool upriver bright is 71,800 (56,700 and 58,100); and select area bright forecast is 1,000 (3,100 and 900).
On the Washington coast, the Willapa Bay 2020 chinook forecast is up with 31,185 compared to 28,100 in 2019 and down from 44,100 in 2018.
The Puget Sound total coho return is also down somewhat with a forecasted return of 523,498 (366,284 are hatchery and 157,214 are wild) compared to 708,521 (417,319 and 293,980) in 2019 and 557,149 (307,975 and 249,174) in 2018.
"We are down on Puget Sound coho, and once again the big driver is the Snohomish system," Baltzell said. "We've been down in this system since 2015 and haven't climbed out of the muck from a wild fish perspective.
The Snohomish coho forecast is 44,886 (70,309 in 2019 and 73,017 in 2018) with 39,020 being of wild origin and the system has a spawning escapement goal of 50,000.
"Outside of that we didn't see any other major bad ones but the Skagit could see a limited late season opportunity," Baltzell said. "Hood Canal looked decent and central-south Sound looked OK."
Here is a breakdown of other Puget Sound coho forecasts – Skagit is 49,136 (67,850 and 72,297; Lake Washington is 8,537 (13,560 and 15,002; Stillaguamish is 21,749 (26,054 and 18,950); Green River is 69,363 (71,681 and 51,352); and Puyallup is 26,434 (41,569 and 22,949).
Off the Washington-Oregon coast, a coho forecast of 268,700 is expected in 2020, compared to a preseason forecast of 1,009,600 last year and an actual return of 408,100 in 2019 (forecast in 2018 was 349,000 and an actual larger return of 230,700).
The Columbia subtotal is 181,000 – coho that turn the corner of southwest Washington near Cape Disappointment and doesn't include the northern Oregon coast. There is also a small coast subtotal of 4,700 coho forecasted (27,090 forecasted in 2019 and 3,000 was actual return).
Coastal salmon fishery managers are mainly concerned about the poor Columbia River early- and late-timed coho returns in 2020 since they're the key drivers in ocean sport fisheries.
The Columbia River early coho forecast is 130,700 (545,000 was forecast in 2019 and actual return was 191,400); late coho is 50,300 (360,600 and 106,100); and Oregon coast natural coho is 83,000 (76,100 and 107,600).
How the coho forecasts affect ocean fisheries at Neah Bay, La Push, Westport and Ilwaco is still up for debate, but there have been poor returns in the past with fishery managers still crafting somewhat limited summer seasons.
When looking at coho seasons dating back 10 years, this season could land right on the same page as 2010, 2011 and 2012 when it was in the doldrums. The situation improved in 2013 and was a lot better by 2014 although there wasn't many coho caught in the ocean fisheries.
Fishery managers indicate the 2020 adult coho returnees went out into the ocean as juvenile fish and suffered a big die-off (most likely related to the "Blob") since all indications showed a great outgoing pattern for 2019 returns.
Along the Washington coast, the coho return forecast is 276,989 in 2020 (down from 401,655 in 2019 and up slightly from 270,756 in 2018).
Other coastal coho forecasts are Willapa, 69,635 (157,467 in 2019); Grays Harbor, 113,674 (135,872); Queets, 18,716 (24,275); Hoh, 4,159 (6,963); Quinault, 44,434 (40,792); and Quillayute, 22,118 (31,677).
The Puget Sound/Hood Canal fall chum return is 874,307 down from 1,035,835 in 2019 (the recent 10-year average is 1.5 million). In Hood Canal the forecast is 471,810 down from 518,645 in 2019 and southern Puget Sound bays and estuaries is 309,573 up from 263,171 in 2019.
The Lake Washington sockeye continue to struggle big time and the forecast in 2020 is 20,824 up from 15,153 in 2019. The lake needs a spawning escapement goal of 350,000 before any fisheries could be considered. The last time it was open for sport fishing was 2006 when 453,543 returned. Since then the run dipped dramatically in 2018 with 25,123 and 2009 with 22,165 but has had some 100,000-plus returns in 2017, 2013, 2012 and 2010.
The Baker Lake sockeye forecast has yet to be determined and is likely to be down compared to 33,737 in 2019. The state and co-managers were still working on data but early estimates show it could be as low as 15,000 sockeye.
The Columbia River sockeye forecast is 244,000 up quite a bit from 92,800 in 2019. A breakdown for Lake Wenatchee is 39,400 up from 18,300 in 2019 and there could be a summer fishery depending on in-season updates; and Okanogan is 201,800 up from 74,500 in 2019. State officials say they should be able to work out a sport fishery in the Columbia this summer for sockeye. Stay tuned.
The Fraser River in southern B.C. is expecting a low return of 943,000 sockeye compared to 4,795,000 in 2019. In past years these numbers have varied wildly from forecasts versus actual in-season data.
How all these Puget Sound and coastal salmon forecasts correlate into exact fishing seasons won't be finalized until mid-April but the first options could come to light by mid-March.
The Pacific Fishery Management Council (PFMC) will announce three ocean salmon fishing options at meetings this Tuesday (March 3) through March 9 in Rohnert Park, CA.
Other public meetings include the North of Falcon meeting at Lacey Community Center, March 16; North of Falcon meeting in Sequim, March 19; Pacific Fishery Management Council hearing at Westport, March 23; North of Falcon meeting at WDFW Mill Creek office, March 26; and North of Falcon meeting at Lynnwood Embassy Suites, 20610 44th Avenue West, March 31.
The Pacific Fishery Management Council will adopt final salmon seasons at the Hilton Vancouver, 301 West 6th Street in Vancouver, WA, on April 5-11. For specific meeting agendas and times, go to https://wdfw.wa.gov/fishing/management/north-falcon.
Nibbles and bites
–The Strait of Juan de Fuca (Areas 5 and 6) opened Sunday for hatchery chinook fishing. Area 5 is open through April 30 and Area 6 is open through April 15. Historically March and April are prime time in the eastern Strait at exposed underwater shelf's like McArthur, Partridge, Salmon, Hein, Coyote, Eastern and Middle banks. Other decent locations are Sekiu; Freshwater Bay; and Winter Hole, Ediz Hook and the "humps" off Port Angeles.
–The Quincy Trout Derby hosted by Quincy Chamber of Commerce is March 7 at Quincy Lake NOT Burke Lake like it has been in previous years since it is undergoing rehabilitation. Cost is $30 adults, and youth under 17 are free.
–Walleye fishing has picked up at the Potholes Reservoir, Crab Creek, mouth of the Spokane Arm (which has the largest spawning population), Lake Billy Clapp, Long Lake, Moses Lake, Crescent Lake, Soda Lake and Scooteney Reservoir. In the Columbia River try The Dalles Pool from The Dalles Dam up to John Day Dam – also known as Lake Celilo.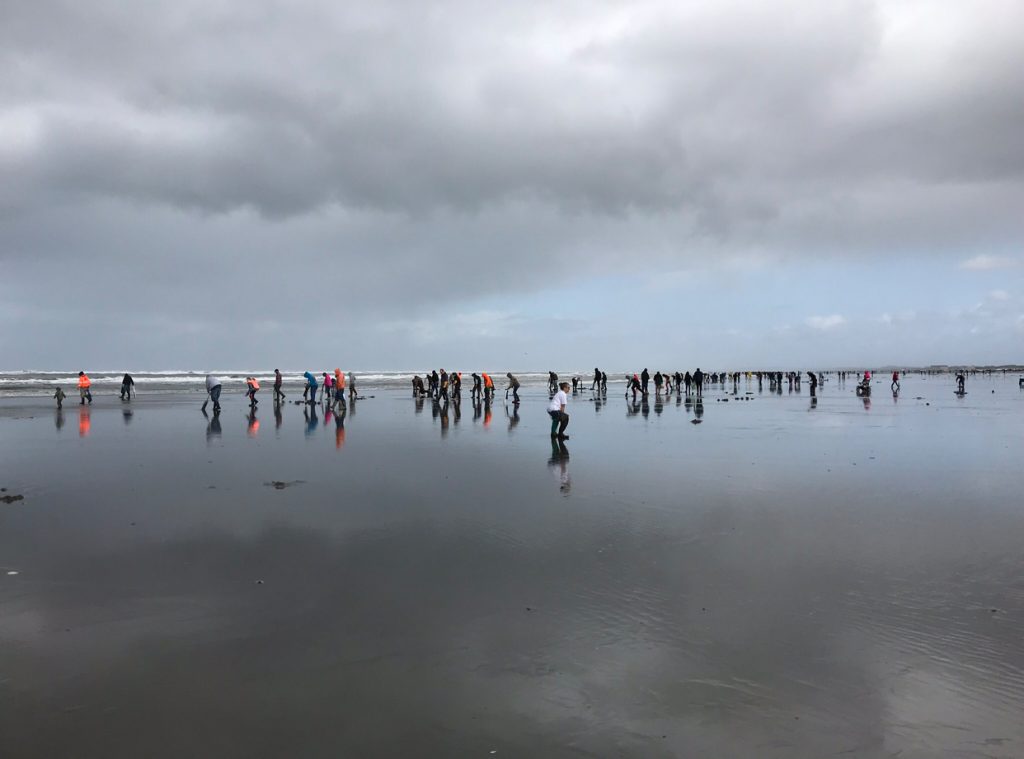 –The next tentative coastal razor clam digs at Long Beach, Twin Harbors and Mocrocks are March 6, 8, 10, 20, 22, and April 4 and 6; and at Long Beach, Twin Harbors and Copalis are March 7, 9, 11, 21 and 23, and April 3, 5, and 7. These digs are during evening low tides and final approval should come to light very soon.
–The Ocean Shores Razor Clam Festival on March 21-22 with live music, razor clam tutorials, cooking demonstrations, fun youth activities, vendors, food and beverages, and a seafood & clam chowder cookoff contest. Details: https://www.osrazorclamfestival.org/.
–The Long Beach Peninsula Razor Clam Festival is April 11, and attractions include free razor clam digging lessons, how to clean razor clams, clam chowder taste-off, clam fritter sampling, amateur chowder competition, beer garden, entertainment and vendors. Details: http://longbeachrazorclamfestival.com/.
–WDFW preliminary chinook encounter estimates through Feb. 23 are 16% and 5% of total & unmarked guidelines respectively in Area 7; and 5% of total encounters guideline in Areas 8-1 and 8-2; 23% of total encounters guideline in Area 9; and 52% of total encounters guideline in Area 10.
Area 7: 47 boats with 93 anglers Feb. 1-2 kept 27 hatchery chinook and released 21 hatchery and 7 wild chinook; 563 boats with 1,206 anglers Feb. 3-9 kept 280 and released 235 and 64; 315 boats with 653 anglers Feb. 10-16 kept 129 and released 108 and 30. Overall mark rate on WDFW test fishery boat is 88.9 percent.
Area 8-1: 0 boats with 0 anglers Feb. 1-2 caught no fish; 68 boats with 127 anglers Feb. 3-9 kept 3 hatchery chinook and released 4 hatchery chinook; 43 boats with 76 anglers Feb. 10-16 kept 6 hatchery chinook and released 7 hatchery chinook.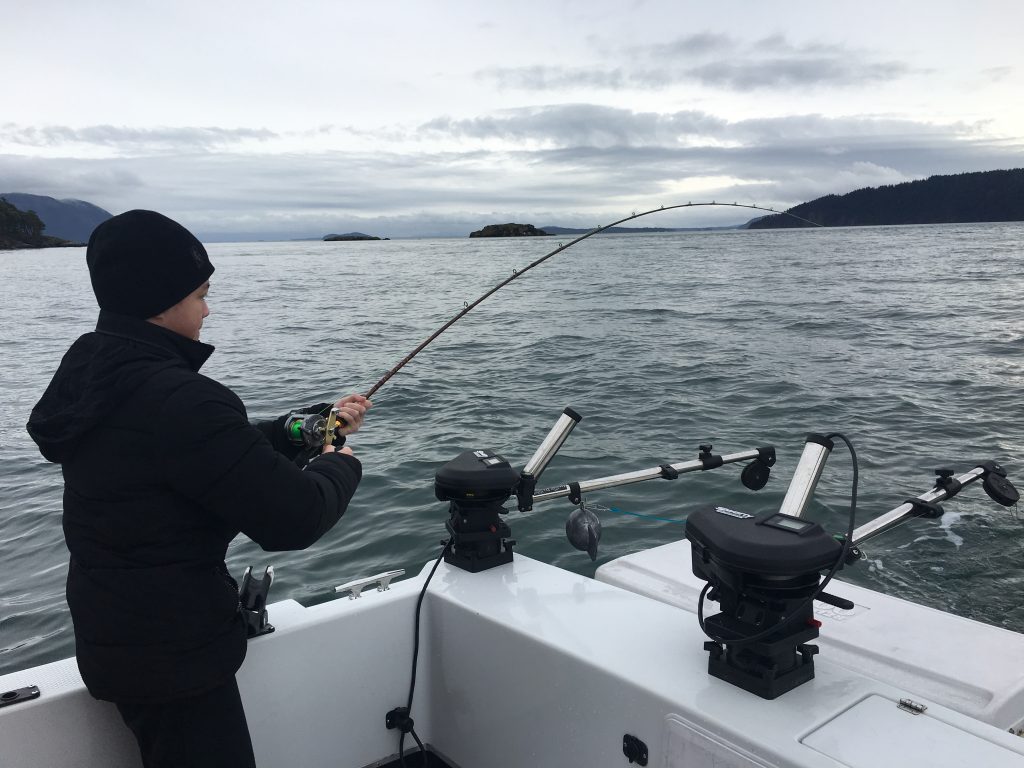 Area 8-2: 0 boats with 0 anglers Feb. 1-2 caught no fish; 224 boats with 530 anglers Feb. 3-9 kept 41 hatchery chinook and released 54 hatchery chinook; 142 boats with 328 anglers Feb. 10-16 kept 42 hatchery and two wild chinook (illegal to keep wild fish) and released 55 hatchery chinook.
Area 9: 4 boats with 8 anglers Feb. 1-2 caught no fish; 571 boats with 1,216 anglers Feb. 3-9 kept 125 hatchery chinook and released 379 hatchery and 108 wild chinook; 287 boats with 594 anglers Feb. 10-16 kept 91 hatchery chinook and released 276 hatchery and 79 wild chinook. Retained fish per angler trip is 0.1188. Overall mark rate on WDFW test fishery boat is 82.4 percent.
Area 10: 98 boats with 230 anglers Jan. 1-5 kept 4 hatchery chinook and released 66 hatchery and 37 wild chinook; 121 boats with 241 Jan. 6-12 caught no fish; 51 boats with 88 anglers Jan. 13-19 kept 10 and released 178 and 99; 26 boats with 65 anglers Jan. 20-26 caught no fish; 104 boats with 185 anglers Jan. 27-Feb. 2 kept 8 and released 154 and 86; 232 boats with 449 anglers Feb. 3-9 kept 16 and released 294 and 164; 131 boats with 331 anglers Feb. 10-16 kept 8 hatchery chinook and released 154 and 86; 99 boats with 214 anglers Feb. 17-23 kept 5 hatchery chinook and released 93 and 52. Retained fish per angler trip is 0.0283. Overall mark rate on WDFW test fishery boat is 65.4 percent.
–The NW Fishing Derby Series' next events are the Olympic Peninsula Salmon Derby on March 13-15; Everett Blackmouth Derby on March 21-22; and For the Love of Cod Derbies in Coos Bay on March 21-22 and Brookings on March 28-29. Details: www.NorthwestFishingDerbySeries.com.