Doors on spring coastal razor clam digs swing wide open with heaps of clams left to harvest from March through April and possibly into May Leave a reply
Coastal razor clam fans are witnessing another spectacular season and ample digging time is still planned for the months ahead.
The Washington Department of Fish and Wildlife (WDFW) set 29 tentative digging days in March and April with opportunities switching over to daylight low tides starting in early April.
"It has been a typical winter harvest, and weather was particularly rotten in January which lead to lighter crowds," said Dan Ayres, the head WDFW coastal shellfish manager. "People have been spreading out their digging days since we've had so many chances to dig and we haven't gotten those monster turnout days like we've seen in the past."
When WDFW set the early part of the seasons back in fall there was about 10-million clams available for 2019-2020, and through Jan. 31 only about 2.2 million have been dug leaving quite a few clams still available to harvest. Roughly about 25 percent of quota has been taken at Long Beach; 23 percent at Twin Harbors; 22 percent at Copalis; and almost 18 percent at Mocrocks.
"We have a wonderful season still in front of us, and this is the best population of razor clams we've had in the past 25 years," Ayres said. "We may have more digs to offer in May but need to see how things go before we decide on anything beyond the upcoming planned digs."
Since the 2019-2020 digging season opened from Sept. 27 through Jan. 26, 159,725 diggers on four coastal beaches have taken home 2,141,351 razor clams for 13.4 clams per person (the first 15 clams regardless of size or condition is a daily limit. During all of the 2018-2019 there was 272,962 diggers who harvested 3,742,861 clams for 13.0.
"There are digs scheduled on just about every low tide series and don't plan to keep anything open continuously like we did in 2014 at Long Beach," Ayres said. "It led to confusion among people who were digging on the wrong tides, stressed out our enforcement guys and some illegal baloney (excess harvesting) happening."
To date, Long Beach has seen 49 days with 72,539 diggers harvesting 1,017,536 clams for 14.0; Twin Harbors, 46 days with 32,956 and 406,050 for 12.3; Copalis, 23 days with 31,579 and 430,020 for 13.6; and Mocrocks, 22 days with 22,651 and 287,745 for 12.7. Digging has remained closed at Kalaloch in 2019-2020 due to low abundance of clams. The 2018-2019 season saw six days of digging with 1,010 and 3,599 for 3.6.
Upcoming tentative evening digs are planned at Long Beach, Twin Harbors and Copalis on Feb. 20 and 22; and at Long Beach, Twin Harbors and Mocrocks on Feb. 21 and 23.
Other evening digging dates at Long Beach, Twin Harbors and Mocrocks are March 6, 8, 10, 20, 22, and April 4 and 6; and at Long Beach, Twin Harbors and Copalis are March 7, 9, 11, 21 and 23, and April 3, 5, and 7.
Digging switches to mornings at Long Beach, Twin Harbors and Mocrocks on April 8, 10, 12, 23, 25, 27 and 29; and at Long Beach, Twin Harbors and Copalis on April 9, 11, 13, 22, 24, 26 and 28.
Marine toxin levels for domoic acid and pseudo-nitzschia have remained well under the 20 parts-per-million (ppm) cutoff. Final approval of all digs hinge on marine toxin testing and are usually announced one to two weeks prior to each series of digs.
Diggers can also enjoy a couple of fun upcoming razor clam events. They are the Ocean Shores Razor Clam Festival on March 21-22 with live music, razor clam tutorials, cooking demonstrations, fun youth activities, vendors, food and beverages, and a seafood & clam chowder cookoff contest. Details: https://www.osrazorclamfestival.org/.
The Long Beach Peninsula Razor Clam Festival is April 11, and attractions include free razor clam digging lessons, how to clean razor clams, clam chowder taste-off, clam fritter sampling, amateur chowder competition, beer garden, entertainment and vendors. Details: http://longbeachrazorclamfestival.com/.
Salmon season setting meetings on horizon
Mark your calendar for Feb. 28 from 9:30 a.m. to 12 p.m. when WDFW unveils the salmon forecasts during a public meeting at DSHS Building 2 Auditorium, 1115 Washington Street S.E. in Olympia.
Whether you agree or disagree, the public opinion periods are an important function during the salmon season setting process that'll determine the destiny of the 2020-2021 sport salmon fisheries.
The coastal coho abundance was released last week, and to read the story, go to http://www.theoutdoorline.com/blog/post/2020/02/12/ocean-coho-abundance-and-columbia-river-forecasts-for-2020-come-to-light-and-points-to-low-returns-on-paper.aspx.
Other public meetings include the North of Falcon meeting on March 16 from 9:30 a.m.-12 p.m., at Lacey Community Center,6729 Pacific Avenue S.E. in Olympia; Puget Sound Recreational Fisheries Discussion on March 19 from 6:30-8:30 p.m., at Trinity United Methodist Church, 1000 South Blake Avenue in Sequim; Mid-Columbia River public meeting on March 19 from 6-8 p.m. at Richland Public Library, 955 Northgate Drive in Richland; Ocean Salmon Management Options public hearing on March 23 at location TBD in Westport; Grays Harbor Fisheries Discussion on March 24, 6-8 p.m., at Montesano City Hall, 112 North Main Street in Montesano; Puget Sound Recreational Fisheries Discussion on March 25, 6:30-8:30 p.m. at WDFW Region 4 Office, 16018 Mill Creek Blvd. in Mill Creek; North of Falcon meeting on March 31, 9:30 a.m.-3:30 p.m., at Lynnwood Embassy Suites, 20610 44th Avenue West in Lynnwood; Columbia River and Ocean Fisheries Discussion on April 1, time TBD, WDFW Region 5 Office, 5525 11th Street in Ridgefield.
The Pacific Fishery Management Council will adopt final salmon seasons on April 5-11 at the Hilton Vancouver, 301 West 6th Street in Vancouver, WA. For specific meeting agendas and times, go to https://wdfw.wa.gov/fishing/management/north-falcon.
"20 in 2020" is new NW Fishing Derby Series slogan
The first three of 20 total fishing derbies in the 2020 season wrapped up this month and despite tough weather conditions, turnout was great and success was fair to good in the San Juan Islands.
The Resurrection Salmon Derby in Anacortes on Feb. 1-2 kicked off the series with 329 anglers catching 62 fish. First place was Corey Coleman with an 18.14 pounder that earned him $12,000; second was Derek Britton, 17.92; and third was Kylie Bloedel, 17.4.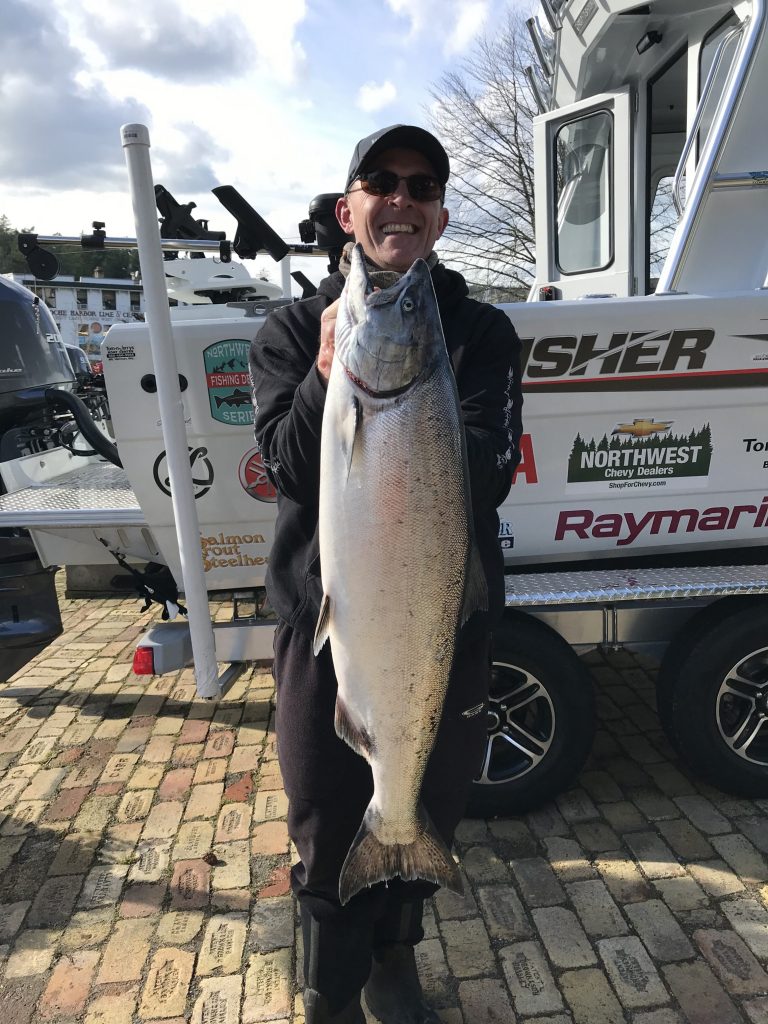 The Friday Harbor Salmon Classic was Feb. 6-8 and 308 anglers caught 100 fish. First place was Jeff Nelson with an 18.57 pounder who took home $20,000; second was Lance Husby, 17.40; and third was Scott Bumstead, 17.0.
The Roche Harbor Salmon Classic was Feb. 13-15 where 100 boats with 443 anglers caught 174 fish. Winner was Jason Squibb with an 18 pound, 14 ounce fish worth $12,000; second was Brent Malone, 18-6; and third was Scott Propst, 15-12.
Next up are the Olympic Peninsula Salmon Derby on March 13-15; Everett Blackmouth Derby on March 21-22; and For the Love of Cod Derbies in Coos Bay/Charleston areas and Brookings, Oregon March 21-22 and March 28-29 respectively.
The highlight of the 2020 series is a chance to win a $75,000 fully loaded, grand-prize all-white KingFisher 2025 Escape HT boat powered with Yamaha 200hp and 9.9hp trolling motors on an EZ Loader Trailer. The boat is equipped with Shoxs Seats for maximum comfort in the roughest of seas; a custom engraved WhoDat Tower; Raymarine Electronics; Burnewiin Accessories; Scotty Downriggers; and a Dual Electronics stereo.
Anglers who enter any of the 20 derbies don't need to catch a fish to win this beautiful boat and motor package.
Other sponsors include The Reel News; Northwest Chevy Dealers and Burien Chevrolet; Silver Horde and Gold Star Lures; Tom-n-Jerry's Marine; Master Marine; NW Sportsman Magazine; Outdoor Emporium and Sportco; Harbor Marine; Prism Graphics; Lamiglas Rods; 710 ESPN The Outdoor Line; Salmon & Steelhead Journal; Outdoor Emporium and Sportco; Bayside Marine; Seattle Boat Company; Ray's Bait Works; and Salmon Trout Steelheader Magazine.
The Northwest Fishing Derby Series promotes boating and fishing throughout the region by partnering with existing derbies and marketing those events through targeted advertising, public relations and promotional materials. For details, go to www.NorthwestFishingDerbySeries.com.