Winter chinook fishing opportunities in marine areas are worth celebrating moving into the new decade Leave a reply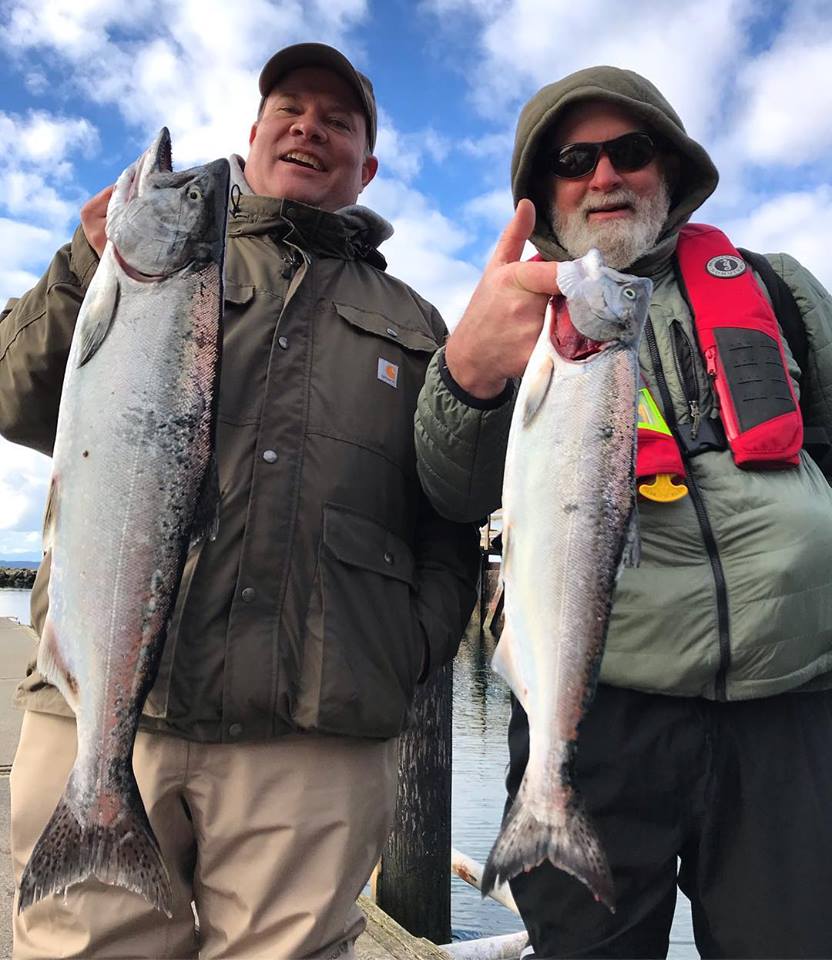 By Mark Yuasa
While the New Year's Eve celebrations took center stage, many salmon anglers were saving their fun times for hitting up three marine areas that opened to salmon fishing on Jan. 1.
Success was mainly slow to fair at times in central Puget Sound (Marine Catch Area 10) – from Apple Tree Cove-Point Wells boundary line south to the northern tip of Vashon Island – since it reopened but the windows of opportunity have been dashed by windy conditions and rough seas. Area 10 is open through March 31.
"The best fishing was at Kingston over the first two days (last Wednesday and Thursday, Jan. 1-2)," said Justin Wong, owner of A Cut Plug Charters in Seattle. "I fished Edmonds and Jefferson Head and had a few chances. But all the fish we kept were from Kingston (where) we marked bait as well."
Most of the kept fish reported by anglers were 4 to 7 pounds, peppered with a few in the 8- to 13-pound range. The good news is that shakers (a term used for chinook under the 22-inch minimum size limit) were few and far in between.
Locating baitfish schools is the main tactic since these chinook are voracious feeders of mostly herring and candlefish. They'll also tend to hug areas right off the bottom so keeping your lure or bait bouncing right in front of their noses will increase your chances.
There's no need to rush out for the daybreak bite for winter chinook and many times it is based on the tides and locations. Work your presentation along drop offs, underwater structure and ledges during a certain tidal movement is the key to success. Lastly, if the fish bit at a certain time of the day, it's likely they'll bite again the following day only an hour later.
Other places in central Puget Sound look for blackmouth are West Point south of Shilshole Bay; Point Monroe; Fourmile Rock; Rich Passage; Southworth; Manchester; northwest side of Vashon Island by the channel marker; Yeomalt Point and Skiff Point on the east side of Bainbridge Island; and Allen Bank off Blake Island's southeastern corner.
South-central Puget Sound – open through April 30 – is another area not to be overlooked for winter chinook although success was slow out of the starting gate in the Tacoma area.
"It was too windy on the (Jan. 1) opener and the guys who went out (Jan. 2) didn't find much," said Gabe Miller at Sportco in Fife and WDFW sport fishing advisory board member. "It doesn't appear to be anything like last year."
In south-central Puget Sound try around the Clay Banks off Point Defiance Park in Tacoma; the "Flats" outside of Gig Harbor; Quartermaster Harbor; Point Dalco on south side of Vashon Island; Southworth Ferry Landing; and Colvos Passage off the Girl Scout Camp.
Another location not to be overlooked is Hood Canal (Areas 11 and 12) which is open through April 30. Try off Misery Point, Hazel Point, Pleasant Harbor, Toandos Peninsula, Seabeck Bay and Seal Rock.
Southern Puget Sound (Area 13) is open year-round for hatchery chinook and places to seek out fish are Fox Point; Gibson Point; Point Fosdick; Hale Passage; Anderson Island; Lyle Point; and Devil's Head and Johnson Point.
Keep in mind that getting out sooner than later is a wise idea since early closures hinge on catch guidelines or encounter limits for sub-legal and legal-size chinook.
Other choices on near horizon are the San Juan Islands (Area 7) open Feb. 1 through April 15; northern Puget Sound (Area 9) open Feb. 1 through April 15; and east side of Whidbey Island (Areas 8-1 and 8-2) open Feb. 1 through April 30.
Tengu Blackmouth Derby now underway
The Tengu Blackmouth Derby – the oldest salmon derby that began prior to and shortly after World War II in 1946 – is held on Sundays 6 a.m. to 11 a.m. through Feb. 23 on Elliott Bay at the Seacrest Boathouse (now known as Marination Ma Kai) in West Seattle.
The derby kicked off on Sunday with 20 anglers catching no keeper-sized salmon and was most likely dashed by very windy weather.
"The bay is somewhat protected from the southerly wind," said Doug Hanada, Tengu Derby president. "Others ventured out to Duwamish Head and the (Elliott Bay) Marina where there wasn't much bait or shaker action. A few good sized shakers caught off West Point before the wind picked up and chased those few boats inside. Some bait marked between Salty's and the Boathouse. Not much action from the West or East Waterway."

In previous years, the derby started in October when Area 10 opens for winter hatchery chinook. However, this year's non-retention of chinook delayed the event to coincide with the Jan. 1 opener. Last year, the derby was cancelled when WDFW decided to shutdown Area 10 just a few weeks after it began.
What makes the derby so challenging is the simple fact blackmouth are scarce around the inner bay during winter months.
The derby is named after Tengu, a fabled Japanese character who stretched the truth, and just like Pinocchio, Tengu's nose grew with every lie.
In a typical derby season, the catch ranges from 20 to 23 legal-size chinook and has reached as high as 50 to 100 fish although catches have dipped dramatically since 2009. The record-low catch was four fish in 2010, and all-time high was 234 in 1979.
The last full-length season was 2017 when 18 blackmouth were caught and a winning fish of 9 pounds-15 ounces went to Guy Mamiya. Justin Wong had the most fish with a total of five followed by John Mirante with four fish.
It has been a while since a big fish was caught in the derby dating back to 1958 when Tom Osaki landed a 25-3 fish. In the past decade, the largest was 15-5 caught by Marcus Nitta during the 2008 derby.
To further test your skills, only mooching is allowed in the derby. No artificial lures, flashers, hoochies (plastic squids) or other gear like downriggers are permitted. The membership fee is $15 and $5 for children age 12-and-under. Tickets can be purchased at Outdoor Emporium in Seattle. Rental boats with or without motors are available from 7 a.m. to 11 a.m.
Voice your opinion at upcoming 2020 salmon season meetings
The sport-salmon fishing season setting process is on the near horizon and this is a chance to voice your opinion on what lies ahead in 2020.
For the moment the early outlook appears to resemble last year's fisheries with a few improvements, but more details will be released at the first public meeting on Feb. 28.
Tentative meeting dates – Feb. 28, WDFW salmon forecast public meeting at DSHS Office Building 2 Auditorium, 1115 Washington Street S.E. in Olympia; March 16, North of Falcon public meeting at Lacey Community Center; March 19, North of Falcon public meeting in Sequim; March 23, Pacific Fishery Management Council public hearing at Westport; March 25, North of Falcon public meeting at WDFW Mill Creek office; and March 30, North of Falcon public meeting at Lynnwood Embassy Suites, 20610 44th Avenue West in Lynnwood.
The Pacific Fishery Management Council will adopt final salmon seasons on April 5-11 at the Hilton Vancouver, 301 West 6th Street in Vancouver, WA.
Specific meeting agendas and times should be known soon. Details: https://wdfw.wa.gov/fishing/management/north-falcon.