Sockeye returns near peak timing period and Baker Lake is in top summer fishing form Leave a reply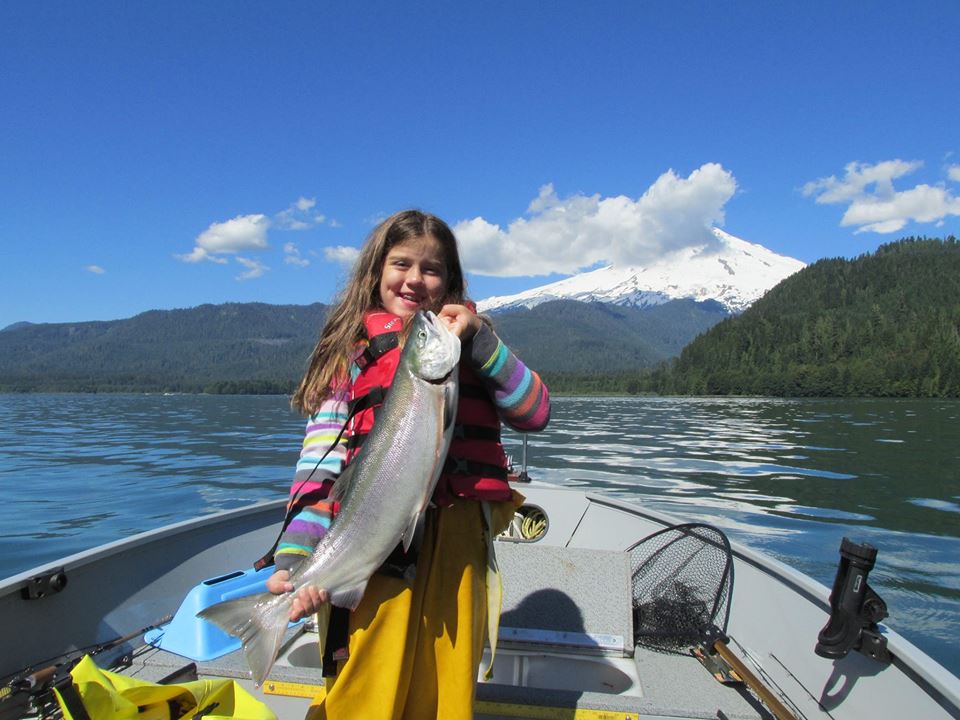 The sockeye watch has hit full stride for Baker Lake, Lake Washington and the Columbia River.
Many eyeballs are peering toward Baker Lake as peak timing of the sockeye run is right now through next week with a forecast of 33,737.
"We had a bunch of fires to put out (Monday) including a broken fish trap (on the Baker River), which got fixed," said Brett Barkdull, a WDFW fish biologist.
"The Baker sockeye are coming back as expected at this point and the hardest part is knowing if they're early or late," Barkdull said. "The (Baker Lake) opener (on July 6) was pretty good. We saw quite a few limits caught and since then guys are doing OK. We had more fish (1,930 sockeye) in the lake than what we normally have for the opener."
Through July 7, 2,535 have been transferred to the lake for anglers to catch and 4,285 have entered the Baker River fish trap. The annual trap count was 17,577 in 2018; 16,704 in 2017; 24,989 on 2016; and 31,928 in 2015.
The water on the lake is very clear and the fish are not staying on the surface with most fish caught between 35 and 50 feet. Like any fishery moving around will be a key to success and seeing where the fleet of boats are fishing. If you don't mark much on the fish-finder then head to another location.
The key to success is trolling VERY SLOW in the 1.0 to 1.4mph range. The tandem 2/0 bare red hook set-up about 13 inches behind a 00 dodger. A small pink hoochie above the top tandem hook is another effective way to catch sockeye. Others will use a "kokanee type" set-up which consists of two pink tandem hooks with as stack of red beads and a spinner blade. Lastly, be sure to add some krill or shrimp jelly scent.
Baker sockeye were first introduced from an artificial enhancement that started in 1896 when the state built a hatchery on Baker Lake. The natural run at that time was estimated to be approximately 20,000 fish, which was way before the dams were built.
Success of sockeye returns is based on improved juvenile fish production. Puget Sound Energy work crews have a huge fish barge collector anchored above Lower Baker Dam on Lake Shannon. The collector draws migrating juvenile salmon unto a funnel where they're held until being transferred below the two dams and released to begin their outmigration.
Since the 1920s, annual adult sockeye returns averaged 3,500, and then by the early 1980s it dropped off the charts and hit an all-time low of 99 fish in 1985.
The adult sockeye returnees this summer are coming off an outmigration of about 1 million.
"We predicted a low survival rate of 2 percent for adult sockeye returning this summer, but if we had an average return rate, we'd likely have over 60,000 coming back," Barkdull said.
In recent years, ocean age two-year-old sockeye had a survival return rate between 12 percent and 1 percent, which indicates it was across the board. The first year a fishery occurred in the lake was 2011 when there was a 14 percent survival rate.
"Right now, we're at the bottom of the trough as far as survival rates go, and we hope that we can start digging out after this year," Barkdull said. "If ocean conditions would cooperate then one of these year's we could see 100,000 return."
Baker Lake is open for sockeye fishing now through Sept. 16 with a three-fish daily limit (minimum size limit is 18 inches).
The sockeye outlook elsewhere like on Lake Washington is expected to hit rock bottom with a forecast of 15,153 although the good news is through July 7 there was 8,559 counted at the Ballard Locks. This run normally peaks around the Fourth of July and the highest single-day count was July 1 when 1,441 were tallied.
The lake needs a spawning escapement goal of 350,000 before any fisheries could be considered. The last time it was open for sport fishing was 2006 when 453,543 returned. Since then the run dipped dramatically in 2018 with 25,123 and 2009 with 22,165 but has had some 100,000-plus returns in 2017, 2013, 2012 and 2010.
The Columbia River return this summer is also at a low point of 92,800 with 18,300 headed to Lake Wenatchee and 74,500 returning to the Okanogan River. It was later downgraded to 58,000 although the good news is that through July 9, 57,875 have been counted at Bonneville Dam.
More spot shrimp days added to fishing calendar
Make plans to head to Hood Canal (Area 12) for two more days of spot shrimp fishing on July 23-24, which will be open from 9 a.m. to 1 p.m. each day.
WDFW has determined that the target share for recreational spot shrimp hasn't been achieved in Hood Canal.
Other marine areas still open for spot shrimp include Area 4 east of the Bonilla-Tatoosh line, Area 5, Area 6 (outside the Discovery Bay Shrimp District) and Area 7 West.
There are also some other marine areas open for coonstripe and pink shrimp fishing. For details, go to https://wdfw.wa.gov/fishing/shellfish/shrimp/.