New age of salmon fishing has anglers rethinking when to hit the water Leave a reply
Marine salmon anglers live in a new era where the amount of time on the water is dictated by going out sooner than later.
As sport salmon fishery windows of opportunities in the winter and summer are now driven by fish encounters or quotas, I have always been one to sing the song of hitting it "quick and often" rather than waiting later in the fishing season to get your chances of time on the water.
A prime example is what just occurred this past week, when WDFW staff revealed the central Puget Sound (Marine Catch Area 10) total encounter rate skyrocketed to a level that prompted them to close fishing after this past Saturday (Jan. 19) – the season was supposed to be remain open through March 30.
"We saw an unprecedented catch per angler effort with close to half-a-fish per rod (0.4702 chinook per person to be exact)," said Mark Baltzell, a WDFW salmon manager. "We had incredible success and turnout."
WDFW staff indicated it was some of the best winter fishing seen in Area 10 for the past several years and unusually good weather during the first half of January was another factor for the early shutdown. It can be termed as the "perfect storm" coupled by excellent catch per unit effort, and anglers and fish sampled along with nice weather that tilted this in the wrong direction. Looking back at WDFW historical data all the way back to 2003 for the time period between Jan. 1-16 there was nothing comparable.
WDFW preliminary in-season estimates of effort and salmon catch (released or kept) indicated the Area 10 total encounter guideline of 2,997 chinook was exceeded by 112 percent or 3,351 fish.
A breakdown of the effort showed 141 boats with 316 anglers Jan. 1-6 kept 165 hatchery chinook and released 442 hatchery and 152 unmarked chinook for a total encounter of 759; 444 boats with 1,019 anglers Jan. 7-13 kept 459 hatchery and five wild (not good and ILLEGAL) chinook and released 1,230 hatchery and 418 unmarked chinook for a total encounter of 2,111; and 145 boats with 227 anglers Jan. 14-20 kept 105 hatchery chinook and released 280 hatchery and 96 unmarked chinook for a total encounter of 481.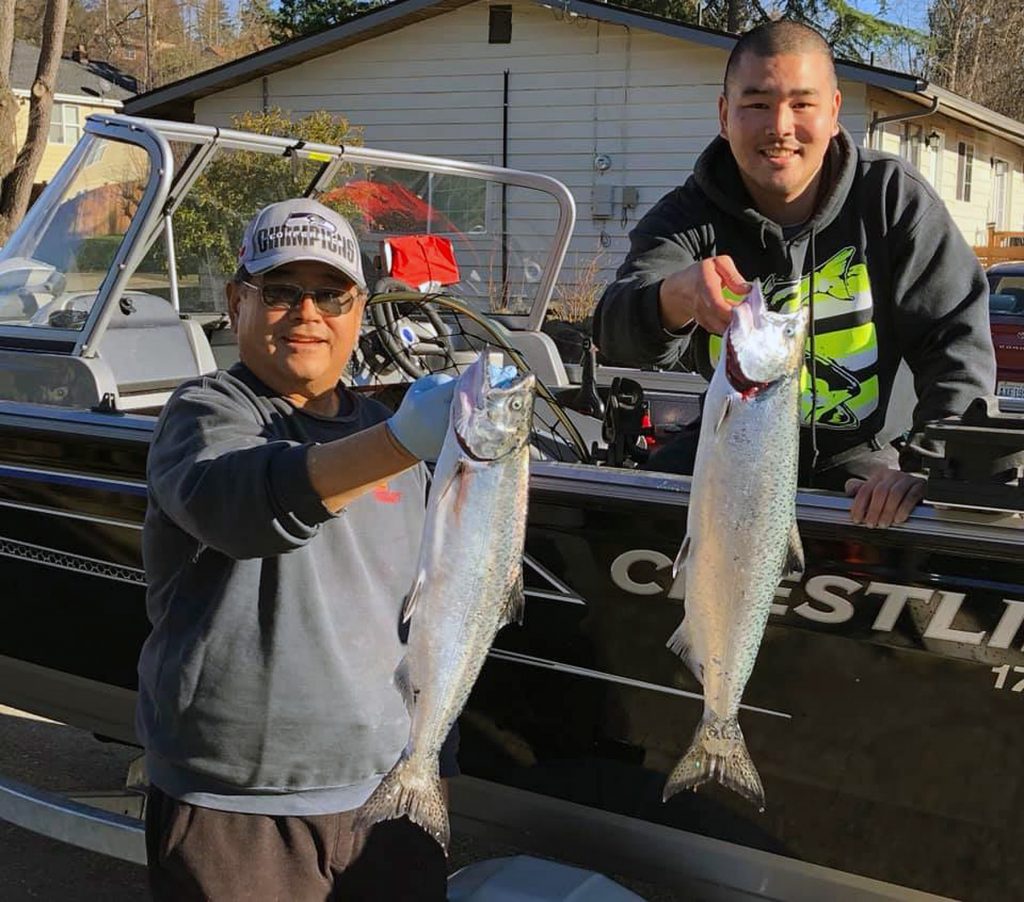 The WDFW test fishery found the adipose-fin mark rate in Area 10 was 25 percent for legal-size chinook – the minimum size limit is 22 inches – and the overall mark rate was 50 percent.
The closure also affected the Tengu Blackmouth Derby – the oldest derby in the Pacific Northwest that began before World War II – held in the winter, which has now been cancelled due to the Area 10. The derby started on Jan. 6 and was slated to be held every Sunday through Feb. 24.
In Area 7 the best winter blackmouth – a term commonly given to chinook for their dark gumline – fishing has come from Clark and Barnes Islands; Sucia Island; Parker Reef; West Beach; Spring Pass; Thatcher Pass; Peavine Pass; Point Thompson; Obstruction Pass; Waldron Island; Lopez Pass; and Presidents Channel. The daily limit in the San Juan Islands is one hatchery chinook.
In the San Juan Islands (Area 7) winter fishery can't exceed 3,176 total unmarked encounters and/or exceed 11,867 total encounters, but just 8 percent or 859 fish have been encountered through Jan. 6.
Another area dictated by encounter rates is the chinook fishery on the east side of Whidbey Island (Areas 8-1 and 8-2), which has a total encounter of 5,474 fish, and they're sitting at 42 percent or 2,305 encounters to date. Areas 8-1 and 8-2 have a two-hatchery chinook daily limit. WDFW plans to provide regular catch updates at https://wdfw.wa.gov/fishing/reports_plants.html.
Salmon anglers also got word late Friday from WDFW about the situation in northern Puget Sound (Area 9) that also opened on Jan. 1. For now it sits in the safe zone at 15 percent with 1,211 encounters and a ceiling of 10,004 chinook. Area 9 has a one hatchery chinook daily limit.
I'll bring up the notion that if you plan to fish Area 9, I'd go soon because you never know how long it will take for the catch to be gobbled up. Some of the best locations have been Midchannel Bank off Port Townsend; Double Bluff off Whidbey Island; Pilot Point; Point No Point; Possession Bar; Mats Mats Bay; Marrowstone Island; and Foulweather Bluff.
Your other options for winter chinook are south-central Puget Sound (11); Hood Canal (12); and southern Puget Sound (13).
Anglers can also make plans to fish for winter chinook in the Strait of Juan de Fuca from Port Angeles to Freshwater Bay (Area 6) when it opens Feb. 1 through April 15 and Sekiu (Area 5) from Feb. 16 through April 30.
Other important dates are Feb. 27 when WDFW unveils their salmon forecasts during a public meeting, 9 a.m., at the Lacey Community Center. Final seasons will be adopted by the Pacific Fishery Management Council on April 11-16 at the DoubleTree by Hilton in Sonoma, Calif.
Landmark Greenwood smokehouse closes its doors
After 34 years, the iconic Jensen's Old-Fashioned Smokehouse in Greenwood, has shuttered its doors but hopefully this isn't the last we've seen of this highly popular store where anglers have gotten their catch custom smoked in a variety of delicious ways.
"It has been a privilege to serve many of my customers over the years, and if I could redo my life, I'd do it all over again," said Mike Jensen, owner of this family business in North Seattle since 1985. "I've gotten phone calls from people as far away as New Jersey who've said our smoked salmon is the best. Those kinds of comments really helped save the day and were very gratifying."
Jensen – whose parents started a smokehouse in Bremerton many decades ago – says keeping his business going has been very tough the last five years where he employed up to 25 workers at peak periods from summer through fall. During slow times they'd produce about 300 pounds of smoked products per day, but during busy months they'd generate about 3,000 pounds daily.
"Hiring workers has been difficult in recent years as well as other issues like wage increases so I just felt it was time to retire," said Jensen who is 64. "My wife (Kathy) retired a couple years ago and our 30-year anniversary is coming up (in February) so this is a nice way to launch into our next decade of marriage and walk into the sunset."
Running the business hasn't been easy as his wife and their home is located at the Lake Limerick Country Club near Bremerton. This meant Mike spent weekdays away from home and his beloved family.
"We love to play golf and pickleball, go on long hikes and water ski on the lake, and now I'll get more time to do those kinds of special things," Jensen said. "I'd also like to travel south in the winter to warmer places where I won't hear my teeth chattering."
Jensen's commitment to his company was a family affair. Over the years, his son Scott and two daughters Mariah and Theresa helped with bookkeeping and the front counter and prepped and packaged products. Each of his kids have moved onto other successful ventures, but all learned how a company functions at the family smokehouse.
Their custom work was beloved by customers as fish or meat/poultry products were hand cut, filleted and each batch brined then hot or cold smoked with care that included specialty toppings like garlic and pepper. Double pepper was one of my favorites! Each of the finished products were then vacuum-sealed and date stamped for freshness.
They also sold products to retail grocery stores like QFC, Uwajimaya and to vendors at Pike Place Market. Their closing will leave a void in the smoked seafood industry.
"It's a pretty serious disappointment that we couldn't keep the business going," said Jensen where his 34-year-old company has stood in a building erected in 1955.
The building is expected to be demolished by 2020 and replaced with a four-story townhome although current Jensen employees are trying the reopen the business for 12 months and then hopefully relocate elsewhere.
"It has been an honor to serve the community for so long and I'm glad for what I have accomplished in life," Jensen said.