Tentative halibut fishing dates set and catch quotas to be decided in late January Leave a reply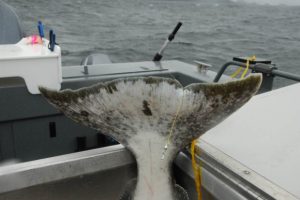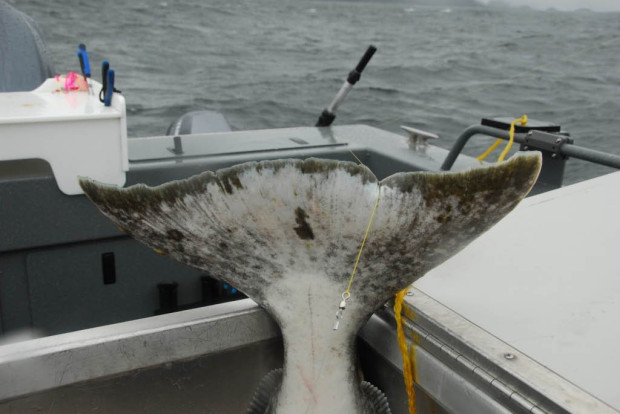 Halibut seekers can start making tentative fishing plans for the spring of 2019 as preliminary sport-fishing dates were decided this past week at the Pacific Fishery Management Council meetings although catch quotas won't be finalized until late-January.
"We have outlined the halibut fishing dates for 2019, which were adopted but still need approval by (International Pacific Halibut Commission)," said Heather Reed, a Washington Department of Fish and Wildlife (WDFW) fish policy coordinator.
The preliminary halibut fishing dates for Neah Bay, La Push, Westport, Puget Sound and Strait of Juan de Fuca (Marine Catch Areas 3, 4, 5, 6, 7, 8, 9 and 10 only) are May 2, 4, 9, 11, 18, 24 and 26; and June 6, 8, 20 and 22.
On the southern coast at Westport (Area 2) the tentative dates are May 2, 5, 9, 12 and 24.
Additional fishing dates could be added to an area if their sport catch quotas aren't achieved.
The Columbia River (Ilwaco Catch Area 1) opening dates will be decided through consultation with Oregon Department of Fish and Wildlife although Washington subarea dates proposed were May 2, 5, 9, 12, 24 and 26. If sufficient quota remains then the Columbia River subarea would reopen two days per week (Thursday and Sunday) after May 26.
Constituents from Washington supported reducing the days open each week in the Columbia River subarea from three to two but also wanted them to align with Oregon's South Coast openers.
Reed says this approach would extend the fishing season over a longer period and reduce the effort shift between each of the two subareas.
"This past year was more complicated but not in a bad way since Columbia River halibut catch rate went so fast," Reed said. "In the Washington portion of the subarea the catch increased significantly as participation shifted when it opened a week before any other Washington subarea. This resulted in a season that lasted only five days."
In general, a shift in how the halibut fisheries are devised annually has been well received since it provides no last-minute changes or closures that have frustrated anglers prior to 2017 who have made fishing plans well in advance of the dates set forth.
"We heard from folks that this season's approach implemented in 2017 has worked out very well and has been viewed in general as a success," Reed said. "For entire sport fishery across all areas the catch came in just under the quota by 7,031 pounds – 230,000-pounds was total sport catch quota – so that was pretty good."
The Puget Sound and Strait of Juan de Fuca halibut fisheries in 2017 lasted nine days while the Westport fishing season was open four days.
In previous years, the Westport area had a portion of their quota set aside for a near-shore fishery. However, a revision made for 2019 will remove the 10 percent or 2,000 pounds for the near-shore fishery and allow the near-shore fishery to be open after the primary (all-depth) fishery closes, if enough remains in the quota.
Stakeholders supported this change to clarify that a near-shore fishing opportunity is contingent upon having catch leftover in the quota after the primary fishery has closed.
In all areas the daily limit will likely stay at one halibut with no minimum size limit.
While the tentative dates are decided, the discussions by WDFW and IPHC will now shift toward halibut populations updates and catch quotas.
The entire West Coast catch quota for sport, tribal and non-tribal commercial fisheries was 1.19-million pounds in 2018 compared to 1.33-million in 2017 and 1.14-million in 2016.
Of that the Washington sport catch quota was 225,366 pounds in 2018 (237,762 in 2017, and 214,110 in 2016, 2015 and 2014).
A breakdown of the 2018 catch was 60,995 pounds for Puget Sound; 111,632 for North Coast; 46,341 for South Coast (of that 44,341 was for the primary fishery and 2,000 was set aside for the near-shore fishery); and Columbia River region was 11,682 (11,182 for primary and 500 for near-shore).
Reed said the average size of halibut in 2018 at Neah Bay and La Push was 18 pounds (same in 2017); Ilwaco was 15 pounds (14); Westport was 17 pounds (16); and Puget Sound was 23 pounds (24).
The IPHC will meet Jan. 28-29 in Victoria, B.C. to set catch quotas from California north to Alaska. The National Marine Fisheries Service will then make its final approval on fishing dates sometime in March or sooner.
Black Friday trout plants
Work off the turkey dinner calories and avoid mall madness by hitting a lake for "Fish Black Friday."
This has become an annual tradition for many anglers who await the WDFW's plant of thousands of trout averaging 15 to 16 inches and weighing up to 3 pounds.
Lakes include: Battle Ground and Klineline Pond in Clark County; Kress in Cowlitz County; Fort Borst Park and South Lewis County ponds in Lewis County; American and Tanwax in Pierce County; Black, Long and Offutt in Thurston County; Rowland in Klickitat County; North Elton Pond in Yakima County; and Cases Pond in Pacific County.
Those willing to head east of the Cascades should also find some good fishing in Hatch and Williams in Stevens County; Fourth of July in Lincoln/Adam counties; and Hog Canyon in Spokane County.
Those looking for an even earlier start on lakes already planted with a boat-load of trout have plenty of options.
Beaver Lake in King County received a hefty plant of 806 trout averaging 1.5 pounds last month, and will receive another blast of fish during the third weeks of November and December. Blackman's Lake in Snohomish County got a recent plant of 750 trout.
Trout are also going or have already been planted into Gissburg Ponds North and South, 2,000; Tye in Monroe, 2,000; Grandy near Concrete, 400; Clear south of Sedro-Woolley, 1,750; Kapowsin in Pierce County, 1,000; Padden in Whatcom, 1,100; and Campbell south of Anacortes, 1,750.
Lake Goodwin northwest of Marysville will get a mid-December plant of 5,000 trout and this has turned into a very nice winter fishery.
For a list of planted lakes, go to https://wdfw.wa.gov/fishing/fall-into-fishing/.