Look for decent chum salmon return to Puget Sound, and razor clam season off to a good start Leave a reply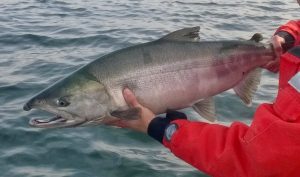 The next and final wave of migratory salmon will garner the spotlight in the weeks ahead as more than 1.2-million fall chum are forecast for Puget Sound and Hood Canal.
Chum, better known as a dog salmon for their gnarly-looking jaw-line at spawning time are one of the hardest-fighting salmon species and can weigh up to 30 pounds but the most average 8 to 15 pounds.
Most of chum are destined to Hood Canal where WDFW fishery managers as tabbed a prediction of 497,400 chum, and southern Puget Sound with another 395,359.
Central Puget Sound is forecast to see 148,278; Nooksack/Samish, 77,152; Skagit, 48,981; Snohomish, 26,091; Stillaguamish, 2,640; and Strait of Juan de Fuca, 1,130.
Another place where anglers tend to see decent catches of chum in the autumn months are Grays Harbor streams (Humptulips, Chehalis and Satsop) where 61,144 are forecasted to return.
WDFW biologist Marisa Litz, indicated chum returns last year exceeded expectations. Catches in the commercial fishery were the highest seen in more than two decades and sport angler success was also decent.
Word has it that anglers can expect much of the same moving forward for chum.
Chum can be finicky biters in marine areas although some anglers have devised ways to catch them using a smaller, tight spinning "firecracker-sized" cut-plug herring or chartreuse colored flies.
A bobber and small-sized anchovy or herring is a productive way to catch fish. Other have found that tossing spinners, jigs and spoons will also get their fair share of fish. The most important factor is sticking with something in a chartreuse or purple color.
Look for chum in central, south-central and southern Puget Sound (Areas 10, 11 and 13) at Jefferson Head; West Point south of Shilshole Bay; Point Monroe; Allen Bank off Blake Island; Southworth; Colvos Passage, Point Dalco off south side of Vashon Island; Point Defiance Park area at Clay Banks off Tacoma; Anderson Island; Fox Island and Nisqually flats.
By far some of the best staging spots for chum are marine estuarial locations off Kennedy Creek in Totten Inlet; Johns Creek in Oakland Bay; Hoodsport Hatchery in Hood Canal; Chico Creek in Dyes Inlet; and Curly Creek near Southworth.
Other decent estuary chum fishing holes are North Bay near Allyn; Perry Creek in Eld Inlet; Whatcom Creek in Bellingham; McLane Creek, Eagle Creek south of Potlatch State Park; and the public-access shores off Highway 101 from Eldon to Hoodsport.
There are other salmon options including south-central Puget Sound (Area 11) where hitting a "trifecta" a coho, chum and hatchery chinook is possible.
Fishing in the Tacoma area off the Clay Banks at Point Defiance Park has been slow to fair for mostly coho and hatchery chinook. Other locations are Point Dalco on the south side of Vashon Island, the "flats" outside of Gig Harbor, Redondo Beach, Dolphin Point and south of Brace Point.
In central Puget Sound (Area 10), fishing has been slow for coho although it has provided some decent action as the final waves of coho migrate into the area. Look for them off Edmonds oil dock to Richmond Beach, Jefferson Head, Kingston, West Point south of Shilshole Bay, Meadow Point and in the shipping lanes of Elliott Bay off Fourmile Rock and Duwamish Head.
In southern Puget Sound (Area 13) anglers have been finding a few coho and hatchery chinook off Fox Island in Hale Passage and Anderson Island.
Winter Dungeness crab fishery open
The winter sport Dungeness crab fishery has reopened in some parts of Puget Sound and early catches for the few giving it a try has been decent despite summer catch assessments revealing abundance being the lowest dating back to 2008.
Marine areas open daily through Dec. 31 are Neah Bay east of the Bonilla-Tatoosh line (Area 4); Sekiu in western Strait of Juan de Fuca (5); Port Angeles in eastern Strait of Juan de Fuca (6); San Juan Islands (7); Deception Pass, Hope Island and Skagit Bay (8-1); Port Susan and Port Gardner (8-2); and a section of northern Puget Sound/Admiralty Inlet (9) except for waters south of a line from Olele Point to Foulweather Bluff.
Central Puget Sound (10), south-central Puget Sound (11); Hood Canal (12); and southern Puget Sound (13) remain closed this winter.
The daily limit in Puget Sound/Strait sport fisheries is five Dungeness crab – male crab only – in hard shell condition with a minimum carapace width of 6 ¼ inches.  Crabbers may also catch six red rock crab of either sex per day with a minimum carapace width of 5 inches.
All Dungeness crab caught in the late-season recreational fishery must be recorded immediately on winter catch record cards, which are valid through Dec. 31.
Coastal razor clam season off to a great start
The coastal razor clam season opened this past Thursday through Saturday (Oct. 11-13) and success was very good with ideal weather and surf conditions.
"This weather we had really made for good digging success," said Dan Ayres, the head WDFW coastal shellfish manager. "It wasn't the greatest low tide series, but good weather and no surf made for easy digging."
"Turnout wasn't bad and I know on Thursday we had a little more than 3,100 diggers split pretty equally between Twin Harbors and Mocrocks," Ayres said. "The average was 14.2 clams per person (the daily limit is the first 15 clams dug regardless of size or condition)."
By Friday, Ayres indicated around 5,000 diggers at Twin Harbors and Copalis and on Saturday, it dipped with 2,000 at Twin Harbors and Mocrocks. The great news was that each day saw equally good success by diggers who had near limits of razor clams.
"I thought the clams would be on the smaller size, but the average at Copalis was 4.4 inches," Ayres said. "I did hear from my samplers on Saturday that clam size at Twin Harbors was smaller although that could've been related to a less than favorable low tide and diggers being high up on the beach. They weren't monster-size clams, but it was fresh meat for the frying pan."
"If state health is comfortable with test samples, then we will give the green light either Wednesday or Thursday on the next upcoming series of digs," Ayres said.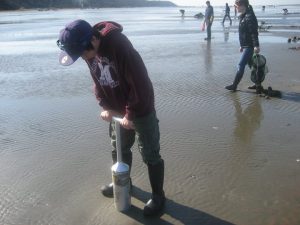 The next series of digs are planned for Oct. 26 and 28 at Twin Harbors and Mocrocks; and Oct. 25 and 27 at Twin Harbors and Copalis.
There was slight increase in razor clam test samples of domoic acid present in the water at Twin Harbors but appeared to have waned by Friday.
All digs are reliant on testing for marine toxins known as domoic acid — a natural
marine toxin produced by certain types of marine algae. Clams with high amounts
of marine toxins can be harmful or even fatal if consumed in sufficient quantities.
Despite that slight blip, domoic acid levels were still under the 20 parts-per-million cutoff range required by WDFW to allow digging on beaches.
Other proposed dates are Nov. 8, 10, 23 and 25 at Twin Harbors and Mocrocks; Nov. 9, 11 and 22 at Twin Harbors and Copalis; and Nov. 24 at Twin Harbors, Copalis and Mocrocks.​ Dec. 6, 8, 21 and 23 at Twin Harbors and Copalis; Dec. 7, 9 and 20 at Twin Harbors and Mocrocks; and Dec. 22 at Long Beach, Twin Harbors and Mocrocks.
For details, visit https://wdfw.wa.gov/fishing/shellfish/razorclam.