Feisty silvers are the next featured attraction in Puget Sound for salmon anglers Leave a reply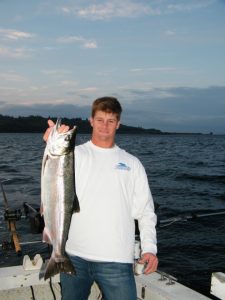 You can feel change in the air – and we're not talking about the haze and unhealthy smoggy conditions from the wildfires – as summer-like salmon fishing action begins to shift toward another prized species known for its silvery color and acrobatic skills.
"We've had some pretty good resident coho fishing since it opened in June, and I'm cautiously optimistic about migratory coho returns to Puget Sound," said Aaron Dufault, a WDFW biologist. "We are close to the 10-year average on coho returns and hopefully we've gotten past the dismal forecasts (in 2015 and 2016) when fisheries were shut-down."
Coho salmon (commonly referred to as silvers for their brightly colored silver bodies) that migrated out to the ocean in 2015 and 2016 faced warm water conditions from the "blob" that threw a wrench in the northern Pacific Ocean, and lead to a lack of feed and fish survival.
This was also coupled with drought-like conditions and deadly warm water temperatures in river spawning grounds creating havoc on adult spawning coho as well as juvenile fish.
Those terrible conditions are now a thing of the past and it appears good fortunes could be in store for anglers who haven't had a feasible early-fall coho fishery since 2014.
The WDFW fishery manager's crystal ball reveals a coho return of 557,149 (249,174 wild and 307,975 hatchery) for 2018 – down slightly from 595,074 (294,360 and 300,713) in 2017 – although much higher than 2016 when coho runs hit an all-time low.
Forecasts for the five most important wild coho stocks in Puget Sound that drive sport fisheries are the Strait of Juan de Fuca, Skagit, Stillaguamish, Snohomish and Hood Canal, which have all rebounded greatly in 2018.
A Skagit wild coho return forecast of 59,196 is up 350 percent over 13,235 in 2017 and up 564 percent of 8,912 in 2016. The Stillaguamish forecast of 18,950 is up 149 percent from 2017's return of 7,622 and up 584 percent of 2,770 in 2016. The Snohomish forecast of 65,925 is up 294 percent from 16,740 in 2016.
"We are getting closer to having full coho seasons, and there are plenty of reasons to be an optimist," said Mark Baltzell, a WDFE Puget Sound salmon resource manager. "One thing as managers we try to keep in mind as we craft seasons is to support small communities like Sekiu that rely on a coho season."
Baltzell indicates it will not be "banner year" and looking at long-term the wild coho numbers are down and it is an average season for hatchery coho.
Hatchery coho fishing is open Sept. 1-30 in the Strait of Juan de Fuca from Sekiu to Port Angeles (Areas 5 and 6) and these areas will certainly be bustling with anglers chasing large hook-nosed ocean-run coho.
The San Juan Islands (Area 7) is open for coho through Sept. 30 and while it is not a popular coho destination, anglers can expect some good coho action along the outer island chain.
After being closed for coho for a number of years, the east side of Whidbey Island in Area 8-1 is open through Sept. 30 for all coho, and Area 8-2 (Ports Susan and Gardner) is open through Sept. 23.
There are two popular derbies that coincide with the coho runs. The PSA Edmonds Coho Derby is Sept. 8, and the biggest derby on West Coast – the Everett Coho Derby is Sept. 22-23. For details, go to www.NorthwestSalmonDerbySeries.com.
Anglers can also find decent shoreline access to good coho fishing at the Possession Point Bait House where coho were present when it opened last month. Other shoreline options are the west side of Whidbey Island at Bush and Lagoon points, Fort Casey, Point No Point, Marrowstone Island, Point Wilson near Port Townsend, Lincoln Park in West Seattle, and various piers, docks and shorelines from Edmonds to Seattle and as far south as Tacoma.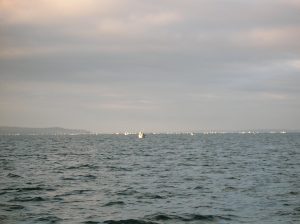 The two marine areas that will see some of the best coho fishing are northern (Area 9) and central (Area 10) Puget Sound. Hatchery coho salmon fishing will be open in Area 9 through Sept. 30, and in Area 10 anglers can keep all coho from through Nov. 15.
South-central (Area 11) and southern (Area 13) Puget Sound and Hood Canal (Area 12) are all open for coho through Sept. 30.
River anglers will also have a chance to fish certain sections of the Skagit and Snohomish river systems – closed in 2016 and 2017 – for coho salmon in September. Be sure to check the regulation pamphlet to see what rivers are open and closed.
Options to catch kings still happening in some areas
Those still wanting a chance to hook into a hatchery king should make their way down to south-central (Area 11) and southern (Area 13) Puget Sound, which are still open.
Look for hatchery kings in Area 11 at Southworth, Dolphin Point, Redondo Beach, Brace Point, Three Tree Point and Point Robinson.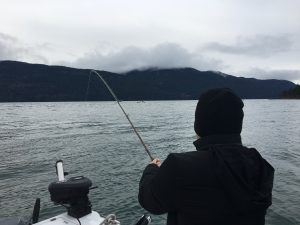 In southern Puget Sound seek out hatchery kings around Fox Island in July, and seek them out at Anderson Island, the Nisqually Flats, Dover Point near Zangle Cove, Itsami Ledge, Dickenson Point, Little Fish Trap Bay, Big Fish Trap Bay and Johnson Point.
Other late-season options for hatchery kings is the channel markers lining inner- Willapa Bay or the Humptulips North Bay Fishery, which is open for all kings through Sept. 15.
Hood Canal spot shrimp season reopens
Shrimp fishing reopens in Hood Canal (Area 12) from noon to 4 p.m. on Aug. 21 and Aug. 22 and WDFW reports about 19,000 pounds of spot shrimp still remains in the sport catch quota.
During this fishery, the daily catch limit will be increased to 100 shrimp per person from the typical 80 shrimp per person.
The northern and southern areas of Hood Canal have yielded the best catches this season. The central section of the canal hasn't been as productive as in previous seasons.
The only Puget Sound waters currently open to spot shrimp harvest are Marine Areas 4 east of the Bonilla-Tatoosh line and Marine Area 5 (western Strait of Juan de Fuca).
For more information, go to https://wdfw.wa.gov/fishing/shellfish/shrimp/.